January 27, 2022
9 Sales Prospecting Best Practices for Higher Success Rates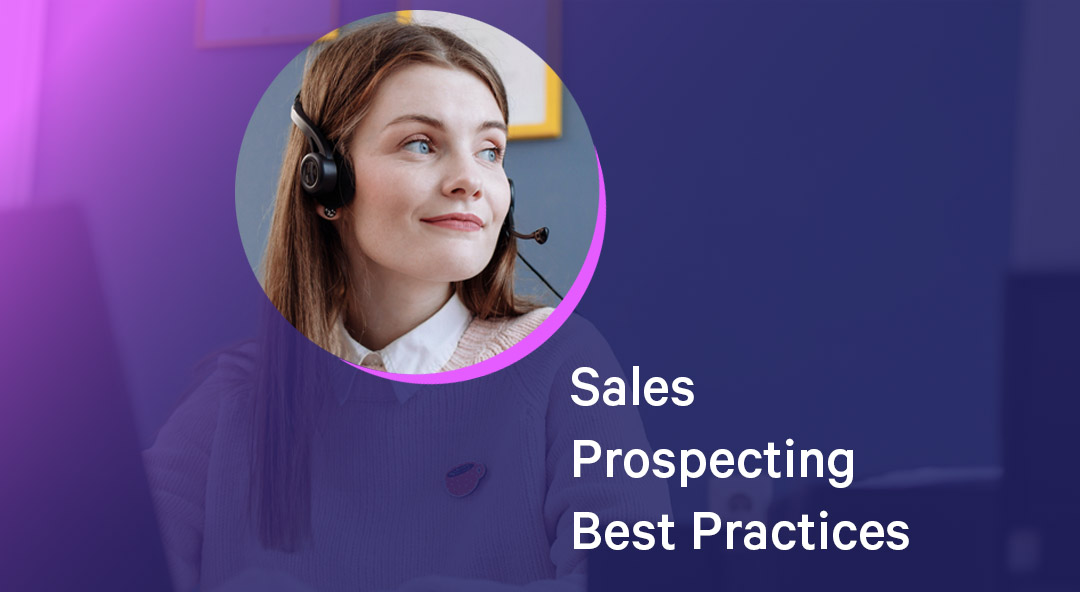 Create buyer personas
Do your research
Identify customer needs and pain points
Use multi-channel sequences
Create a killer tech stack that's fit for purpose
Automate manual or repetitive tasks
Network and build relationships
Get the prospecting habit
Always be measuring
During the gold rush, miners spent days, lifetimes, sifting through piles of dirt searching for nuggets of gold. It was time-consuming, backbreaking, dangerous work.

Sound familiar?
Ok, modern sales prospecting isn't dangerous, but it has plenty in common with its namesake. Like sifting through piles of information to identify potential customers, which, done at scale, takes a lot of time and effort.
To make matters worse, other prospectors are constantly encroaching on your patch and prospects are so saturated that even 30 seconds of their attention is like gold dust.
We feel your pain. You see, at Mixmax, we sell to salespeople (yeah, that's as tough as it sounds).
The good news is, adopting sales prospecting best practices and investing in the right tech can make you a more efficient and effective prospector and help boost revenue.
Related post: Customer Success and Sales: Your Next Dream Team
We asked our top salespeople for their top quota-crushing tips. By the time you're done reading this, you'll be fully equipped with all the tools you need to supercharge your prospecting efforts.
Pick up your pickaxe and let's get to it.
9 Sales Prospecting Best Practices:
Looking for a sales prospecting tool to boost your success rates? Mixmax helps you fill your pipeline and drive revenue creation.
9 sales prospecting best practices to grow your pipeline
1. Create buyer personas
Prospecting is a numbers game, but that doesn't mean you should target anyone and everyone. The name of the game is generating the right leads, and quality wins over quantity any day.
Before you start list building, you need to create buyer personas that reflect your ideal customers' roles and responsibilities, and clearly set out your value proposition. Think about the functions your prospect performs, and the processes, strategies, tools, and reporting they use in their day-to-day work. What challenges do they face, and how can they benefit from your solution? Remember to include any common variations on their job title, and any overlapping or potentially confusing roles with similar titles.
Armed with these buyer personas, sales development representatives (SDRs) and account executives (AEs) will be in a better position to identify potential customers. Give them a checklist of common characteristics to use when building prospect lists. The more boxes checked, the better they'll understand who's likely to convert and why.
When the time comes to reach out, personas also allow sales professionals to personalize communications, handle objections, and create sequences (see below) that are highly relevant to the recipient. And with everyone in sales stepping up their game when it comes to personalization, this is the new holy grail. The more relevant your messaging is to the recipient, the more likely they are to bite. And a detailed, well-thought-out buyer persona is key to achieving that.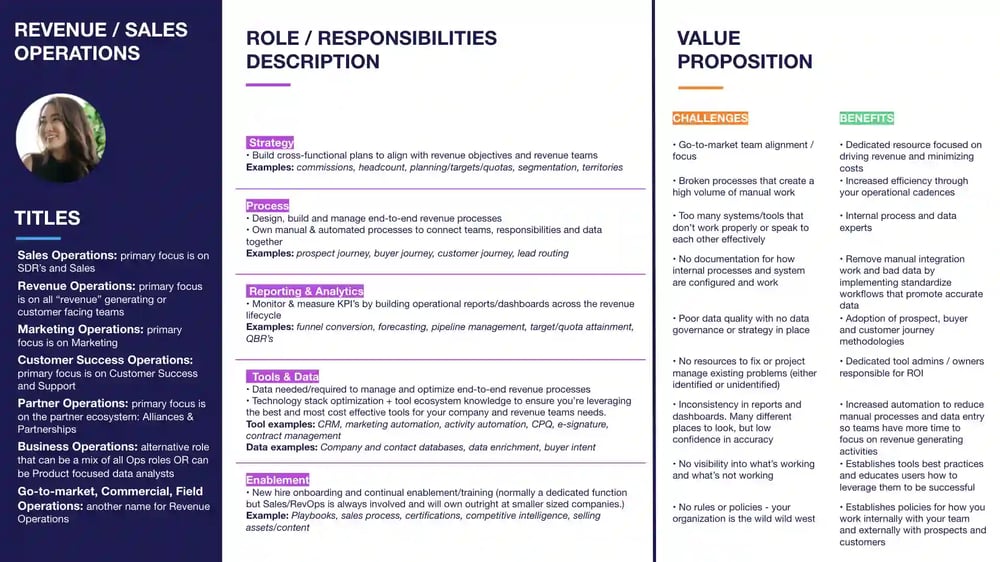 Example of a buyer persona
Your existing customers probably have similar needs and problems, so they may share other characteristics. Looking at them will tell you a lot about who your future customers are and what they need. Focus on your highest value customers or most active users, the ones you want to have more of. What do the top 10% have in common? Create your buyer personas based on conversations with them and your customer success team, and leverage tools like Gong to listen to customer calls.
To make life easier (which, let's face it, is what we're all about), here's a free, editable template for you.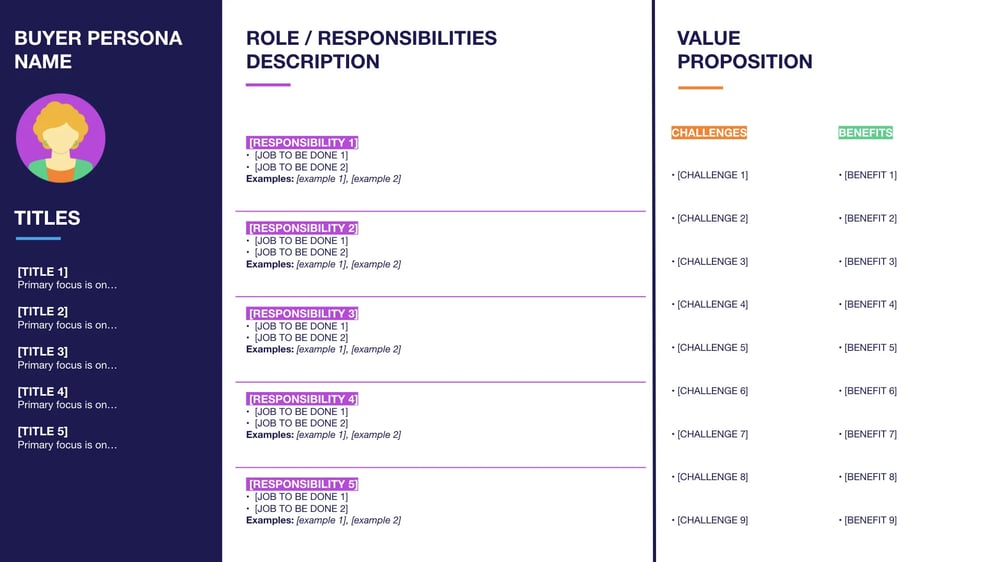 Buyer persona template
Note that these buyer personas differ from those used by marketing to generate leads. See our piece on sales prospecting vs lead generation for more on how these processes differ.
2. Do your research
Research is the bedrock of effective sales prospecting. This is you, knee-deep in mud, panning for gold.

It's also extremely time-consuming and hard work but saves a lot of time and tears further down the line. Solid research tells you exactly who you're reaching out to, what they need, what they're likely to respond to, and how to personalize communications.
Look for prospects that overlap with your ideal customer profile (firmographics of your typical customer company). Identify their industry, company size and life cycle, pain points, and any other info that could drive conversions. Look beyond your first point of contact, go deep into the entire company, and identify the decision-makers.
Think about how you can bring value to them by researching common trends, including among your current customer base. What solutions are they using? What pain points did your customers experience before you rocked their world? How are they using your solution now? The insights you gained when creating your buyer personas will stand you in good stead here.
Once you've done all that, use sales intelligence software to locate companies and teams experiencing similar pain or using similar solutions.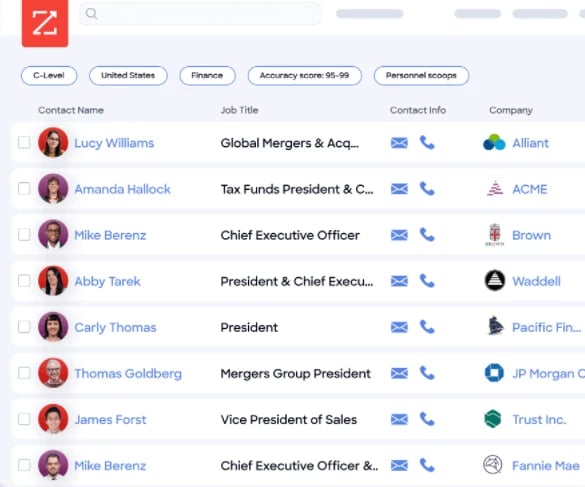 ZoomInfo database of prospect names, companies, and contact information

Monitor the news for insights about new prospects and their company, and get on social media to see what they engage with. This and their company blog will provide talking points to use in sales pitches. Review sites like G2, as well as Reddit and Quora, are also invaluable for insights into common problems people struggle with, and how your competitors are solving them.
Don't neglect to research inbound leads either. You still need to know who they are, why they got in touch, how good a fit they are for your solution, and what value you can deliver.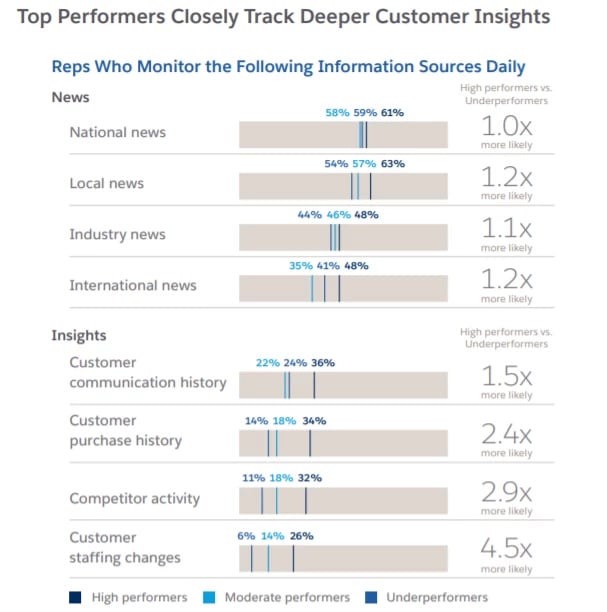 3. Identify customer needs and pain points early
The learning doesn't stop when you start talking to potential buyers. They may all have a lot in common but, like they say, to "assume" only makes an ass of me and you.
Once you start researching an individual prospect, hit social media and online communities to see what they post and engage with. Analyze their digital footprint: what blog posts have they read, what whitepapers did they download? Have they engaged with your website, chatbot, or help center? If so, how?
Once you get on a discovery call with them, script it and ask open-ended sales engagement questions designed to uncover their unique challenges. This is before you start waxing lyrical about your features, Ok? As well as providing valuable insights, being a sympathetic listener helps establish trust.
Once you've identified a pain point, ask targeted questions around it to understand more. Remember to repeat what they've told you every now and again (a process known as "diagnose and confirm") to be sure you've understood them. After the call, share sales collateral that shows you understand their pain and have a solution for it.
If you're connecting via email, use features like Mixmax in-email polls & surveys to streamline gathering information and qualifying leads. They're quick and easy to respond to, which reduces friction and increases the chance of getting a reply from busy prospects.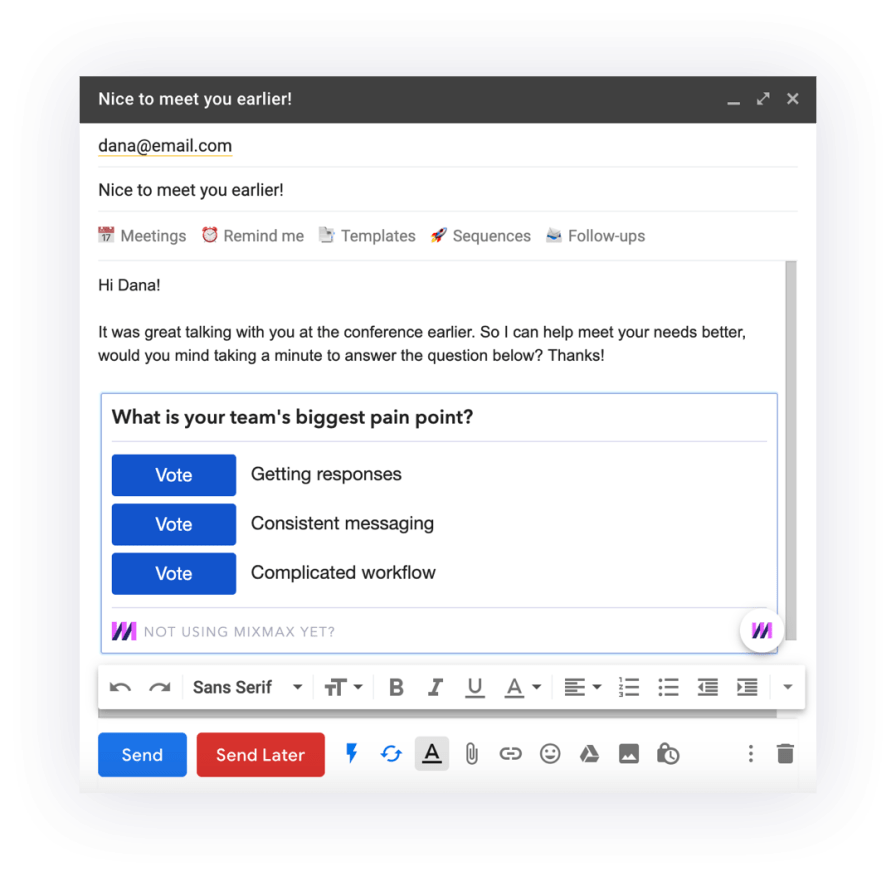 Mixmax in-email poll to discover pain points
4. Use multi-channel sequences
There's a lot to stay on top of with prospecting, so use a sales engagement platform like Mixmax to set up sequences customized to each of your buyer personas. They'll help you stay on track and move prospects through the sales cycle in a timely manner.
Sequence lengths vary depending on the stage, persona, and goals, but 8-12 touchpoints is a good average.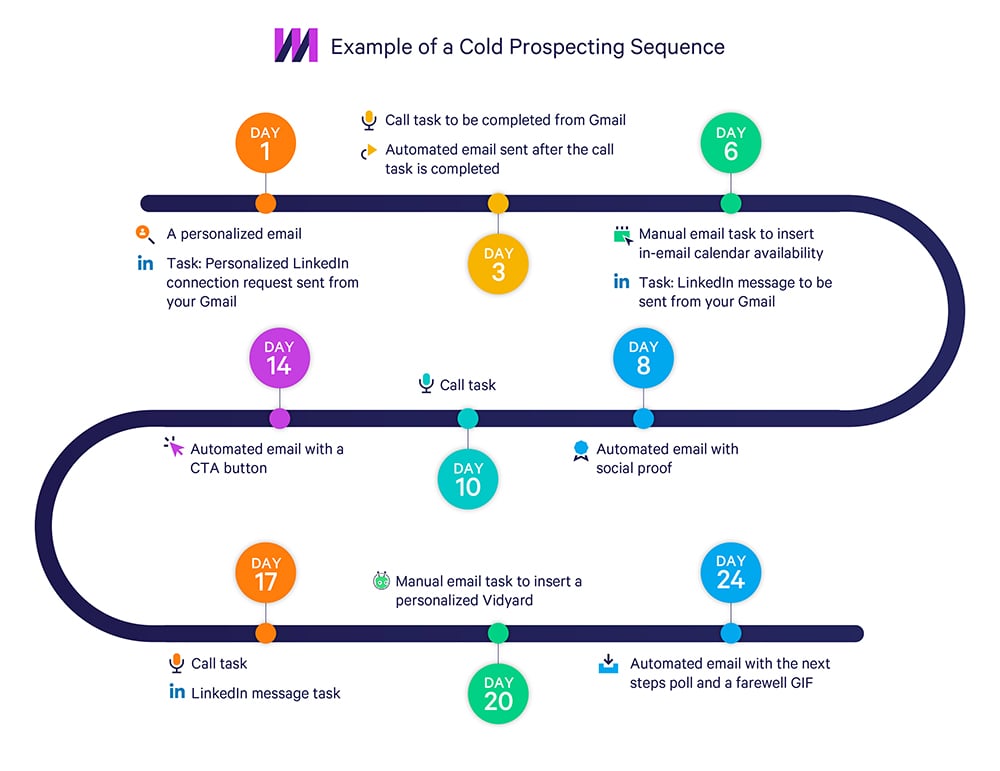 Even before Covid, B2B sales prospecting was increasingly happening online, and today's savvy buyers expect to be engaged when and where it suits them. Mix it up with email, video and phone calls, LinkedIn, voicemail drops, and text touches. If you're using Mixmax, you can do it all right from your Gmail inbox. No more switching between tools and tabs. Plus, you can use the sidebar to chat and collaborate with colleagues.
Related Post: 75 Sales Prospecting Email Subject Lines to Get More Responses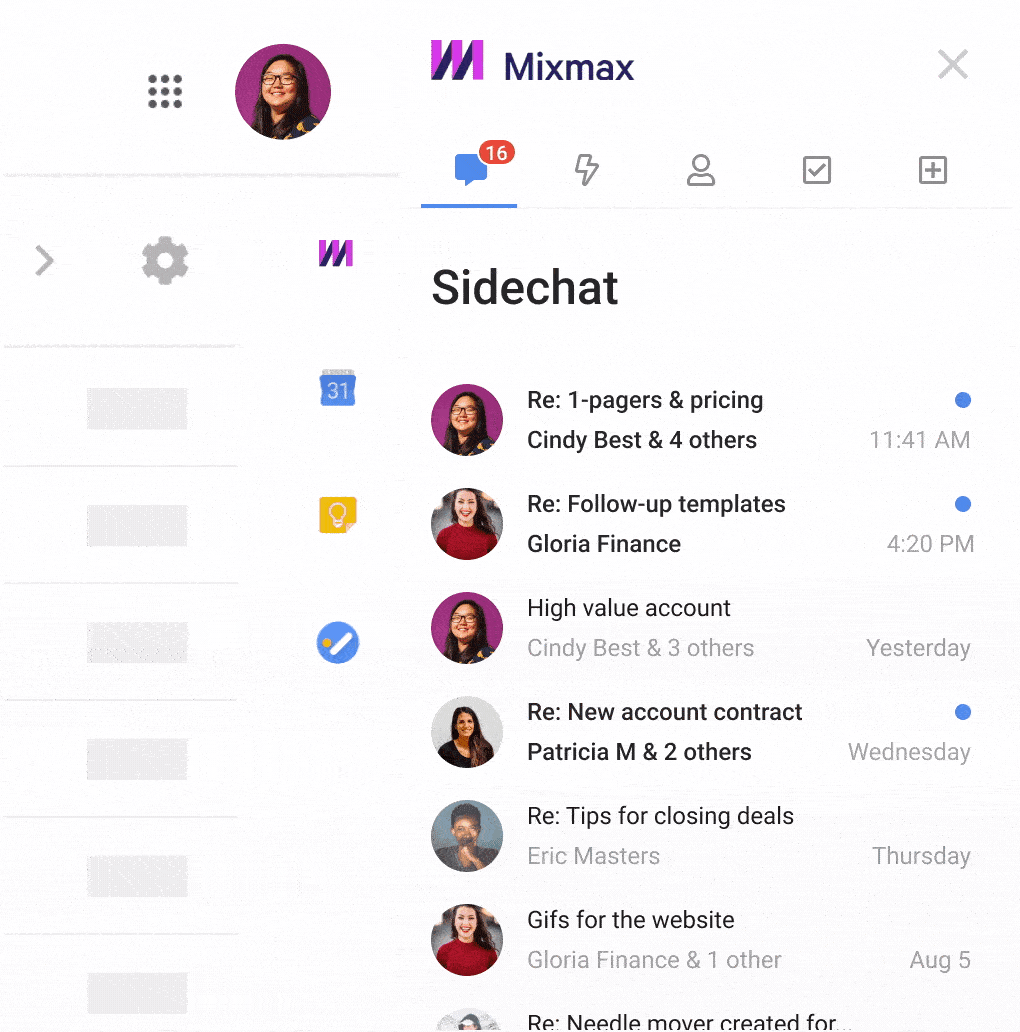 Chat & collaborate on emails, while being invisible to external recipients.
Having researched your target audience, you'll know which channels to engage on and how. According to Gartner, the younger your buyer, the more skeptical they are of sales rep's claims and the fewer interactions they want with them. Digital natives are, however, more likely to be open to social selling so it pays to have an online presence.
That said, don't consign cold calling to the dumpster just yet. Just think about how many emails you get per day vs calls. Right? The same goes for your prospects.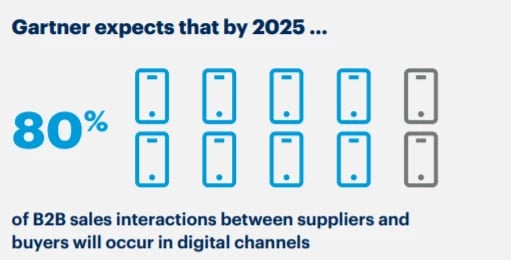 5. Create a killer tech stack that's fit for purpose
These days, effective sales prospecting increasingly relies on leveraging tech solutions. And with everyone stepping up their game when it comes to engagement, just keeping up with trends isn't enough. You need state-of-the-art tools to give you an edge and help you stand out from the crowd.
Start by analyzing your needs and current tech. Does it make you a turbo-charged prospecting beast? If not, what tools do you need to streamline your research, list building, multi-channel outreach, etc.? What content do you need to create for each channel and touchpoint? How will your sales teams locate collateral when they need it?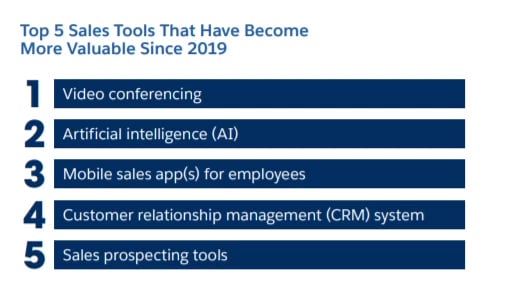 There's no shortage of sales prospecting tools out there, from single-function list-building, lead capture and qualification, conversation intelligence, gift-giving, and more. Before you make like a kid in a candy store, though, we recommend you go lean and build a minimum viable tech stack that fits your sales processes, integrates with your existing tech, and helps you achieve your goals.

Try starting with a multi-function sales engagement platform like Mixmax. It's packed with features that enable personalized outreach at scale, from customizable sales prospecting email templates, video messaging, voicemail drops, funny GIFs, and more. Once that's in place, you can test out other tools and add them into the mix.
Always buy the right tech for your needs, and don't overspend on fancy solutions with features you won't use. If you have complex sales development processes, you may need a platform like Outreach or Salesloft. Fast-growing companies using Gmail and Salesforce that require a scalable solution, however, are likely to prefer Mixmax.
Related Post: 55 Sales Prospecting Questions to Get Your Prospects Talking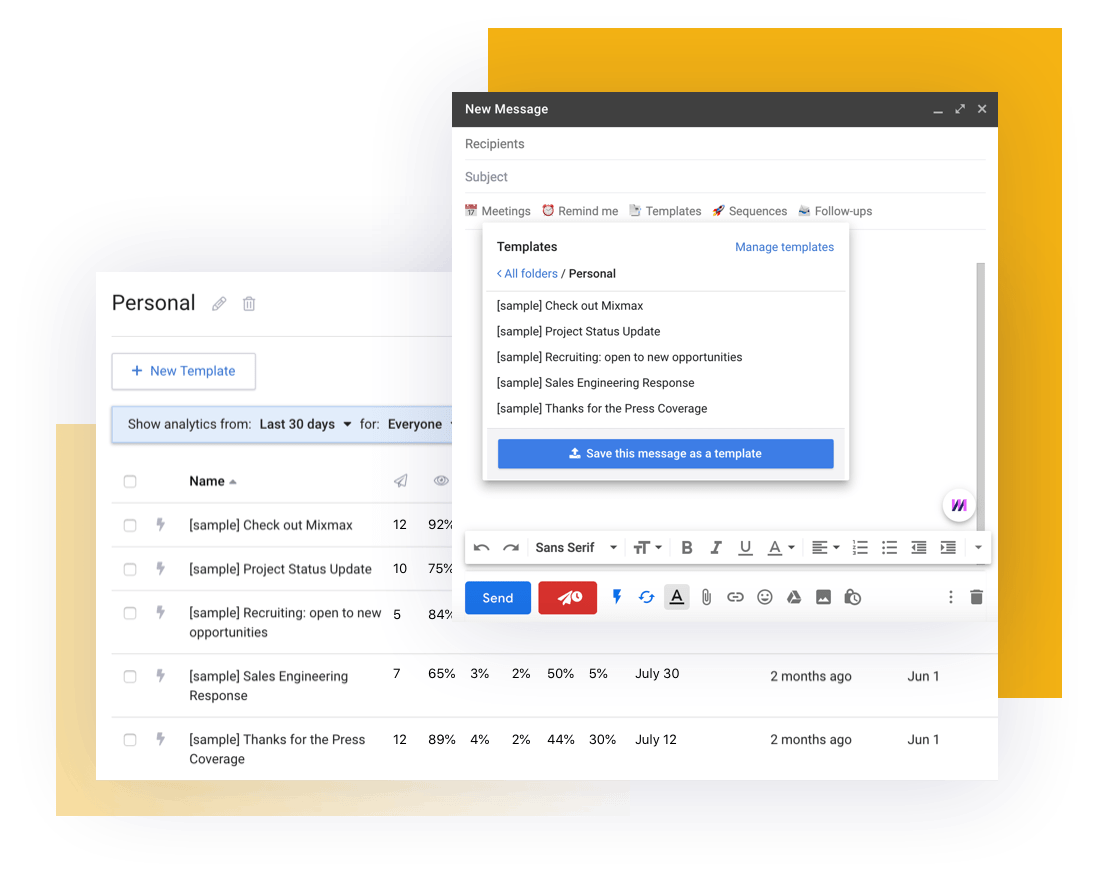 Mixmax customizable email templates
6. Automate manual or repetitive tasks
The information you need when prospecting often lives in multiple places, which means using multiple tools, channels, and sources to research companies, individuals, trends, challenges, etc. Then, you need to validate contact details, organize everything, and input it into your CRM before you can engage. And finally, personalize each and every communication and log all your sales activities.
Exhausting, right?

Let's face it, ain't nobody loves data entry (except maybe the oddball in cubicle 13), but if your CRM isn't up to date your sales teams can't rely on it. But if data entry is eating into customer-facing time, you've got a problem.
This is where sales automation comes in.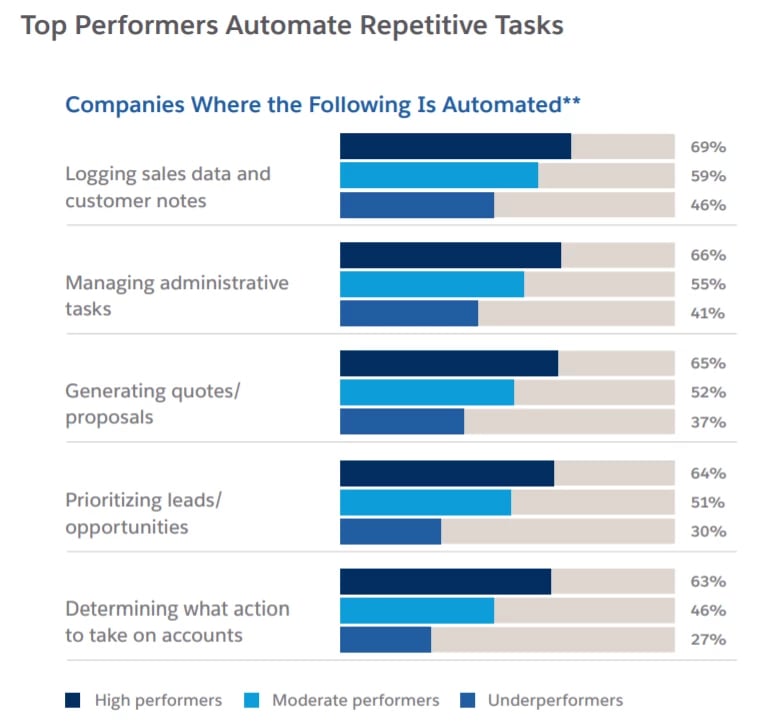 Again, you can opt for stand-alone sales automation tools or a multipurpose platform like Mixmax, which automates manual or repetitive tasks like updating your CRM, calling, scheduling meetings, and setting reminders. It also provides real-time engagement alerts so you can follow up when top-of-mind, and in-email CTAs, polls & surveys to further reduce friction. All of which frees you up to concentrate on personalizing communications at scale for better results.
The golden rule here is only to automate the tasks robots do better than humans. Never automate things humans excel at, like listening, communicating, and building relationships. Mixmax features like best-time-of-day scheduling and auto-delay responses get your messages in front of prospects at the right time and ensure they never look like they were sent by a machine.
Related post: 4 Ways To Offer Personalized Sales at Scale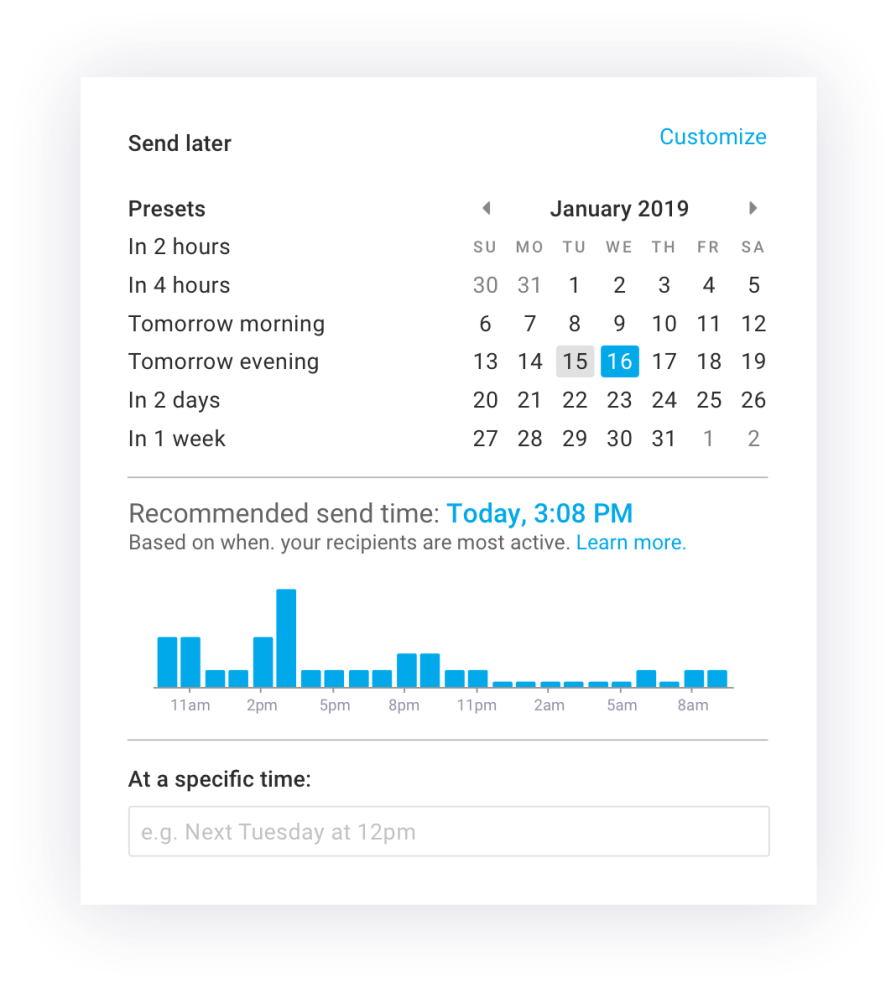 Mixmax send later feature
7. Network and build relationships
When you're staring down the barrel of your monthly quota, it's tempting to swiftly move on from prospects who are unlikely to convert. It's important to take the long view, though. Being genuinely interested in them and curious about how you can help is never a waste of time.
Often, your insights and messaging may be on point but, for whatever reason, it's just not the right time. Putting the hours into establishing a relationship now means you can put them on the back burner and check back in further down the line, or drop them into a re-engagement sequence.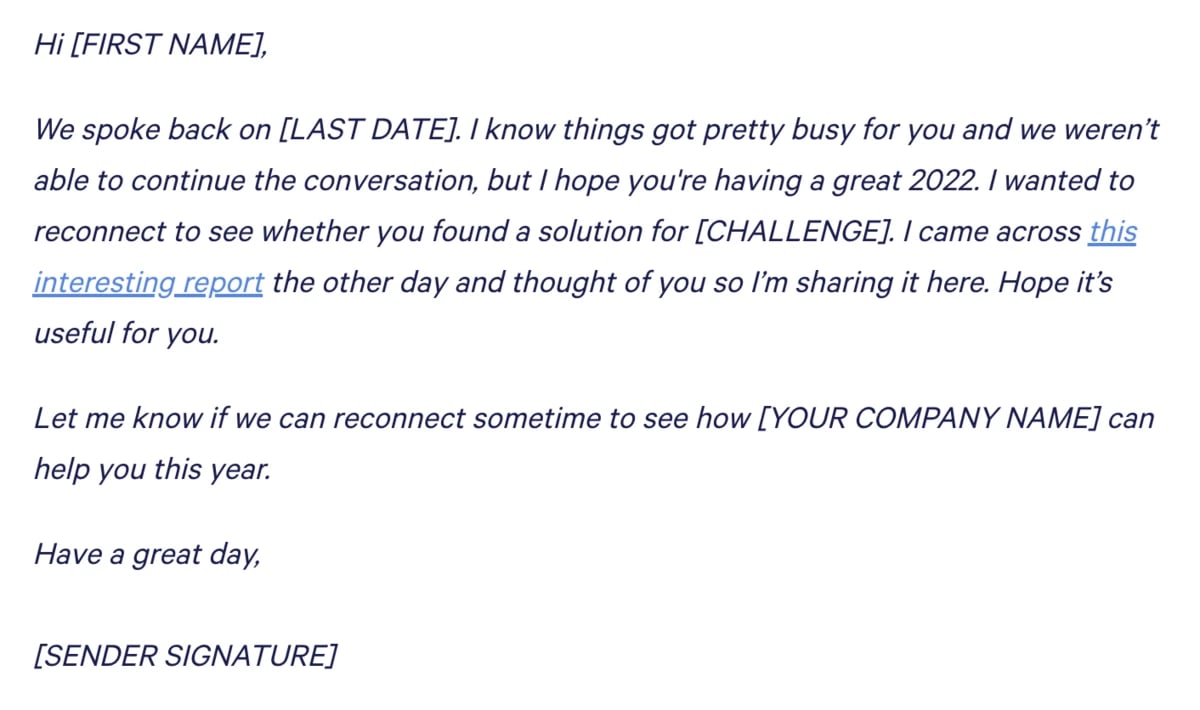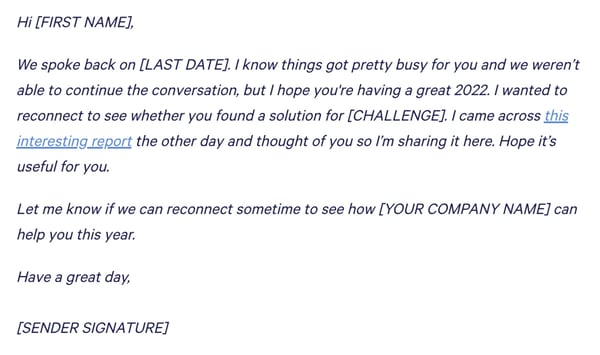 If they do become a customer, having a good rapport makes it easier to ask for referrals, a highly effective but woefully neglected sales prospecting technique. It also means you can keep in touch if they move to another company, and the first few months in a new role are when they're most likely to be looking into new solutions. Use ZoomInfo or Linkedin alerts to keep you updated about their movements.
Post-pandemic networking looks set to continue being online, so it's well worth curating your social presence. We love LinkedIn and Slack communities for really getting to know our prospects.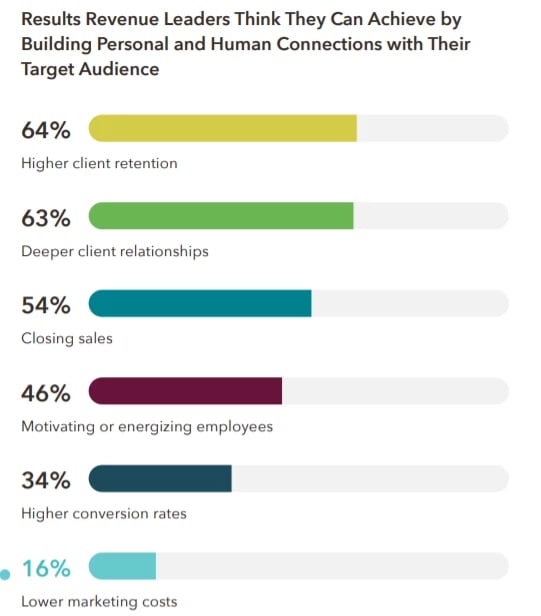 Related post: A Complete Guide to Sales Prospecting (2020 Update)
8. Get the prospecting habit
A healthy sales pipeline is constantly under construction and you should always be prospecting. Allocate time every day, week, or month to it, and stick to it. Block your calendar, turn off notifications, and don't let anything come between you and potential customers.
Try prospecting at different times and days to see what works best. Leverage engagement insights from your tech to work out when prospects are most likely to respond or buy.
Set prospecting goals - like booking 50 meetings for your AE each month, for example - and work backward from your targets to see how much time you'll need to dedicate to achieving each one. Segment your time into different sales activities rather than trying to multitask, too. It'll make you more efficient.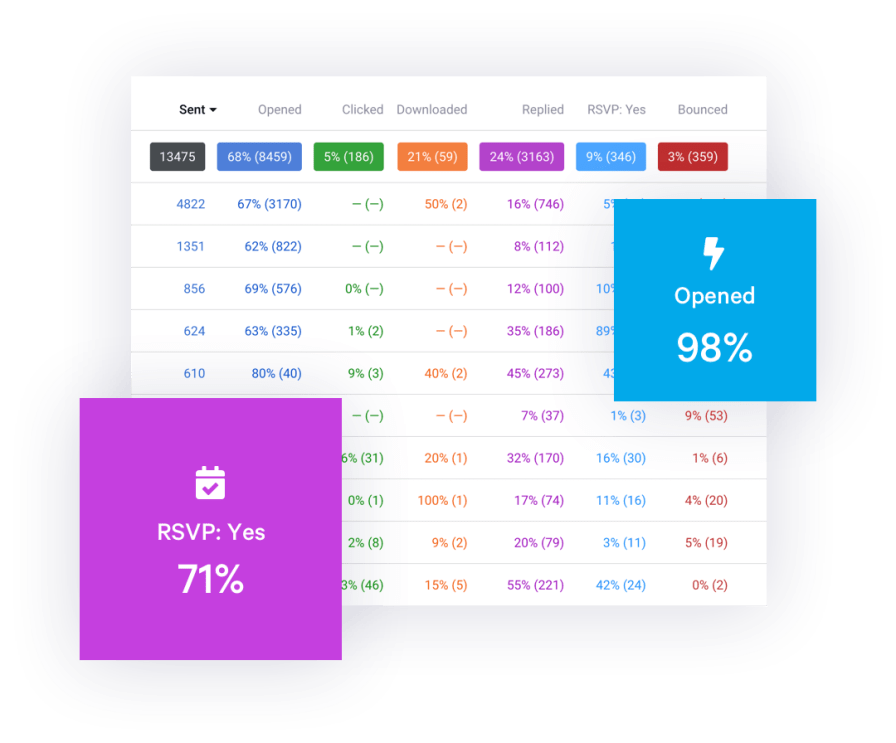 Mixmax engagement insights report
9. Always be measuring
A good prospector never rests on their laurels. You always need to be looking at what's working and what's not and using those insights to hone your messaging and prospecting methods. Do prospects respond better to action-orientated CTAs or funny GIFs? Which email templates or subject lines perform best? Which channels get the most engagement, and when?
That said, don't get hung up on A/B testing. Unless you have someone in-house whose full-time job is to continually create content, run tests, and analyze stats, it's pretty hard to do. Make life easier on yourself by setting up a couple of different sequences in Mixmax and monitoring which performs best. Our reports dashboard will help identify your hardest-working messaging and templates.
You can even go old school and speak to a real live human 😱. Once a prospect is in the pipe, ask what made them bite.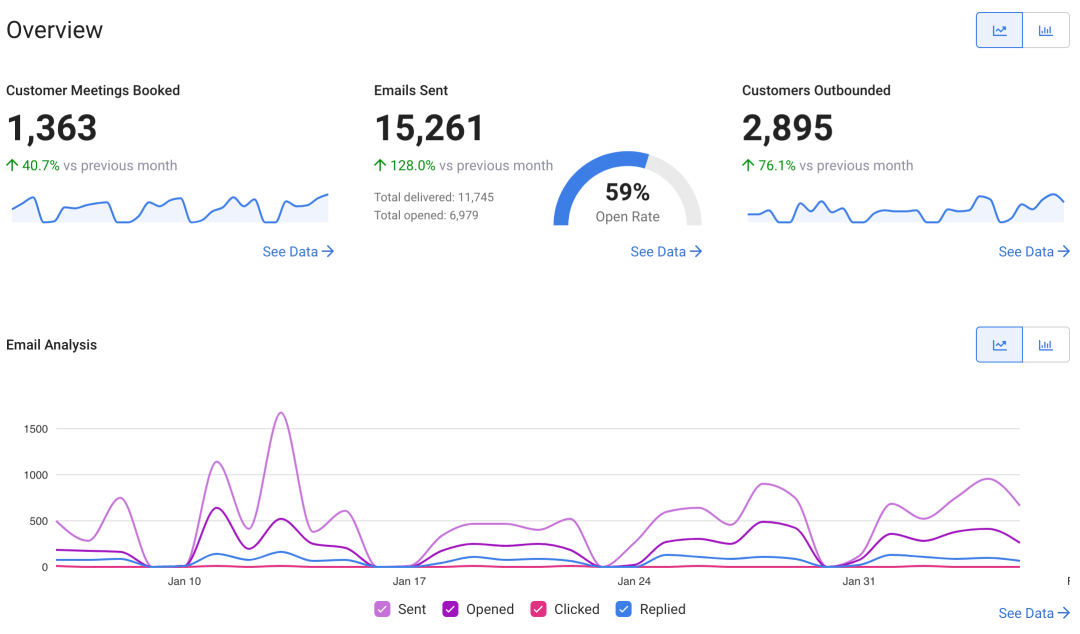 Mixmax reports dashboard
It's quittin' time
Prospecting is one of the most time-consuming, challenging but essential parts of the sales process. Do it wrong and you're setting yourself up for a lot of rejection and frustration. Do it right, and you'll be laughing all the way to the bank.
Related post: 12 Best Sales Prospecting Tools to Supercharge Your Pipeline
By nature, outbound prospecting is much harder than inbound, but it does have one important advantage: you're in control. This is where you get to handpick your future customers and decide who you want to work with. Plus, outbound deals are often bigger than inbound, so time invested in research and relationship building should pay off in the long run.
Either way, these tried and tested sales prospecting best practices and an all-around sales engagement solution like Mixmax will have you off to the best possible start.
And that's advice you can take to the bank.
Looking for a sales prospecting tool to boost your success rates? Mixmax helps you fill your pipeline and drive revenue creation.