B2B sales differ from B2C by the length of the sales cycle and the degree of robot vs human involvement.
B2C sales are largely generated by marketing, which uses email marketing tools like Mailchimp to send mass email blasts to potential customers.
The sales cycle is typically short and requires little human involvement, i.e. customers are directed to a landing page where they can buy a one-size-fits-all product. And while loyalty is important for B2C businesses, it's perfectly possible you'll make a sale and never see that customer again.
Where humans do get involved in B2C sales, it's usually to research leads and build email lists using tools like Lusha or LinkedIn, or set up automated email campaigns.
Other time-saving B2C sales automation tools include:
Software to track and analyze customer demographics, behavior, purchase history, etc.
Automated dialers that queue up multiple calls, allocating the next one in line to the first available rep.
Automated text messaging.
Automated social media posts and triggers to send out emails when people interact with your posts or website.



When it comes to B2B, the sales cycle is longer and the buyer journey less linear. This is because deals are usually bigger and more complex, involving several decision-makers on both sides and ongoing conversations about budget and specifications.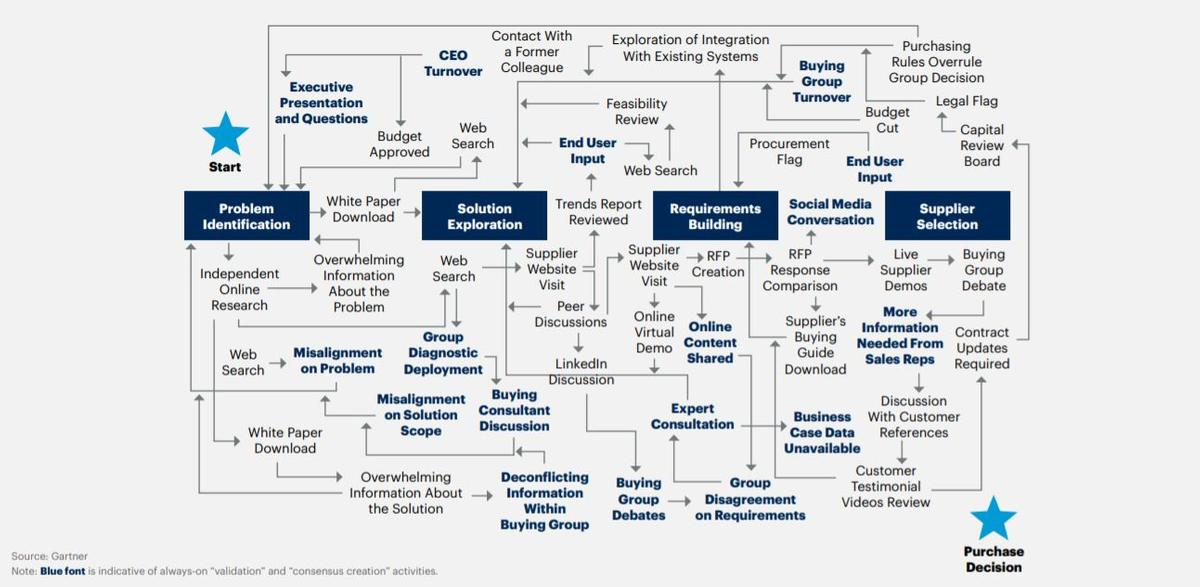 If looking at that made your head hurt, imagine how your customers feel! Your mission, should you choose to accept it, is to help them navigate that maze.
B2B prospects require a lot of nurturing and the sales cycle typically involves a discovery call, tailored demos and proposals, sharing sales collateral, and overcoming objections. Through it all, salespeople need to stay on the ball and deliver highly personalized and perfectly timed communications, whenever, wherever.
B2B sales automation comes into play at all stages of the sales cycle:
Prospecting
Lead generation and qualification tools make SDRs' lives easier by providing verified company and contact information from databases and online sources. Lead scoring tools then help them prioritize and nurture leads based on which are most likely to convert.
Sales engagement platforms like Mixmax allow reps to set up automated outbound emails sequences targeting segments of prospects in your CRM.
Real-time alerts when a prospect interacts with your email or answers a survey let SDRs follow up right away. Cutting response times means happier prospects, which boosts the chances of closing the deal.
Calendar scheduling tools eliminate the tedious back-and-forth involved in setting up meetings between prospects and AEs.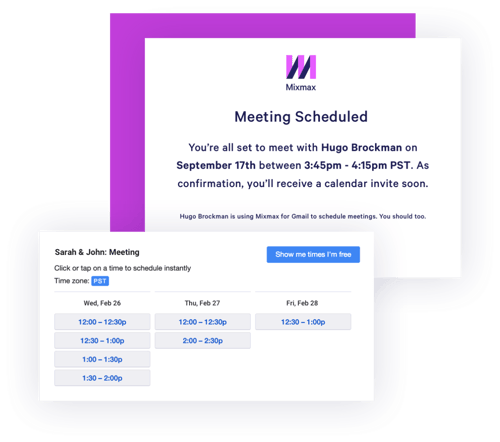 Selling
Once a prospect has been handed up to the AE, sales automation allows them to create personalized interactions at scale based on real-time insights.
For example:
Mixmax's customizable email templates autofill with CRM data so reps never have to draft the same message twice and can focus on personalizing them instead. Beautiful link previews and humorous gifs further personalize communications and help them stand out from the crowd.
Mixmax polls, surveys, and in-email CTAs make it easier for prospects to respond to requests for information, which you can use to tailor your follow ups.
Email sequence software tools facilitate setting up nurture campaigns.
Workflow automation ensures reps always know what action to take next and when. Like sending a social media connection request when a prospect opens an email.
Real-time notifications let sellers know when a prospect takes a particular action, like downloading or forwarding content, etc., so they can follow up while top of mind.
Call recording and conversation analysis tools log activities and provide insights for improvement.
Sales enablement software makes it easier for reps to lay hands on the right sales collateral at the right time. (See our piece on

sales engagement vs. sales enablement

for more on this.)
Two-way CRM sync automatically logs all sales activities, making it a source of truth.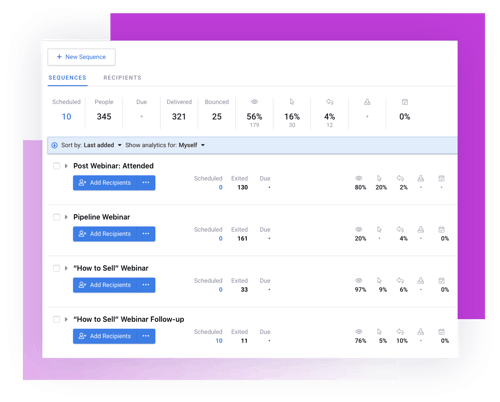 Closing
Once a prospect is ready to commit, real-time alerts and contract review-and-approval workflows streamline the process and allow AEs to act fast to close the deal.
Configure-price-per-quote tools and proposal templates save hours putting together personalized quotes.
Mixmax integrations with tools like DocuSign allow reps to send an automated (but personalized) thank you once the deal is in the bag.
Renewal
Sales automation tools allow CSM to set up alerts and sequences ensuring they check in regularly before the renewal, which helps avoid surprises and boost customer retention.
Expansion
Customer data and insights can be used to target high potential customers for upselling or cross-selling. Reps can also set up reminders to ask new customers for a referral after they've had time to get used to the product.