November 24, 2021
The Definitive Guide to B2B Sales Automation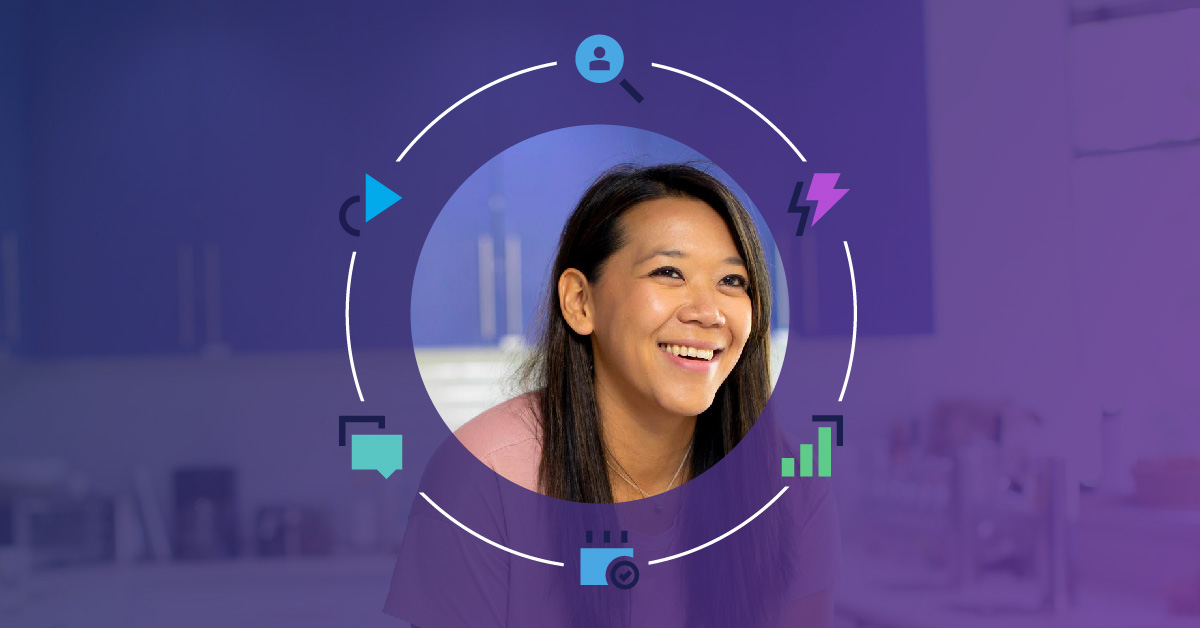 What is B2B sales automation?
Why you need B2B sales automation
B2B sales automation vs B2C sales automation
How to automate sales in your B2B company
Welcome to the brave new world of B2B sales automation
B2B sales ain't what they used to be, and that's a good thing.
Omnichannel is the new normal, and buyers expect to be engaged when and where it suits them by sellers who are available 24/7 to help solve their problems.
It's a lot for mere mortals to keep up with. Thank goodness we can now clone sales reps!
No? In that case, you'll need another way to give them selling superpowers while we wait for the future to arrive.
B2B sales automation has the power to make your reps more productive and effective, which is good news for your bottom line. You need to get it right though. Cloning successful sales plays and messaging is all well and good, but if you've ever felt trapped in an endless feedback loop trying to get past a chatbot gatekeeper, you'll know artificial isn't always the intelligent choice.
Robots hit it out of the park when it comes to tasks (normal) humans run a mile from, like admin, data entry, and analytics. But humans leave them standing when it comes to the kind of long-term nurturing required for B2B sales.
That's why top-performing sales organizations are those that successfully marry people and tech to great effect.
We're your matchmakers of choice when it comes to B2B sales automation, having helped numerous B2B companies successfully automate sales and become more human.
In this piece, we'll walk you through:
What B2B sales automation is
How sales automation benefits your teams, customers, and bottom line
The difference between B2B and B2C sales automation
How to automate B2B sales
Want to automate your sales processes to achieve true sales engagement? Find out how Mixmax can empower all your sales teams to achieve more with less.
What is B2B sales automation?
B2B sales automation uses digital tools and artificial intelligence to perform manual or repetitive sales tasks and compile and analyze data.
Done right, it streamlines sales processes, boosts productivity, and enables true sales engagement by freeing human salespeople up to spend more time with buyers.
Leading companies use sales automation to:
Do tedious but necessary admin, like updating your CRM, and logging sales activity, calls, and customer notes.
Accelerate and improve the accuracy of lead generation, qualification, and scoring.
Automate outreach and personalized communications at scale, like post demo follow-up sequences.
Schedule meetings.
Configure automated workflows to help reps stay on top of everything.
Nudge sellers to follow up in the right way at the right time.
Take the grunt work out of classifying and locating sales collateral, and putting together personalized quotes or proposals.
Track and analyze the performance of messaging, individuals, and teams.
Enrich and clean data.
Deliver data-based intel and insights.
Build the kind of world-beating sales teams reps would sell their granny to work for.
Handing all this over to robots gives humans more time to do what they do well, like personalizing interactions and nurturing customer relationships for better results.
B2B sales automation tools range from all-in-one sales engagement platforms like Mixmax to tools that perform a specific function, like lead scoring, improving your writing, or analyzing conversations, etc.
Either way, prospects should never suspect interactions are automated. To them, it should feel like salespeople are genuinely interested in establishing a human connection and helping them solve their problems, not selling at all costs.
Automation makes it easier to connect with more prospects, but abuse it by blasting them with generic emails and you'll turn them right off.
Why you need B2B sales automation
How we sell has changed. Today's savvy customers are in control of their journey. They've done their research and are better informed than ever. The sheer volume of information out there can be overwhelming, though, so they expect sellers to act as trusted advisors and help them make sense of it all.
Where we sell has also changed. The buyer journey and purchasing increasingly happen online and customers' digital footprints (page views, downloads, shares, etc.) are gold for data-driven sales organizations. Actionable insights into customer demographics, preferences, and behavior can be used to analyze sales funnel trends, source and qualify leads, engage proactively, and forecast more accurately, among many other things.
Gartner nailed it when they predicted the future of B2B sales means moving from a seller-centric to a buyer-centric approach with hyper-automated digital-first engagement.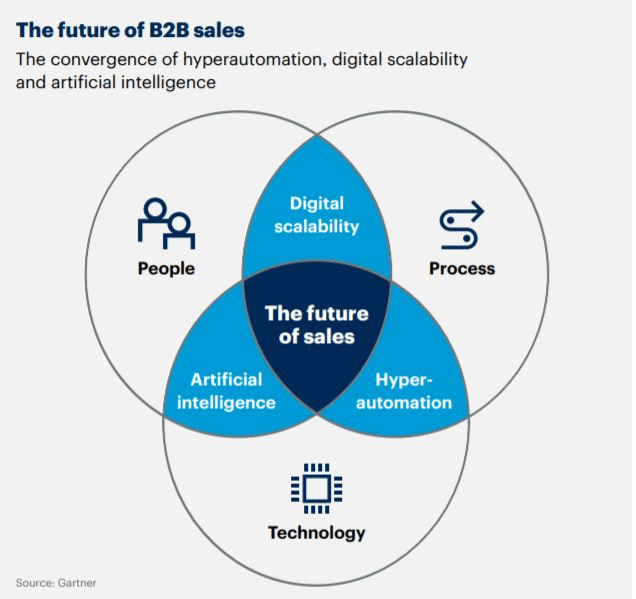 This means human salespeople need to be ready to engage in the right way at the right time over multiple channels. Whether it's jumping on a video conference, following up on emails with a call, connecting on social media, sharing sales collateral, or delivering personalized demos, quotes, or proposals.
As our customer Aircall puts it, "With buyers moving into the driver's seat of the sales process, they're more likely to work with sellers who make it easier for them to meet their needs and who make the sales process easier and more streamlined."
All without losing the human touch.
Cynical buyers are rightly wary of anything that reeks of impersonal advertising or spam. Now more than ever, sellers need to put the hours in to establish connections with each and every prospect. They can't do that if they're tied up inputting CRM data, scrambling to find sales collateral, or wasting precious time going back and forth trying to locate prospect data or schedule meetings.
That's why they need a little help from their robot friends.
The benefits of B2B sales automation include:
Eliminates busywork by automating tedious repetitive or manual tasks. This optimizes use of time and resources and reduces the cost of sales, so you can achieve more with less.
Makes your business seem more human by freeing salespeople up to focus on high-value tasks like asking

open-ended sales engagement questions

.
Gives reps back more customer-facing time, which translates into more satisfied and engaged customers.
Reduces friction and achieves pattern disruption, increasing the chances of getting a response to communications and meetings on prospects' calendars.
Makes prospecting more efficient by providing pre-qualified leads and automating personalized outreach at scale.
Streamlines sales processes and ensures nothing slips through the cracks. Repeatable processes also make it easier to train new recruits.
Helps reps stay on top of everything and nurture prospects at scale over a long sales cycle and keep everyone in the loop. Never again shall you lose a deal again because someone forgot to follow up or get the right people involved.
Ensures a smooth hand-over from SDRs to AEs to CSM.
Provides a better overview of sales activities and sales pipeline health to identify opportunities and at-risk deals.
Better data hygiene enables more accurate forecasting.
Automates outreach to existing customers to unlock additional revenue.
Related post: How to Improve Your Cold Calling Scripts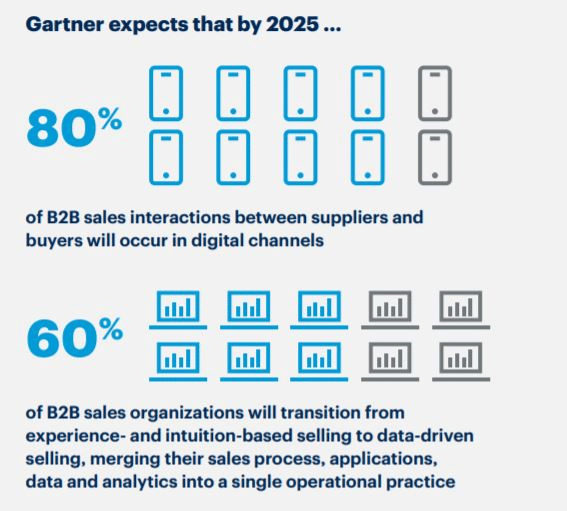 B2B sales automation vs B2C sales automation
B2B sales differ from B2C by the length of the sales cycle and the degree of robot vs human involvement.
B2C sales are largely generated by marketing, which uses email marketing tools like Mailchimp to send mass email blasts to potential customers.
The sales cycle is typically short and requires little human involvement, i.e. customers are directed to a landing page where they can buy a one-size-fits-all product. And while loyalty is important for B2C businesses, it's perfectly possible you'll make a sale and never see that customer again.
Where humans do get involved in B2C sales, it's usually to research leads and build email lists using tools like Lusha or LinkedIn, or set up automated email campaigns.
Other time-saving B2C sales automation tools include:
Software to track and analyze customer demographics, behavior, purchase history, etc.
Automated dialers that queue up multiple calls, allocating the next one in line to the first available rep.
Automated text messaging.
Automated social media posts and triggers to send out emails when people interact with your posts or website.



When it comes to B2B, the sales cycle is longer and the buyer journey less linear. This is because deals are usually bigger and more complex, involving several decision-makers on both sides and ongoing conversations about budget and specifications.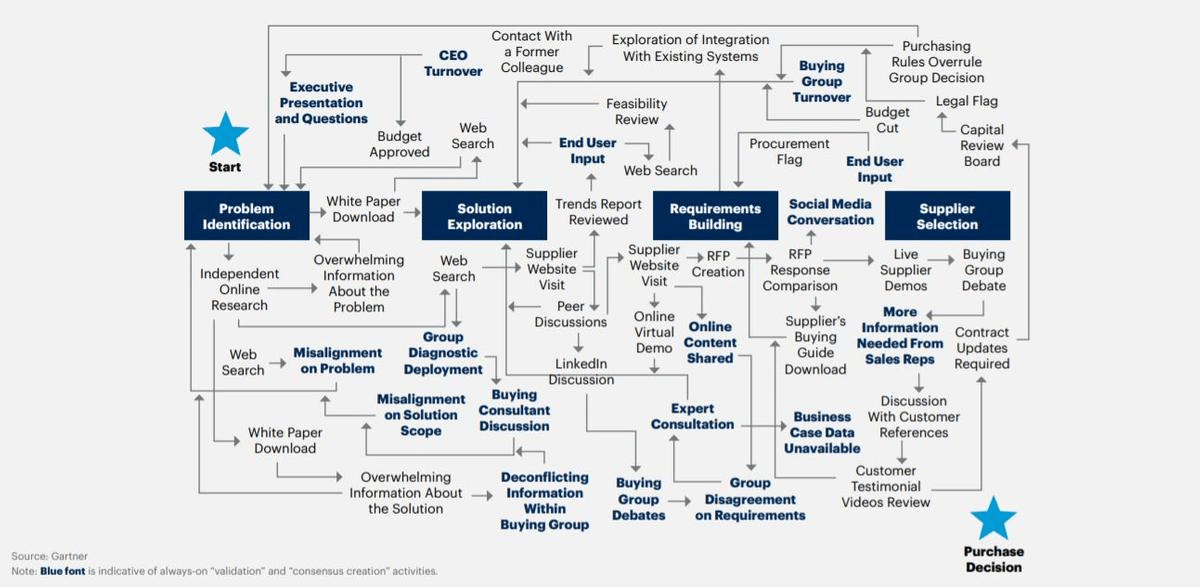 If looking at that made your head hurt, imagine how your customers feel! Your mission, should you choose to accept it, is to help them navigate that maze.
B2B prospects require a lot of nurturing and the sales cycle typically involves a discovery call, tailored demos and proposals, sharing sales collateral, and overcoming objections. Through it all, salespeople need to stay on the ball and deliver highly personalized and perfectly timed communications, whenever, wherever.
B2B sales automation comes into play at all stages of the sales cycle:
Prospecting
Lead generation and qualification tools make SDRs' lives easier by providing verified company and contact information from databases and online sources. Lead scoring tools then help them prioritize and nurture leads based on which are most likely to convert.
Sales engagement platforms like Mixmax allow reps to set up automated outbound emails sequences targeting segments of prospects in your CRM.
Real-time alerts when a prospect interacts with your email or answers a survey let SDRs follow up right away. Cutting response times means happier prospects, which boosts the chances of closing the deal.
Calendar scheduling tools eliminate the tedious back-and-forth involved in setting up meetings between prospects and AEs.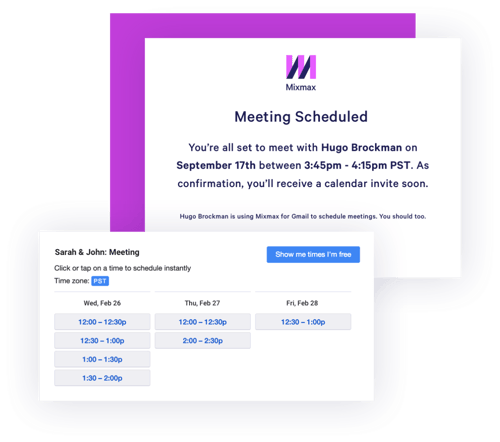 Selling
Once a prospect has been handed up to the AE, sales automation allows them to create personalized interactions at scale based on real-time insights.
For example:
Mixmax's customizable email templates autofill with CRM data so reps never have to draft the same message twice and can focus on personalizing them instead. Beautiful link previews and humorous gifs further personalize communications and help them stand out from the crowd.
Mixmax polls, surveys, and in-email CTAs make it easier for prospects to respond to requests for information, which you can use to tailor your follow ups.
Email sequence software tools facilitate setting up nurture campaigns.
Workflow automation ensures reps always know what action to take next and when. Like sending a social media connection request when a prospect opens an email.
Real-time notifications let sellers know when a prospect takes a particular action, like downloading or forwarding content, etc., so they can follow up while top of mind.
Call recording and conversation analysis tools log activities and provide insights for improvement.
Sales enablement software makes it easier for reps to lay hands on the right sales collateral at the right time. (See our piece on

sales engagement vs. sales enablement

for more on this.)
Two-way CRM sync automatically logs all sales activities, making it a source of truth.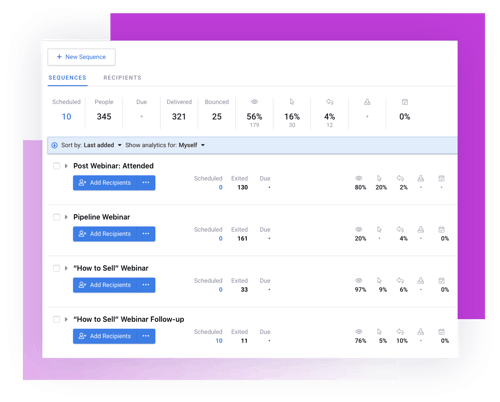 Closing
Once a prospect is ready to commit, real-time alerts and contract review-and-approval workflows streamline the process and allow AEs to act fast to close the deal.
Configure-price-per-quote tools and proposal templates save hours putting together personalized quotes.
Mixmax integrations with tools like DocuSign allow reps to send an automated (but personalized) thank you once the deal is in the bag.
Renewal
Sales automation tools allow CSM to set up alerts and sequences ensuring they check in regularly before the renewal, which helps avoid surprises and boost customer retention.
Expansion
Customer data and insights can be used to target high potential customers for upselling or cross-selling. Reps can also set up reminders to ask new customers for a referral after they've had time to get used to the product.
How to automate sales in your B2B company
The secret to automating B2B sales lies in letting robots and humans do what they do best. Not having them do each other's jobs.
This means automating things like low-level data entry, but not the things humans excel at, like talking to people. Never make your customers talk to a robot. They will hate you for it.
There's no universal roadmap to automate B2B sales. We recommend you use the (sales)force wisely and:
Start by mapping your workflows and processes to see where automation can improve them. Ask yourself, what would help me have better interactions at scale?
Identify repetitive tasks that can be automated without negatively affecting the customer experience. Good candidates include record creation; activity logging; admin and data entry; lead generation, qualification, and scoring; workflows; email sequences; post-sales onboarding; and reporting.
Create an action plan with metrics and milestones, so you can assess whether automation is working for you. Set specific and measurable goals and think about how you're going to measure ROI.
Involve your teams in the process. Sales automation tools live and die by ease-of-use, so listen to their needs and challenges and look for solutions that make their lives easier.
Only invest in tech that integrates with your current tools and fits your teams' roles so it actually gets used.
Aim for a minimum viable tech stack that helps you hit your goals and cuts down on the number of tabs and tools reps have to juggle. With sales automation, as with so many things, less is more.
Try starting with a multi-feature sales engagement platform like Mixmax. It comes as a Chrome download that sits on top of Gmail and integrates with a range of popular sales tools, so everyone from SDRs to sales managers can work and collaborate without leaving their inbox.
Test and add other sales automation tools if they further improve performance and the quality of your interactions.
Evaluate your digital tools and transformation strategy regularly to see if they're helping you get where you want to go.
Remember, sales automation alone won't magically improve your numbers. Achieving true sales engagement is down to you.
Want to automate your sales processes to achieve true sales engagement? Find out how Mixmax can empower all your sales teams to achieve more with less.
Welcome to the brave new world of B2B sales automation
The role of B2B sellers is changing. Well-informed buyers increasingly expect reps to act as trusted advisors, always on hand to engage over multiple channels during a long, complex, and non-linear customer journey.
That's why leading B2B sellers are transitioning to a buyer-centric approach that uses sales automation tools and smart insights to put reps one step ahead of the game.
There's no one-size-fits-all approach to digital transformation. It's all a question of figuring out which tech will help you streamline your sales processes and give your reps more customer-facing time. Busy sales teams using Gmail and Salesforce in fast-growing companies love how a multitasking sales engagement platform like Mixmax gives their reps superpowers. Others prefer single-use tools designed to solve specific challenges.
Whatever approach you take, remember the goal of sales automation is to enable you to have more high-quality interactions. Customers can get mass-produced impersonal experiences any day of the week. It's up to you to be better.
You got this.