Sales prospecting and lead generation are both designed to pack your pipeline with prospects, but they differ in several ways.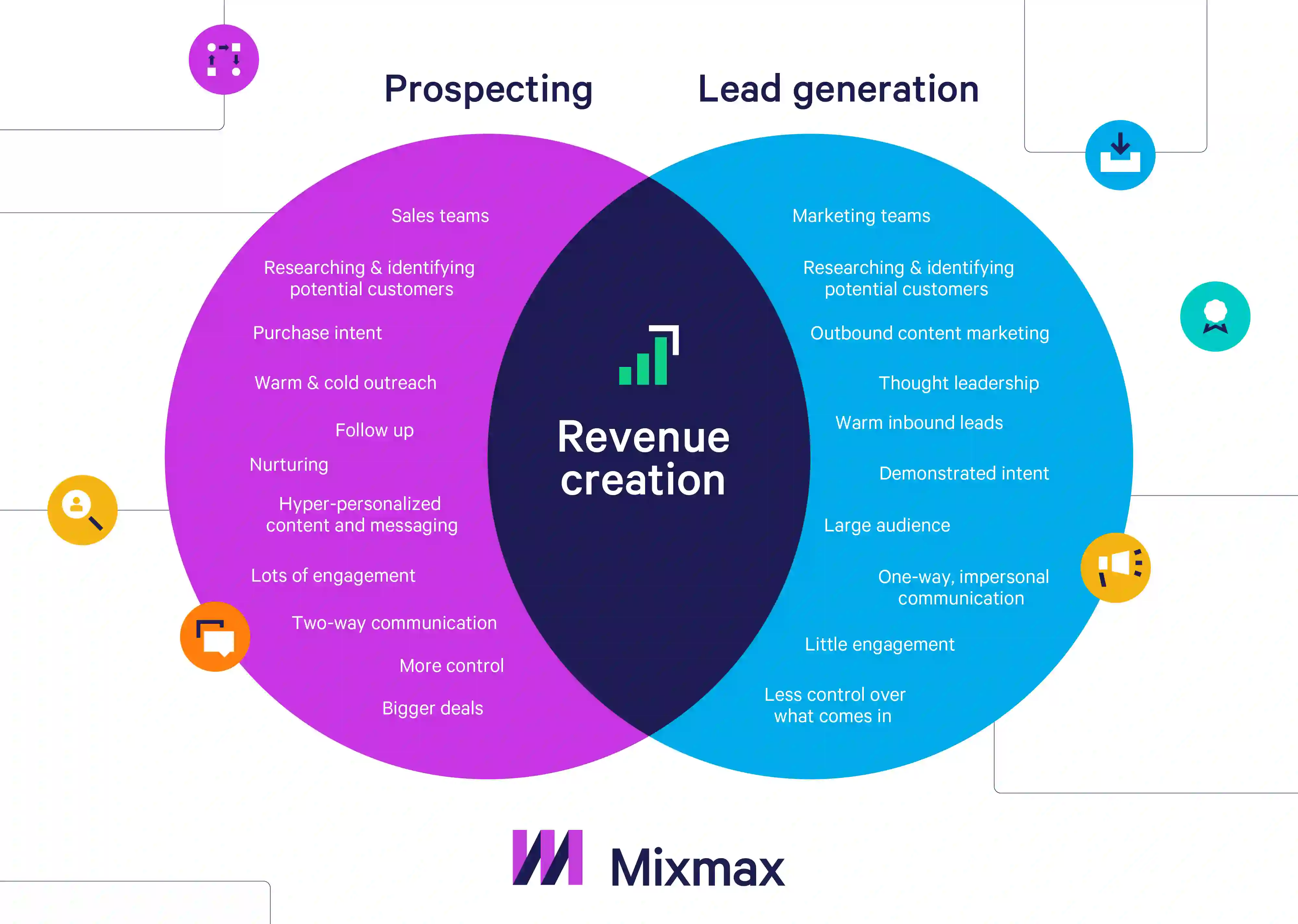 Sales prospecting is a short-term process designed to generate results faster than lead generation, which tends to be a slower, more long-term strategy.
Prospecting is a highly focused, hyper-personalized activity targeting a relatively small group of people. Think of us as sales process snipers. And while lead generation isn't exactly spraying bullets, it targets a much wider audience to generate a larger volume of contacts.
Inbound leads are aware of your company on some level and have demonstrated intent and interest by interacting with your content, which makes starting a conversation and converting them easier.





Prospects, on other hand, don't yet know you, even though they may need your product, which means conversions take longer. And there's no guarantee of success. You might target the right person with the right solution, but for one reason or another, they're just not in a position to buy.



However, outbound prospecting does give you more control over who you interact with. With lead generation, you can put out messaging targeting a specific industry or persona, but you have limited control over who responds. If you're swamped with requests for demos and meetings from leads that don't fit your ICP or don't have authority to buy, they could eat into your time and resources without resulting in a sale.



And while MQLs from inbound marketing campaigns are warm leads, they still need to be qualified by sales to check whether they're worth pursuing.





By contrast, outbound prospecting allows you to pick prospects you know could benefit from your solution. So these leads are often more valuable, and the resulting deals tend to be larger.




Lead generation is one-way communication that's all about your product. Good prospecting, on the other hand, should be all about the customer, with a lot of two-way communication and sales prospecting techniques like a high listen-to-talk ratio to establish trust.
With lead generation, there's little immediate engagement beyond the automated response that lands in your inbox seconds after you download a lead magnet.
Prospecting, however, involves a lot more personalization and one-to-one engagement via email, phone and video calls, LinkedIn messaging, etc. When a prospect engages with content shared via Mixmax, real-time engagement alerts mean they'll get a personalized follow-up call from the sales rep.
The amount of engagement and personalization means there's a lot to keep on top of. That's why busy sales teams use tools like Mixmax to personalize multi-channel outreach at scale.
Features like in-email CTAs, calendar scheduling, visuals, polls & surveys, and funny GIFs also reduce friction, achieve pattern interruption, and maximize the chances of getting a response. And performance tracking tells them which templates, sales prospecting email subject lines, content, etc. are working.
Mixmax also takes a load off by automating workflows, reminders, and follow-up, and syncing to your CRM to save time and eliminate busywork.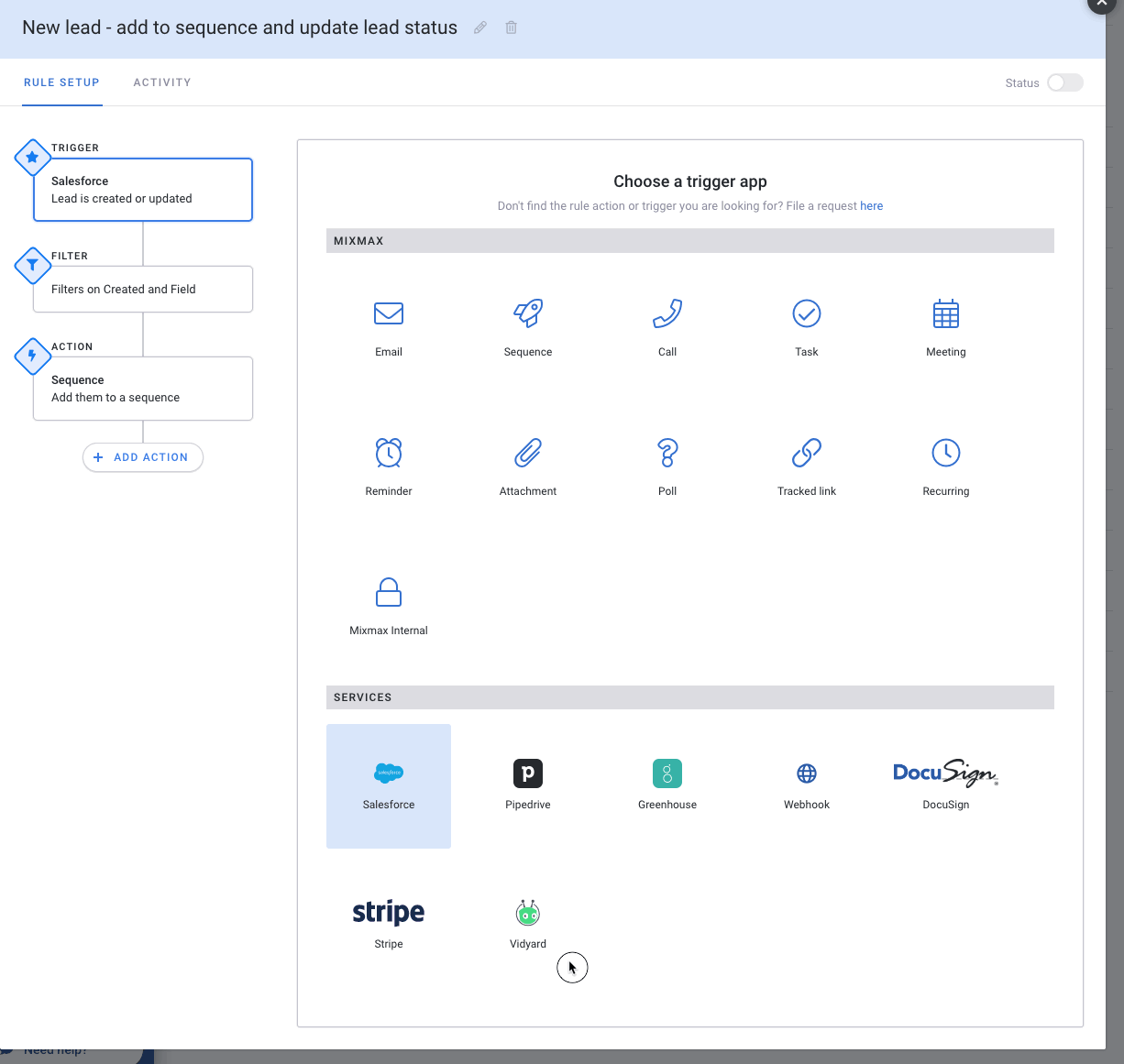 Mixmax Rules
Related Post:
The Ultimate Guide to Sales Qualification: Steps and Questions