We interviewed a group of top-performing sales managers to identify several categories of open-ended sales engagement questions deemed most powerful during the sales process:
Qualifying questions
Discovery and need-based questions
Personal pain-related questions
Next step questions
Qualifying questions
A good qualifying question takes you closer to understanding the likelihood of closing a deal with your prospect. This stage of the process should be as much about your reps ruling prospects out as ruling them in, so it's important you use open questions to dig into their situation from the start to avoid wasting time later.
Here are some powerful, open-ended qualifying questions:
1. "Can you tell me when you started using your current solution and why that decision was made?"

Notice this question above asks when (not who or what) and why, leading the client to tell you more about their decision processes and who else may be involved in this decision as well.
John Millen, Managing Partner at Millen Group says: "Most salespeople ask 'What do you use for XYZ? When did you start using XYZ, etc.' Here's a better question: 'Can you tell me when you started using XYZ and why was that decision made?' This tells you the motivation for why they are on that product/service now, and who was involved in the decision-making process."
2. "If you decide to work on a project like this, what's your ideal timeframe?"

Part of your qualifying process is to find out where the client is in their decision-making process. Simply asking a closed question like "Are you going to make a buying decision this year?" will get a yes or no answer.
Asking "If you decide to work on a project like this, what's your ideal timeframe?" gives the client room to discuss not only their timeline, but their needs, decision-making team, and more. You'll gain insights into their mindset and experience making decisions like this.

3. "What would you consider the next action steps in this project to be?"
This is a great follow-up question to the one above. In asking this open-ended question "What would you consider are the next action steps in this project?" you can learn more about where the client is in their buying process and what they will need from you in order to make a final decision.

Together, these two questions will give you information to further qualify the client, and details that will help in the next phase of discovery.
4. "Who else, if anyone, is involved in the final decision?"
As salespeople, we want to know if we are talking to the right person. That's part of qualifying. In most cases, however, it's more complex. Asking "Who else, if anyone, is involved in the final decision?" avoids any discomfort about the client's ego, status, and influence in the company. This keeps you on their side and doesn't introduce any question of their decision-making ability.
Alternatively, you might ask: "Are there any other stakeholders who might feel left out of the decision process if we don't involve them?" The answers to this question will give you more insight into the company culture, needs, and decision-making processes.
Another useful question that's somewhat related: "What is your general buying process like?" Your client's response to this line of questioning will help you understand much more about their team, company culture, and the client's mindset of how the team will decide. It can also help you avoid last-minute curveballs where an unexpected blocker emerges on the client's side.
Related Post: 7 Best Sales Engagement Platforms: Reviews, Features & Pricing
Discovery and need-based questions
The experts we interviewed agreed that managing the discovery process is the most important aspect of winning deals.
This is where open-ended sales engagement questions help you find the details and nuances of your client's business situation, needs, and decision-making criteria (how they'll identify their chosen solution).
These tried-and-tested questions help your reps get the information they need during this crucial phase to be able to progress deals faster:
5. "What are your goals in the next few months?"

In the discovery phase, you may already have a sense of the client's timeline but this question allows the client to respond with much more information. Asking about the client's goals can reveal their key pain points, sense of urgency, helping you identify the value of your sales proposition in their context and terms.
By asking this question, you may discover that the prospect perceives another huge project to be much more urgent, or that they really need your solution ASAP. This helps you forecast your deals more accurately and helps AEs prioritize which deals they are spending their time on.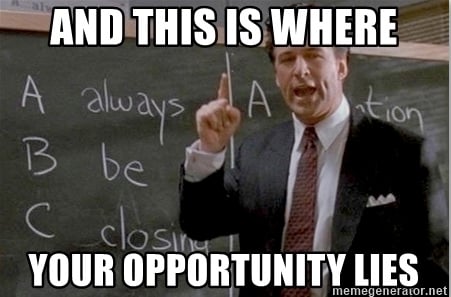 6. "Describe an area where you believe your competitors are outcompeting you in winning customers."

Finding out a client's perspective on where they think they're falling short against their competition opens a discussion about the client's pain points and problems. This sets you up to discuss your solution to that problem.
"I always like to ask them to 'describe an area where you believe your competitors are outcompeting you' because it is important to get a lead talking about their problems," says Sebastian Schaeffer of dofollow.ie. "Following this, you can come in with a solution to an acknowledged problem that has come straight from the horse's mouth, rather than one you're guessing at."
7. "Walk me through your current process?"
Tailored to your product (for instance, "walk me through your current event scheduling process?"), this is a great way to get your customer to tell you details about their current situation. You'll find out where the incumbent solution is falling short, what problems they're having, and also what problems they're not having—which is also important, as you don't want to spend time pitching aspects of your product that your customer doesn't feel address their needs.
Not only will understanding your prospect's current processes help you better tailor your offer to their needs, but you'll also find out more about their day-to-day experience. This makes it easier to build rapport and a relationship with the person you're selling to which will differentiate you from the crowd of faceless salespeople just trying to pitch their product.
8. "What are some of the frustrations you're currently experiencing?"
A great question in its own right, but also a powerful follow-up to the previous question if they don't elaborate on problems they're having. This is an elegant way to get them talking about the pains their business is experiencing currently with the incumbent solution in place.
The key here is not to go after their current solution right away—or to suggest pains they might be facing—but to let them put their problems in their own words and to listen. Remember, people tend to get defensive when they feel like they're being told they're doing something wrong (particularly if the prospect helped to select the current solution) so rather than going after your competitor's solution, just ask the prospect to outline what frustrations they're facing in their own words.
Some salespeople will give a standardized pitch, showing off all their various features, regardless of what the prospect is actually looking for. So the trick here is to use this information to inform your sales pitch and personalize that interaction. Show the prospect you've heard them and understand their pain—and demonstrate that you have a solution to their specific problems.
9. "What happens if you don't purchase a solution?"
For those familiar with SPIN selling, the previous question is a good way to get to the 'P': the 'Pain' your prospect is facing. This question is the perfect follow-up as it's about moving the conversation along to address the 'I', which stands for 'Implication'.
If pain questions expose where the prospect is feeling a bit sore, a good implication question is where you apply a bit of pressure to make it hurt (in the nicest way possible). That means delving deeper into what will happen if your prospect fails to address the pain.
This could lead you into personal-pain question territory (which we'll explore more below), as the implication might be that the prospect will find it difficult to succeed at their job. They might fail to attain a personal bonus if they fail to hit KPIs, they might look bad in front of their boss...they could even be out of a job.
By asking what will happen if your prospect fails to act, you'll find out how compelling their need to make a purchase is (which will help you test the strength of the deal) and you'll be that much closer to identifying the perfect way to position your offering to meet their needs. You'll also increase the sense of urgency they feel to find a remedy to their pain.
Personal-pain questions
Open-ended personal-pain related questions help you establish trust and empathy with the client. Their responses will help you build the case for your solution to their problems.
10. "The last time we spoke, you mentioned you were doing [X]. How did that go?"
If you're speaking with a prospect you've been in touch with in the past, make sure to show you've been paying attention and that you are invested in building a relationship. This is also a good question to ask via email when picking up with a prospect after communication has gone cold.
This type of interaction can be made easier for your reps using a sales engagement platform like Mixmax that helps you set reminders about details from past conversations, and makes it easy to use them to personalize emails.
11. "What challenges do you face in your role?"
This is a good open-ended engagement question that helps initiate the identification of the client's pain points. Use the client's responses to empathize with them and position yourself on their side. Ultimately, this gives you context so you can position your solution for them personally. This will help you identify how your product is going to make your prospect's life easier and enable you to communicate those benefits more effectively.
12. "How do these challenges stop you from reaching your business objectives and what implications will these challenges have if you don't fix them?"
This is an engaging follow-up question to keep the conversation going. It's better asked as two separate questions (if you ask somebody two questions they'll usually only answer one of them).
Ask how the challenges uncovered by the previous question are stopping the prospect from reaching their business objectives and then follow that up with a question about the implication if these challenges aren't addressed to make the prospect feel the pain of inaction and increase urgency around your solution.
13. "What is currently slowing down your workflow?"
This question is a great conversation starter (whether on a call or via email) that yields information about pain points and helps position you as the customer's ally. This question leads you to the following questions below.
14. "How would changing this process make your job easier?"
Use this question as a follow-up once the client has identified some kind of pain in their processes that you can help them solve. You'll also gain insights into what your clients' priorities are so you can communicate on their terms.
Sebastian Schaeffer of dofollow.io says "this question gives me insight into what someone prioritizes in their role and allows me to start tailoring an approach that is more likely to resonate with the individual."
15. "What do you think these issues are costing you?"

Here's another great question that helps you quantify the client's pain, so you can quantify value gained from your solution in their terms.
"When they're explaining their pain points, I like to ask this question because I want them to feel some context for what it means to have this pain," says Khabeer Rockley at The 5% Institute. "This gives the pain a price, either monetary or time-wise. From there, I just need to ensure my product or service comes in at a lower price than their pain's price, and I'm onto a no-brainer sale."
16. "If we don't get this fixed, how will it impact you personally?"
Often a client's goals and needs are different from those experienced by the company. Your contact likely has career and advancement goals, for example. Starting a conversation about their personal goals, pains, and fears helps to build the relationship further, builds more empathy, and positions you as one who can provide a solution to their personal job goals.
Next-step questions
Next-step questions help you move the deal along, and these open-ended questions are perfect for the transition towards closing the deal:
17. "What features do you need from our product that you haven't seen yet?"
It helps to know what your client is still unsure of, what they are still focused on, and what information you need to provide moving forward. Mykola Tymkiv of MacKeeper goes further:
"This opens up a new avenue of thinking for the prospect. You've told them quite a bit about what your product does. Give them a chance to stop and consider what they haven't yet seen. Chances are your product actually does that. At worst, you'll have valuable info to pass along to the product team. Nothing like telling a former prospect that your product has been upgraded specifically for them!"
18. "Before ending this call, what questions or concerns have I not addressed yet?"

What objections are still in the client's mind? The client's response to this type of question helps you with your next engagement. For the next call or email, you'll have their language to use in addressing their concerns.