Now you know what sales prospecting methods to use, let's take a look at some strategies to supercharge your prospecting.
1. Empower your B2B prospecting teams
AKA sales enablement, this is all about providing your sales teams with the tools, skills, and resources they need for effective B2B prospecting.
This might include:
Identifying skills gaps and providing training in sales prospecting techniques and best practices, copywriting, and using sales prospecting and collaboration tools.
Getting sales to work with other departments like product or marketing to create up-to-date, on-brand content that reps can lay hands on whenever, wherever (so, not in siloed repositories). If you're using Mixmax, they can insert multimedia files right into communications from their inbox thanks to the Dropbox integration.
Investing in an integrated tech stack that includes a sales engagement platform and dedicated tools for researching prospects, finding and verifying contact information, dialing, etc., etc.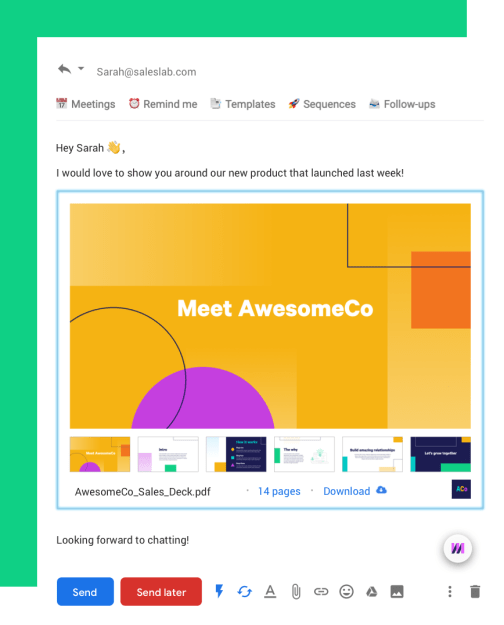 Some companies have a dedicated sales enablement department, while in others it's the responsibility of RevOps, L&D, or other departments.
2. Align sales and marketing
Effective sales prospecting relies on generating quality leads and prospecting lists, which is easier when you have a single revenue generation machine working towards the same goals.
When sales and marketing are aligned, it helps establish a coherent brand identity and messaging that paves the way for successful outreach by the sales team and generates more high-quality marketing qualified leads (MQLs).
It all starts with:
Calculating your total addressable market: The number of prospects in your target market.
Developing an ideal customer profile (ICP) and buyer personas for each team.
Establishing two-way communication so each department knows what's working.
Depending on your business model, product, sales cycle, deal size, and more, you may lean more heavily toward lead generation (marketing's job) or prospecting (sales). However, when both are running in parallel, it creates a steady stream of leads that can be qualified and placed in the pipeline for nurturing.
See our piece on sales prospecting vs lead generation for more on this.
Importantly, getting sales and marketing rowing in the same direction allows you to:
3. Practice account-based selling
Also known as "strategic selling," this scalable, insights-driven approach relies on a multi-channel, multi-touch strategy that targets multiple prospects within a company with tailored content, messaging, and value propositions.
It works because it goes deep into the needs and challenges of all key stakeholders and decision-makers so sales professionals can nurture company-wide relationships and guide qualified prospects through the sales funnel. It's particularly useful when the sales cycle is long and complex with lots of decision-makers involved and high chances of upselling or cross-selling.
Leveraging an account-based approach means doing your homework to identify all the people you need to reach out to in an account and the collateral you'll need to share with each so they can convince the next person in the chain. Don't just focus on the C-suite, but think about everyone you've got to go through to get there.
Account-based marketing tools like Triblio are useful here as they yield insights about buyer behavior, online activities, and interaction with inbound content marketing so sales teams can prioritize actions to take on target accounts.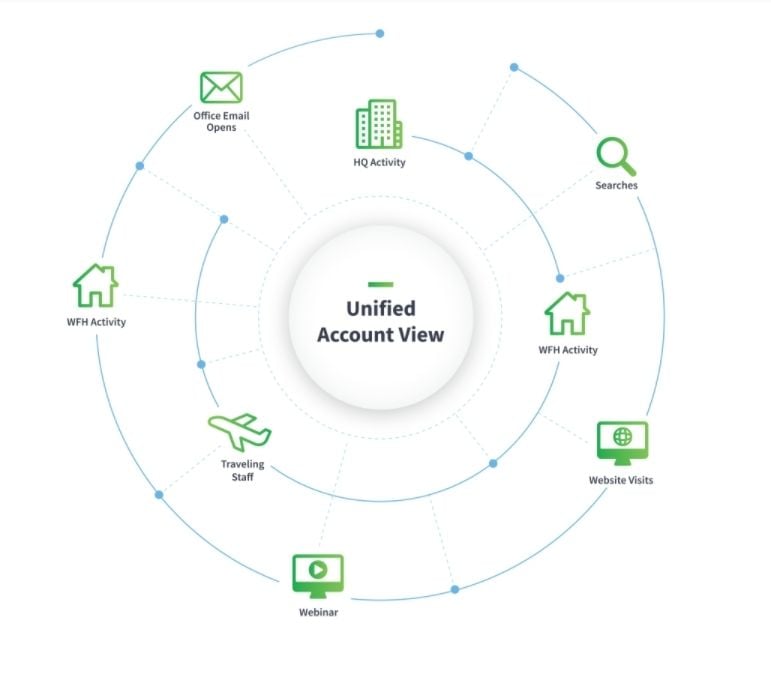 4. Profile & research your customer
B2B prospecting is a numbers game, but quality beats quantity any day.
Successful outreach relies on identifying high potential buyers and their pain points, so you don't waste time on those who aren't a good fit for your solution. Putting the time in now also means your reps will be better placed to make communications personalized and relevant and handle objections when they start reaching out.
Create an ICP and buyer personas that cover your prospects' roles, responsibilities, challenges, and your value proposition. Then, look for prospects that match it as closely as possible.
Here's one our SDRs use that you can copy and edit: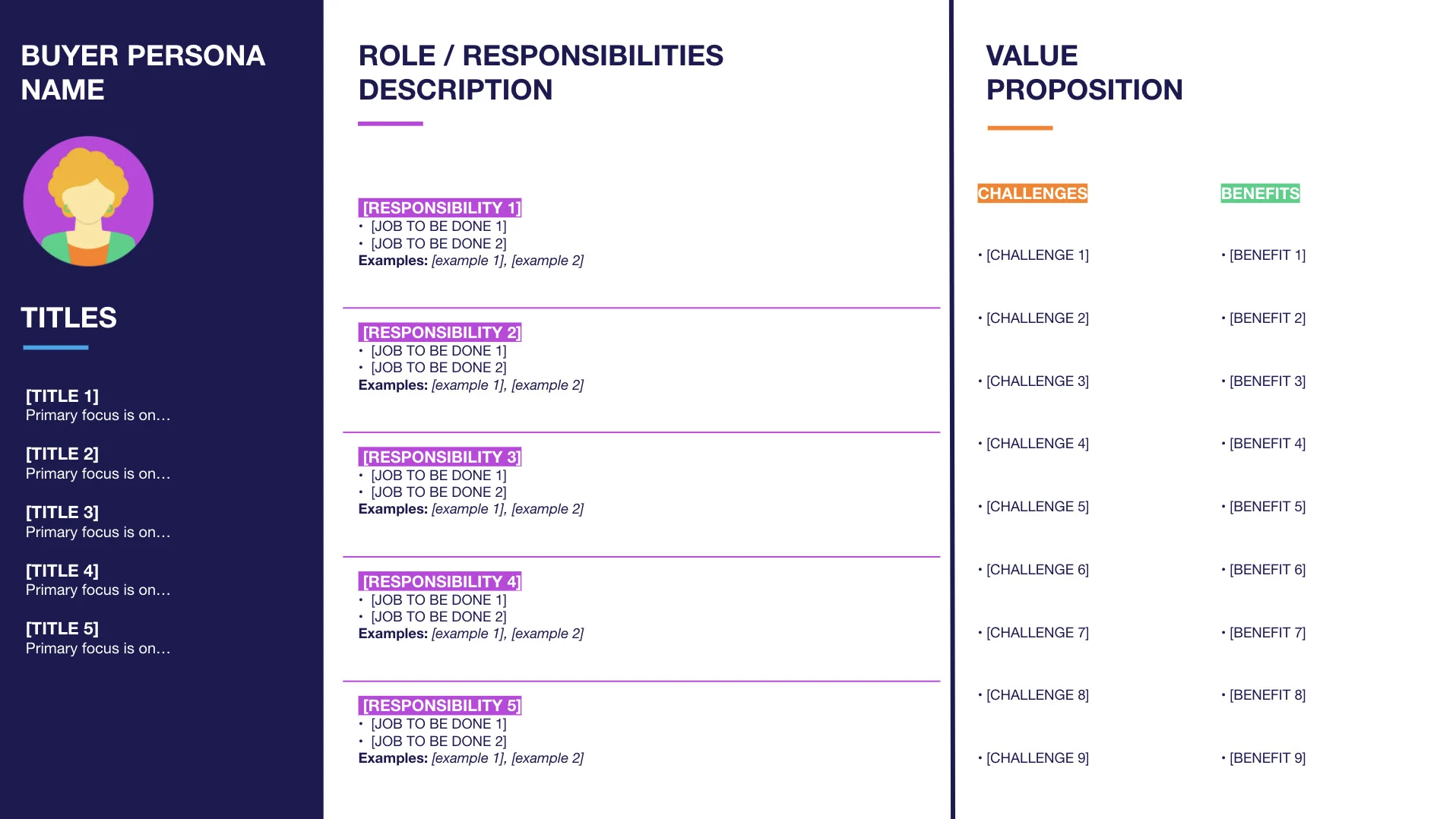 Look at your best customers, review past discovery calls and demos, and talk to customer success to see what they struggled with before onboarding and how they're using your solution now. Then, use B2B prospecting tools like LinkedIn Sales Navigator and ZoomInfo to identify similar accounts and new prospects.
Set up alerts to track industry news and company announcements, job changes, and purchase activity, and scour LinkedIn and company jobs pages to see if they're hiring people who could use your solution.
Don't neglect to research inbound leads either to understand why they got in touch and whether you can deliver value to them.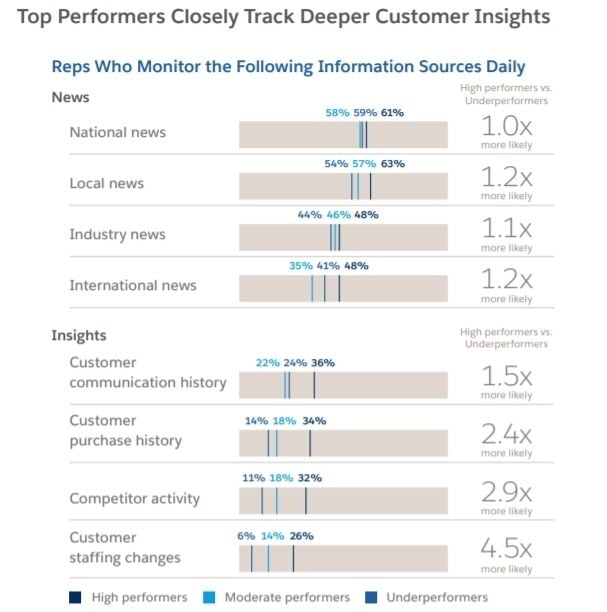 5. Build solid contact lists
This is normally done at the level of the sales team rather than individual reps.
Based on your research, look for prospects that match your ICP and buyer personas as closely as possible, then find out how to contact them.
If your marketing department is doing lead generation, they should provide a list of MQLs for the sales team. If not, use lead contact and capture tools to gather verified contact details and upload to your CRM.
6. Take a structured approach to prospecting
For the health of your pipeline, you should always be prospecting so it helps to set aside time for this. Block your calendar and turn off notifications for a fixed number of hours per week so you can concentrate on prospecting.
Other ways you can take a structured approach include:
Using Mixmax multi-channel sequences, customizable sales prospecting email templates, and workflow automation to stay on track of follow up and ensure nothing slips through the cracks.
Experiment with different times, days, and channels to see what works best, and leverage engagement insights to see when prospects are most likely to respond.
Set goals, like how many meetings SDRs need to book with AEs per month, and work backward from there to allocate enough time to each one.
Concentrate on one prospecting activity at a time rather than multitasking.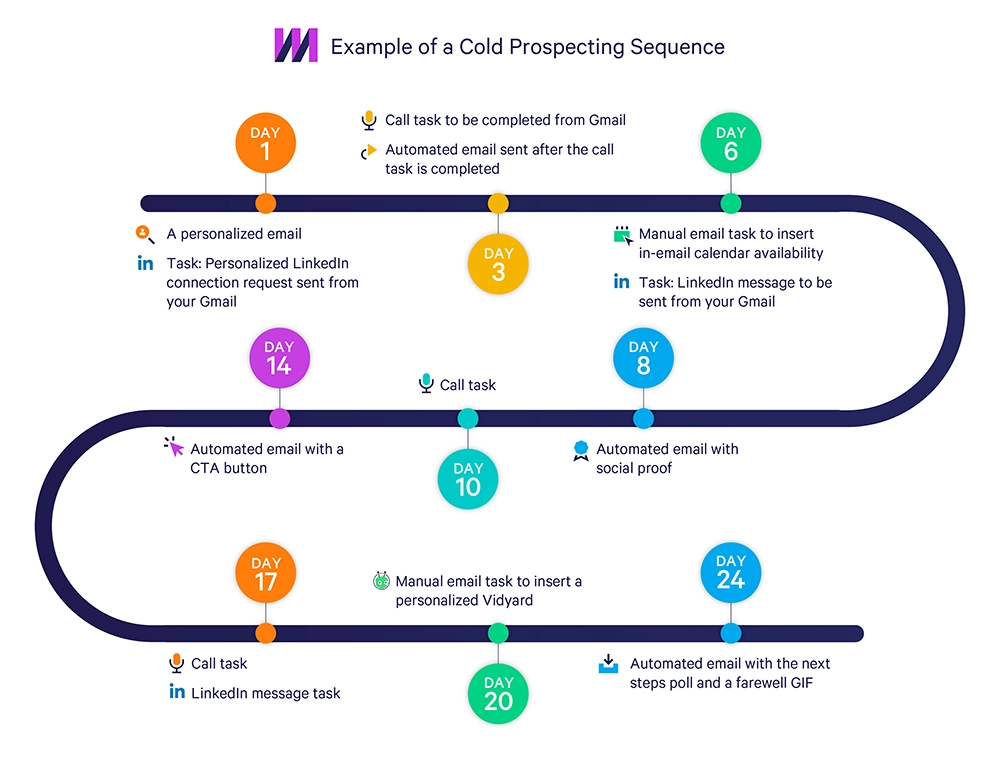 7. Sell solutions, not products
This works because it builds relationships, establishes trust, and ensures the prospect feels valued and heard right from the start.
First, get convinced of your product's value so you can sell with conviction. Then, look for prospects who'll feel the same. Uncertainty doesn't sell but honesty does, so don't be afraid to admit you don't know something or acknowledge where your competitors shine
Focus on the prospect and the benefits to them, not your product and its features. Identify their pain early on and let them talk until you're confident you've uncovered all their challenges and objections. Wait till they ask about your product before you pitch; create genuine interest and desire, and the prospect will drive the sales process.
As you guide the prospect through the sales cycle, share content to educate them about your product, like case studies or testimonials. Solve their problems by proposing a solution that's tailored to their needs and, remember, you're a solutions expert, not a salesperson.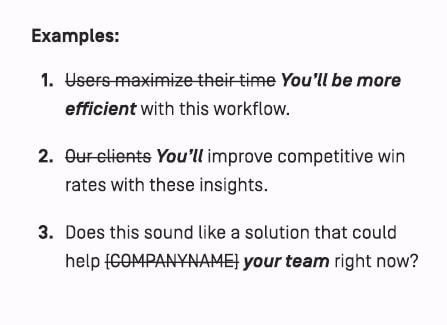 8. Automate wherever possible
All the above take a lot of time and manual work, so you need tech to take a load off by automating repetitive or manual tasks. Prospecting tools cut the time involved in researching, contacting, and qualifying prospects by delivering actionable intelligence databases and online sources so you can concentrate on selling.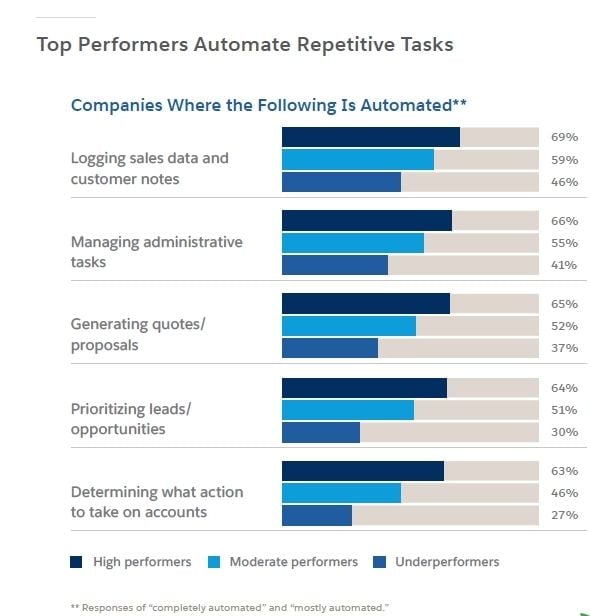 We recommend (of course) building an integrated tech stack based around Mixmax so busy salespeople can perform all essential tasks and collaborate using Gmail. It's packed with time-saving features and integrates with a range of popular sales tools like Pipedrive, Vidyard, Salesforce, and more.
The two-way, real time CRM activity sync also eliminates busywork so reps can concentrate on delivering relevant, personalized outreach at scale. Features like best-time-of-day scheduling and auto-delay responses also help get messages in front of prospects at the right time while still looking like they were sent by a human.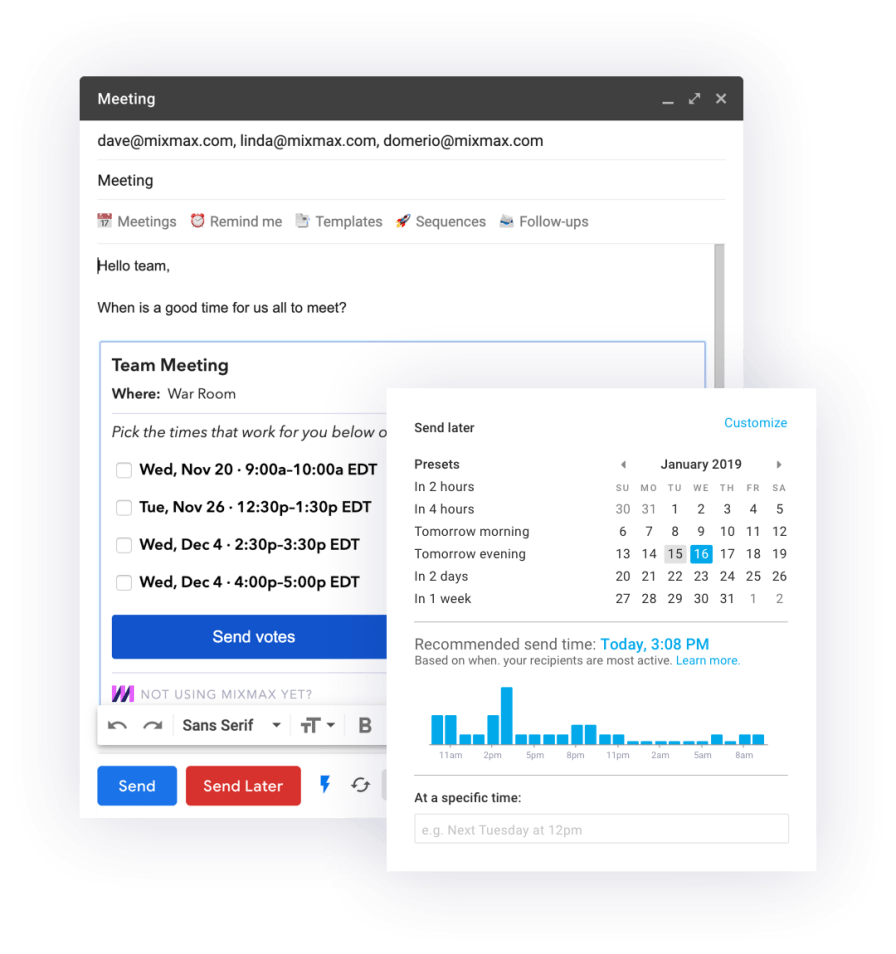 Related Post: Enterprise Sales Prospecting: 10 Strategies to Land Large Accounts