Here's our pick of the best Yesware alternatives for sales engagement.
1. Mixmax
Mixmax was designed to enable true sales engagement at scale. It sits on top of Gmail and syncs seamlessly with Salesforce to allow salespeople to collaborate and perform essential tasks right from their inbox. No more juggling tools and tabs.
It's also packed with enhancements and sales automation features to streamline workflows, eliminate busywork, and boost sales productivity. The intuitive interface also means all users can get up and running quickly without support from an admin.
Features
Multi-channel sequences that can be customized to each recipient and stage by content and scheduling
A unique, powerful rules engine with customizable out-of-the-box triggers to enable workflow automation across multiple tools and processes
In-email polls, surveys, and CTAs that make it easier for prospects to respond
In-email calendar availability
In-email GIFs and video drops to give prospects a break from all that text
Message automation features like smart send and auto-delay
Native in-email dialer with local presence numbers
Call recording and automatic logging to Salesforce
Gmail Sidebar for easy collaboration and coaching
Real-time engagement alerts via Slack, text, and email ensure salespeople never forget to follow up in the right way at the right time
The Autocreate feature identifies any email recipients who aren't already in Salesforce and ask you for their details before automatically syncing them to Salesforce
Data-driven insights and interactive charts for identification of best-performing individuals, sequences, templates, etc.
Integrations with popular sales productivity tools like LinkedIn Sales Navigator, Google Calendar, Slack, Zoom, Dialpad, Vidyard, DocuSign, and more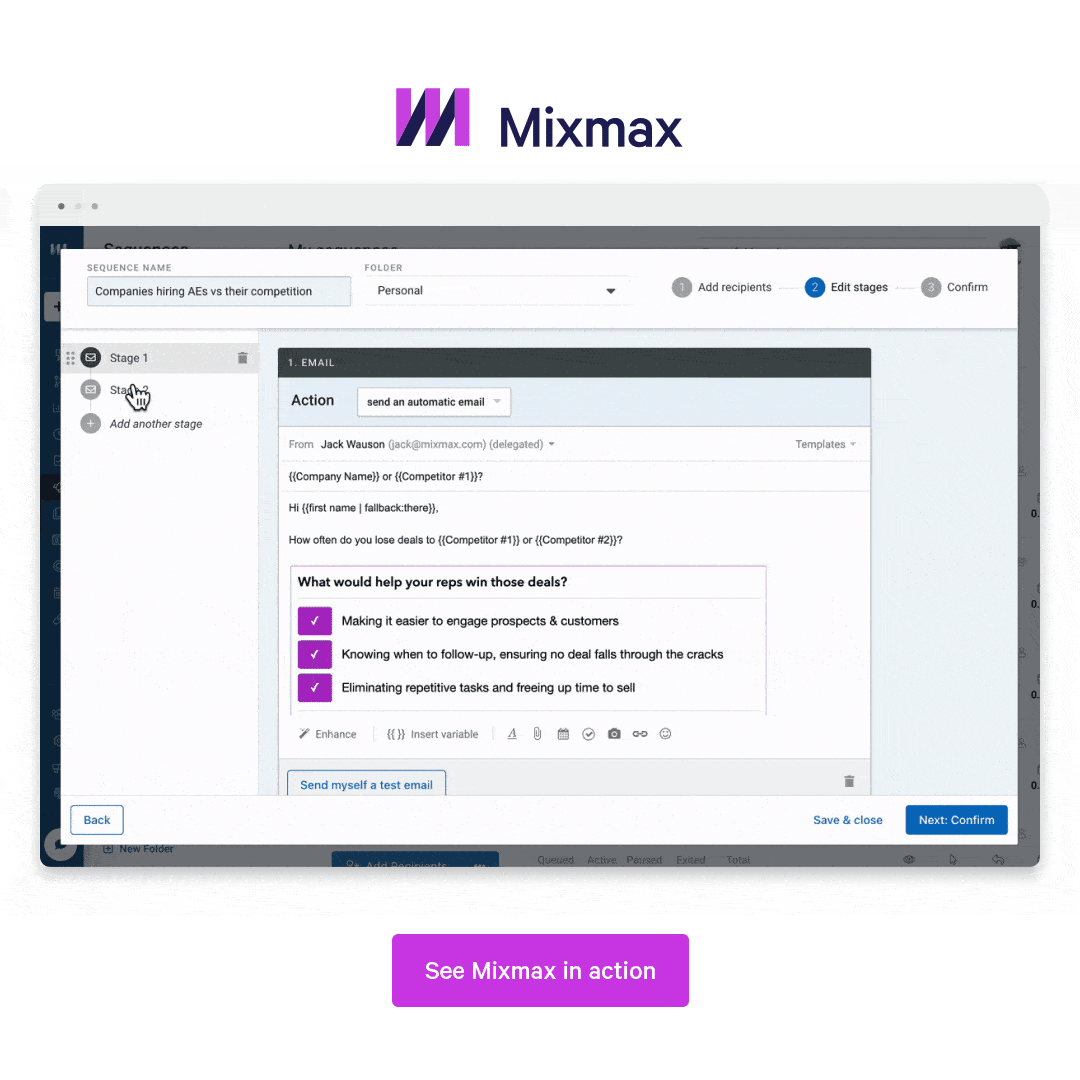 Mixmax sequences are more customizable than Yesware, so it's easier for salespeople to keep on top of follow up and move prospects through the funnel
Pricing
Starter - $9 per user/month, billed annually
SMB - $24 per user/month, billed annually
Growth - $49 per user/month, billed annually
Growth + Salesforce - $69 per user/month, billed annually
Enterprise - custom pricing
14-day free trial
How does Mixmax compare to Yesware?
While Yesware is designed for cold email outreach, Mixmax offers all sales acceleration features revenue teams need to personalize and nurture prospects at scale right across the sales cycle. It outperforms Yesware on customer support and G Suite inbox functionality, especially enhancements and personalization features. For example, the LinkedIn integration allows you to pull in a first name variable, making it easier to personalize at scale for better results.
The organization and segmentation of templates are also better, so it's easier to see which templates are being created by your teams, and vice versa. Sequences are also more customizable, and engagement metrics more granular. The Salesforce integration is also more robust, making Mixmax more scalable for growing teams that rely heavily on Salesforce.
Mixmax's interface is also more intuitive, so it's easier for salespeople to find their way around and make the most of all its features.
Yesware does, however, work with Microsoft Outlook, so it's a better option if that's your email provider of choice. salespeople also like how Yesware notifications only show up in Gmail, rather than on your desktop, which means they don't pop up when you're on video calls.
2. Salesloft
One of the biggest players in the sales engagement space, Salesloft has all the bells and whistles you need for prospecting, forecasting, opportunity management, analytics, and tracking. It's a powerful AI-powered solution that even looks to be gearing up to take on Salesforce or Hubspot CRM in the customer relationship management space.
Salesforce customers tend to be mid-market to enterprise organizations, with a growing focus on the latter since its acquisition by private equity.
Features
Customizable email templates, and tracking
Email scheduling and categorization, including best-time-of-day scheduling
Calendar sync and meeting invitation templates
Workflow automation
One-click dialer with local presence numbers, messenger, and automated voicemail drops
Granular analytics by cadence, account, individual, or conversation
Call recording and logging
In-call coaching and coach-to-close workflows Sales playbooks allow salespeople to create personalized buyer experiences
Gamification features, and leaderboard
Lead prioritization and scoring
Sales-meeting and deal intelligence for pipeline overview forecasting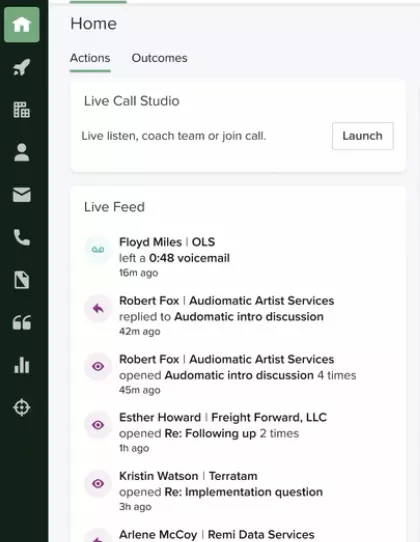 Salesloft's Live Call feature enables in-call coaching
Pricing
Customized for each of Salesloft's 4 packages—Prospect, Sell, Engage, and Enterprise. By all accounts, though, none of those come cheap. No free trial.
How does Salesloft compare to Yesware?
Salesloft is far superior to Yesware if you're looking for a solution for high-volume prospecting by SDR teams that need a lot of oversight and coaching. And you want granular insights for deal and pipeline management.
If all you really need is email templates and tracking, however, Salesloft is a hefty investment with a lot of features your salespeople may not actually use. The learning curve, need for ongoing admin support, and high price point also mean it takes time to get all team members up and running and see ROI. And, while it outperforms Yesware on sequences, Salesloft is less suited to one-on-one interactions.
Check out our piece on Salesloft alternatives to see how it stacks up against other Yesware alternatives.
3. Outreach
Outreach is another big hitter that combines sales engagement, conversation intelligence, and revenue intelligence in one platform. Like Salesloft, users tend to be junior SDR teams in mid-market to enterprise organizations that need repeatable, scalable processes for high-volume outreach. For AEs, there are also a bunch of features to drive engagement and stay on top of follow-up. And managers get a lot of visibility on rep performance.
Features
AI-driven insights into call recordings, buyer sentiment, best practices, and performance
Predictive analytics: lead and opportunity scoring, risk analysis, and live forecasting
Lead prioritization and scoring
Email, SMS, and InMail tracking, scheduling, and categorization
Engagement alerts
Task management
Customizable sequences
Calendar scheduling
Integrated dialer with click-to-call from any device, as well as audio/video recording.
Account engagement status and account-based playbooks.
Sales notes
Daily summary insights
Sales gamification and leaderboard
Live pipeline management
Deal acceleration and account management tools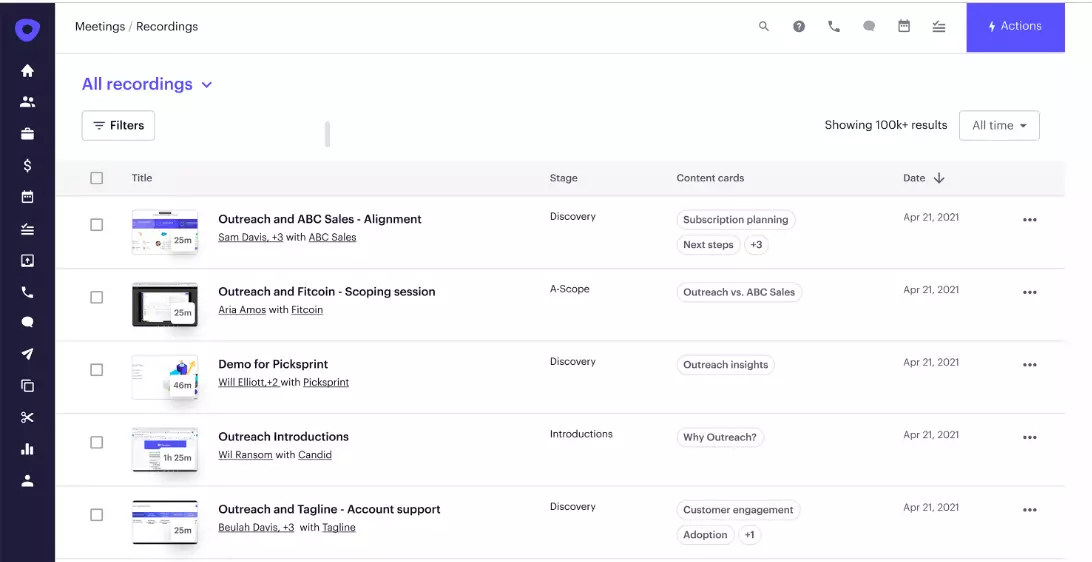 Outreach offers a lot of features for pipeline and deal management
Pricing
Custom priced on request. Like Salesloft, though, expect it to be a significant investment.
How does Outreach compare to Yesware?
If you're looking to step up your game with an AI-powered solution for SDRs and sales leaders, Outreach is a great tool. It's less intuitive and user-friendly than other platforms, though. salespeople need admin support to get up and running, connect to Salesforce and ZoomInfo, and use features like sequences and rules. These last two are also less customizable than other tools on the market, and the email editor is a bit limited.
With Outreach, salespeople also have to perform all tasks in-platform instead of in-email or your CRM, so it's less suitable for AEs who live in Gmail. Tiered support and a hefty price point also put it out of reach for a lot of smaller companies. Evaluate it carefully before signing up to avoid investing in a features-heavy tool your teams don't use.
Check out our piece on Outreach alternatives to see how it stacks up against other Yesware alternatives.
4. Groove
Groove was designed as a sales productivity tool to work specifically with Salesforce, letting salespeople run multi-channel campaigns for account-based selling. Customers tend to be mid-market to enterprise companies in the software industry.
Features
Conversion and revenue intelligence tools

Streamlined workflows and task prioritization based on real-time Salesforce data

Omnibar displays contact records when working with email or InMail

Email, calendar, and activity tracking

Auto-dialer desktop app with interaction history and notes, as well as local presence dialing and callback

Click-to-call from any webpage

Calendar scheduling

Activity capture for real-time insights

Analytics and reporting by flow, rep, template, account, etc.
Pricing
Custom pricing on request, but toward the mid-upper end of the scale. No free trial.
How does Groove compare to Yesware?
Groove is a more suitable, scalable Yesware alternative for customer-facing teams, and outperforms Yesware on pretty much every front. However, it's less affordable than some other tools on the market, and the UX leaves something to be desired. Some users also complain the Salesforce sync can be buggy, and the email template creator and editor are tricky to use.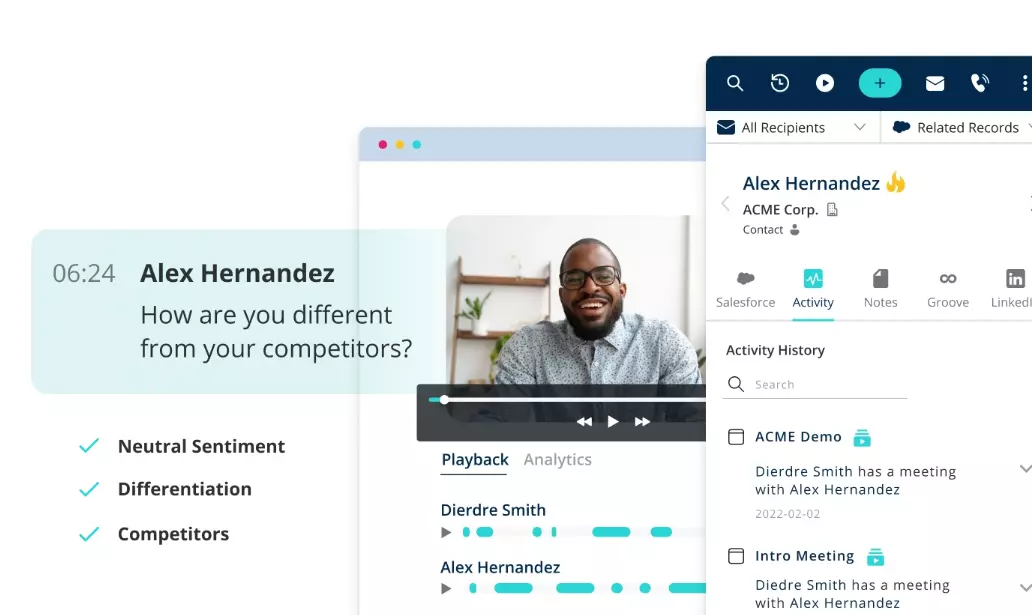 Groove offers conversation intelligence features that help with coaching
5. Cirrus Insight
Cirrus Insight was designed to make it easier for AEs and other customer-facing teams to use Salesforce. It works with Gmail and Microsoft Outlook to sync emails and appointments to Salesforce, track open rates, and help salespeople stay on top of follow-up and admin.
Features
Email templates and tracking features

Link tracking

Sequences

Salesforce sidebar

Calendar scheduling

Website visitor tracking

Buyer intent scoring and signals

Engagement alerts
Pricing
Salesforce sync - $10/user/month, billed annually
Pro - $21/user/month
Expert - $29/user/month
14-day free trial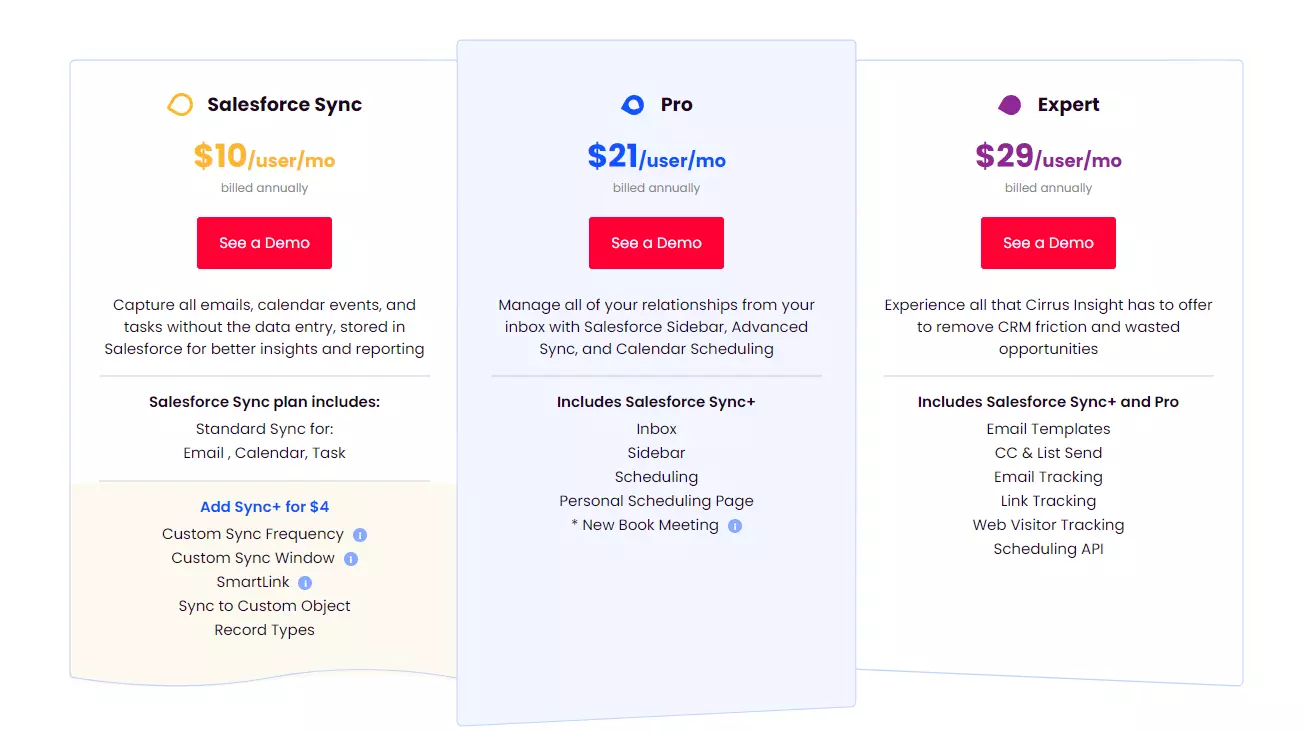 Three Cirrus Insight pricing plans
How does it compare to Yesware?
If you're just looking to improve email productivity, Cirrus Insight is an affordable—if basic—Yesware alternative. However, it's not really designed for SDRs, and the lack of a dialer makes it less suitable for high-volume prospecting. It also lacks the full range of enhancements and functionality you need to achieve true sales engagement, and the most useful features are only available on Expert plans. Some users also complain the Gmail integration and Salesforce sync can be buggy.
Bottom line, Cirrus Insight can serve as a potential stop-gap if you're desperate for a Yesware alternative, but it's not a long-term solution for revenue teams looking to scale.