February 9, 2022
12 Best Sales Prospecting Tools to Supercharge Your Pipeline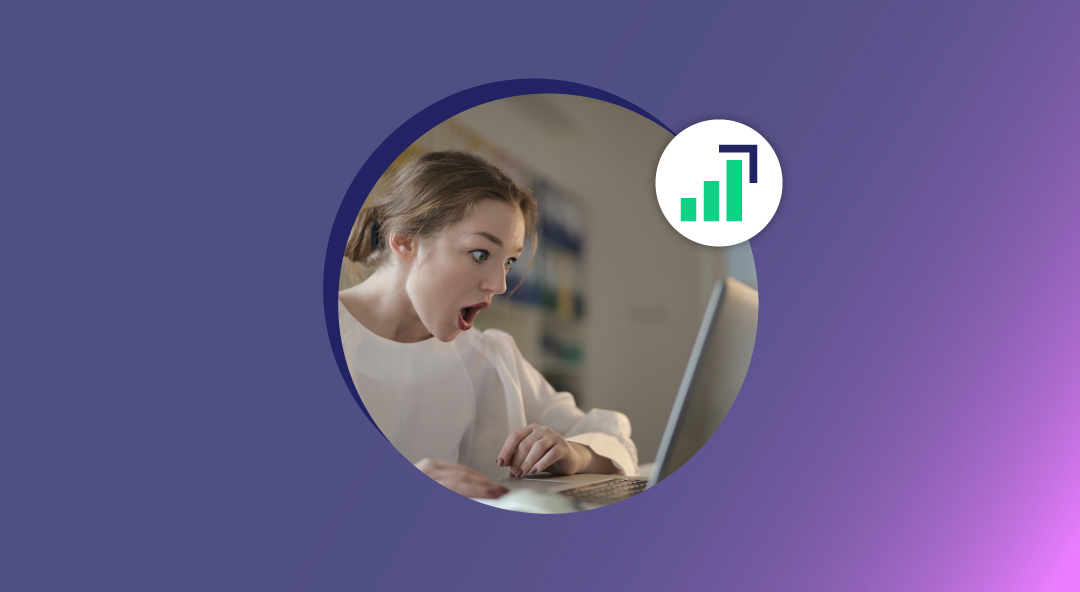 What is a sales prospecting tool?
What to look for in a sales prospecting tool?
12 Sales prospecting tools to give you sales superpowers
You have reached your destination
Frequently asked questions about sales prospecting tools
Building a healthy sales pipeline starts with effective prospecting. And that, done right, takes a lot of time and effort.
If you're still manually researching potential customers and checking contact details you might as well be trotting around in a pony and trap while your competitors zip by in flying cars.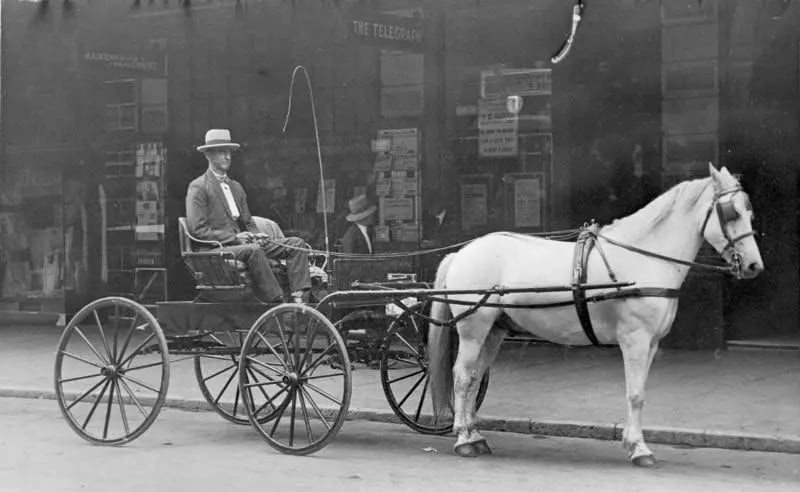 To make matters worse, with everyone stepping up their tech game, investing in a few stand-alone sales prospecting tools, and crossing your fingers just won't cut it anymore.
What you need is a killer tech stack that works together to supercharge your prospecting efforts and steer you out of the dark ages and into the 21st century.
We sell to sales professionals in fast-growth environments, so we know how important it is to have reliable data and insights at your fingertips. So we asked our top salespeople what tech they use to stay one step ahead.
Related post: 20 Best Sales Automation Tools to Give Your Reps Superpowers
After reading this, you'll understand:
Looking for a sales prospecting tool all your teams can use? Mixmax helps you fill your pipeline and drive revenue creation.
What is a sales prospecting tool?
A sales prospecting tool is software that automates research into potential customers, lead generation, sourcing and verifying contact information, and outreach. Sales prospecting tools vastly reduce the time required for these activities, and allow salespeople to perform more targeted, effective outreach based on accurate, actionable data and insights from databases and online sources.
You can use sales prospecting tools to:
Identify and contact decision makers and first-point-of-contact.
Build lists crammed with prospects that have a good chance of converting.
Track and analyze industry news and movements, online behavior, and buyer intent to predict sales opportunities.
Get insights into prospect challenges and needs, and how they use your competitions' solutions, so you're better informed when you talk to them and equipped to handle objections.
Score and prioritize leads and accounts when planning campaigns.
Engage prospects at scale over multiple channels.
Reduce friction and achieve pattern disruption, which increases the chances of getting a response.
Automate manual or repetitive tasks and eliminate busywork to give your sellers back more customer-facing time.
What to look for in a sales prospecting tool?
Your first question when assessing any tool should be "How does this help my teams achieve their goals?" Your second should be "Will they actually use it?" There are a lot of all-singing, all-dancing solutions out there but if they don't fit with your sales processes or existing tools you risk splashing out on something that doesn't get used.
Always match the tech to the need, and your budget and resources. And unless you have in-house admins, go for intuitive tools that are easy for end-users to install and run.
Use this checklist when evaluating new sales prospecting tools.
Ask yourself, does it:
Provide accurate, verified data (kind of a no-brainer, this one).
Streamline your sales processes and help you stay on top of everything.
Reduce your workload and improve efficiency and productivity.
Enable you to perform high-quality interactions at scale. Don't just focus on quantity.
Automate those tasks robots do better than humans, but not high-value ones humans excel at, like listening, building relationships, and establishing trust.
Is it scalable, and will it grow as your teams and needs do?
If it is helpful, you can also download it: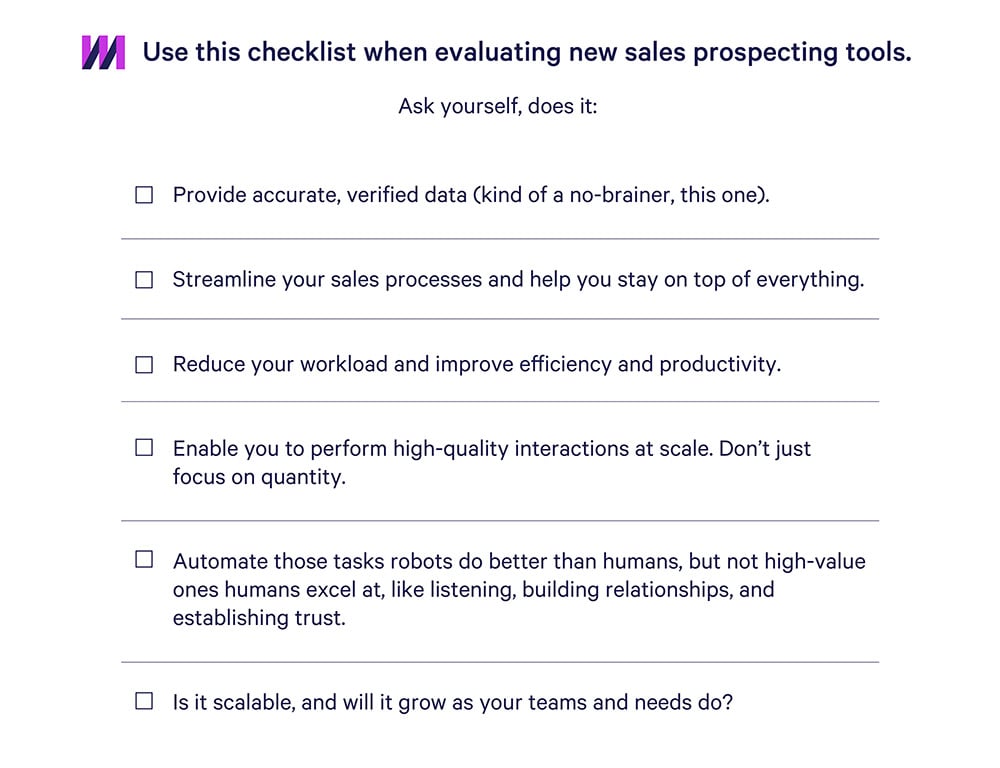 Wherever possible, opt for multifunction tools like Mixmax's sales engagement platform to reduce the number of interfaces and tabs you have to interact with. Then, test out other single-use tools and add them into your tech stack if they improve efficiency and effectiveness when prospecting.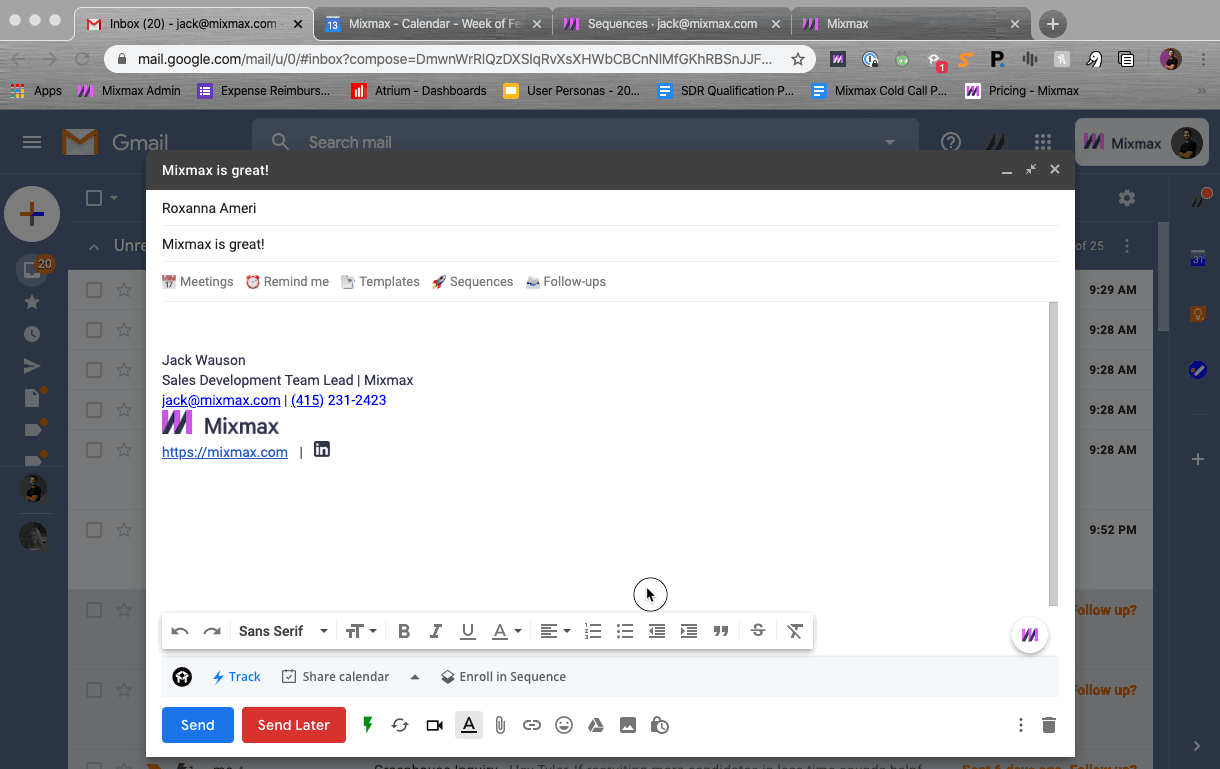 Related Post: 55 Sales Prospecting Questions to Get Your Prospects Talking
12 Sales prospecting tools to give you sales superpowers
From researching prospects to sourcing verified contact details to engagement, there's a sales prospecting tool for everything.
Here's our tried and tested pick of the best:
Researching & identifying prospects
Before you start reaching out, it's crucial to have a deep understanding of your potential customers so you can build lists packed with high-value prospects.
As the largest professional social network, LinkedIn is a great place to do B2B sales prospecting. Sales Navigator identifies and filters millions of LinkedIn users by industry, location, and more, as well as accessing subscription services like Job Seeker and Learning Access.
Spend less time searching and more time reaching out to the right prospects at the right time.
Key features
Advanced lead and company search locate the most relevant prospects and display detailed information about each one.
Get customized lead and account recommendations.
Create custom lists, alerts, and notes, and get buyer interest alerts.
Set up custom newsfeeds featuring your prospects, even if you aren't connected yet.
Get notifications when leads switch jobs or celebrate work anniversaries.
InMail credits.
Advanced Plus syncs to Salesforce and MS Dynamics 365 Sales CRMs.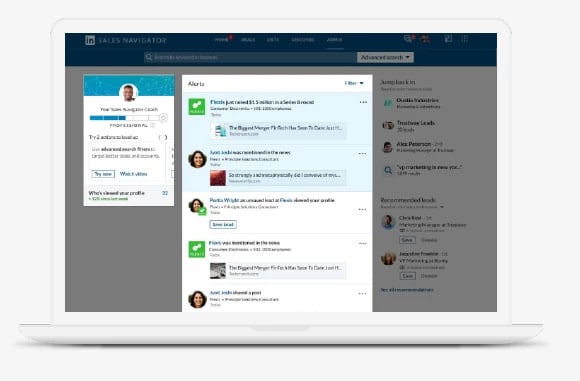 Pricing
Core - $79.99 per user/month, billed annually.
Advanced - $125 per user/month, billed annually.
Advanced Plus - custom pricing.
Crunchbase is an account-based sales intelligence tool that allows you to search in-depth information on companies in over 700 industries. Its human-AI team validates data submitted by a large community of investors, entrepreneurs, and executives, which you can search to unearth companies that match your ideal customer profile (ICP).
Key features
Filter results by firmographics like industry, location, funding rounds, revenue, tech stack, website traffic, new leadership, hiring, and more.
Get real-time alerts about key buying signals.
Source verified contact data, including name, department, email, phone number, and social media profiles.
Identify decision-makers and personal connections.
Keep track of trending profiles, acquisitions, events, news, and insights.
Export results and push to Salesforce with Pro.
Pricing
Starter - $29 per user/month, billed annually.
Pro - $49 per user/month, billed annually.
Enterprise - custom pricing.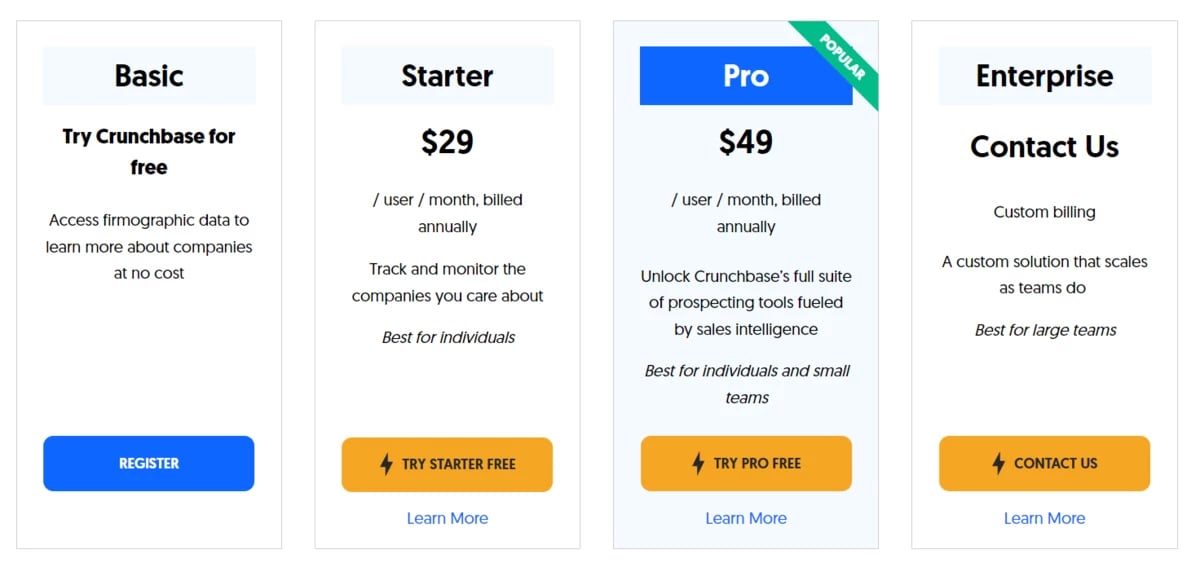 Used by buyers, salespeople, and investors alike, G2 is the go-to platform for B2B SaaS reviews. It's a goldmine of information about prospects' needs, challenges, and how they're using your competitions' solutions.
Access G2's real-time insights to identify high intent buyers who are researching you and the competition, and use data to segment campaigns and prioritize outreach based on who's most likely to convert.
Key features
Real-time intent insights and information, including company name, location, date and time someone visited your profile, and more. You can also see the frequency of profile visits and who buyers are comparing you to.
Integrates with Salesforce, LinkedIn, HubSpot, and other sales and marketing tools.
Pricing
On request.
Triblio is an account-based marketing (ABM) platform that helps align marketing and sales activities right along the buyer journey. For sales professionals, the value lies in purchase intent insights yielded from tracking potential leads who are researching solutions online. These insights can then be used to trigger outbound prospecting activities.
A great tool for sales development representatives (SDRs) to identify decision-makers, jump on smoking hot leads, and prioritize accounts.
Key features
Tracks buyer behavior across your own and third-party websites, marketing campaigns, product reviews, Google searches, video views, email opens, and more.
Smart Score algorithm combines first and third-party data to rank accounts based on purchase intent.
Account scores trigger account-specific sales plays for SDRs to convert marketing qualified leads (MQLs) into sales meetings.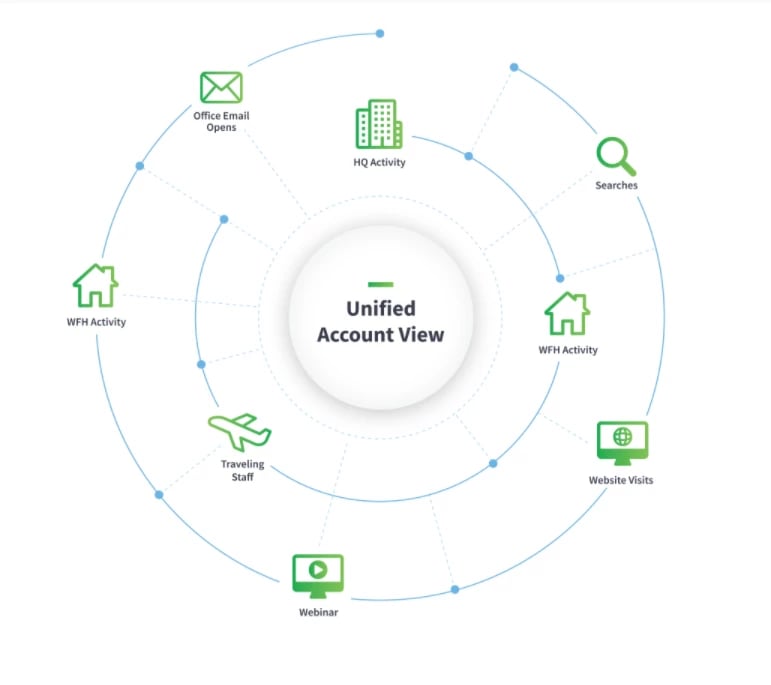 Pricing
On request.
Note that lead generation activities engaged in by marketing teams differ from sales prospecting. For more on this, see our piece on sales prospecting vs lead generation.
This powerful cloud-based platform leverages AI and machine learning to crawl billions of web pages and extract and transform unstructured data from discussions, events, products, articles, people, and organizations into structured, contextual databases.
A great, versatile tool to discover new leads and relationships, and conduct broad searches for prospects by job title and organization before enriching the results.
Key features
Billed as the world's largest contextual database, the Knowledge Graph allows you to build accurate data feeds of news, organizations, and people.
Knowledge Graph Enhance enriches existing datasets about people and accounts. Use it to verify information, track down contact details, and build detailed profiles of sales opportunities.
Structured query builder allows you to ask precise questions and get answers in seconds.
Natural language API identifies keywords and infers entities, relationships, and sentiment from raw text.
Crawl turns any site into a structured database of products, articles, and discussions in minutes.
Data Extraction API provides real-time updates about e-commerce listings, brand mentions in the news, discussions, and reviews.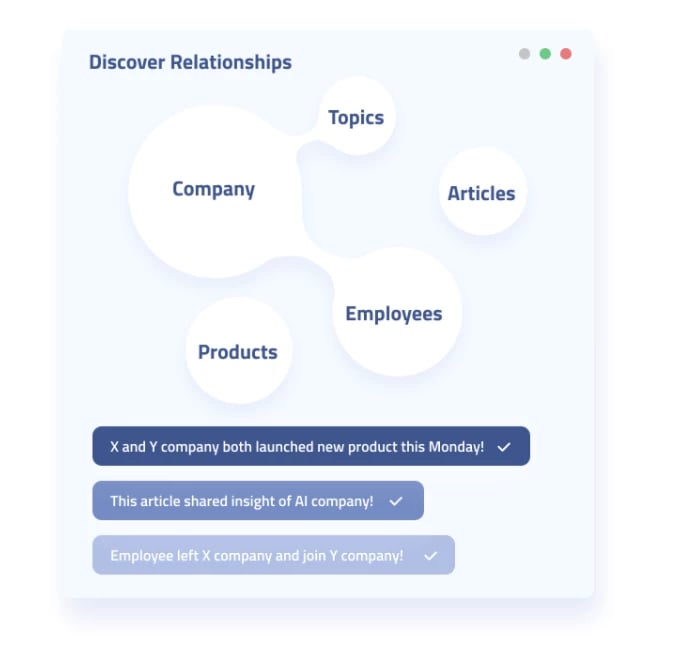 Pricing
Startup - $299 per month.
Plus - $899 per month.
Custom - on request.
All plans come with a 14-day free trial.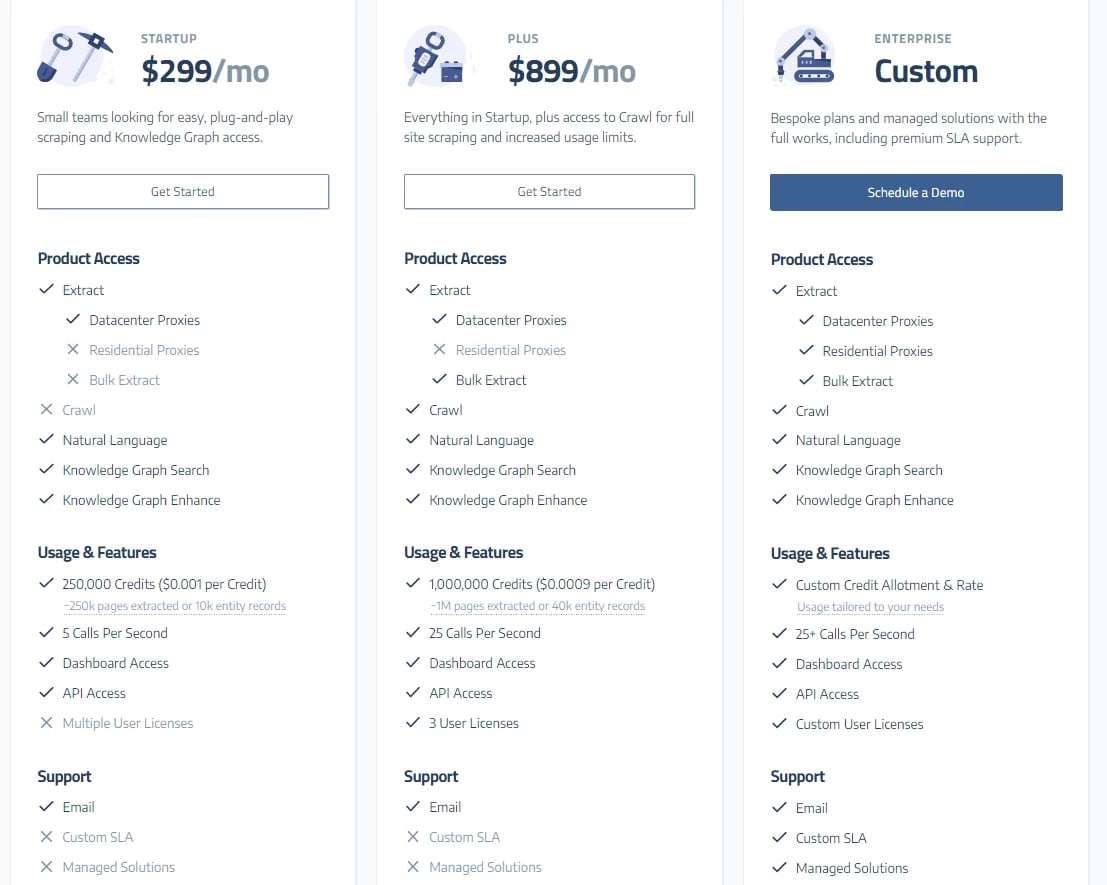 Finding contact details
Sales prospecting lives and dies by accurate contact information, which is why you need tools that provide validated, verified contacts and information about potential leads or prospects from their own databases or online sources.
ZoomInfo is a business intelligence tool whose giant database is invaluable for tracking down information and qualifying leads.
As well as sourcing general company information, ZoomInfo allows you to dig deeper and get contact details for specific employees and decision-makers, access departmental org charts, create tailored prospect lists, and get top-of-funnel insights into buyer intent by tracking who's researching solutions like yours.
Key features
Discovery Platform helps you identify buyers that fit your ICP and source verified contact information.
Bulk import for saved searches and the category search feature save hours of lead generation and prospecting time.
Customize data before export.
Chorus AI provides conversation intelligence for customer calls, meetings, and emails.
Integrates with HubSpot, Salesforce, Slack, PipeDrive, and other sales and marketing tools.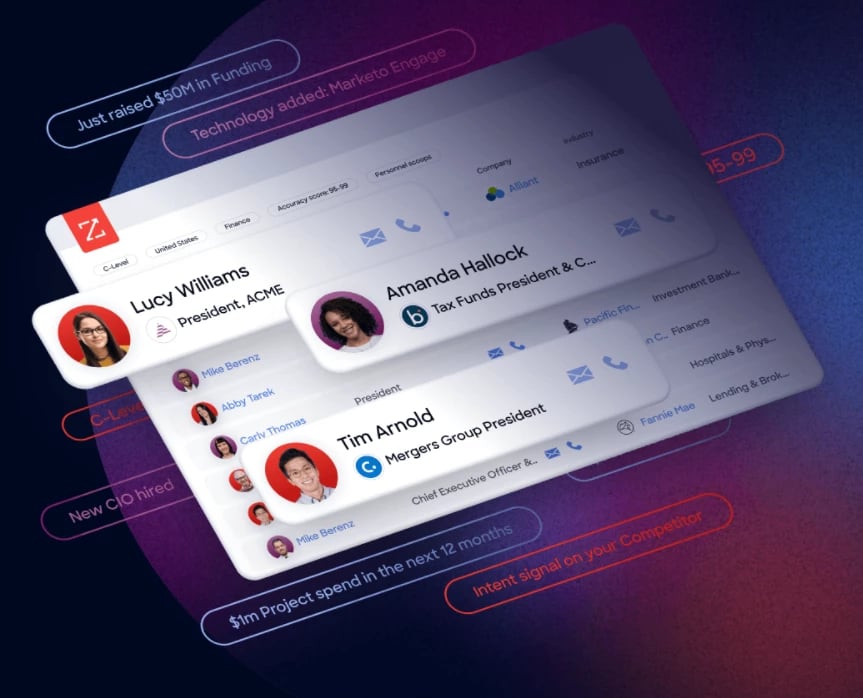 Pricing
On request.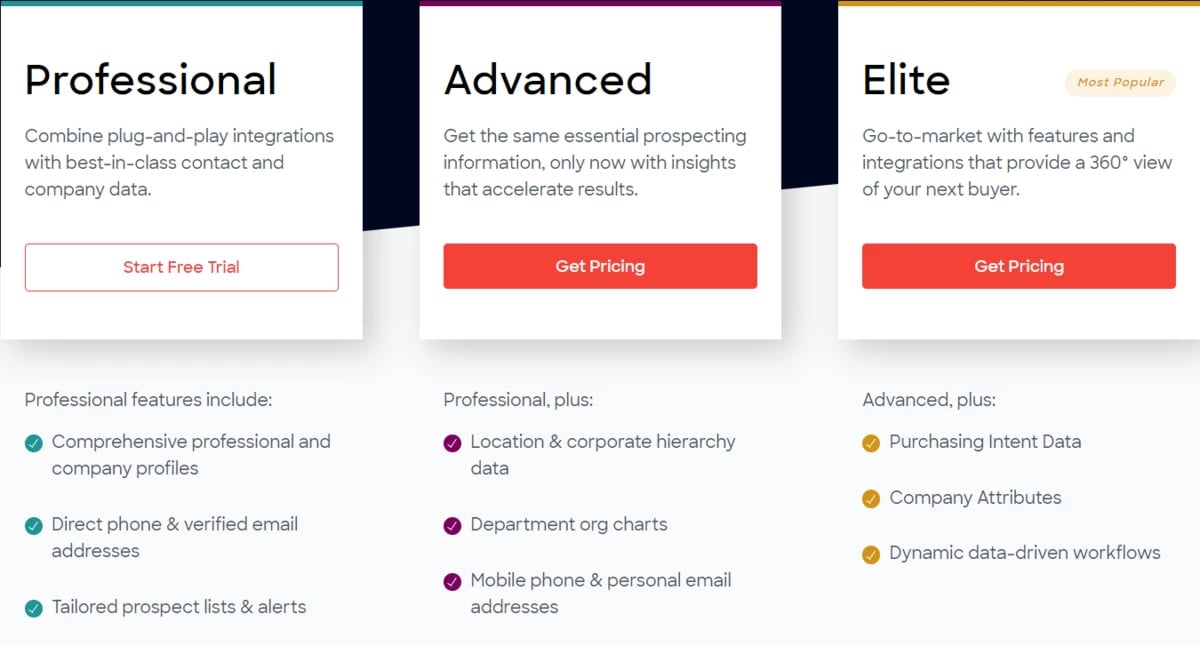 LeadIQ helps optimize prospecting workflows by capturing and sequencing lead information in one click. Say goodbye to busywork and hello to more efficient outbound prospecting with verified emails, phone numbers, and real-time enrichment.
Key features
Identify target accounts and locate them on LinkedIn Sales Navigator and other sites.
Narrow down lists of contacts using filters.
Automatically route contacts to the correct sequence.
Job change notifications keep you up to date with prospects' movements.
A proprietary algorithm verifies email formatting and tests deliverability.
Integrates with Salesforce, HubSpot, and more.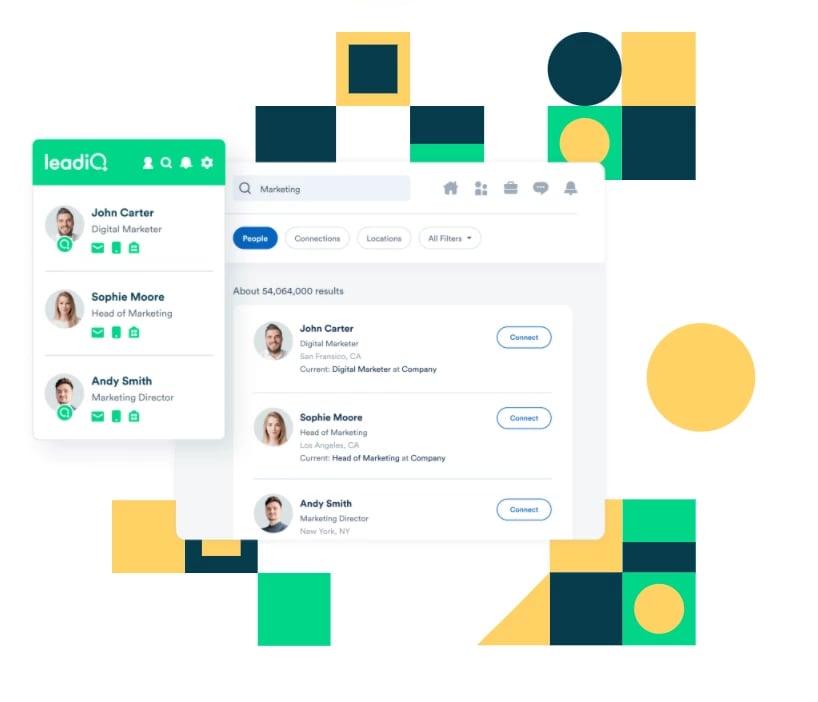 Pricing
Starter - $60 per month/user, billed annually.
Pro - $120 per month/user, billed annually.
Enterprise - custom pricing.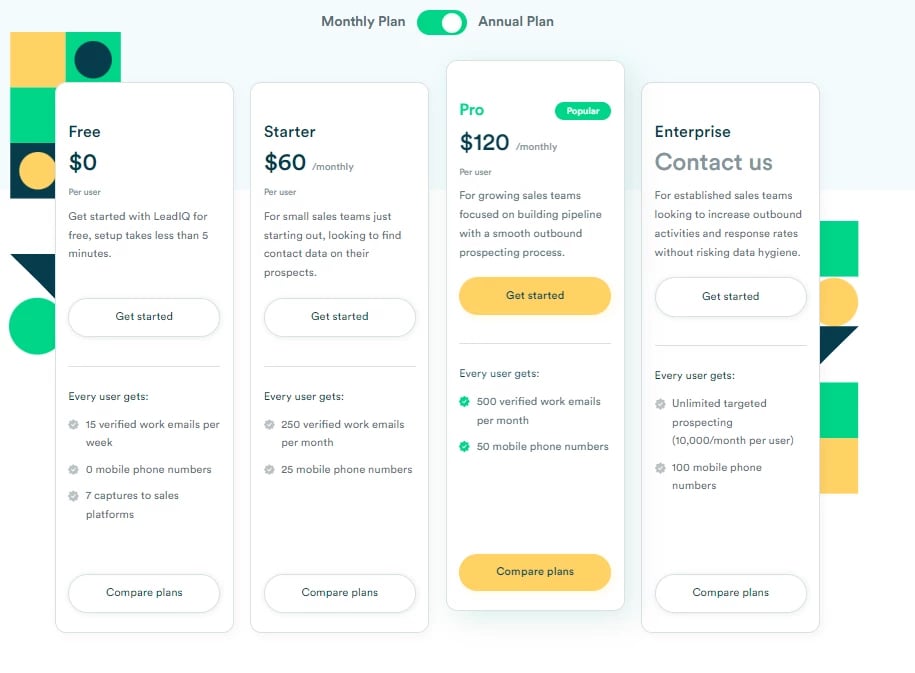 Lusha locates B2B contacts and company details so you can find and target prospects that match your ICP on websites, LinkedIn, and Gmail. Filter results by location, company size, department, revenue, seniority level, industry, etc. to get accurate, enriched employee and decision-maker data.
Key features
Lusha Prospecting Platform search filters pull up thousands of verified emails and phone numbers in seconds.
Lusha browser extension automatically pulls up contact details whenever you connect with a prospect in Gmail or LinkedIn.
Integrates with your CRM.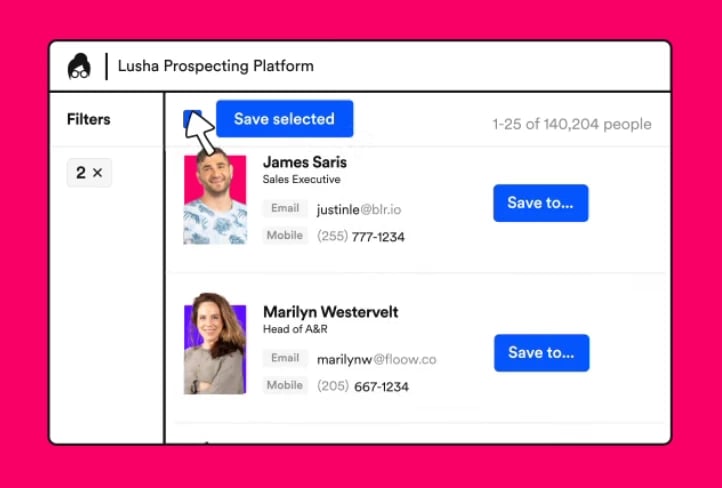 Pricing
Professional - $29 per month/user, billed annually.
Premium - $44 per month/user, billed annually.
Enterprise - custom priced.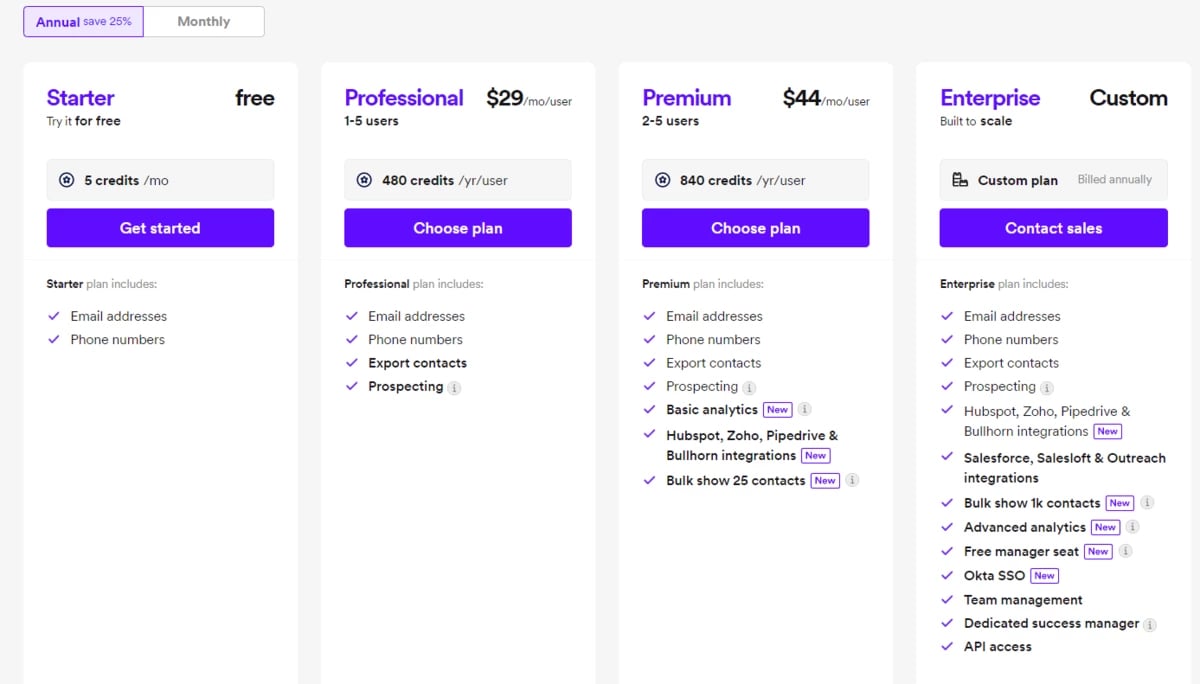 Engaging with prospects
Once you've identified your prospects, these tools facilitate personalized outreach and help you get noticed. This is where humans and robots combine to best effect, with robots handling the grunt work so humans can spend more time with customers.
Mixmax is an all-round sales engagement solution that's perfect for busy prospectors in fast-growing companies. The easy-to-install Chrome extension sits on top of Gmail so sales reps can perform all essential functions and access prospect data right from their inbox.
Packed with B2B prospecting features, Mixmax enables more effective, personalized outreach at scale and can be used by anyone, from SDRs to AEs, CSM, and sales leaders right along the buyer journey and beyond.
Key features
Customizable multi-channel sequences and

sales prospecting email templates

that autofill with CRM data.
Autocreate identifies the emails of any outbound campaign recipients not in Salesforce and automatically syncs lead and contact data.
In-email dialers, CTAs, calendar links, voicemail drops, GIFs, polls & surveys reduce friction and increase the chances of getting a response.
Reminders and real-time engagement alerts let reps follow up when top-of-mind.
Best-time-of-day scheduling and auto-delay responses boost your visibility without making you look like a robot.
Template, email, and individual and team performance tracking.
Rules for workflow automation.
Two-way CRM sync eliminates busywork and makes it a source of truth.
Integrations with Salesforce, Google Calendar, Slack, Zoom, Dialpad, Vidyard, DocuSign, Pipedrive, and many more.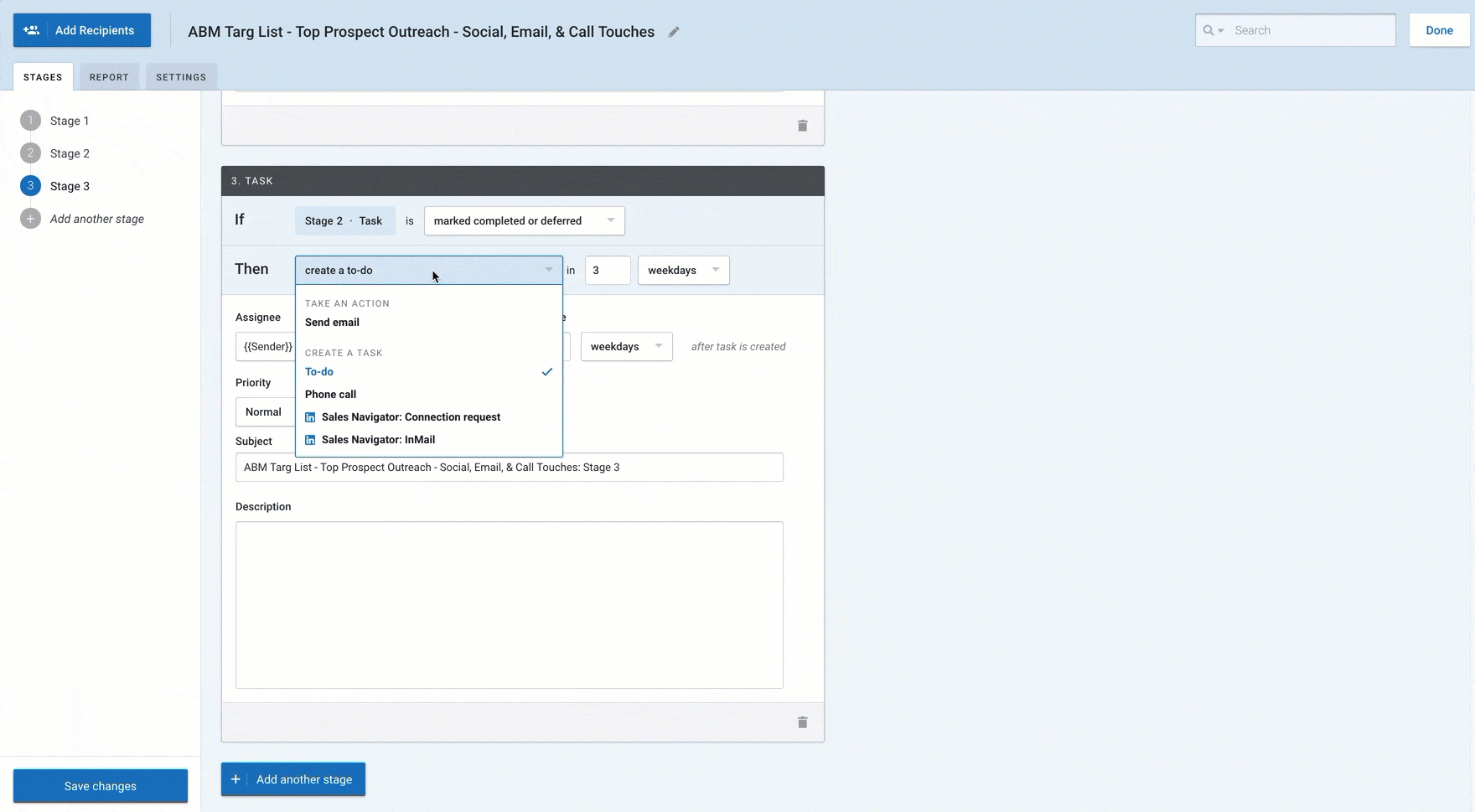 Pricing
Starter - $9 per user/month, billed annually.
SMB - $24 per user/month, billed annually.
Growth - $49 per user/month, billed annually.
Enterprise - custom priced.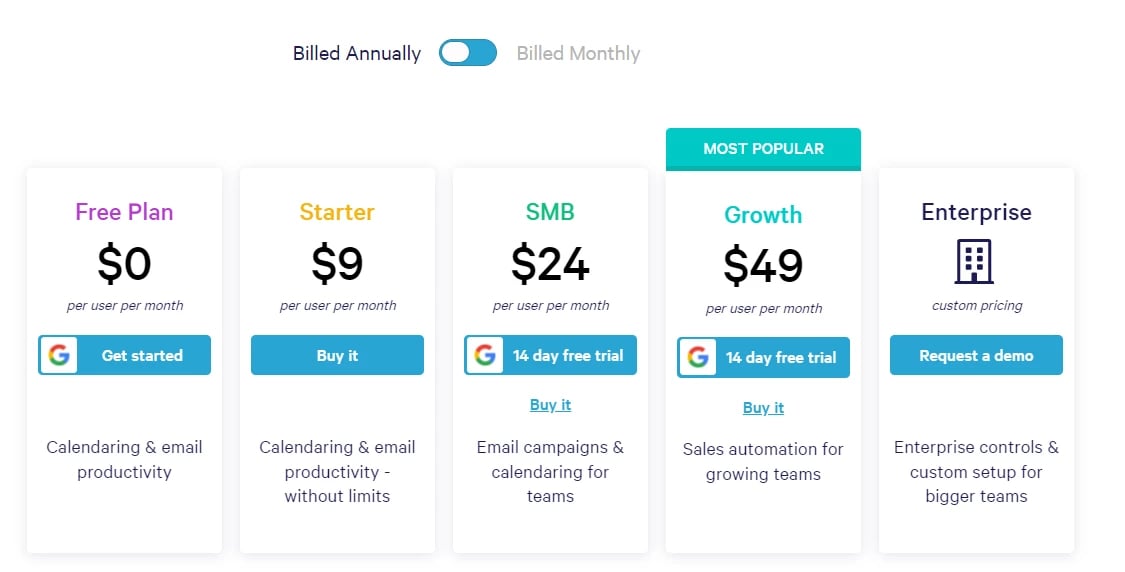 Looking for a sales prospecting tool all your teams can use? Mixmax helps you fill your pipeline and drive revenue creation. Request a demo.
Cold calling is still a very effective sales prospecting technique, especially when combined with email sequences and other channels like text and social. We love Dialpad's AI-assisted video meeting software, sales dialer, and messaging tool for this. As well as speeding up calling by automatically finding and dialing numbers, it tracks and records conversations, and delivers real-time alerts and post-call insights to improve your performance.
Key features
Call, chat, text, and connect via video from anywhere, on any device.
Real-time AI-powered sales coaching, objection handling, and recommendations. Sales leaders can also jump on calls to provide support when needed.
Real-time transcriptions with action items, sentiment analysis, and keywords.
Post-call analytics delivered right to your inbox.
Access customer conversations, team calls, video meetings, and messaging all in one place.
Routes incoming calls to the most appropriate sales rep.
Integrates with your CRM to log calls, transcriptions, and notes.
Integrates with common sales and business tools, including Mixmax.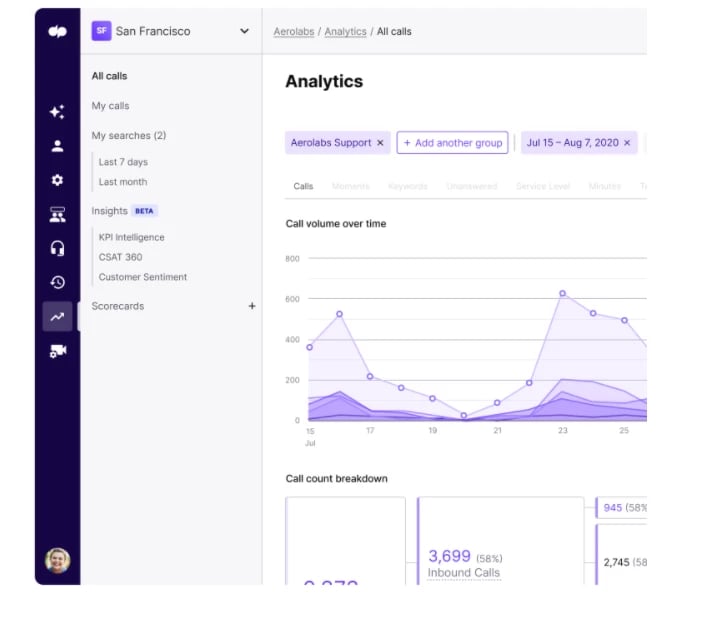 Pricing
Pro - $95 per month (min. three licenses).
Enterprise - custom pricing.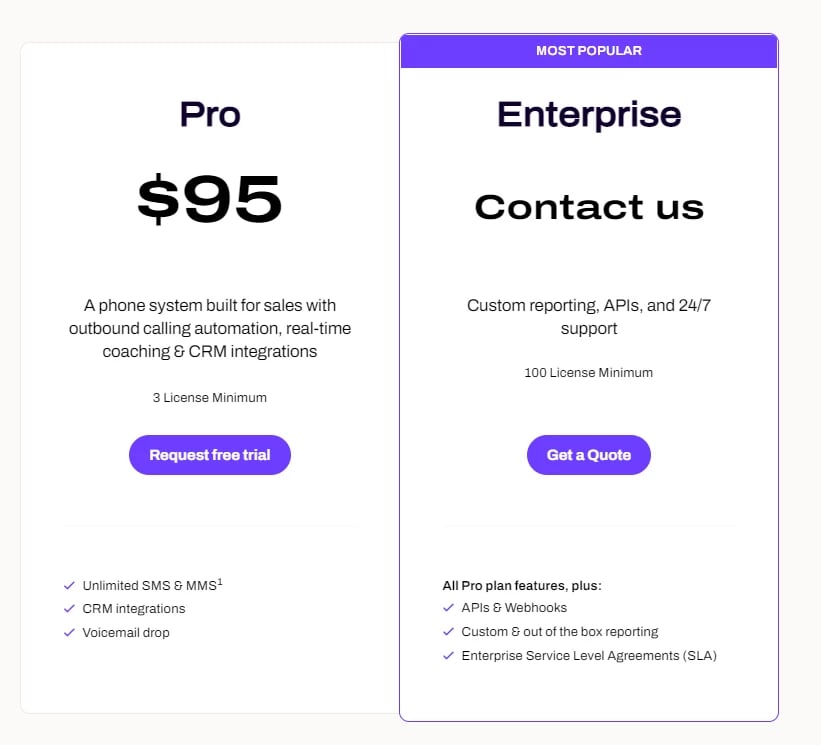 These days, anything that breaks up the inbox monotony and helps your messages stand out is gold, and adding video to your email campaigns is a great way to do just that.
Vidyard allows you to easily record, share, and track videos right from your browser, desktop, or phone, and send them via Gmail or Outlook. As well as boosting SDRs' chances of getting noticed, AEs can use it to share demos, proposal walkthroughs, customer stories, etc. with prospects already in the sales pipeline.
Key features
Analytics and notifications track prospect engagement, so you can follow up when they're watching your video.
Includes in-video meeting-booking links.
Automatically stores recordings of sales meetings in Zoom to review and share at your leisure.
Create curated playlists from your shared team libraries.
Integrates with your CRM and a range of popular sales and business tools including Mixmax.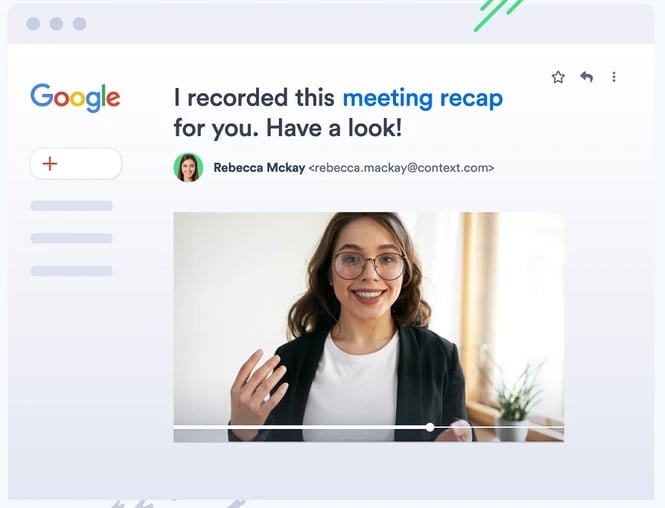 Pricing
Pro - $15 per month. Comes with a 14-day free trial.
Teams - $300 per month, billed annually.
Business - $1250 per month, billed annually.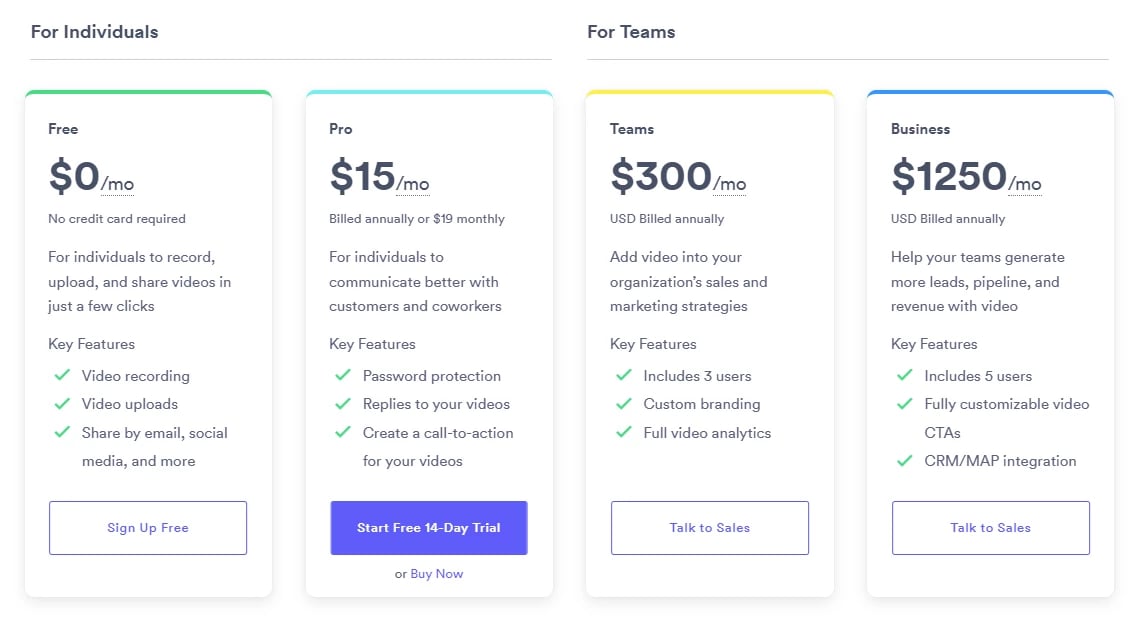 You never get a second chance to make a first impression and you really need to make it count when sending cold emails. We recommend investing in a writing assistant like Lavender to keep your communications on point. It flags up grammar and spelling errors, tells you how you're coming across, compares your sales emails to millions of others, and gives suggestions to make them more impactful.
Key features
AI-powered tone and sentiment analysis, and recommendations.
Next-best-action recommendations maximize the chances of getting a reply.
Automatic email verification when you type in an address, and Clearbit data including LinkedIn posts, financial overview, tech stack, and more.
Passive voice and I-to-you ratio checker.
Nail the best

subject lines for sales prospecting

with subject line analysis.
GIFs to give them a break from all that text.
Spam check helps ensure your emails actually land in their inbox.
Mobile editing and preview.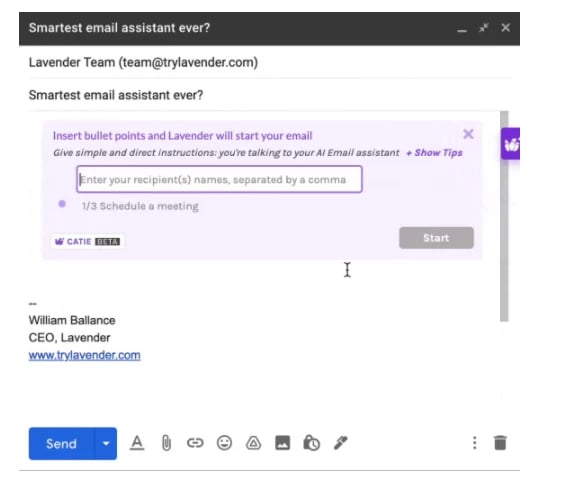 Pricing
Pro - $19 per month. One-week free trial.
Teams - $39 per user/month.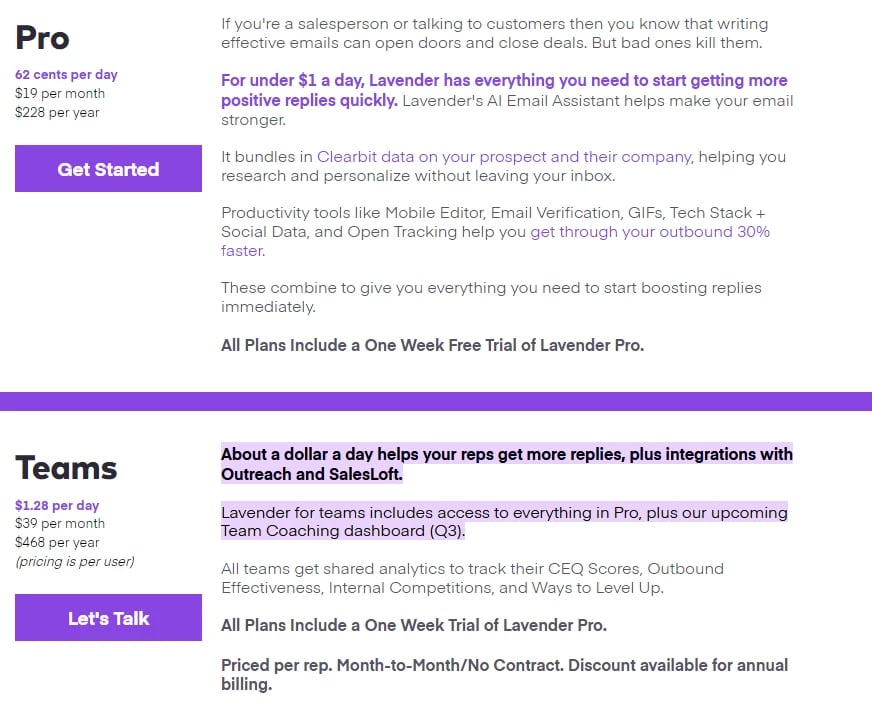 You have reached your destination
Boom! That's you equipped with your tech wishlist for next-level prospecting. Before you go out and melt your credit card, though, take a beat and think on this:
Flying cars aside, when it comes to tech you can definitely have too much of a good thing. We love all these tools, but we don't recommend loading up on all of them right away. Instead, go lean and build a minimum viable tech stack that fits your needs and budget and - important, this - helps you frontload your sales pipeline.
Start off with a multipurpose sales engagement like Mixmax as this has most of your prospecting and sales needs covered. Then, try out other tools and add them into the mix if they work for you. And whatever route you take, remember never to lose the human touch when it comes to actually talking to customers. Talking cars are cool; chatbots not so much.
Related post: A Complete Guide to Sales Prospecting (2020 Update)
Related post: 9 Sales Prospecting Best Practices for Higher Success Rates

Keep all that in mind and you'll be well on the road to more effective prospecting.

Enjoy the ride.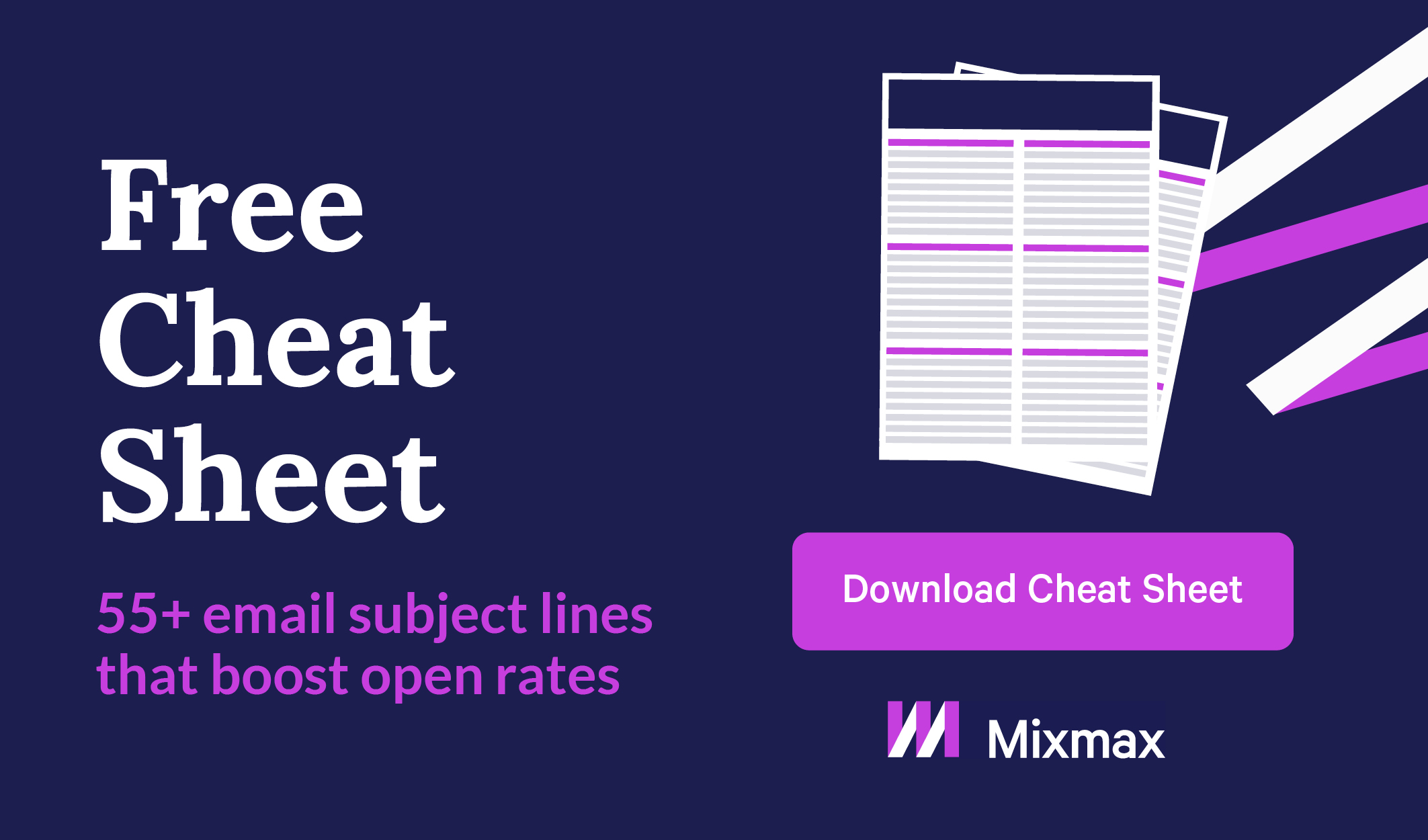 Frequently asked questions about sales prospecting tools
What are two types of prospecting tools?
Two types of prospecting tools include ones used for researching prospects and identifying contact information. These allow salespeople to find prospects who could be a good fit for their solution, and source verified contact details so they can reach out.
Where do salespeople find prospects?
Salespeople find prospects in searchable databases and online, including social media communities, events, review sites, and more. Sales intelligence and prospecting tools speed up the time it takes to look at these sources and locate prospect information and contact details. Salespeople can also find prospects at offline trade and networking events.
What tools are available for prospecting within an organization?
The tools available for prospecting within an organization are those that fit the organization's sales processes, help them overcome their challenges, and achieve their goals. The right tools for any organization will depend on its size, budget, sales teams, and objectives.
How do I start prospecting?
You can start prospecting by developing buyer personas and an ideal customer profile. Then, research and identify potential customers that match these profiles, get their contact information, and use sales engagement tools to reach out.
Related post: 10 Top Sales Prospecting Challenges & How to Overcome Them
Looking for a sales prospecting tool all your teams can use? Mixmax helps you fill your pipeline and drive revenue creation.