February 16, 2022
10 Top Sales Prospecting Challenges & How to Overcome Them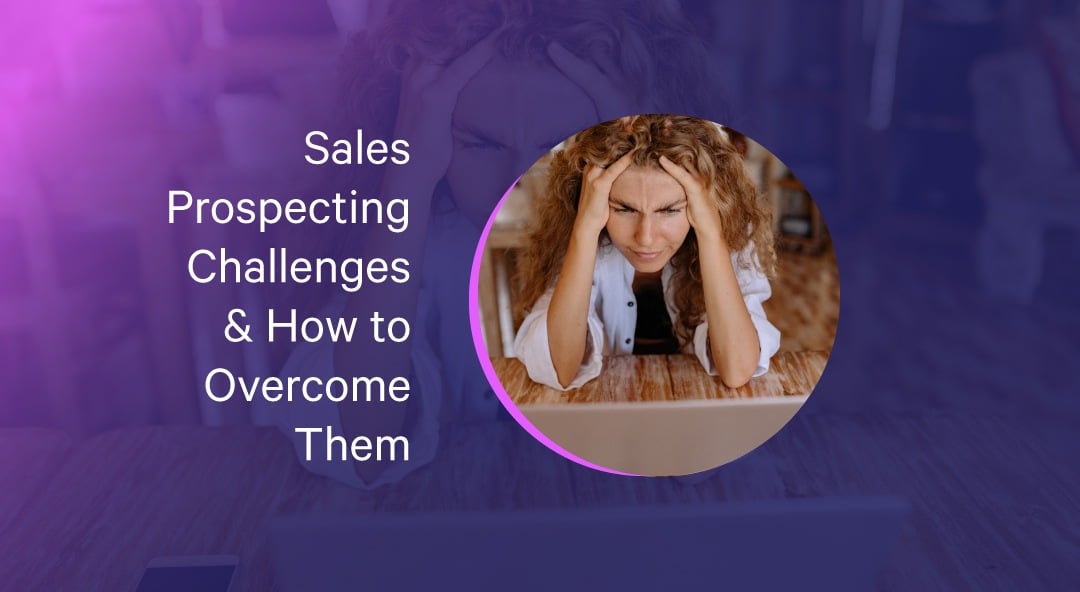 Finding quality prospects
Having an overstuffed sales pipeline full of leads who are unlikely to convert
Getting their attention, and a response
Building trust and establishing credibility
Struggling to fill the pipeline with enough meetings
Handling objections
Lack of access to the right content at the right time
Lack of insights
Time challenges
Right place, wrong time.
Question: Would you apply for this job?
Wanted: Highly resilient individual to perform thankless, repetitive tasks.
Must have:
The tenacity of a worker ant.
The drive of a Ferrari.
Skin of a rhinoceros.
Overdeveloped chin (to take rejection on).
Ability to walk through fire and emerge unscathed.
Tempted?
Us either.
Yet that's what SDRs face daily when prospecting. It takes a special individual to tackle the many sales prospecting challenges involved in tracking down suitable prospects, performing cold outreach, and building pipeline.
And do it all at scale. With a smile on their face.
At Mixmax, we sell to salespeople, so we feel your prospecting pain. We asked our top sellers and reached out to sales influencers to get the tips, tricks, and tools they use to overcome common prospecting challenges.
Come with us if you want to become a quota-crushing productivity beast..
The 10 toughest sales prospecting challenges:
---
Tired of sales prospecting challenges slowing you down?
Mixmax helps you overcome them so you can fill your pipeline and drive revenue creation.
Request a demo
.
---
The 10 toughest sales prospecting challenges
From finding prospects to standing out from the crowd to booking meetings, we've got the balm for your prospecting pain.
1. Finding quality prospects
Sales prospecting success relies on bringing in quality leads and building solid prospecting lists.
Easier said than done.
Sometimes, leads from inbound marketing just aren't a good fit. After all, you can lead a bunch of horses to water but you can't make the right ones drink.
Then again, it could be sales teams struggling to identify the right prospects.
These challenges are usually down to departments working in silos and a lack of adequate preparation.
Solution
Align sales and marketing strategy so everyone is on the same page and working together as one revenue generation machine. When marketing targets the right audience, it generates higher quality pre-qualified leads, and makes it easier for SDRs to get prospects' attention when they reach out.
Start by calculating your total addressable market (TAM, the number of available prospects in your target market).
Put together an ideal customer profile (ICP, firmographics of your target company).
Have both departments develop buyer personas. (Note that sales BPs focus on a person's role and challenges, and your value proposition, while marketing features more demographic and personal data, what they want to know, and how they find you. See our handy buyer persona template and post on sales prospecting best practices for more on this.)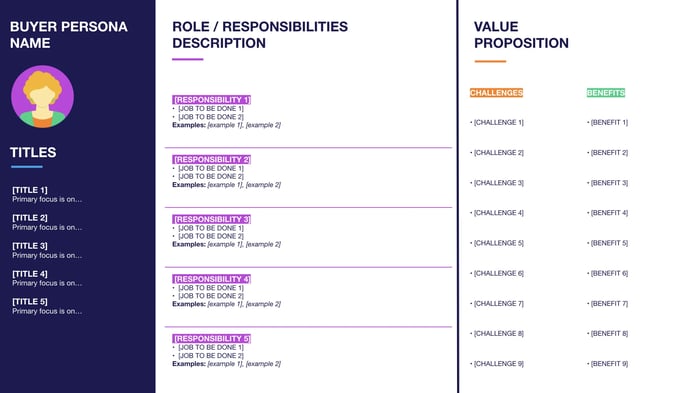 Establish a feedback loop so marketing knows which lead generation strategies are working.

Sales teams can use their ICP and buyer persona/s to research potential customers to identify those who'd be a good fit for your solution, which saves wasting time on the rest.

Use sales prospecting tools and set up alerts to track industry and prospect news, job changes, online behavior, and purchase intent, identify decision-makers, source-verified contact information, and score and qualify leads.
Top sales professionals Justin Michael and Patrick William Joyce recommend B2B sales prospecting with LinkedIn Sales Navigator to dig deep with boolean searches (AND, NOT, OR) and go granular in the jobs section. They also leverage InMails. Even if you don't get a response, it should help your name register when it appears in their email inbox.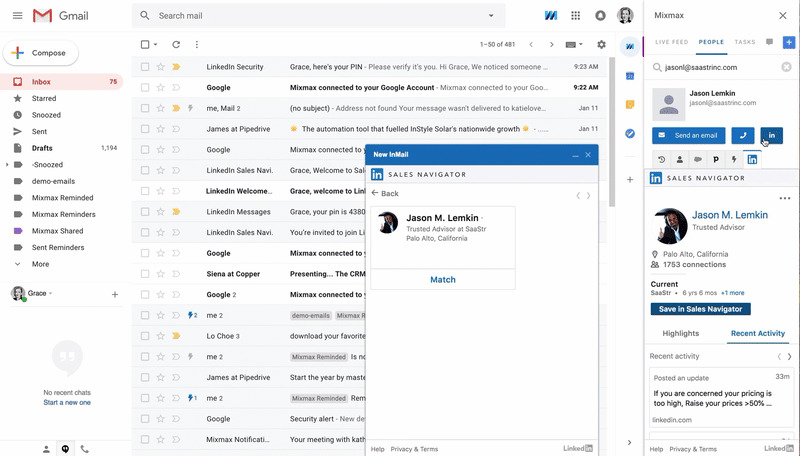 Accessing LinkedIn Sales Navigator from Gmail with Mixmax
---
Related Post: 55 Sales Prospecting Questions to Get Your Prospects Talking
2. Having an overstuffed sales pipeline full of leads who are unlikely to convert
This happens when sales professionals focus on quantity over quality, or lack criteria to qualify new leads and prospects.
Often, sales reps are left to trust their gut about who's likely to convert, and when and how to approach them, which won't cut it in today's world. Worse still, if they don't know how to prioritize, good prospects could be slipping through the cracks.
Solution
First, go back to point 1 to ensure you're pulling in better quality prospects.
Also, have clear qualification rules, criteria, and guidelines for reps to follow before placing new prospects in the pipe.
Use lead scoring tools like MadKudu, and leverage purchase intent and buyer behavior insights from tools like G2 and Triblio to prioritize prospects.
In discovery, determine:
Budget - can they buy?
Timeline - is it a priority?
Need - do they have a compelling reason to buy?
Success criteria - what ROI do they expect?
Intent - why did they take the meeting?
Do they have the authority to buy?
Who the decision-maker is, and how many people are involved in the decision-making process.
Their individual pain, and how you can help.
When you reach out, use a sales engagement platform like Mixmax to get real-time engagement alerts when someone opens your email, downloads content, etc. so you can follow up when there's genuine interest.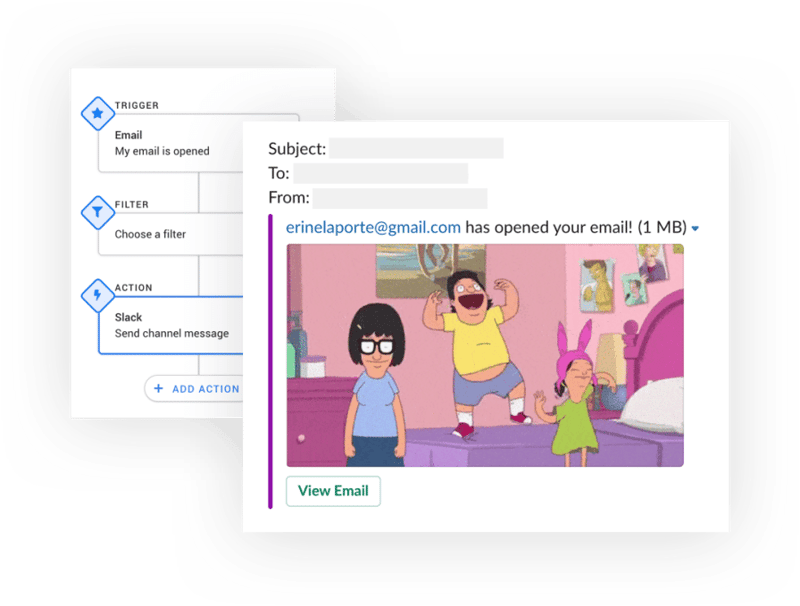 3. Getting their attention, and a response
This is the holy sales grail, and top challenge. Although everyone's connected 24/7, modern prospects suffer from information overload and are being prospected constantly, so they're savvier and less responsive than ever.
To cut through the noise, you need to bring serious value and have a few tricks up your sleeve.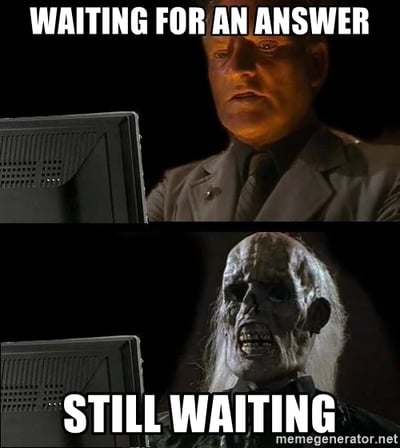 Solution
Personalization is the name of the game here. Use Mixmax sales prospecting email templates that autofill with prospect data from your CRM, making it easy to personalize at scale.
It takes more than a few readily available personal details to cut it these days, though, so you also need to be relevant. This is also where your buyer personas and research into challenges come into play.
Justin Michael and Patrick William Joyce recommend "scaling relevance:" namechecking things like shared contacts, any of your client companies the prospect has worked at, and their recent social media posts, articles, etc. Go for insights combining deep industry insight and references customized for the individual, and tie it together with something relevant.
And keep emails short. Nobody needs War and Peace clogging up their inbox.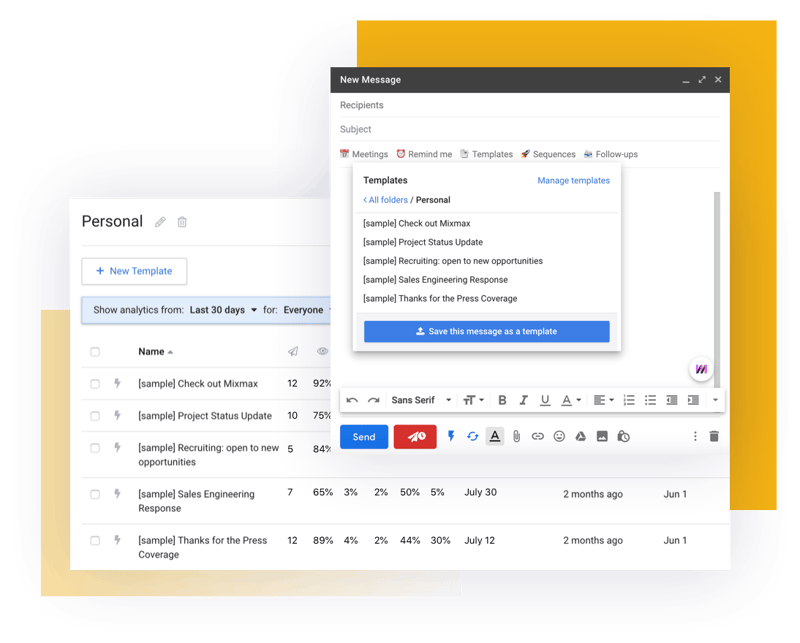 Mixmax customizable email templates
Find out where your prospects live and engage them there using Mixmax multichannel sequences to combine email, phone calls, and LinkedIn. It takes an average of 8-12 touches to get a response, so sequences help keep you on track and on top of follow-up.
You can also try the JM/PWJ approach of rapid-fire 3-email cluster sequences targeting a select handful of contacts with the main email that you bump back up to the top of their inbox on subsequent days and mix with calls.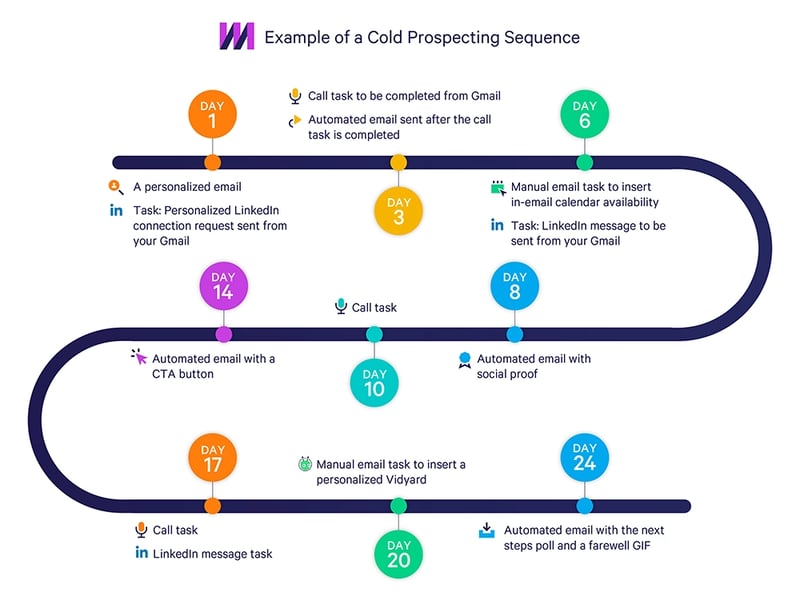 Make the most of Mixmax in-email features like polls & surveys that make it easier for prospects to respond. And put your personal stamp on messaging with humorous GIFs.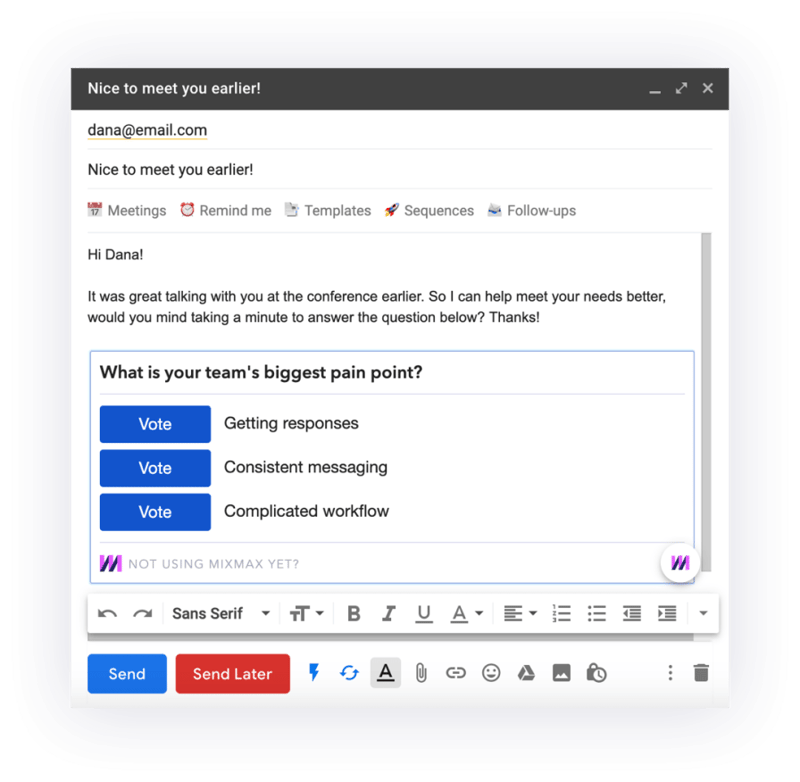 Give them a break from all that text by dropping Vidyard videos in there too. And don't neglect cold calls. Just think about how many emails you get per day vs how many calls...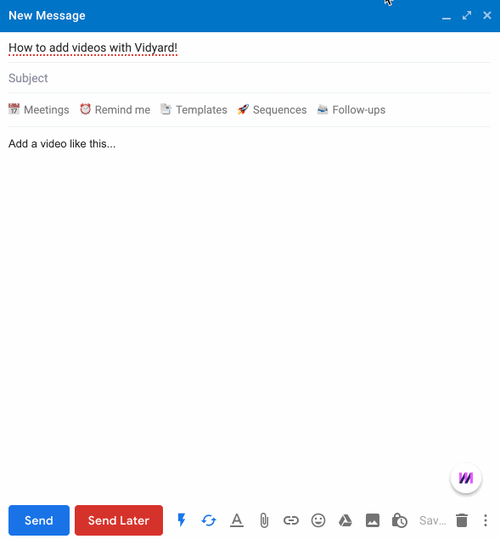 Other sales prospecting techniques used to great effect by Justin and Patrick include:
Writing something so bizarre prospects are unlikely to forget it.
Using explainer GIFs, humor, emojis, and even song lyrics.
Dropping the formality, expected structure, and formatting.
Sending an email with just a visual and "thoughts?"
Use Venn diagrams and other visuals in your emails
Lastly, use Mixmax features like real-time engagement alerts and best-time-of-day scheduling to get in front of prospects at the right time and follow up when top of mind. All without ever looking like your messages were sent by a robot.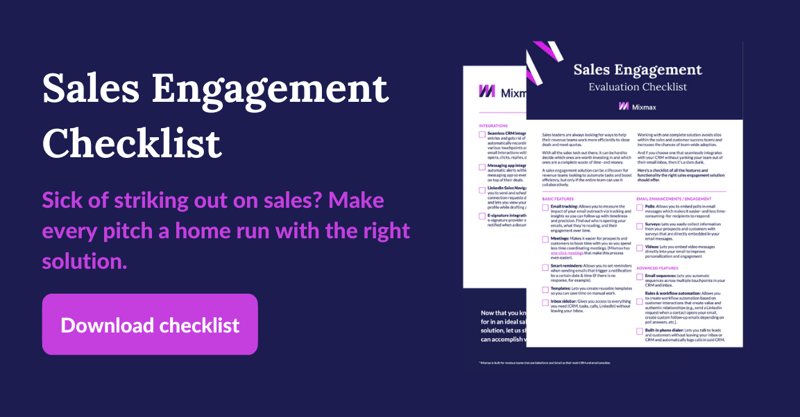 4. Building trust and establishing credibility
After years of being bombarded with messaging, prospects' BS detectors are set to max and they're skittish as a gazelle at the watering hole, which means you need to work extra hard to gain their trust.
Solution
Leverage social selling and connect via their preferred channels. This establishes rapport and gets you on their radar. Save the hard sell for call and email, though.
Be a trusted advisor, not a salesperson. Take the time to learn about them, their challenges, and how you can help. Building relationships will also stand you in good stead further down the line when you ask for referrals.
Have a reason to reach out and provide value every time. Never send empty "just checking in" emails. Reiterate with every single message the value you bring and what sets you apart.
When you hit the phones, ask open-ended questions and identify their pain early on. Never assume you know what it is.
Listen more than you talk. Justin Michael and Patrick William Joyce even advocate an 80/20 ratio. Instead of opening with the prospect's name before launching into why you're calling, flip it around and ask about them. Pattern interrupt like this puts the focus on the prospect, not the seller, and gets them talking.
Validate their choices. When pain surfaces, don't rush in with a band-aid (your solution). Let it unspool and lie in wait until they ask about what your product does. Now's the time for your sales pitch. JM and PWJ call this the Vampire Rule (cos the prospect invited you over the threshold). Create desire and interest, they say, and prospects will drive the sales process for you.
Use the prospects' language and terminology in subsequent communications to show you understand their pain, industry, role, and responsibilities.
Be authentic and honest: If your competitor does something well, give credit where it's due
5. Struggling to fill the pipeline with enough meetings
Often, sales reps are so focused on other sales activities or hitting activity quotas they struggle to find time to book meetings, which results in a pipeline that's not converting.
Solution
Diagnose the problem: Do reps lack sales collateral? Are they ill-equipped to handle objections? Are other activities getting in the way? What tools and resources would enable them to book more meetings?
Use conversation intelligence tools like Gong to analyze sales conversations and find out why prospects aren't biting.
Have a commitment-gaining methodology, like never-ending sales conversations without booking the next meeting / establishing the next step.
Have a strategy to get past gatekeepers and access decision-makers.
Take a structured approach to generating new business, like using Mixmax sequences and workflow automation to keep prospects moving through the funnel. Establish regular times for prospecting and stick to them.
Use Mixmax features like in-email calendar links to reduce the back and forth involved in setting up meetings.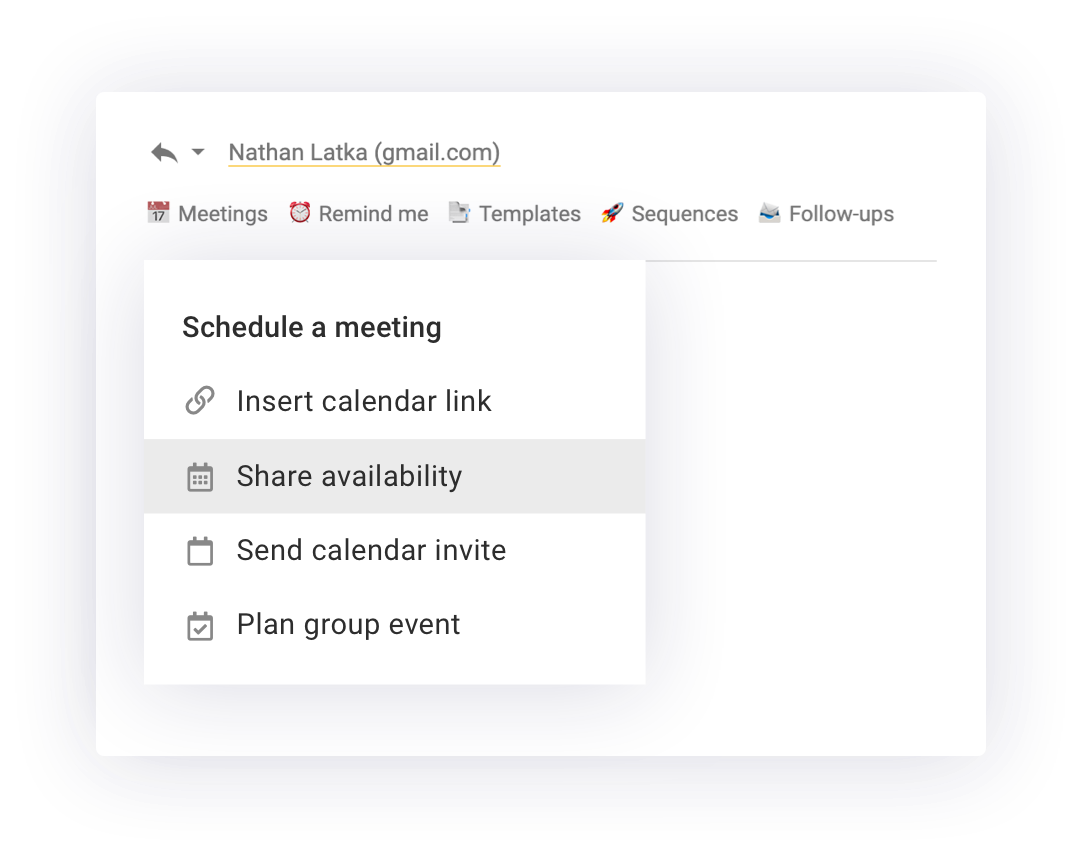 Mixmax calendar scheduling options in an email
6. Handling objections
At some point, prospects will raise objections and sellers need to be ready to respond without losing their cool, or the deal. Instead of something to be feared, this is actually an opportunity to further establish trust.
Solution
Develop a list of common objections that may surface at different stages. For example, objections to buying a SaaS product vs building in-house are likely to come early on; budget objections, later. Keep up with market changes, industry news, and how the competition is evolving to be prepared.
Talk to your current customers to understand how they use your solution, what issues they've had, and how customer support solved them. Check review sites to see how current and potential customers talk about you and the competition.
If marketing is on the same page as sales, it's well placed to supply sellers with content to counter objections, like use cases, etc. The sales dept should also develop battle cards and/or use a dialer like Dialpad that enables in-call objection handling, recommendations, and coaching.
Take the time to listen to concerns and don't immediately shut prospects down. Validate them and "unpeel the onion" to see whether their objection is stand-alone or hides more lurking below the surface. Gong has some good tips on this and other ways to handle objections and come up smelling of roses.

7. Lack of access to the right content at the right time
Sales reps need to be able to lay hands on collateral at all stages of the sales cycle to educate prospects and counter objections. If it's out-of-date, scattered to the four winds in siloed repositories, or requires multiple apps to access it, prospecting is an uphill struggle.
Worse, it can lead to reps creating their own content that's unaligned with marketing messages, which makes for an inconsistent experience for customers.
Solution
Get marketing and sales working together to develop on-brand content. Store it in a single content repository that updates in real-time and is accessible to anyone, anytime, anywhere, on any device.
If you're using Mixmax, our Dropbox integration allows you to embed media files in emails without leaving your Gmail inbox.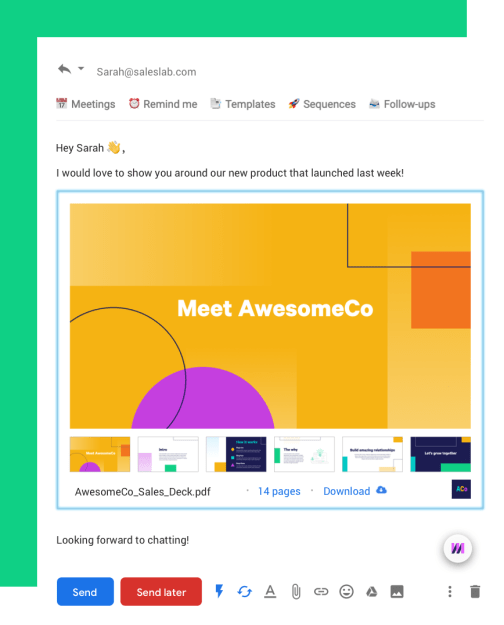 Mixmax allows you to embed your Dropbox file right within your email content with drag-and-drop ease
8. Lack of insights
Gone are the days of cross-your-fingers-and-pray (is that even physically possible?). To get ahead in a data-driven world, sales professionals need to know what's working and what's not so they can adjust sales strategies and tweak messaging.
Solution
Use Mixmax engagement insights to see which sales prospecting email subject lines, templates, sequences, content, links, etc. perform best by tracking opens, clicks, bounce rates, downloads, and other metrics.
Forget what you've heard about A/B testing, unless you've got a full-time data analyst on staff. Make it easy on yourself by just running a couple of sequences in parallel to see which performs better.
Check conversation analytics to see what language and approaches hit the spot. Or (😱MG!) go analog and speak to a real human: Once prospects convert, ask them what made them bite.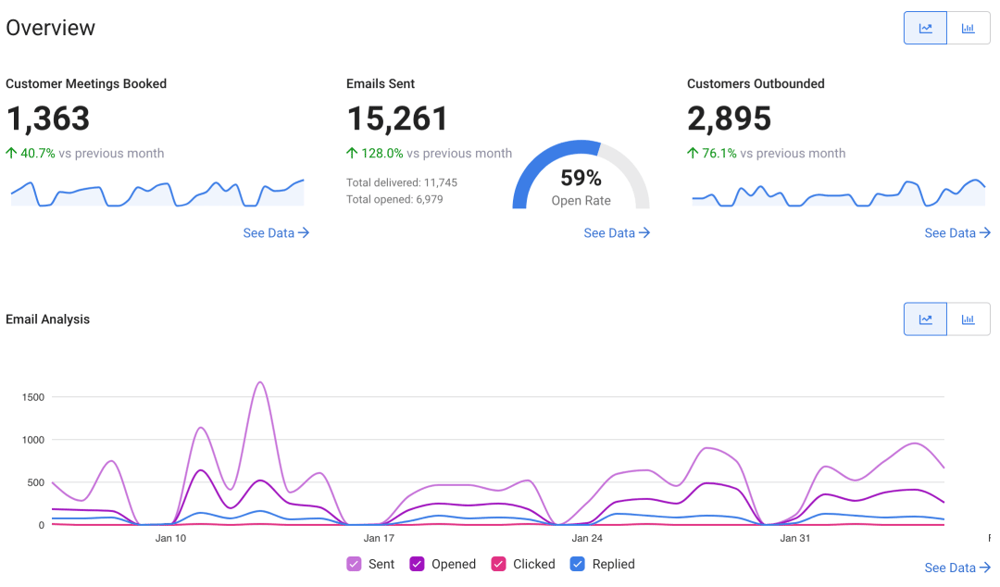 >Mixmax Reports Dashboard
9. Time challenges
Sourcing prospects and contact details and logging activities takes a lot of time and manual work across multiple channels, sources, and tools.
And then there's the need to personalize every message so you don't sound like a robot and differentiate yourself.
Time you don't have.
Solution
Tech is your best friend here. See our piece on sales prospecting tools for ways to take the grunt work out of finding and qualifying prospects, gathering contact data, analyzing performance, and automating manual repetitive tasks like data entry.
We (eh-hem) recommend starting with a sales engagement solution like Mixmax. It integrates with other tools to reduce the number of interfaces you need, and sits on top of Gmail so busy sales teams in fast-growing companies can collaborate and perform all essential tasks right from their inbox.
It also comes with a bunch of features to save time and reduce friction, like scheduling links, video drops, customizable templates, and more. Two-way sync with your CRM also means all contacts and activities are automatically logged and frees you up to spend more time with prospects. A large range of integrations also means you can bolt on other specialized tools as you need.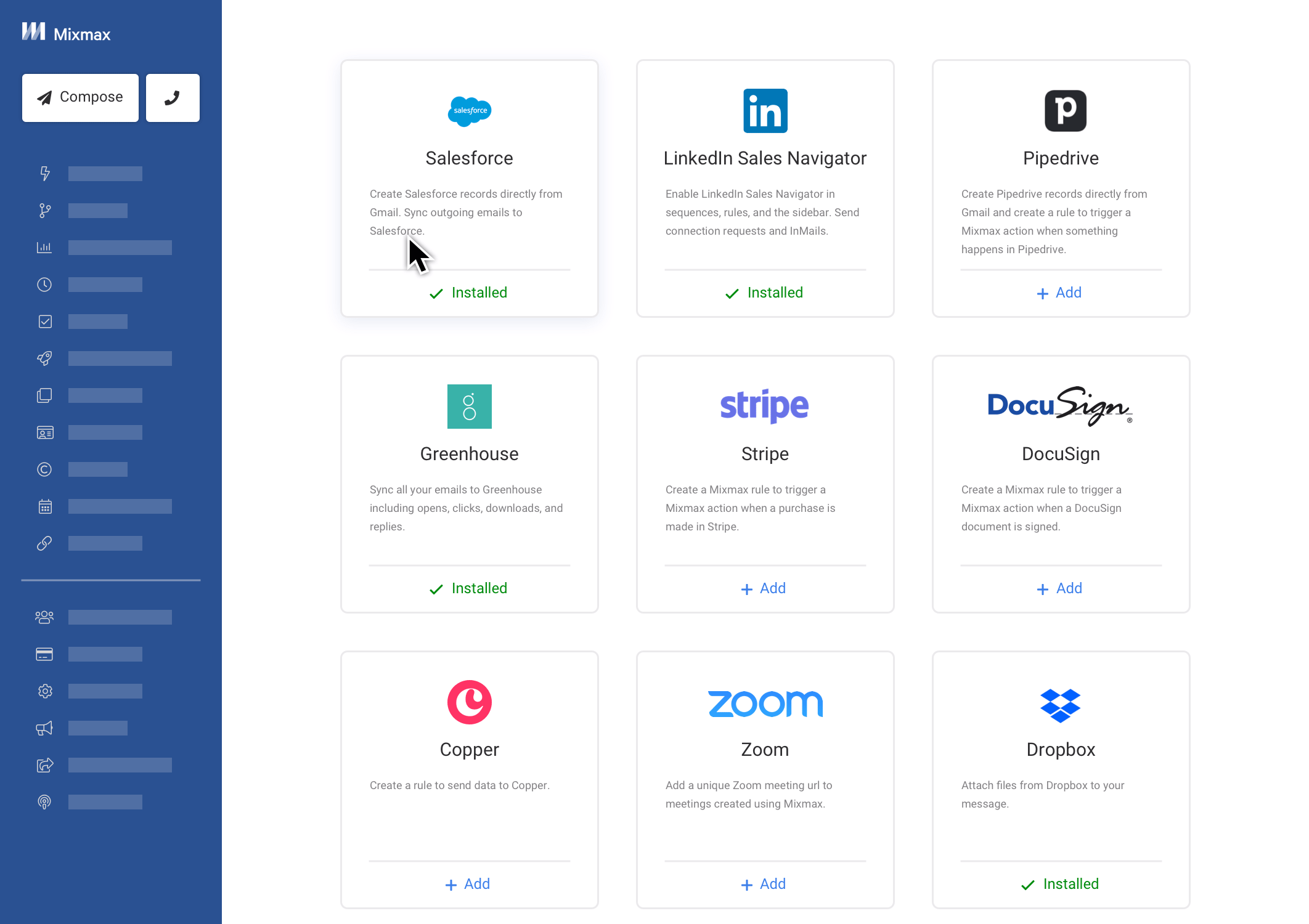 10. Right place, wrong time.
We've all been there: You find the right prospect, nail their challenges, and have the perfect solution, but it's just not the right time. Whether it's budget constraints, being tied into an existing contract, or lack of decision-making power, sometimes you have to accept that you can't win 'em all.
Solution
Resist the temptation to quickly move on from prospects who are unlikely to convert. It's never a waste of time to listen and be curious about how you could help. Once you've established a rapport, drop them into a re-engagement sequence in Mixmax so you can follow up further down the line.
And, of course, always be prospecting so you have other opportunities coming through.
---
Related Post: Enterprise Sales Prospecting: 10 Strategies to Land Large Accounts
---
Down tools
Like they say, prospecting is a dirty job but someone's gotta do it. At least now you're better equipped to handle the most common prospecting challenges, though.
Start with solid research and a deep dive into your customer and their pain. Then, leverage sales prospecting tools like Mixmax to streamline personalized outreach and follow up at scale so you can focus on building genuine human relationships instead.
Top it all off with Jedi mind tricks like pattern interruption and you should be well on your way to prospecting success.
Now go roam free, you gorgeous, glorious sales beast!