November 4, 2021
10 Best Sales Automation Tools: Key Features & Pricing [2022]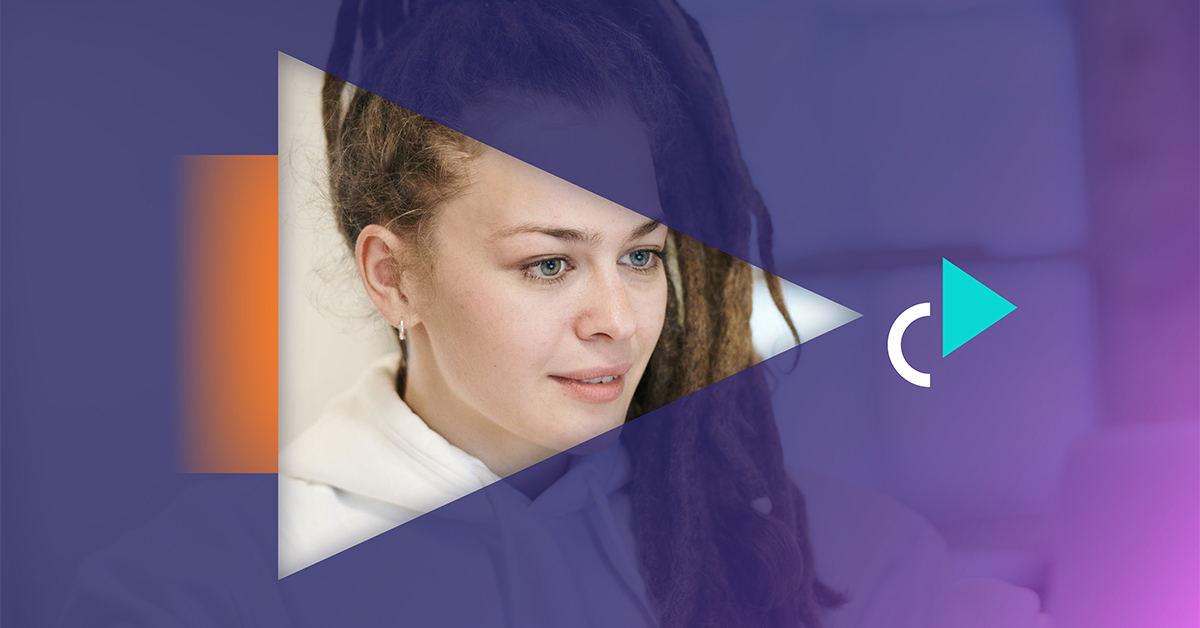 What is a sales automation tool?
Best sales automation tools to close more deals
Why does your business need sales automation tools?
How to build your sales automation tech stack
Grab yourself a coffee, closer
Frequently asked questions about sales automation tools
If you're looking to automate parts of your sales processes, you've probably realized there's no shortage of sales automation tools to choose from. So why not go ahead and automate the whole sales cycle?
Well, as a wise man once said, "With great power comes great responsibility."

When it comes to sales automation, quantity doesn't equal quality. If it's not done right, sales automation can end up worsening, not improving, the customer experience.
The trick is knowing where to draw the line.
Robots are great at many things human salespeople aren't. Like tedious admin, logging interactions, tracking performance and analyzing data, to name just a few.
Empathy, listening to complex problems, and building the trust required for someone to actually buy from you? Yeah, not so much.
Successful sales automation is about hitting that sweet spot where humans and robots combine and complement each other to the best effect. That means building a tech stack that fits your needs and processes, and that your human salespeople will actually use.
We know all about sales sweet spots as our top-performing humans spend hours listening to our customers and designing solutions to help them.
We asked them to pick their top 10 tools to play on a human-robot sales dream team and share them with you.
Ok, so we're still working on that last one, but we promise to deliver on all the rest.
Let's get into it.
Want to scale your 1:1 sales conversations while keeping them 100% personal? Use Mixmax to skyrocket your sales with a personalized touch. Request a demo
What is a sales automation tool?
A sales automation tool is software that automates and streamlines repetitive or time-consuming parts of the sales process.
According to Salesforce, the majority of top-performing sales teams automate:
Administrative tasks, like updating your customer relationship management (CRM) platform
Logging sales data and customer notes
Prioritizing leads
Generating reports and proposals
Deciding what action to take on accounts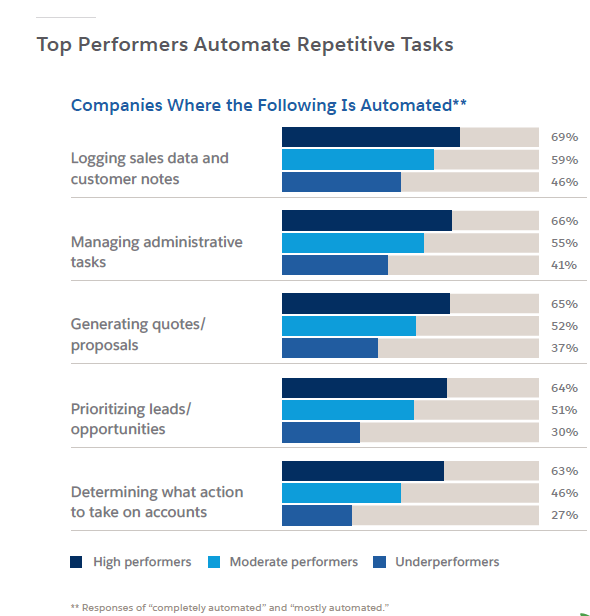 Robots are also great at:
Sales lead generation, qualification, and lead scoring
Automating communications
Scheduling meetings
Polishing your writing
Reminding you to check in with prospects
Organizing and finding sales collateral
Recording, logging, and analyzing calls
Tracking and analyzing performance
Enriching and cleaning data
Delivering actionable, data-based insights
Sales automation tools can be customer-facing (automated email campaigns) or back-office (CRM updates). Either way, prospects should get more time with your human salespeople, not less.
Here's our pick of the sales automation tools to supercharge your sales processes.
Best sales automation tools to close more deals
1. Mixmax
Sales engagement platforms include a host of cool automation features designed to free humans from the shackles of tedious or repetitive manual tasks and give them back more customer-facing selling time.
Mixmax comes as an easy-to-install Chrome download that sits on top of Gmail so everyone from SDRs to AEs, CSM, and sales managers can perform essential sales tasks right in their inbox.
It integrates with popular sales tools like Salesforce, Google Calendar, Slack, Zoom, Dialpad, Vidyard, DocuSign, Pipedrive, and more. So every interaction is tracked, logged, synced to your CRM, and analyzed by your robot back office for actionable insights to identify at-risk deals, support struggling team members, and train new recruits.
Key features
Customizable email templates mean reps never have to draft the same email twice and can spend time personalizing them instead.
Customizable, multi-channel sequences allow you to schedule email campaigns targeted to specific personas, so it looks like a human wrote every email.
Smart send features like auto-delay and best-time-of-day scheduling get your messages in front of prospects at the best time and ensure they never look automated.
Funny GIFs and voicemail drops put a personal stamp on messaging, break the monotony of email, and increase the chances of getting a response.
Real-time notifications when a prospect opens an email, downloads content, or takes a specific action allow reps to strike while the iron's sizzling.
Individual or organization-level rules automate workflows so reps can take the right actions at the right time. Like following up an email with a call or LinkedIn connection request.
Shareable calendar links eliminate the back and forth involved in setting up meetings.
Polls & surveys make it easier for prospects to respond, making lead qualification and information gathering a breeze.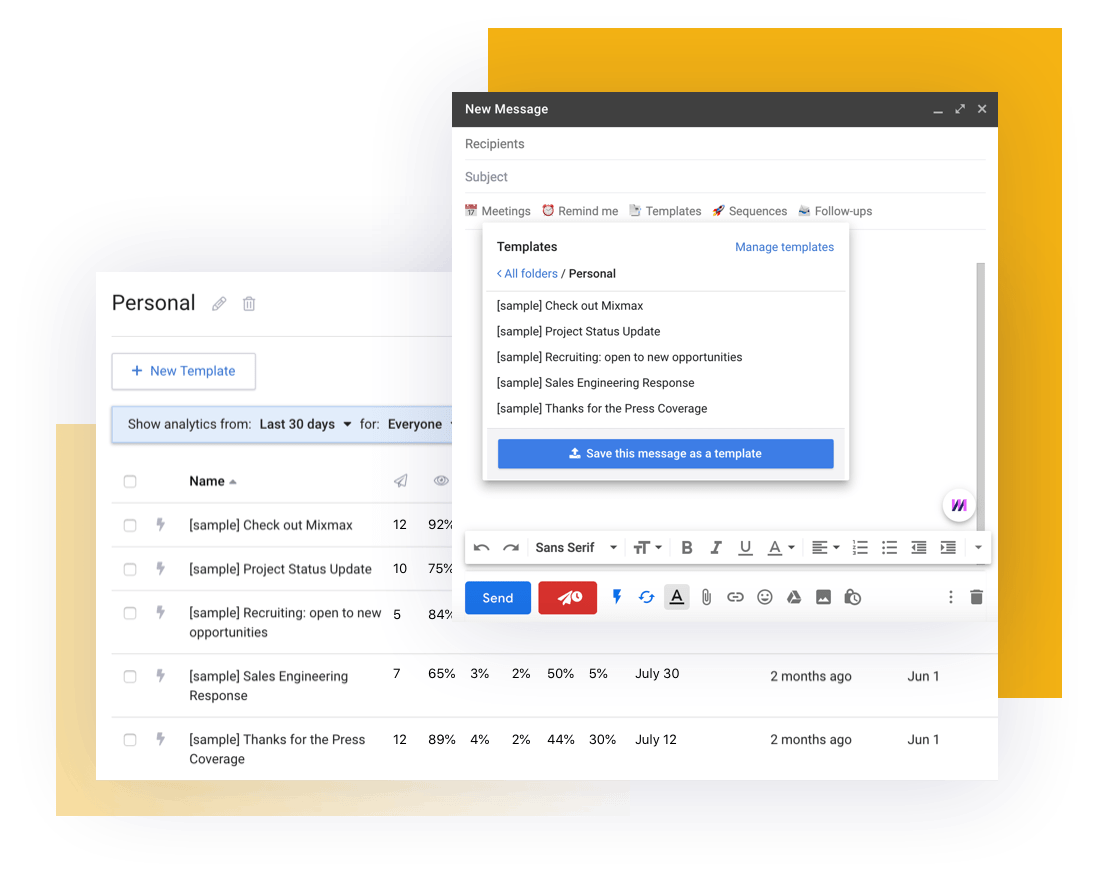 Pricing
Starter - $9 per user/month, billed annually.
SMB - $24 per user/month, billed annually.
Growth - $49 per user/month, billed annually.
Enterprise - custom pricing on request.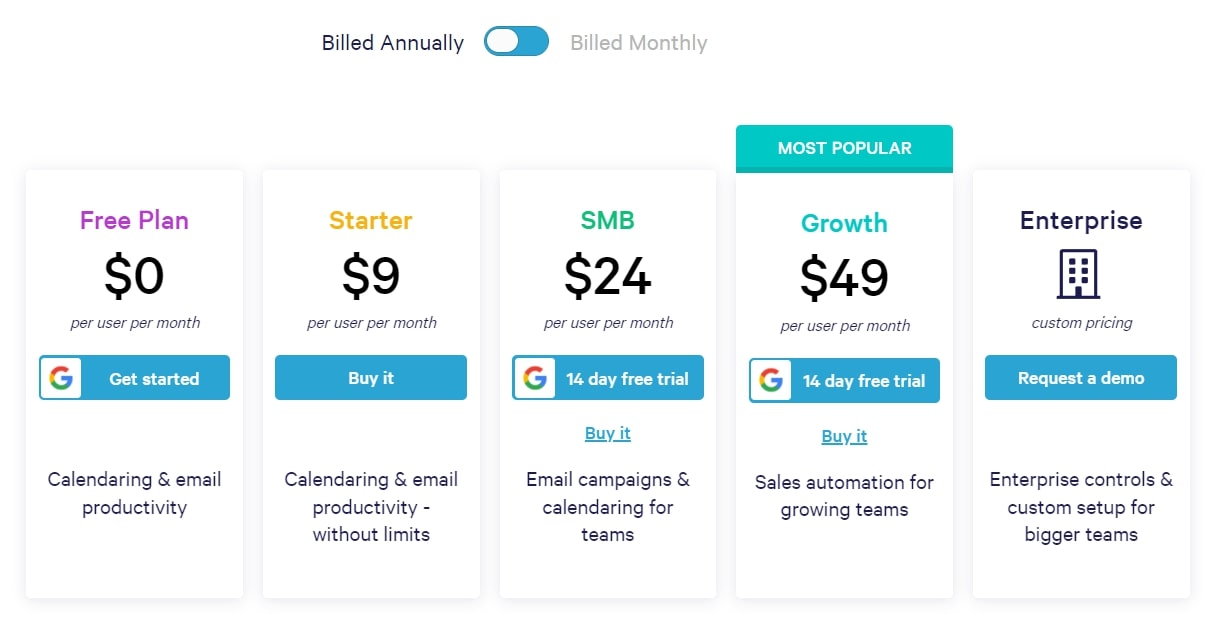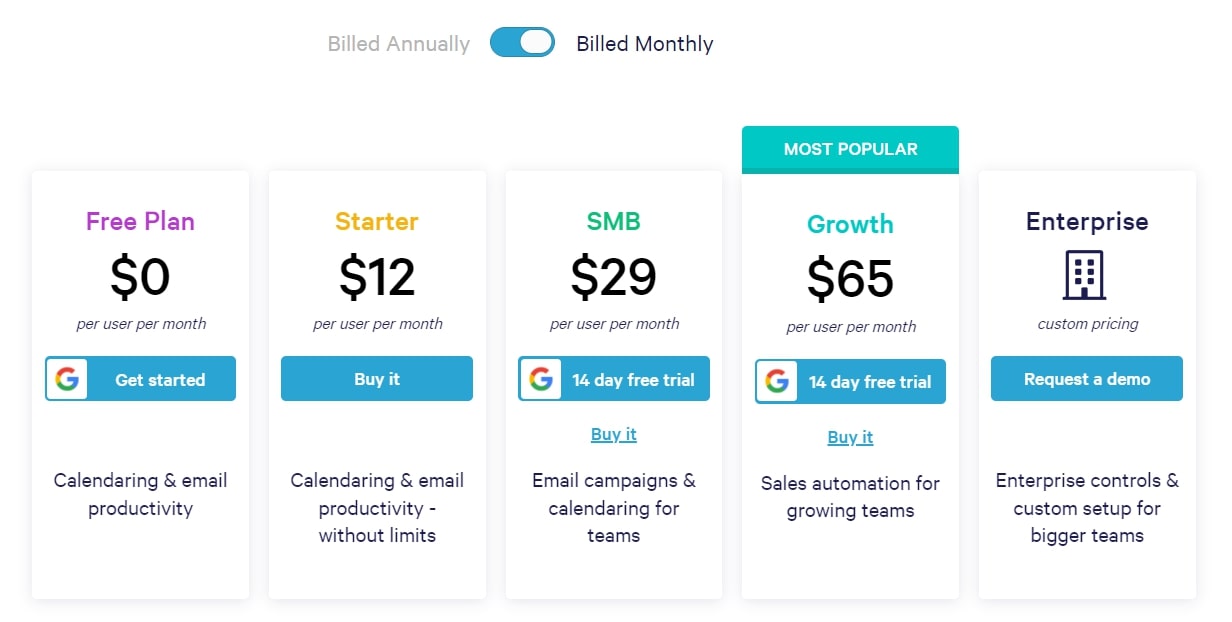 Best for: Sales engagement.
2. WorkRamp
Workramp is a sales enablement solution and learning platform for go-to-market teams, employee training, and customer and partner education. Enable sales, customer success, and support teams with customized learning paths and certification modules, and onboard and educate customers and partners. The fully customizable academy even allows you to create an additional revenue stream.
Key features
Drag and drop content objects to create media-rich learning materials.
Onboarding bootcamp for sales reps.
Live coaching and virtual role-plays.
Demo and pitch certifications.
Two-way video chat.
Virtual events management and attendance tracking.
Calendar integrations and customizable calendar meeting templates.
Self-serve resource library of training courses.
Workflow animations.
Data-based insights, visualizations, and out-of-the-box reports to track program efficacy and learner performance.
Integrates with popular tools like Zendesk and Salesforce.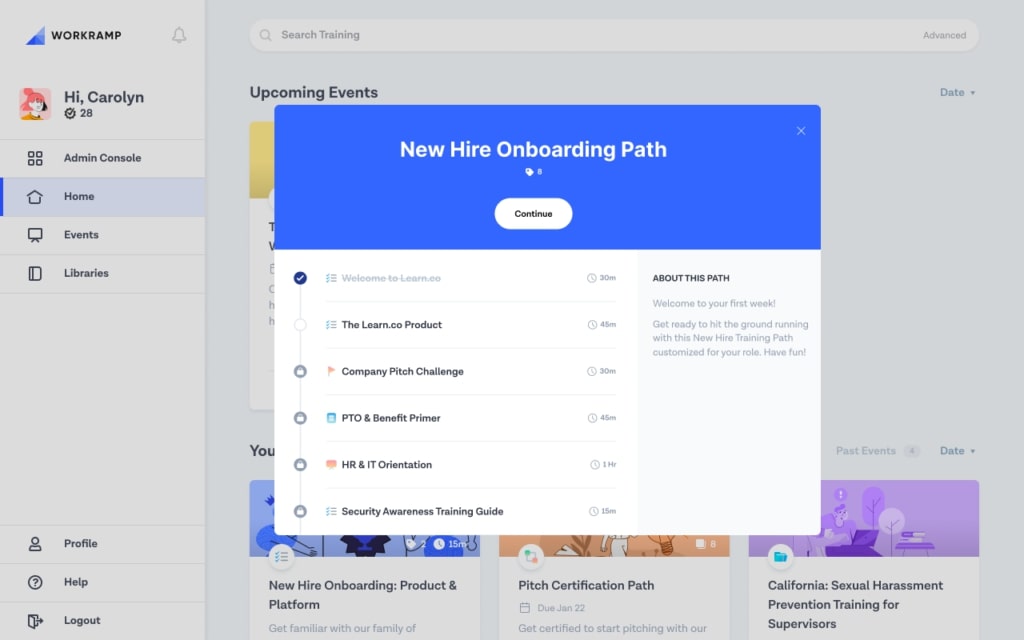 Pricing
Custom pricing on request.
Best: Sales enablement and team training.
3. LeadIQ
The prospecting stage of the sales process has huge potential for automation without losing the human touch. Prospecting tools enable more efficient and productive outbound sales by sourcing verified company and contact information details from databases and online sources like webpages, LinkedIn Sales Navigator, Gmail, and more. So you know your teams are always working with accurate information.
LeadIQ is our go-to prospecting tool. It optimizes prospecting workflows with one-click lead capture and sequencing and provides verified emails, phone numbers, and real-time enrichment.
Key features
Identify and locate target accounts on LinkedIn Sales Navigator and other sites.
Filters to narrow down contact lists.
Automatic routing of contacts to the correct sequence.
Job change notifications let you know when prospects change role or company.
Verified email formatting and deliverability testing.
Integrations with popular sales and marketing tools, like Salesforce, HubSpot, and more.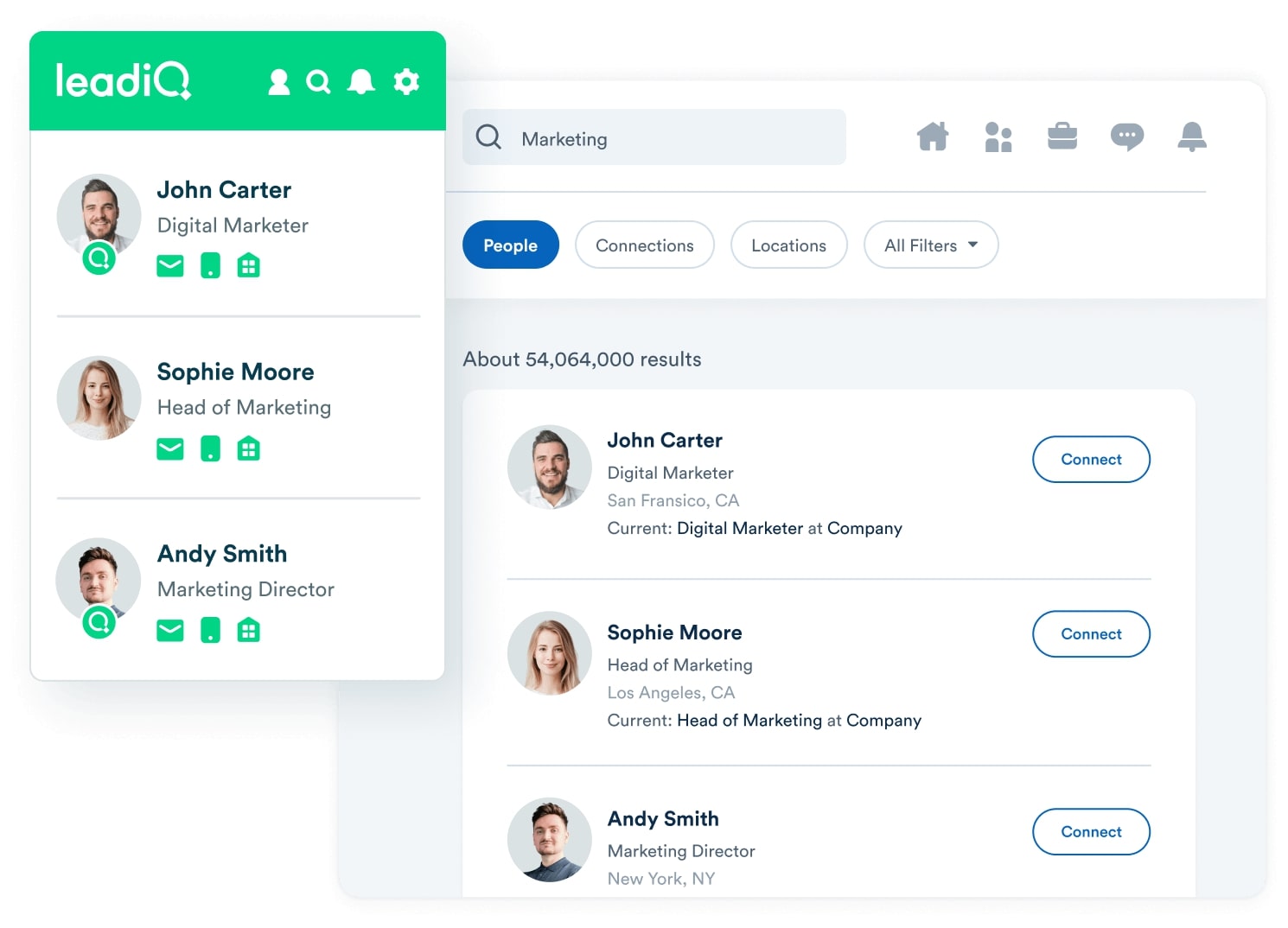 Pricing
Starter - $60 per month/user, annual billing.
Pro - $120 per month/user, annual billing.
Enterprise - custom pricing on request.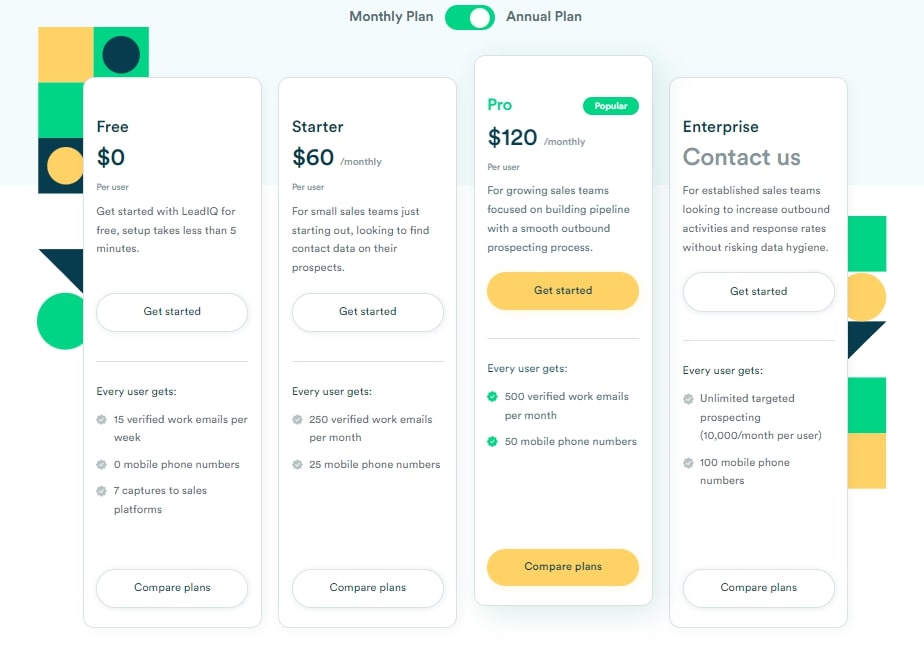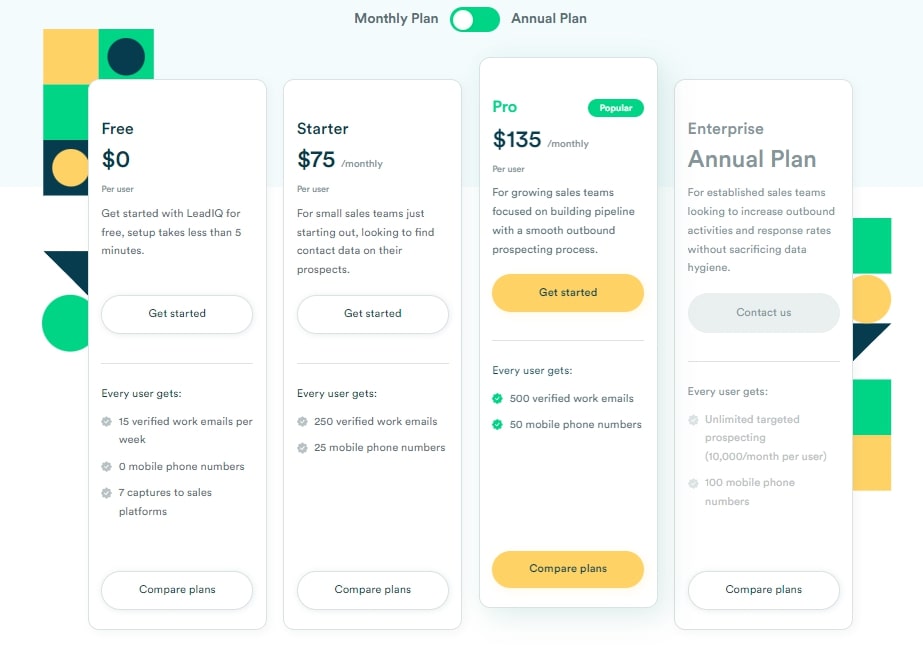 Best for: Capturing lead information for prospecting.
4. Cognism
Cognism is another great prospecting tools that streamlines research and outreach by providing data-based insights into prospect companies so you can prioritize leads for more effective outreach. Insights Cognism provides include company and event information, firmographics, technographics, trigger events, intent data, and verified contact information.
Key features
Lead builder, lead validation, and enrichment functionality.
Data cleaning and enrichment.
Verified contact and identity data, including global DNC list check.
Unlimited individual and page-level exports.
LinkedIn contact and list export.
Integrations with popular sales tools, including CRM and marketing automation.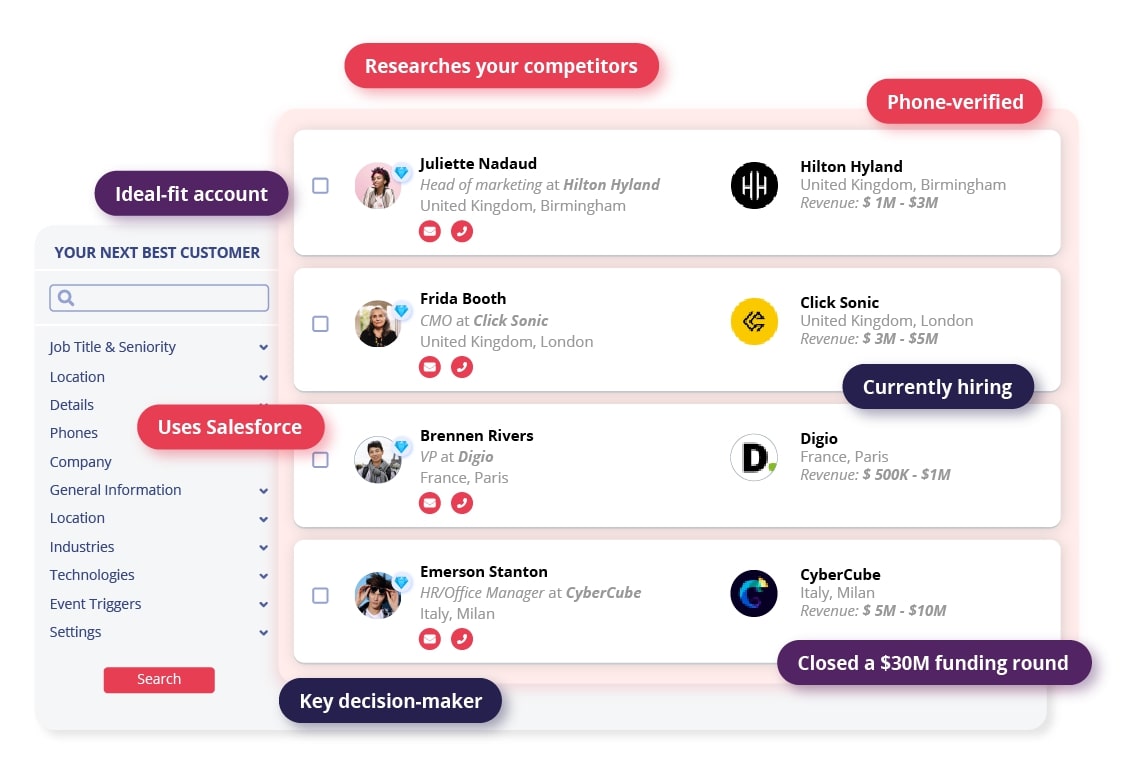 Pricing
Custom pricing on request.
Best for: Sales intelligence.
5. Lavender
Writing assistants ensure your messaging is always on point by rooting out embarrassing grammar or spelling errors and the pesky passive voice so you can write more eye-catching communications. We love Lavender for this. As well as doing all of the above, it compares your sales emails to millions of others and tells you how to make them more impactful. It works its magic in the background as you type, analyzing tone, sentiment, I-to-you ratio, and subject lines, among other things. It also lets you check how emails look on mobile and gives next-best-action recommendations to maximize chances of getting a reply. You can even insert GIFs.
Key features
AI-powered recommendations and sentiment and tone analysis.
Next-best-action recommendations.
Automatic email verification.
Clearbit data covering LinkedIn posts, financial overviews, tech stack, etc.
Passive voice and I-to-you ratio checker.
Subject line analysis to help you write engaging subject lines for sales prospecting.
GIFs to break up the text and boost engagement.
Spam checker to ensure your emails make it to prospects' inboxes.
Mobile preview and editing.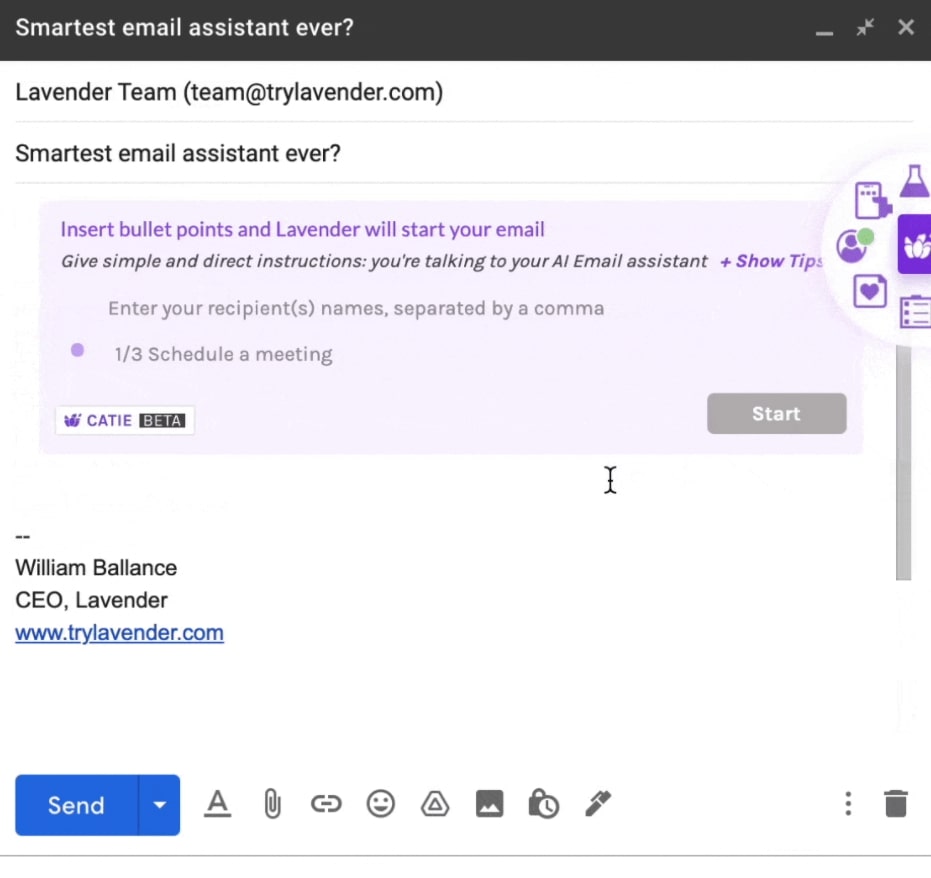 Pricing
Pro - $19 per month. One-week free trial.
Teams - $39 per user/month.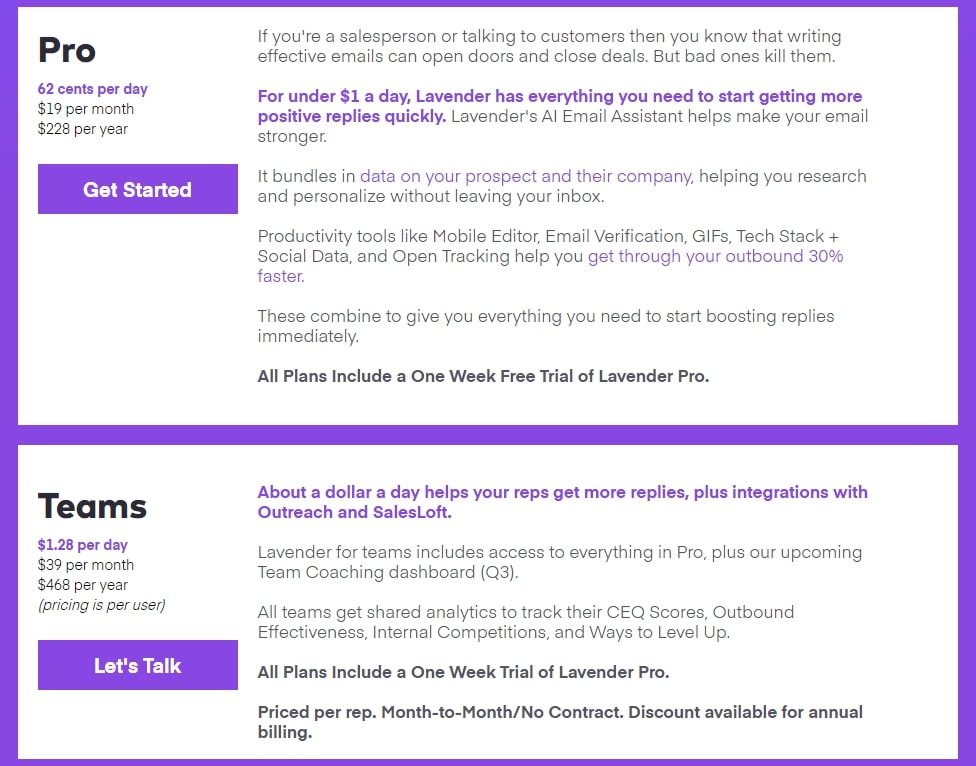 Best for: Writing assistance.
6. Dialpad
Phone tools save a ton of time by finding and dialing phone numbers for you, anywhere, anytime, on any device. We love Dialpad's AI-assisted video meeting software, sales dialer, and messaging tool for this. It also delivers real-time alerts, post-call insights, and conversation tracking and recording to help reps improve.
Key features
Device-agnostic dialer, chat, text, and video calling.
Real-time AI-driven sales coaching (including in-call), objection handling, and recommendations.
Real-time transcriptions, including key terms, sentiment analysis, and action items.
Post-call analytics delivered to your email.
Centralized storage of all customer conversations, team calls, video meetings, and messaging.
Incoming call routing to the most appropriate salesperson.
Integrations with common sales tools like Mixmax, and CRM integration for call logging, transcriptions, and notes.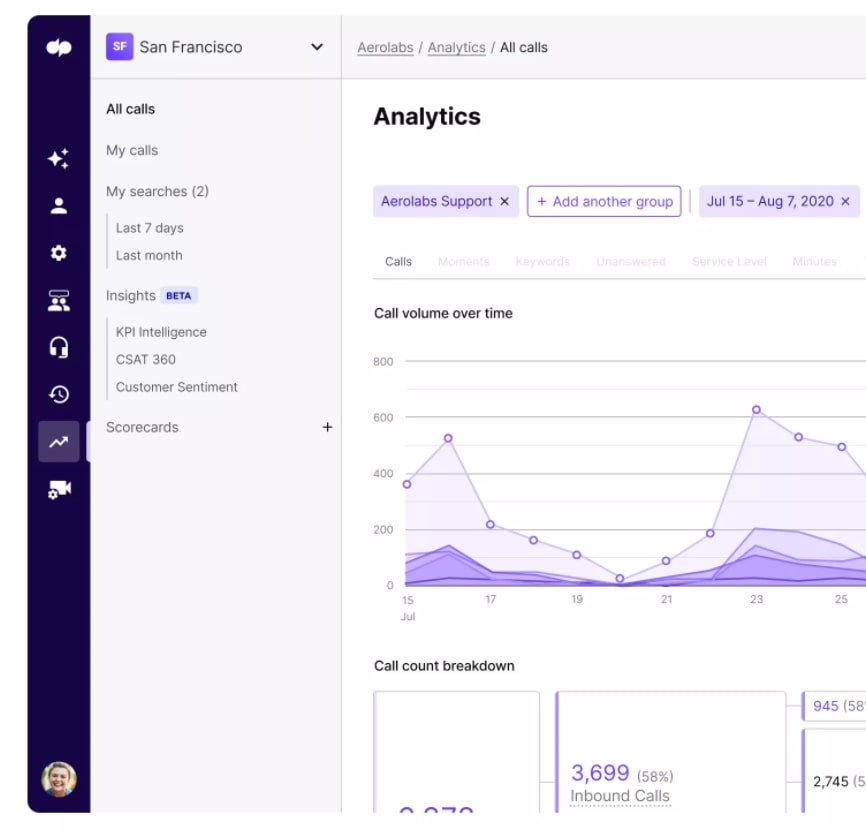 Pricing
Pro - $95 per month (min. three licenses).




Enterprise - custom pricing on request.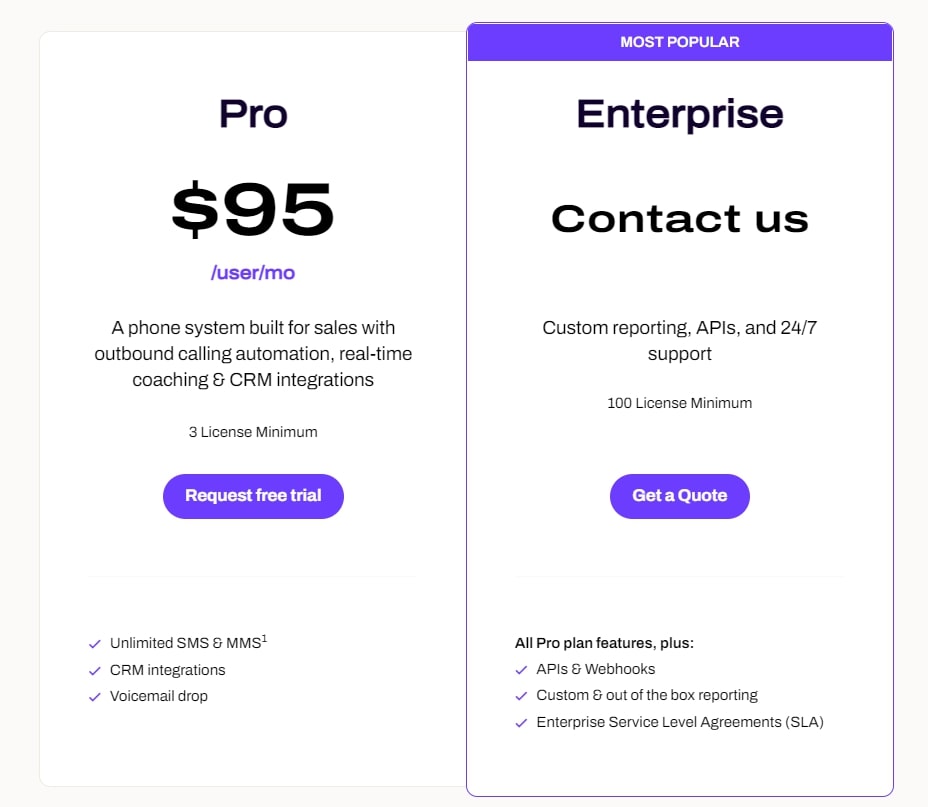 Best: VoP provider.
7. Aircall
Aircall is a cloud-based call center for sales and customer support teams that speeds up dialing, routes incoming phone calls to the most appropriate salesperson, or switches to voicemail out of hours (hey, toxic productivity is sooo last year). It also delivers post-call insights, and real-time in-call coaching so sales leaders can listen in and provide support to struggling reps.
Key features

PowerDialer and click-to-dial.
IVR directory.
Call routing.
Incoming call notifications
Call queuing and callback.
Toll-free local numbers.
SMS.
Voicemail.
Call monitoring and recording, and call center analytics.
Collaboration tools, like shared contacts, warm transfer, shared call inbox, and call commenting and assignment.
Integrations with CTI, CRMs, helpdesk, and other popular sales apps.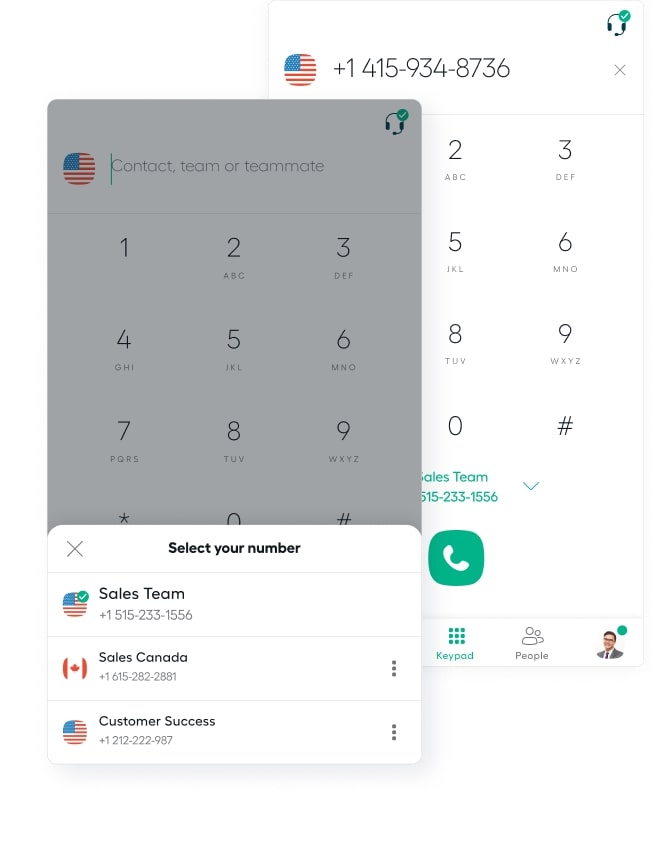 Pricing
Essentials - $30 user/month.
Pro - $50 user/month.
Custom - pricing on request.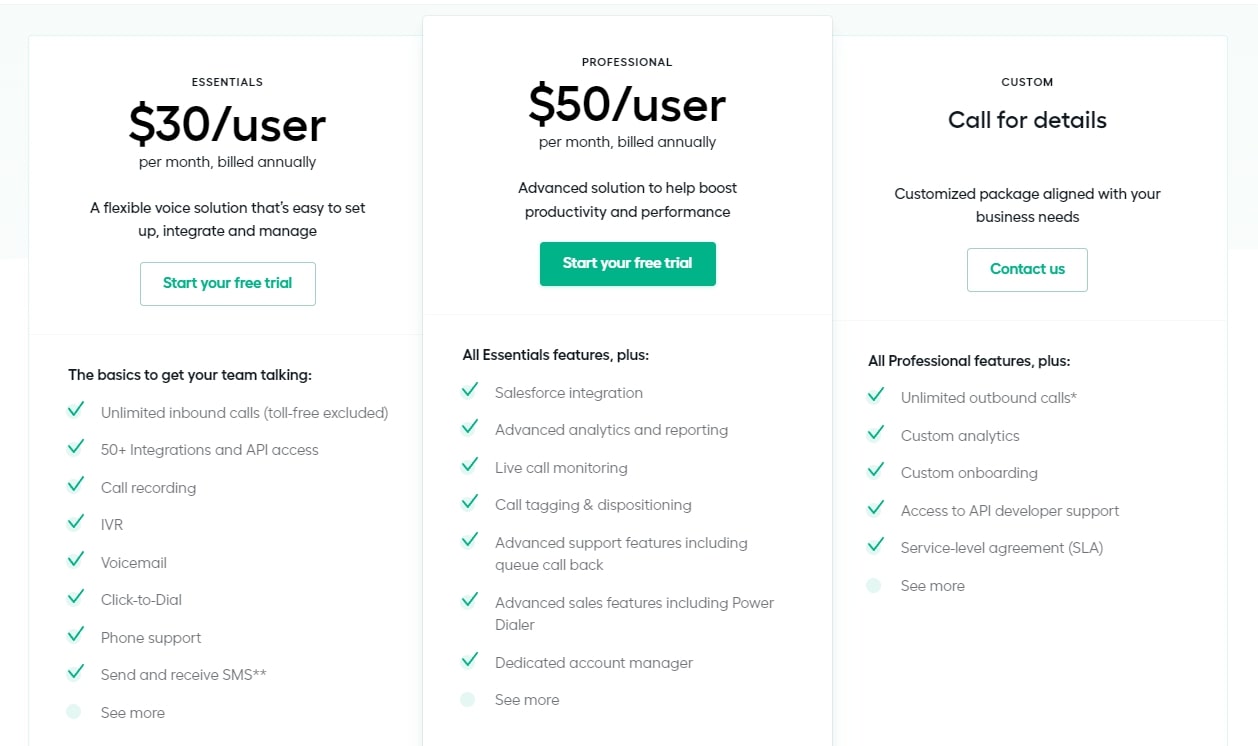 Best: Virtual call center.
8. Gong
AI-based conversation intelligence tools record and analyze calls to provide actionable insights to help struggling sellers, improve your teams' effectiveness, and train new recruits. Our pick of the crop is Gong, which analyzes factors like rep talking time, whether they spin off into a monologue, and how individual sellers compare with the rest of the team.
Key features
Call recording, transcription, tagging, and analytics.
Feedback tools, like coaching and scorecards, leaderboard, notifications, and real-time updates.
Knowledge base and coaching materials.
Customer scoring.
Speech-to-text.
Video recording.
Integrations with common sales tools.
Pricing

Custom pricing on request.
Best for: Conversation intelligence.
9. Scratchpad
If there's one thing sales professionals hate, it's admin. If there's another, it's not knowing whether their CRM data is accurate. See the problem here?
Scratchpad kicks both these issues into touch. It combines multiple data sources—sales notes, spreadsheets, task managers, chat, notifications, etc.—into one workspace, and syncs to Salesforce as you type. All of which makes it easier for reps to stay organized and on top of pipeline management.
As well as automating Salesforce updates, Scratchpad's search and collaboration features automate tedious manual tasks to give your reps back even more selling time.
Key features
Instant Salesforce sync and updates.
Custom fields.
Tiles for workflow shortcuts.
Free-form note taking tool.
Create templates for calls, discovery plans, and more.
Customize views by workflow and team.
Kanban boards.
Performance analytics.
Forecasting tools and custom reports.
Comes as a Chrome extension or web app.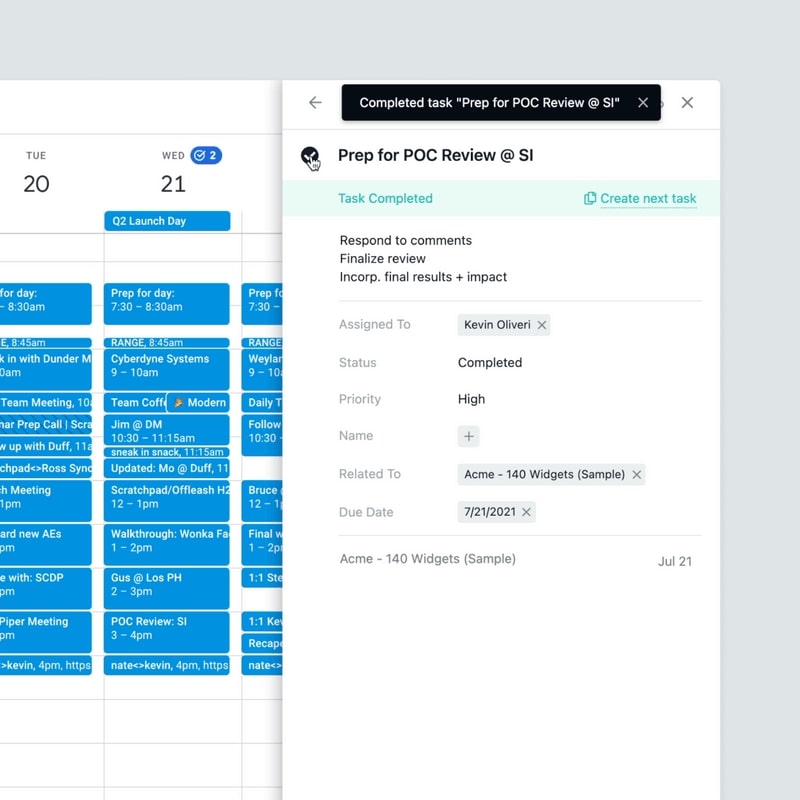 Pricing
Team - $39 user/month, billed annually.
Business - $79 user/month, billed annually.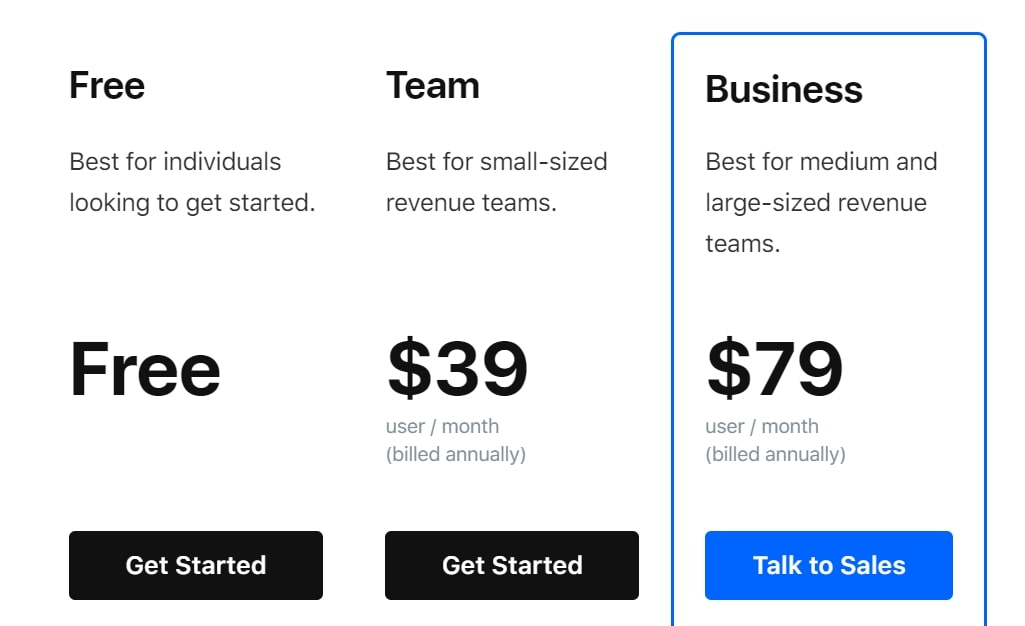 Best for:Salesforce notes automation.
10. Boostup.ai
Accurate sales forecasting requires accurate data, which takes time to pull together from multiple sources.
BoostUp.ai is a RevOps/sales intelligence/forecasting platform that analyzes varied sales data and tracks the performance of individual reps, teams, and messages. Its actionable AI-powered insights give sales leaders a 360ooverview of sales activities and sales pipeline health for more accurate forecasting, as well as helping progress deals faster and build predictable, scalable revenue-creation processes.
Key features
Data sourcing, cleaning, segmentation, filtering, and enrichment.
Email activity capture.
Predictive and account-based analytics.
Real-time pipeline management and inspection.
Activity tracking.
Revenue history reporting.
Risk analysis.
CRM and marketing automation integrations.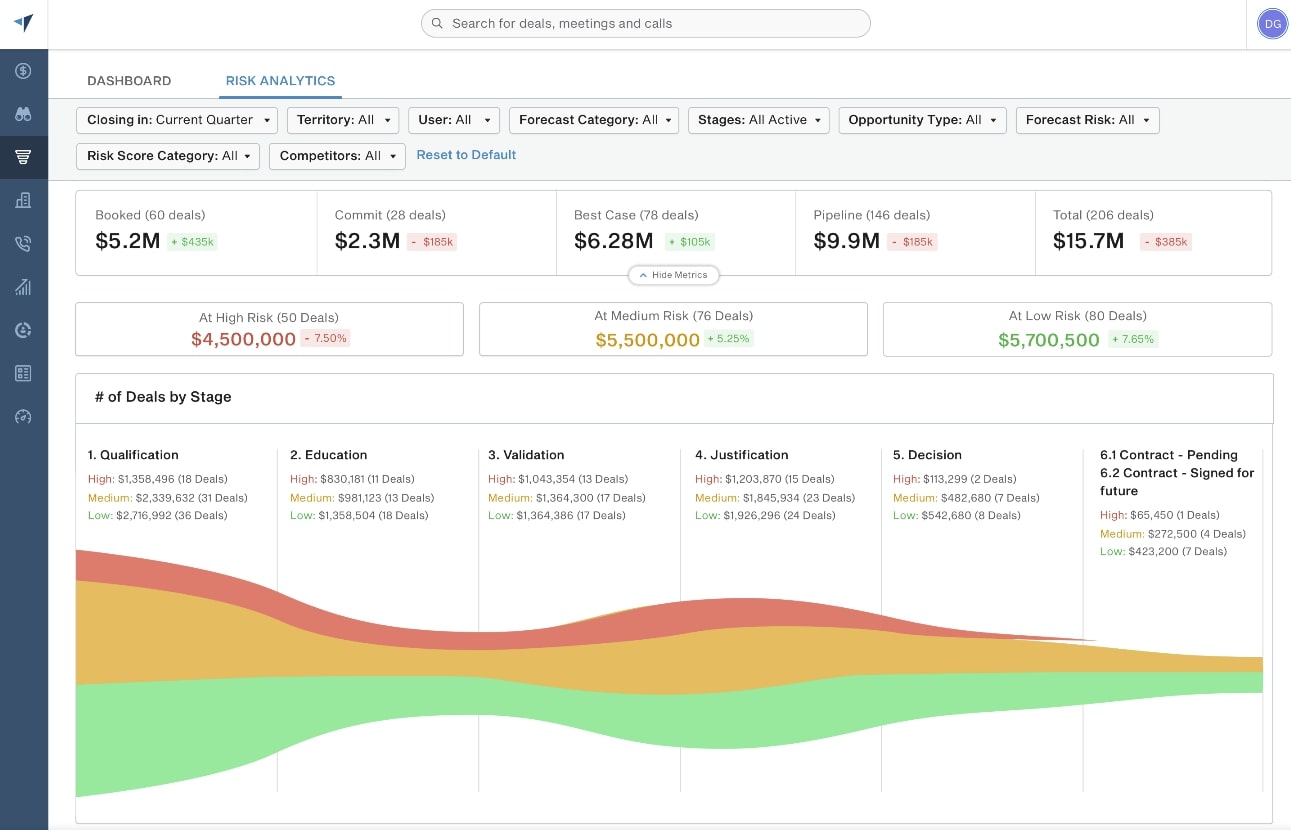 Pricing
Custom pricing on request.
Best for: Analytics and forecasting.
Why does your business need sales automation tools?
Sales automation tools make your business appear more human.
Wait, what?
That's right:
Sales automation gives reps back more customer-facing time
Using robots to do robotic tasks frees humans up to focus on personalizing buyer-seller interactions at scale for better results.
Think of it as your sales superpower (but keep your underwear on the inside, ok?).
Done right, sales automation happens in the background without the prospect ever being aware of it. To them, it should feel like you're a trusted advisor who's always on hand to help them find the best solution to their specific problem.
The secret lies in automating the things human salespeople don't enjoy, like admin, but not the things they do well, like listening, asking open-ended sales engagement questions, and building meaningful relationships.
Sales automation boosts productivity and efficiency
By eliminating busywork and enabling personalization at scale, sales automation makes sales professionals more productive and efficient. This reduces the cost of sales so you can achieve more with less.
Sales automation reduces friction and boosts engagement
Sales automation tools help reps stay organized, ensure nothing slips through the cracks, and break down the barriers to getting a response.
As an example, when a prospect fills out a form or answers a survey, SDRs get alerts so they can jump right on that warm lead. Alternatively, why not cut out the middleman and let qualified prospects book a call with your AE via a one-click link on your website?
How's that for reducing friction
Less time waiting for a response = happier (qualified) prospects = greater chance of closing the deal.
This is good sales automation. The kind we're all about.
By contrast, offloading human tasks onto robots just to save time? Not cool. That sinking feeling you get when you call a business and hear "Hi, how can I help you?" in a voice that sounds like someone left the Tin Man out in the rain? That's how your customers feel when they receive 8-12 general emails from you that have no value for them whatsoever.
This type of sales automation just creates a barrier between you and your prospects.
This is baaad sales automation.
Don't be that guy, ok?
How to build your sales automation tech stack
Having seen how sales automation tools can help your teams close deals, you're probably keen to add the above to your shopping list.
Here's where we blow your mind.
We don't recommend getting all these tools.
Okaaaay…..
Stick with us.
Here's what we do suggest:
Go lean
Rather than an overstuffed tech stack nobody uses, build a minimum viable stack that includes only those tools that fit your sales process and your teams' roles and needs.
Multitask (not you, the machines)
Remember, some tools are multifunctional while others only address one specific issue. As far as possible, go for multipurpose tools to reduce the number of interfaces and tabs you have to interact with.
We recommend you start with a sales engagement platform like Mixmax as this will do most of what you need. Then you can test other tools to see if they further reduce your workload or boost productivity.
Whenever you find yourself repeating an action, ask yourself whether it could be automated.
Integrate, Integrate, Integrate
Always make sure new tools integrate with the rest of your stack and complement, rather than compete, with each other. And remember, some sales automation tools only do that: automate. Personalizing interactions is up to you, the human.
This brings us to the golden rule:
Know the difference between humans and robots
Only automate those tasks a robot does better than a human.
Oh, and don't try to automate bad processes or messaging. This will only allow you to be bad at scale.
Evaluate your stack regularly based on the quality of interactions it enables, not the quantity.
Now unleash your human-robot selling machine and watch it go.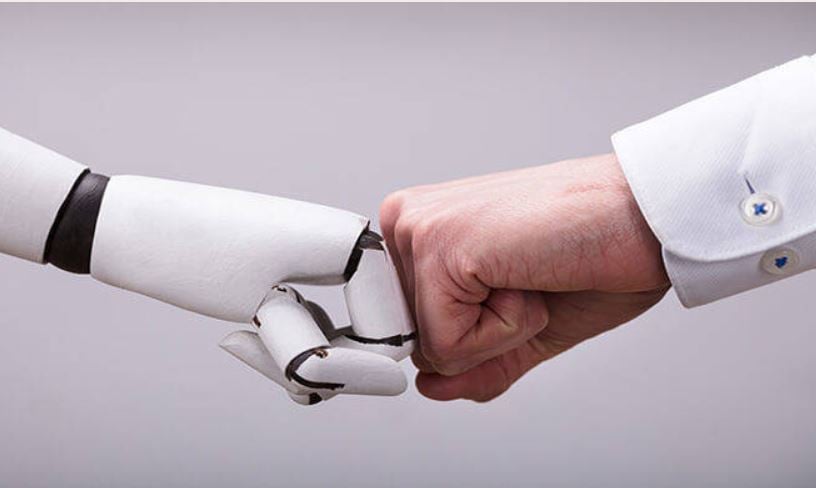 Photo Credits: ©Andrey Popov on Adobe Stock
Grab yourself a coffee, closer
By automating tedious or repetitive manual tasks, sales automation solutions can boost productivity and give sales reps back more customer-facing selling time. But they need to be used wisely to ensure buyers get more personalized interactions, not less.
There's no one-size-fits-all sales automation solution, and that's a good thing. Every business is different and the range of sales automation tools on the market gives you the freedom to experiment until you find your perfect combo.
Busy sales teams in fast-growing companies using Gmail and Salesforce will love Mixmax. Others may prefer to start small, testing out single-use tools and building up that way.
Whatever approach you take, remember that the goal of sales automation tools is to make your human sales reps more human by freeing them up to do what they do best: talking to people.
And selling. That bit's important.
Want to scale your 1:1 sales conversations while keeping them 100% personal? Use Mixmax to skyrocket your sales with a personalized touch.
Frequently asked questions about sales automation tools
How do you automate sales tasks?
Sales tasks can be automated with sales automation software. Sales automation platforms use robots and artificial intelligence to do repetitive or tedious manual tasks like data entry, enrichment, and analysis; admin; activity tracking and logging; and generating documents, among other things.
Which automation tool is the best on the market?
The best sales automation tool on the market is one that fits your sales processes and your sales reps' roles and needs. It should automate only the things robots do better than humans, and free reps up to focus on personalizing communications at scale.
How do you automate B2B sales?
B2B sales can be automated using a sales engagement platform like Mixmax. This includes features that allow sellers to nurture prospects over a long sales cycle. For instance, customizable workflows, email sequences, messaging templates, and voicemails, as well as calendar scheduling links, and polls and surveys, etc.
Will the sales manager role be automated?
Sales managers increasingly rely on sales automation tools to track performance, monitor KPIs, generate reports, and forecast. However, the sales manager role still requires a human to perform high-value tasks, so it's unlikely to ever be fully automated. By contrast, low-level repetitive jobs like data entry, taking notes and summarizing meetings, and drafting proposals and reports are good candidates for full automation.