Engage more customers
Eliminate repetitive tasks for your Customer Success team so they can work smarter, build relationships, and hit their revenue goals.
Automate renewal Sequences and include Polls to stay on top of each account
Build alerts based on customer activity and capture every expansion opportunity
Improve hand-offs and collaboration with Sales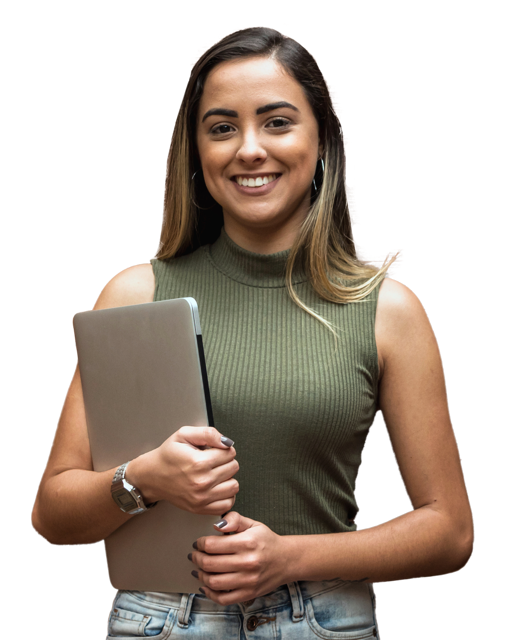 Automate renewals & QBR flow
Scale your customer outreach and add more value, without needing more team members. Stay ahead of every customer renewal by initiating strategic customer meetings with automated workflows and personalization.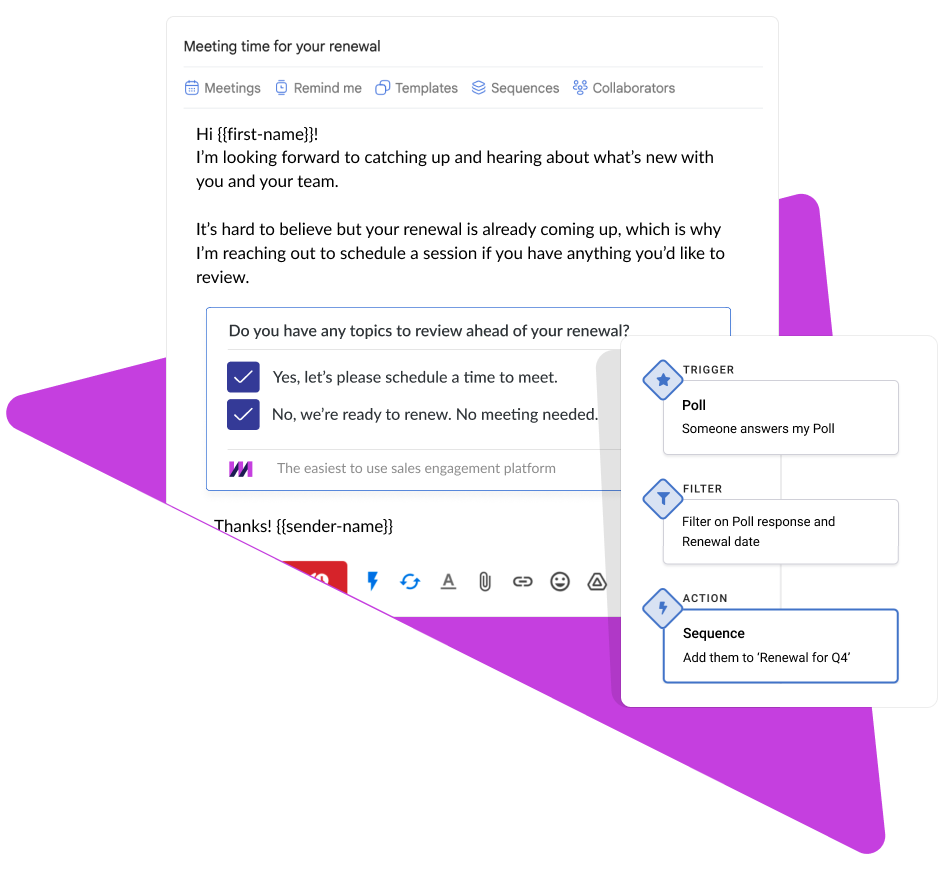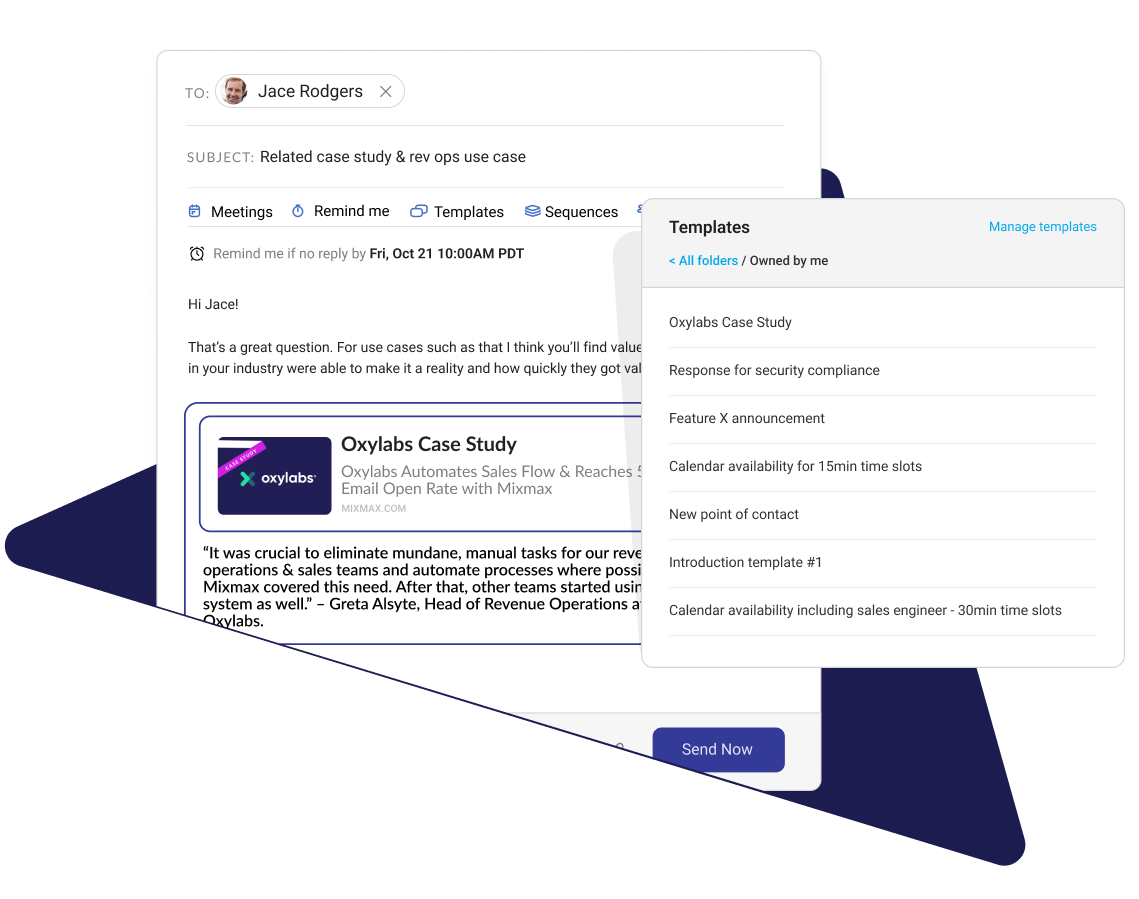 Save hours with email templates
Writing the same email again and again? Save your most effective emails into time-saving Templates that you can quickly embed into any email. Share top-performing Templates with your team to boost collaboration and results.
Engage with customers in new ways
Prompt a quick reply with an embedded poll or survey and trigger an automated follow up or update an account in Salesforce, based on their response.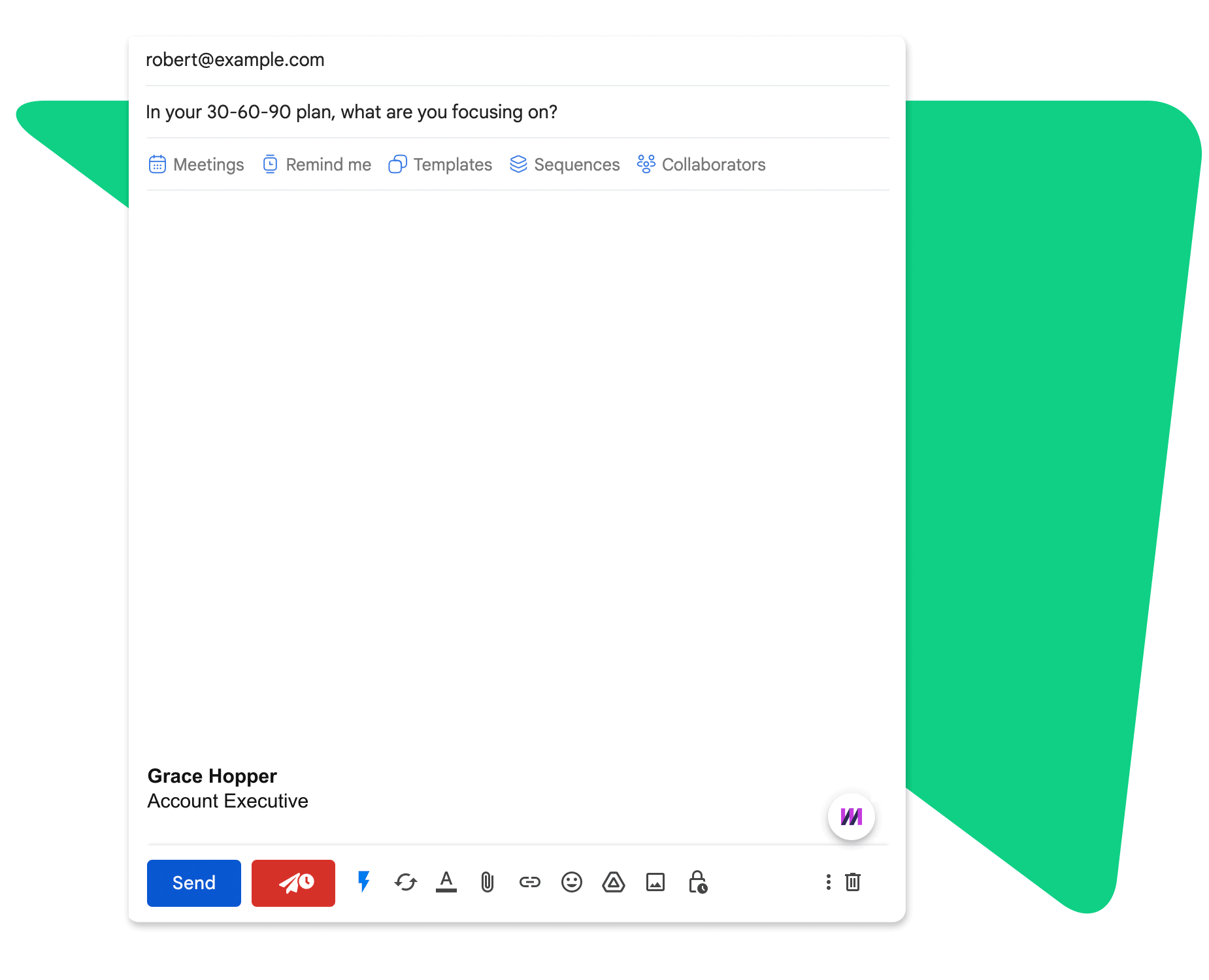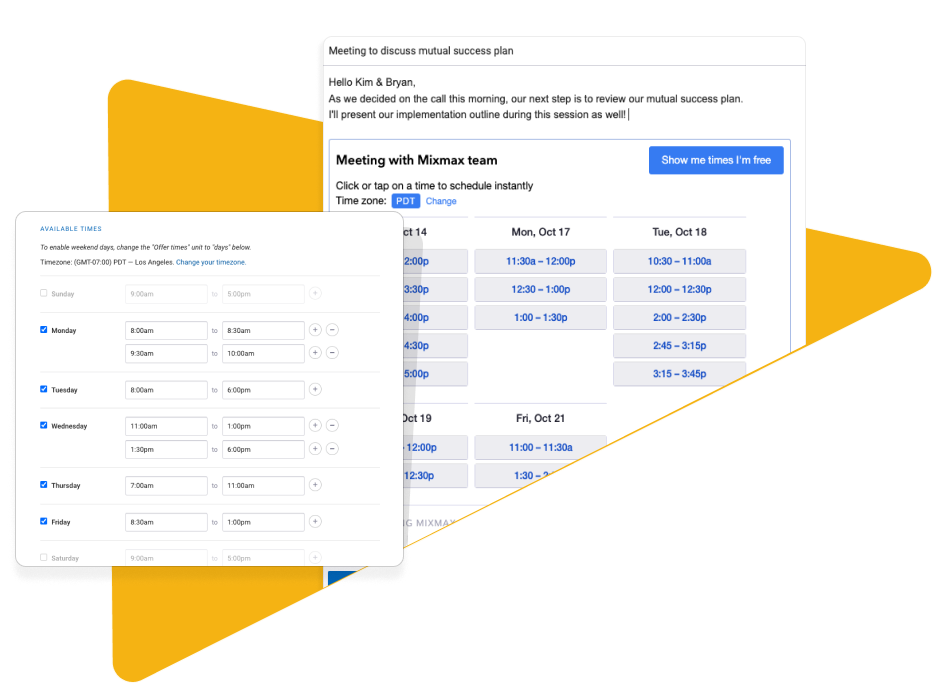 Simplify scheduling with customers
Provide a better customer experience with Meeting Templates and one-click Reminders. Focus on building relationships, not back-and-forth scheduling. Add your calendar availability to any email, and let customers click a time that works for them.
Never miss a follow-up
Push important messages back up to the top of your inbox, or into Slack. Use reminders to get prompted when a customer hasn't replied to your email.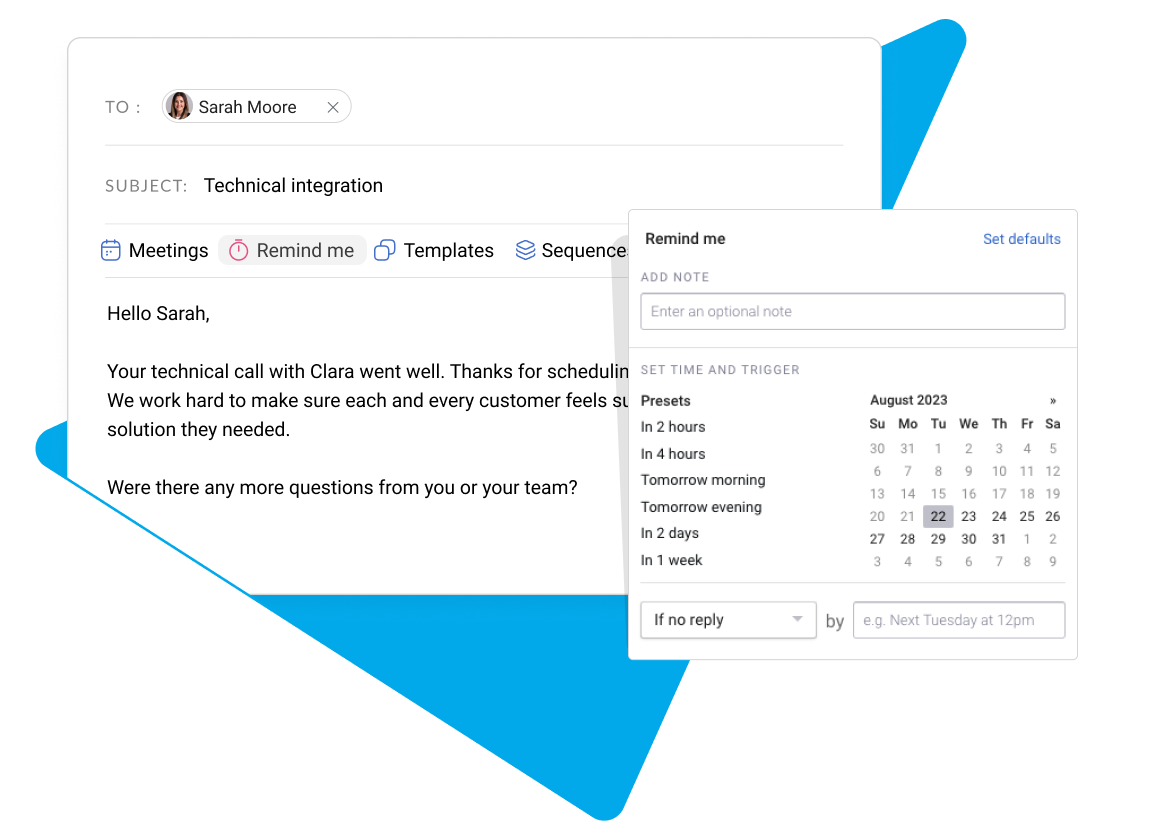 "With Mixmax, we went from sourcing $100k in upsell pipeline per quarter to nearly $1 million per quarter. Within a couple of quarters, we'll be sourcing over a million dollars of upsell pipeline for our sales team to pursue from the CS team."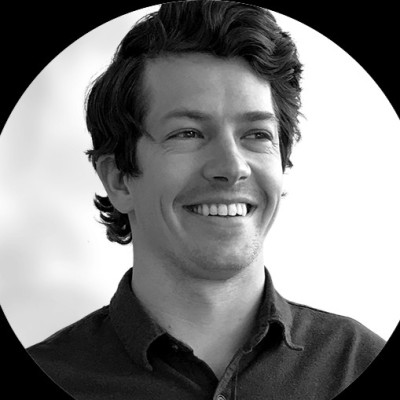 Luke Via
Senior Director of Customer Success @ Insightly
"I love having all my Salesforce data right on the side of my inbox, so I don't have to search for contact details in SFDC. Their Rules features saves me at least an hour a day automating responses & updating Salesforce fields."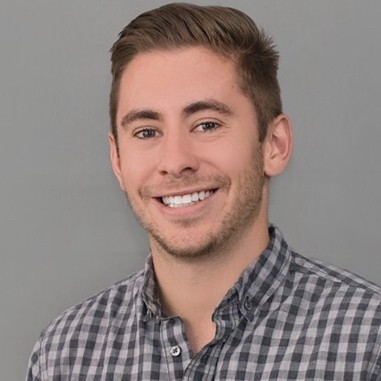 Brian Collins
Sales Enablement Manager @ Meltwater
"The time saved with Mixmax is huge. It empowers us to use that time we don't have to spend writing individual emails to nurture relationships with customers through proactive meetings."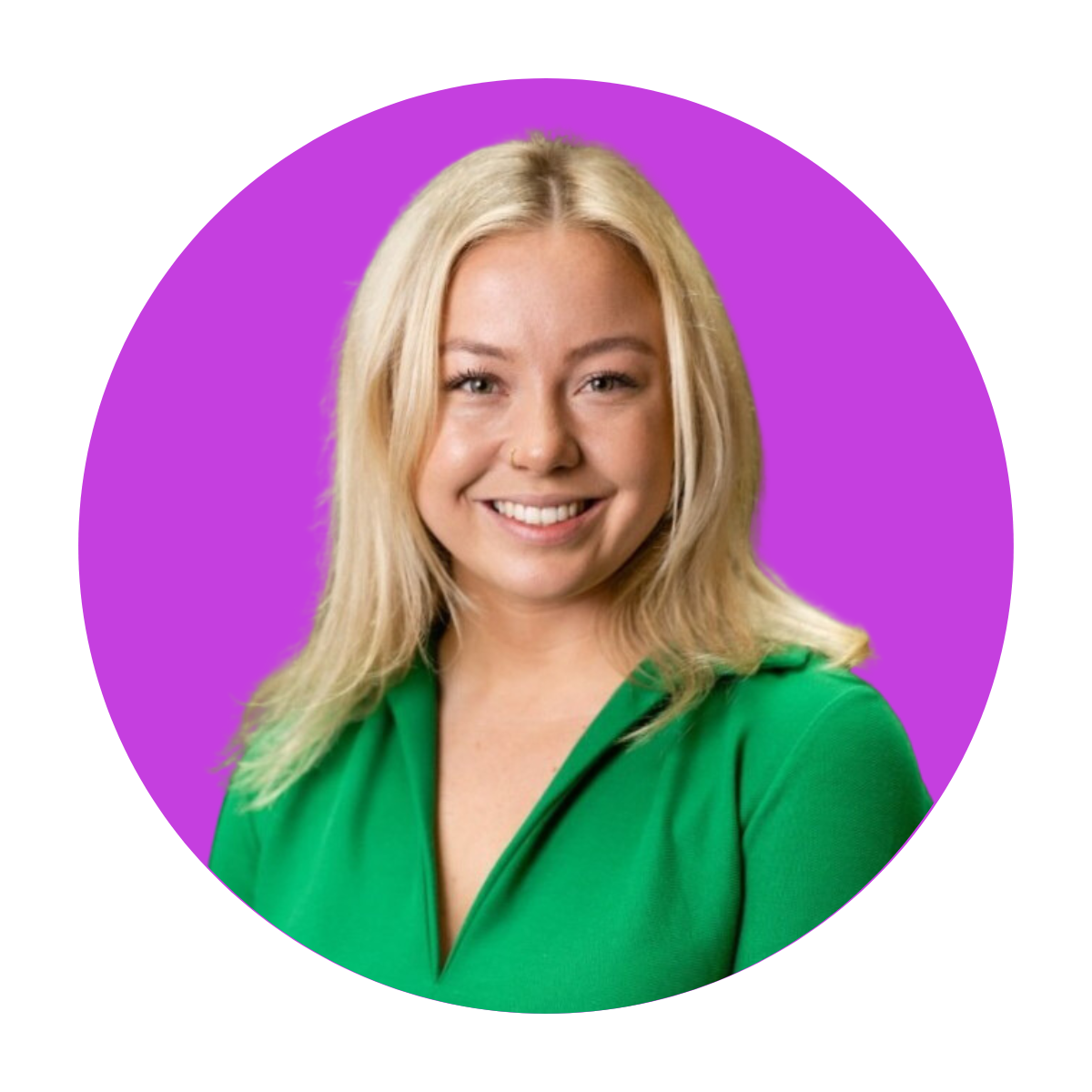 Bridget Sicard
Director of Customer Success @ Atrium