Mixmax vs Groove:
Which is a better fit for your team?
Groove prides itself on a strong Salesforce integration (due to being built on a managed package), but falls short of properly tooling reps when you dig into the product. And it doesn't come cheap, either. Want us to show you how Mixmax can better serve your revenue team?


| | | |
| --- | --- | --- |
| | | |
| Clunky Gmail integration, Groove was built for reps who want to stay inside of Salesforce. | | Mixmax was built for the entire revenue team, providing reps with a choice; reps can live inside Salesforce, Gmail (AEs and CSMs), or within our web app (SDRs). |
| Lacks key functionality like engagement metrics, meeting templates, etc. | | Has all the features you need to achieve sales engagement and nothing you don't. |
| High cost, $10,000 deal minimum. | | |
| Unintuitive and difficult to adopt. It requires training, oversight and admin support. | | Intuitive and easy to use. All users can get up and running in minutes. |
| No in-email enhancements enabling faster replies, and automated follow ups and tasks based on prospects' and customers' replies and engagement. | | True engagement at scale enables recipients to reply or book time with a click, so you can automate follow-ups and tasks reps should perform based on recipients' engagement. |
| Built for spray and pray, no easy way to do personalize sequences or "flows" beyond dynamic CRM fields, reps have to create a custom flow for each account or recipient. | | Built for personalization at scale with multichannel sequences to structure outreach, so reps can move faster while giving them an easy way to handpick accounts and personalize each stage per recipient. |

"Mixmax has the features of Outreach or Salesloft, but lives in your Gmail. There is no learning curve for implementation; resulting in high adoption and usage."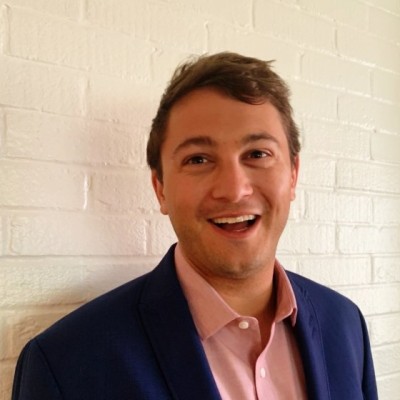 John Moore
Sales Enablement Manager, Meltwater
Mixmax vs Groove - Pricing comparison
Mixmax's lower per-user price point and tier-agnostic support makes it more accessible and scalable for growing teams than Groove. And means you'll see ROI sooner.
Groove Pricing
Mixmax Pricing
List price (per user/month, billed annually)
Custom priced on request, toward the upper end of the scale. $10,000 annual deal minimum.
Growth + Salesforce $69 or
Enterprise $99
Trial
No free trial, managed pilot by request only
14-day free trial
Customer support
Well rated
Very highly rated, and one of the key reasons customers recommend Mixmax
What can you do with Mixmax vs Groove?
Mixmax is designed to enable personalization and engagement at scale across the sales cycle, while allowing reps to work from the platform of their choice. Groove was built for customer-facing teams working exclusively out of Salesforce, but lacks the flexibility and key engagement features that make reps' jobs easier.
Here's what you can do with Mixmax that you can't with Groove.
Mixmax is intuitive, easy to set up, administer, and use without admin support.

Groove is rigid and a lot less user-friendly, so teams will need training and ongoing support from their Salesforce admin.

Mixmax's powerful, intuitive rules engine empowers sales teams to automate workflows and processes across multiple teams and tools based on the interactions that create value for your prospects and customers, and get results.

Cue up a call task when a contact opens your email more than x times, create customized follow-up emails depending on poll answers, or send out a thank-you and automatically reassign a prospect to your customer success team when they convert.

With Groove, automation is isolated to Flows only, not on one-to-one emails. Offers less trigger, filter, and action options vs Mixmax.

Mixmax comes with customizable, intuitive triggers out of the box.

Mixmax multi-channel sequences are easily tailored to each recipient and stage by content and schedule. And it's easy to set up rules to move prospects into another sequence based on their engagement and as they move through the sales cycle.

By contrast, Groove sequences are notoriously less flexible and harder to adapt and enrich for end-users, particularly after launch. Personalization at scale is limited to personalization with dynamic CRM fields. To really leverage customization features, you need to send email sequences individually or every stage is a manual email task.

Mixmax sequences are more customizable than Groove, making it easier to personalize and adapt outreach.

Mixmax email templates are easily customizable and a ton of enhancements like polls & surveys, CTAs, calendar scheduling, GIFs, and video reduce friction and help engage prospects.Shortcuts to easily insert templates, sequences, calendars, and enhancement (polls, yes/no questions, etc.). Can create and save a new email template directly from Gmail. Recommended send times. SFDC auto-create (prompt reps to create new contact/ lead if not already in SFDC).

With Groove, everything needs to be done manually in your Gmail compose window, there are no shortcuts and no enhancement options.

Mixmax polls are quick and easy for recipients to answer, boosting the chances of getting a response

Mixmax's granular, real-time engagement alerts tell you when prospects open, engage, and reply to your email. Right down to which person in a group, which email in a thread, and which links they clicked.

Groove engagement alerts rely on open & click tracking but not on a per recipient or thread detail.

Sharing your availability in-email with Mixmax enables your prospects and customers to book a meeting with one click. That's right, just one click.

Othertimes, sending a calendar link is more convenient, but that doesn't mean your recipient should be tasked with the back-and-forth, checking your and their calendar to find a slot that works. Mixmax takes care of it by showing your recipient when they're free on your calendar. In-email polls & surveys also make it easy to poll groups to find the best time.

Scheduling meetings with Groove is confusing. You can offer times off the duration of meeting only - recipients can book virtually any time on your reps calendar because Groove does not offer Meeting Template types so you can't control when / what type of meeting a user books, no Zoom integration, no auto-reminders, no link back to email thread in meeting invite, etc.

As Mike Wander from SaaStr says; "making your prospects' life easier is what makes your life easier."

[INSERT Mike Wander, SaaStr testimonial video]

You cannot force your AEs and CSMs to work from your sales engagement platform. Mixmax was built for Gmail and Salesforce and provides your reps with a choice. AEs and CSMs tend to spend their day in Gmail and rely heavily on our Gmail and Salesforce integration, while SDRs prefer to manage all of their tasks from their Mixmax dashboard. Some of our customers work exclusively from Salesforce. Being a sales engagement platform for all revenue teams means empowering all reps to do their best work, not just SDRs.

Mixmax Gmail sidebar lets you manage tasks, send LinkedIn InMail, promote team coaching and alignment with Team Live Feeds, access and update Salesforce, and quickly access prospect and tracking data right from your inbox.

Even though Groove has a Gmail integration, it is clunky and not as powerful. Groove was built for reps who want to work exclusively from Salesforce. If your AEs and CSMs aren't willing to do that, you will end up overpaying for solution that over a half of your revenue team isn't using.
Mixmax vs Groove - Integration comparison
Even though Groove has a Gmail integration, it is clunky and not as powerful. Groove was built for reps who want to work exclusively from Salesforce. If your AEs and CSMs aren't willing to do that, you will end up overpaying for solution that over a half of your revenue team isn't using.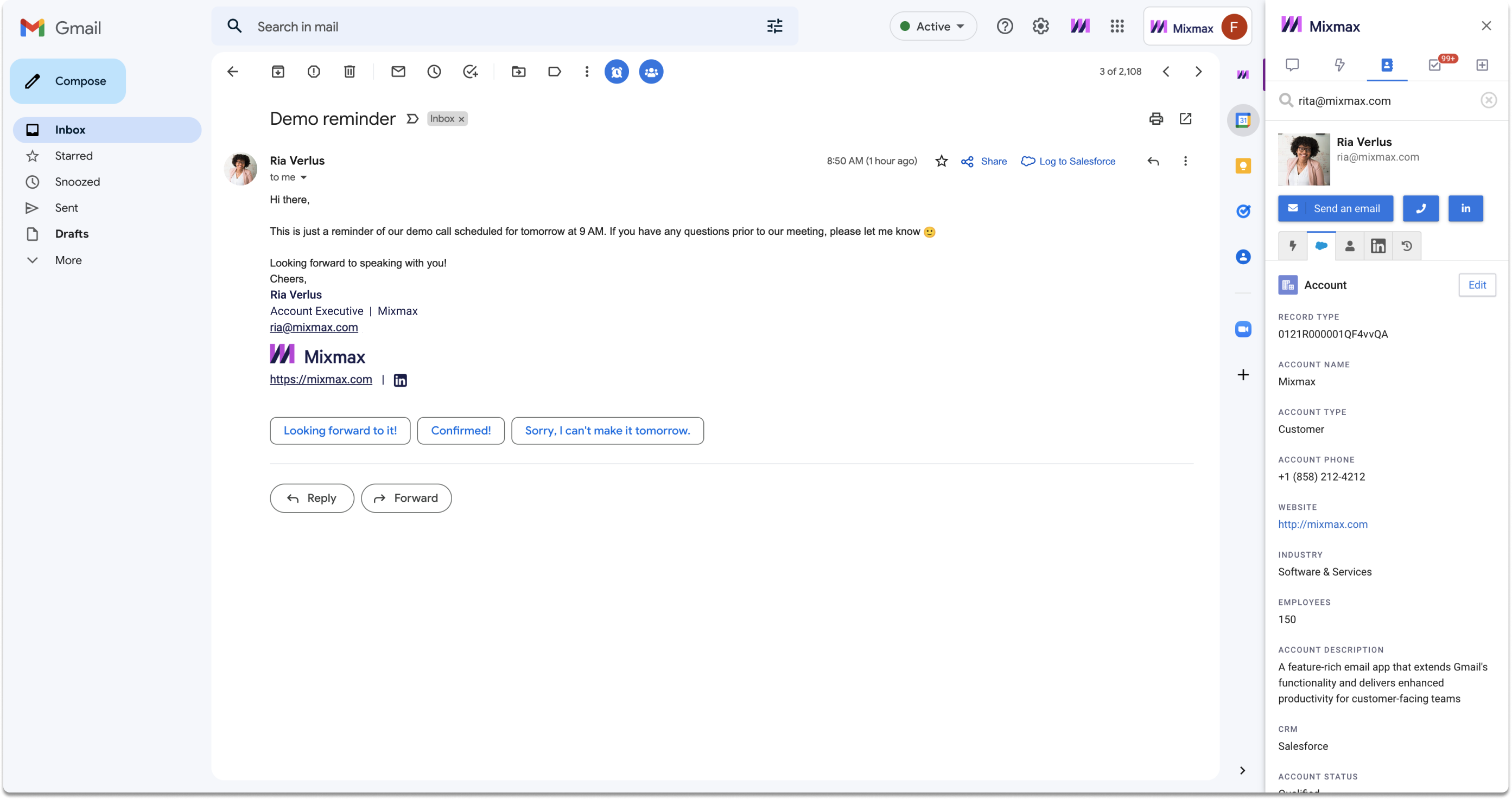 Choose the top sales engagement platform
Groove is a powerful, all-singing-all-dancing revenue platform. But it comes at the cost of usability, flexibility, and the features you need to achieve true sales engagement.
If you're looking for a scalable, streamlined solution to serve the whole sales cycle, we suggest you give Mixmax a try.
"I've used many sales engagement tools, but Mixmax is the best option for quota-carrying reps I've seen!"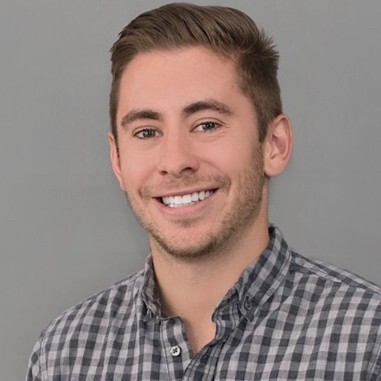 Brian Collins
Head of Sales, Screencastify