June 9, 2022
Top 8 Outreach Alternatives: Definitive Comparison [2023]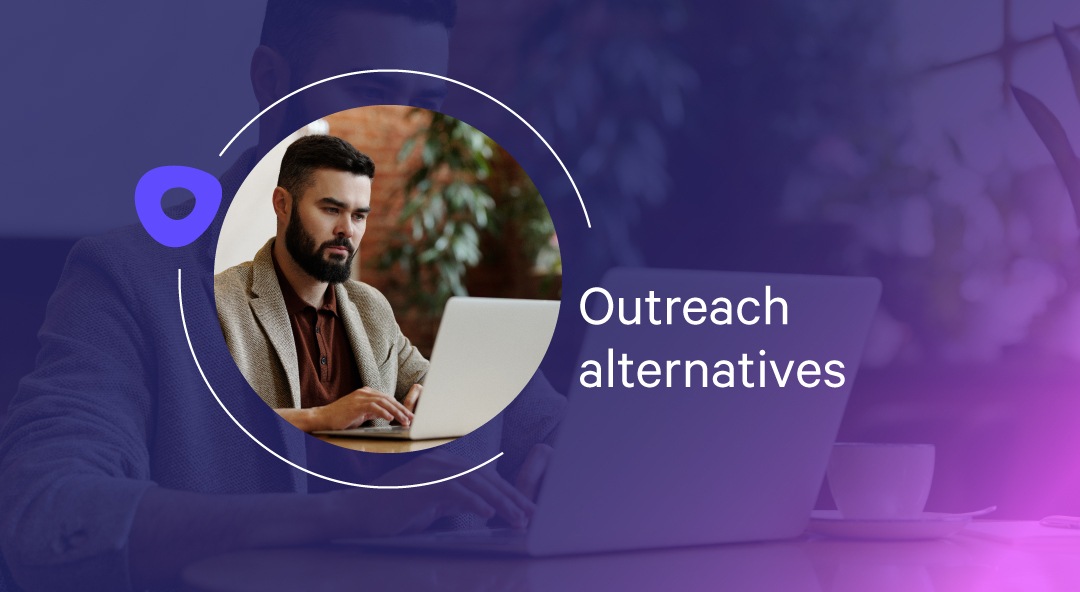 Who is Outreach.io for?
Why you need an alternative to Outreach
8 Outreach alternatives
Ready to engage?
Frequently asked questions about Outreach alternatives
Outreach is an amazing sales engagement tool.
For sales teams that are all about spray-and-pray.
If, however, you need to focus on nurturing prospects and building relationships, it's not going to cut it.
If that's you, chances are you're looking for an Outreach alternative. But with so many to choose from, how do you know which is right for your sales teams?
---
Looking for an Outreach alternative your salespeople will actually use?
Mixmax enables true sales engagement at scale for all your revenue teams.
Request a demo
.
---
Who is Outreach.io for?
Outreach is an all-in-one, AI-powered revenue platform that offers sales engagement, intelligence, forecasting, and more.
Bells, whistles, the whole nine yards.
It's a great, comprehensive choice for mid-market to enterprise organizations with segmented territories and junior SDR teams that need to follow repeatable, scalable outbound processes. Like dropping prospects from ZoomInfo into pre-built sequences day in, day out.
For managers, it provides a lot of visibility on what sales reps are doing and how they're performing. There are also a bunch of features for AEs to drive engagement and stay on top of follow-up.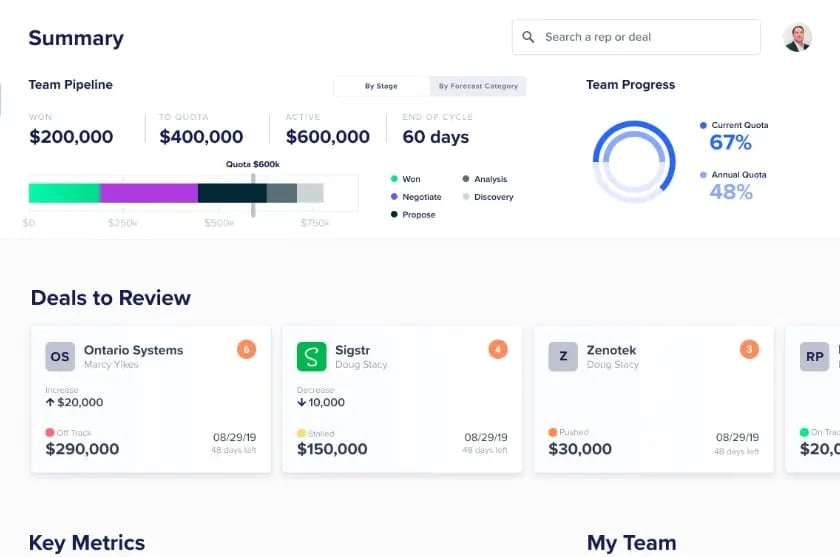 For sales leaders, Outreach has features for forecasting and pipeline management
So if it's that darn good, what are you doing here?
Why you need an alternative to Outreach
Outreach is a great tool, but its strength is also its weakness: It tries to be everything to everyone, and all those bells and whistles can be overwhelming. Plus, sales reps have to perform all tasks in-platform instead of in-email or your CRM, so it's not ideal for AEs who live in Gmail.
That means you may end up paying for a features-heavy tool they don't use.
Like we said, it's ideal for junior SDRs who don't need to reinvent the wheel. But the unintuitive UI and advanced features mean there's a steep learning curve. So you need dedicated personnel to train and support users, as well as connect it to Salesforce and ZoomInfo, and handle reporting.
With tiered support and a hefty price point, that's out of reach for a lot of startups and small businesses.
On the day-to-day use side, the rules engine leaves something to be desired, sequences can be hard to adapt, and the email editor is kinda limited.
It also creates a duplicate database in Outreach, which can cause data silos and means Salesforce stops being a source of truth, which can cause all sorts of problems when multiple reps need to rely on that data.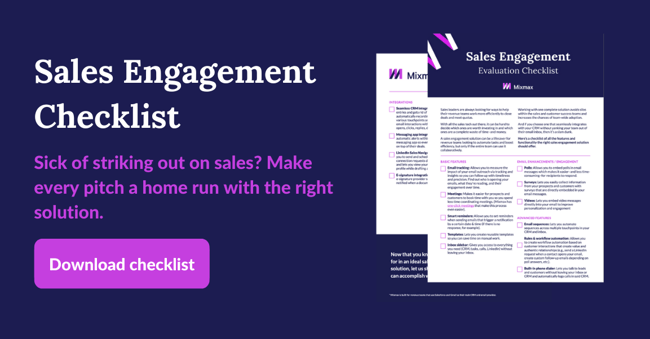 8 Outreach alternatives
Here's our pick of the best Outreach alternatives if you're looking to switch.
1. Mixmax
Mixmax sits on top of Gmail, so sales reps can perform essential tasks without leaving their inbox. No more switching between tools and tabs. It's also intuitive and user-friendly, so anyone can get up and running without tech support. Automating repetitive or manual tasks and streamlining workflows enables true sales acceleration, boosts sales productivity, and gives reps back more customer-facing time.
Features
Integrations with Salesforce, Google Calendar, Slack, Zoom, Dialpad, Vidyard, DocuSign, and more
Highly customizable multi-channel sequences that can be tailored to each recipient and stage by content and scheduling
A unique, powerful rules engine that enables workflow automation across multiple tools so nothing slips through the cracks
Gmail Sidebar facilitates collaboration and coaching
A ton of enhancements to reduce friction, achieve pattern disruption, and take personalization to the next level–in-email dialer, polls & surveys, CTAs, calendar scheduling, GIFs, and video
Smart send and auto-delay features to get messages in front of prospects at the right time without looking like they were sent by a machine
Call recording and logging
Real-time engagement alerts via Slack, text, and email keep everyone in the loop and let sales reps follow up when top of mind
Real-time Salesforce CRM sync eliminates busywork and makes it a source of truth
The Autocreate feature identifies any email recipients who aren't already in Salesforce and ask you for their details before automatically syncing them to Salesforce
Data-driven insights and interactive charts for identification of best-performing individuals, sequences, templates, etc.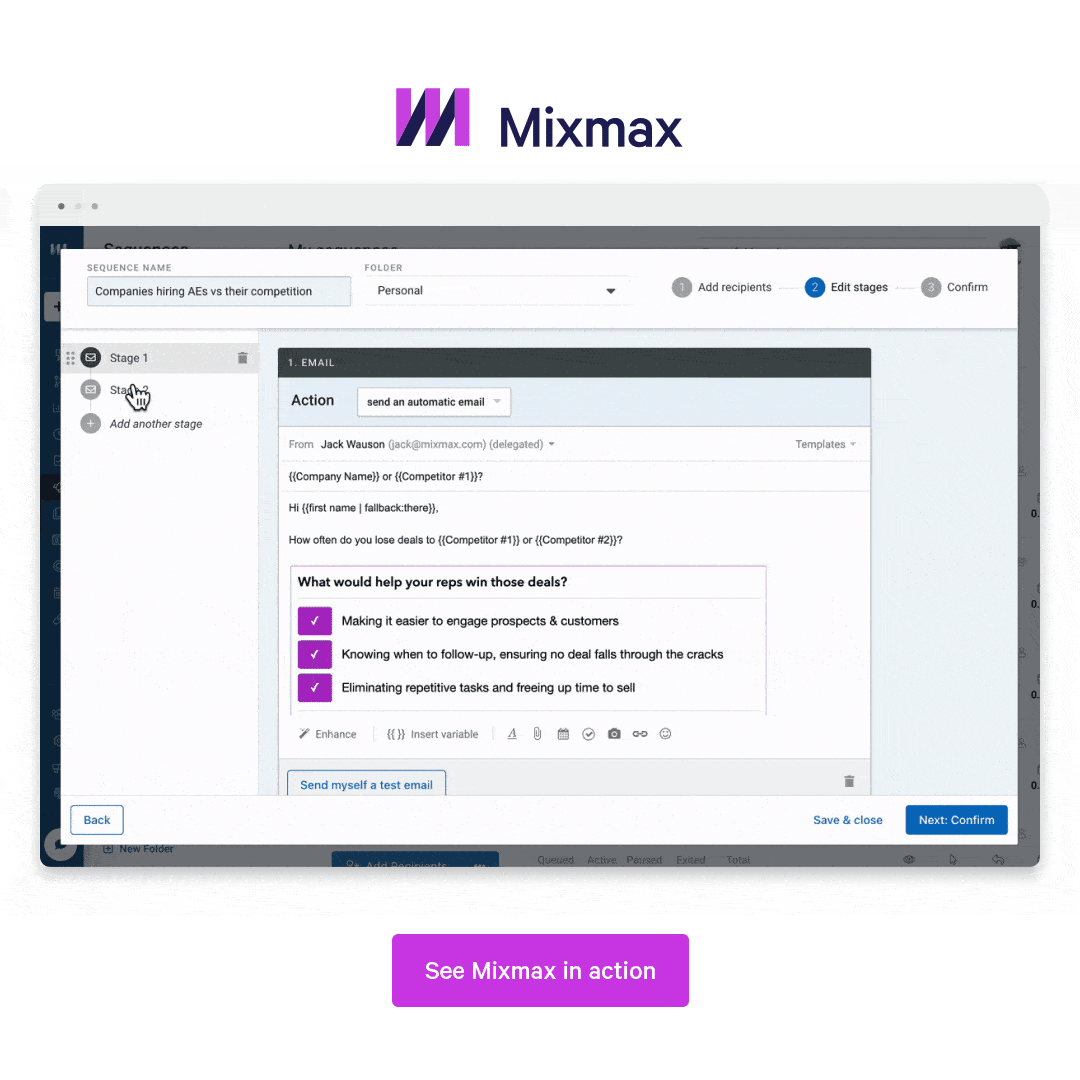 Mixmax sequences are more customizable than a lot of tools on the market, which makes it easier to stay on top of things as you move prospects through the sales cycle.
Pricing
SMB - $24 per user/month, billed annually
Growth - $49 per user/month, billed annually
Growth + Salesforce - $69 per user/month, billed annually
Enterprise - custom priced
14-day free trial

How does Mixmax compare to Outreach?
Mixmax is an intuitive, plug-and-play alternative to Outreach for busy teams in fast-growing companies using Gmail and Salesforce. It's built for all revenue teams to enable personalization and nurturing at scale. And while sales management can set guardrails, there's a lot more room for flexibility, autonomy, personalization, and creative thinking.
Aka sales engagement 2.0.
Importantly, Mixmax was built for Gmail and Salesforce, rather than being adapted with plugins. So it adapts to your sales processes and tech stack, not the other way around.
Here's how it compares on key features:
Sequences are more easily customized and enriched than Outreach
Scheduling meetings is easier with in-email polls and one-click calendar links
The rules engine is highly intuitive, so both reps and admins can perform setup and automate busywork. With Outreach, admins must build

sales automation

in the back end.
The Gmail inbox sidechat allows for real-time two-way communication, coaching, approvals, and collaboration across the board. In Outreach, SDRs can only use sidechat in specific emails or meetings.
The real-time Salesforce sync makes it a source of truth and means no more data silos
A lower per-user price point makes it more scalable and accelerates ROI. And support is the same on all pricing plans, unlike Outreach which prioritizes enterprise customers.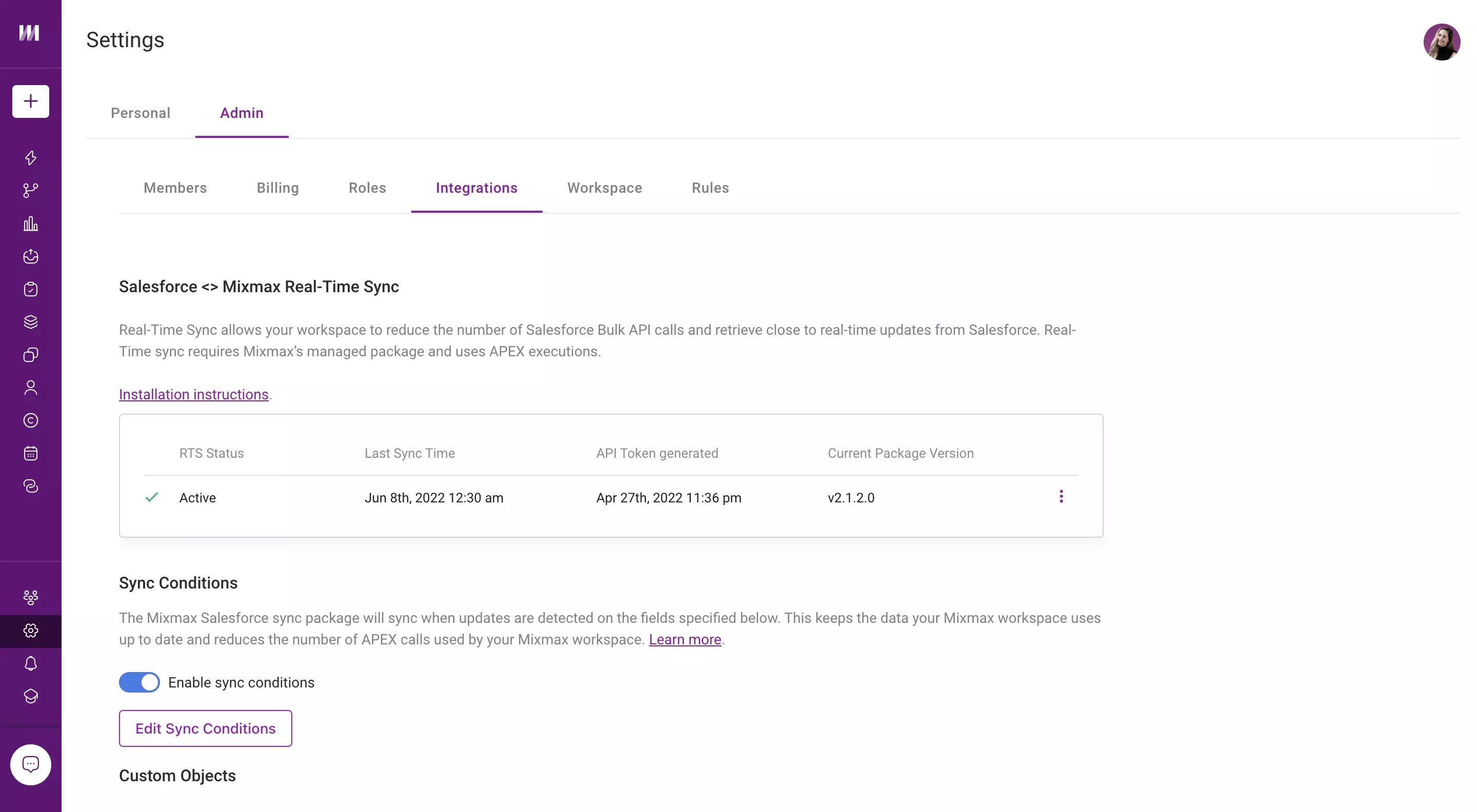 The Mixmax real-time Salesforce sync lets your workspace reduce the number of Salesforce Bulk API calls and retrieve close to real-time updates from Salesforce
2. Salesloft
Salesloft rivals Outreach for the title of all-in-one big-hitter. It's got everything you need for prospecting, forecasting, opportunity management, conversation intelligence, and analytics. So you don't need to sign up for multiple tools from other providers. It may even be gearing up to take on Salesforce or Hubspot CRM in the customer relationship management space.
Features
Sales playbooks help bring new recruits up to speed and create personalized buyer experiences
Cadence, account, individual, and conversation analytics
In-call coaching and coach-to-close workflows allow identification of at-risk deals, call trends, and successful plays
One-click dialer and messenger with CRM sync
Call recording and logging
Customizable email templates, and tracking
Calendar sync and invitation templates
Sales-meeting and deal intelligence for pipeline overview forecasting
Pricing
Customized on request, but don't expect it to come cheap. And there's no free trial.
How does Salesloft compare to Outreach?
Like Outreach, Salesloft is ideal for high-volume prospecting by SDR teams that need a lot of oversight. The learning curve, sheer number of features, and need for admin support also mean adoption can be an issue. And with four packages catering to different stages of the sales cycle, it's a hefty investment if you're looking to serve all your customer-facing teams. The high price point also means you're looking at several months to get teams up and running and start seeing ROI.
For all the above reasons, customers tend to be mid-market to enterprise organizations. But, as it's been acquired by private equity, expect it to start focusing even more on the latter.
In a nutshell, if you're experiencing issues with Outreach, switching to Salesloft is unlikely to solve them.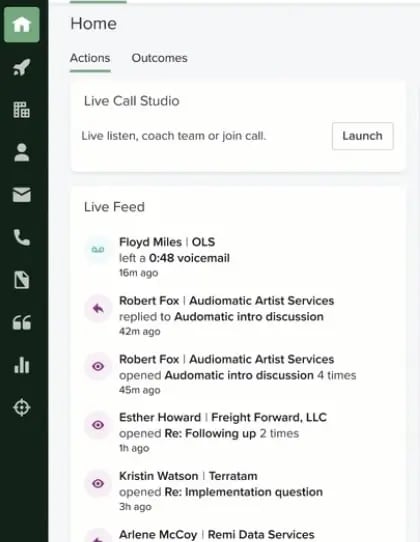 Salesloft's Live Call feature allows you to coach reps in-call
3. Groove
Billing itself as a sales productivity tool, Groove was specifically designed to work with Salesforce so reps can run targeted, multi-channel campaigns to sell to specific target companies, prospects, and decision-makers.
Features
Omnibar displays contact records when working with email or InMail
Streamlined workflows and task prioritization based on real-time Salesforce data
Auto-dialer desktop app with Salesforce history and notes from previous interactions
Local presence dialing and callback
Click-to-call from any webpage
Calendar scheduling with customizable, branded links
Activity capture for real-time insights
Analytics and reporting by flow, rep, template, account, etc.
Pricing
Custom pricing on request, but toward the mid-upper end of the scale. No free trial.
How does Groove compare to Outreach?
Groove is more geared toward mid-market organizations and customer-facing teams than Outreach. Users rate features like email tracking and automation, the Salesforce integration, and lead prioritization. All of which suggests it's more suitable for AEs and CSM than SDRs.
However, the UX needs work, and some users complain the Salesforce sync can be buggy, and the email template creator and editor tricky to use.
Basically, Groove bridges the gap between Salesloft and Mixmax but has a way to go to rival either.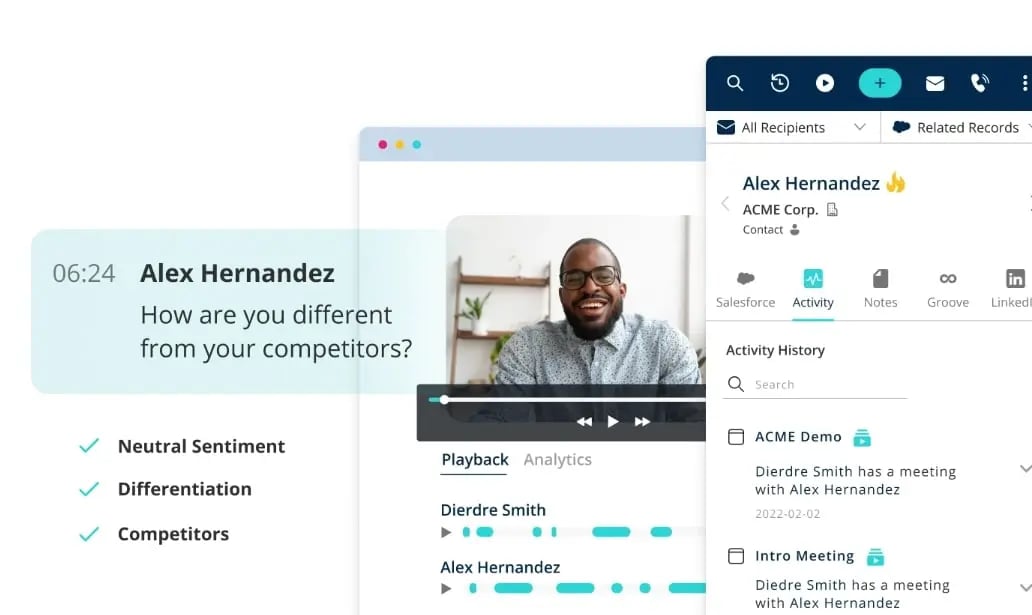 Groove's conversation intelligence features allow you to coach reps to improve.
4. Yesware
Yesware sits on top of Gmail, Outlook, and Office 365 and is designed to boost email productivity by providing insights into email performance and how best to engage prospects.
Features
Email and Activity Feed instant notifications and real-time insights
Performance and engagement analytics
Multi-channel campaigns
Engagement history and Meetings & Opportunities dashboards
Task, reminder, and follow-up automations
Shareable in-email calendar links
Integrations with Zoom, MS Teams, LinkedIn, Salesforce, Outlook, and Gmail
Pricing
Pro - $15/user/month, billed annually
Premium - $35/user/month
Enterprise - $65/user/month
Custom - pricing on request
14-day free trial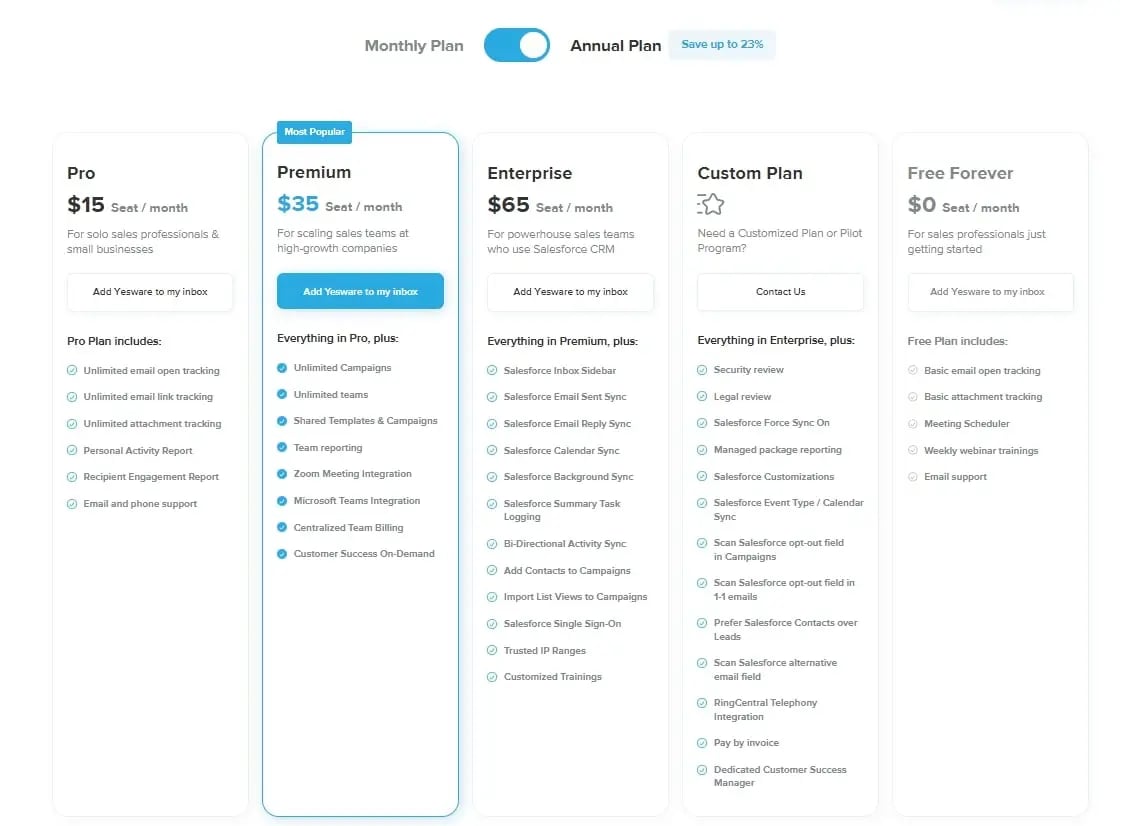 How does Yesware compare to Outreach?
As it sits on top of email providers, Yesware is a better fit for AEs than Outreach. It's also easier to set up and self-serve. This plus the lower per-user price point makes it more suitable for small to mid-market companies that rely heavily on email outreach.
That said, Yesware has fewer integrations than other tools, and insights are less granular. It also imposes monthly limits on tracking, and there's no option to include attachments or images in email template bodies with mass mailings.
5. Outplay
Founded in 2019, Outplay is a relatively recent player on the sales engagement scene. It's also designed to facilitate outreach at scale, particularly over email.
Features
Email templates
Call scripts
Multi-channel sequences
Automated follow-ups and next-action triggers
Website visitor tracking and chat launch feature
In-email calendar scheduling
Email tracking and reply detection
In-browser autodialer
SMS, LinkedIn, and Twitter messaging
Pricing
Growth - $75/user/month, billed annually
Starter - $39/user/month
Enterprise - custom pricing on request
14-day free trial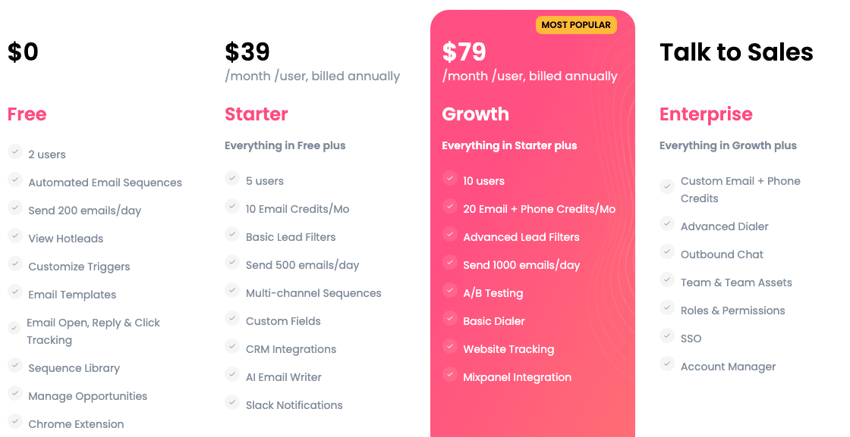 How does Outplay compare to Outreach?
Outplay is also good for bulk mailings by BDRs and SDRs, though it's more flexible than Outreach for multi-channel outbound sales. However, you get what you pay for: Outplay lacks some of the functionality of Outreach, and users complain it can be buggy and adds more steps to your processes. Also, setting up sequences and triggers, and removing prospects from sequences is tricky.
It's also short on native integrations (no ZoomInfo, no Sales Navigator). And APIs, website tracking, and chat are only available on Pro plans.
Bottom line, Outplay is an interesting up-and-coming (out)player, but it has a way to go before it joins the in-crowd (see what we did there?). If you want an SDR tool that does what Outreach does, you'd be better off paying for Outreach.
6. Reply.io
Reply.io is an AI-powered platform that covers sales engagement, lead gen, account management, PR and link building, and HR.
Features
Smart inbox categorization and suggested actions allow reps to focus on the hottest leads first
AI email-writing assistant
Email and phone number sourcing and validation
Email warm-up, scheduling, and tracking
Multichannel sequences
WhatsApp, SMS, and LinkedIn messaging
Task management workflows
Browser-based VoIP
Sales coaching and insights
Pricing
Starter - $60/user/month, billed monthly.
Professional - $90/user/month.
Custom - Custom pricing on request.
14-day free trial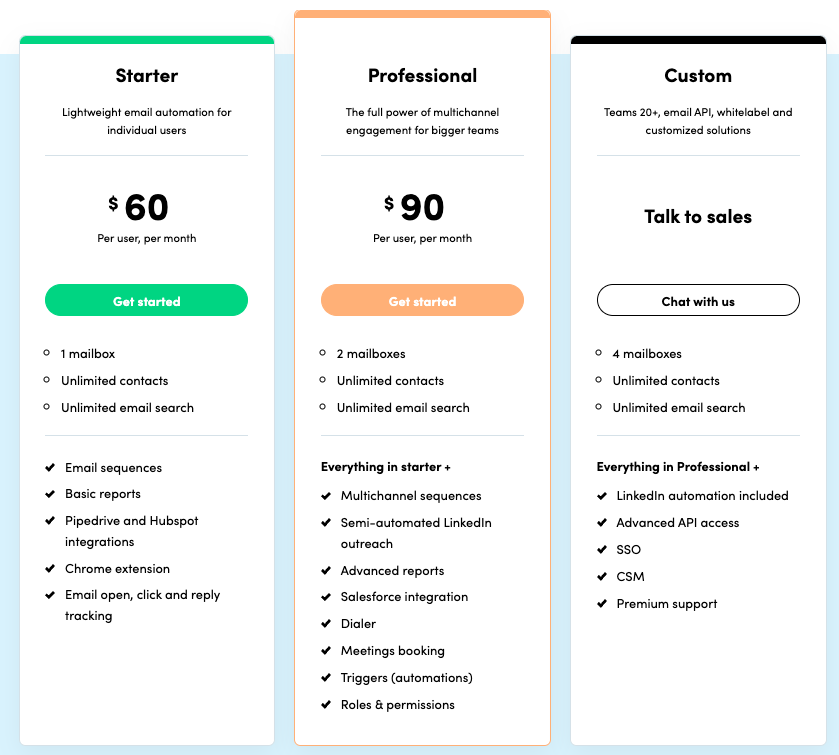 How does Reply.io compare to Outreach?
Geared towards SMBs and mid-market customers, Reply.io is good for automating one-to-many communication, aka prospecting. The AI features also provide a lot of support for newbie reps. However, like Outreach, it's trying to be all things to all revenue teams, which is also its downfall.
Reply.io is packed with features for prospecting, lead generation, and capture. But unless you want a joint marketing-prospecting platform, you could end up paying for features your sales reps don't use. Some users also complain it's cumbersome and time-consuming to set up, with a steep learning curve. And the support is poorly rated.
7. Cirrus Insight
Cirrus Insight was designed to boost Salesforce adoption for AEs and other customer-facing teams, and enable more accurate reporting and forecasting.
Features
Email templates
Sequences
Salesforce sidebar
Calendar scheduling
Email, link, and attachment tracking
Website visitor tracking
Buyer intent scoring and signals
Engagement alerts
Pricing
Salesforce sync - $10/user/month, billed annually
Pro - $21/user/month
Expert - $29/user/month
14-day free trial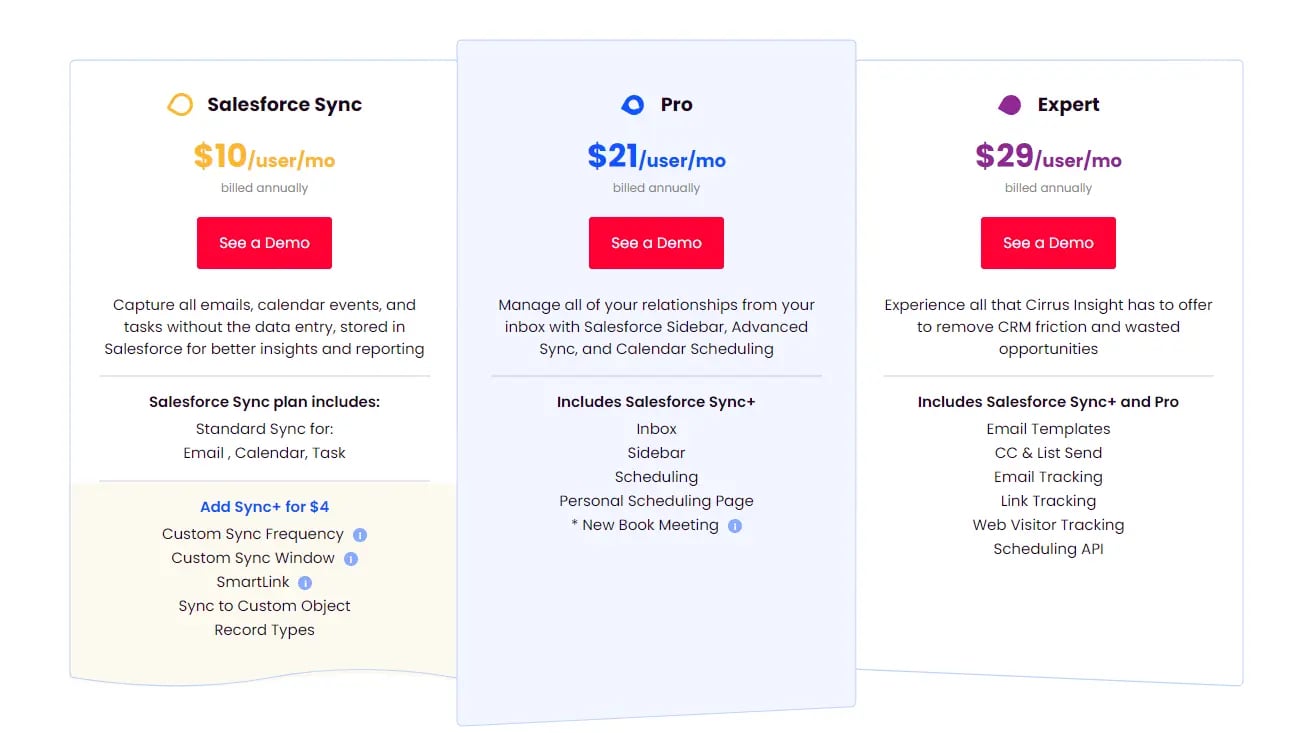 How does it compare to Outreach?
Cirrus Insight blurs the boundaries between a sales enablement/productivity tool and sales engagement. Unlike Outreach, it's not designed for SDRs and lacks a dialer, so it's less useful for prospecting.
The price point is very low but, again, you get what you pay for. Functionality is limited compared to other sales engagement platforms–many of the most useful features are only available on Expert plans. Some users also complain about the buggy Gmail integration and Salesforce sync.
8. Mailshake
Mailshake is designed to send cold mass email blasts and has applications for PR and media relations, link building, and HR.
Features
Mail merge, and automated email outreach and campaigns
AI-powered email writer
Customizable sending schedules
Multi-channel sequences
Automatic task reminders
Email, lead, and sequence tracking and insights
VoIP to US and Canada, local area code numbers, and discount rates for international calls
Phone scripts
Call recording and notes
Pricing
Email Outreach - $58/user/month, billed annually
Sales Engagement - $83/user/month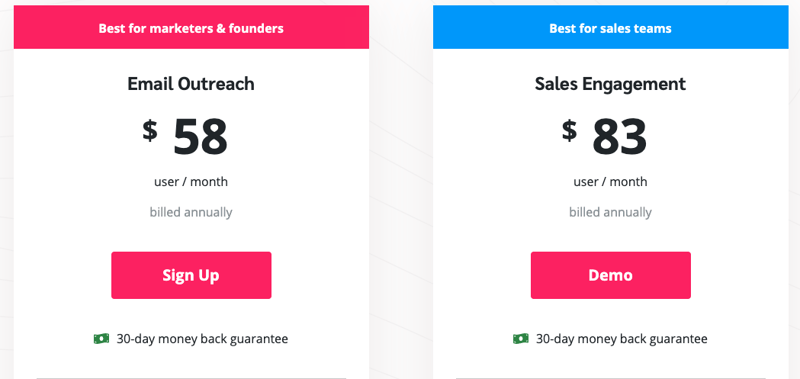 How does it compare to Outreach?
If you want an Outreach alternative that combines lead gen and prospecting, Mailshake could be for you. However, it lacks contact capture features, which means there's still a lot of manual work to do when building lists. This and the fact that it's harder to personalize sequencing and messaging, mean it's a long way off being a contender.
Ready to engage?
There's no shortage of Outreach alternatives out there. Finding the right one for you relies on understanding your team's needs and sales processes.
Ask yourself:
Is it intuitive, and scalable, and can all your teams use it, if that's what you're looking for?
Does it integrate with your current tech stack?
If not, you could be throwing money away on an expensive solution that doesn't get used.
Is there a free trial to test it out before committing?
What customer support is available?
For larger sales teams, especially junior SDRs, it's worth looking for a solution that offers repeatable processes and a lot of oversight. If that's you and you've got the budget to invest, Salesloft is likely to be the best Outreach alternative.
For fast-growing customer-facing teams in SMBs and mid-market companies that need a user-friendly solution, Mixmax has all the features and flexibility you need for true sales engagement at scale.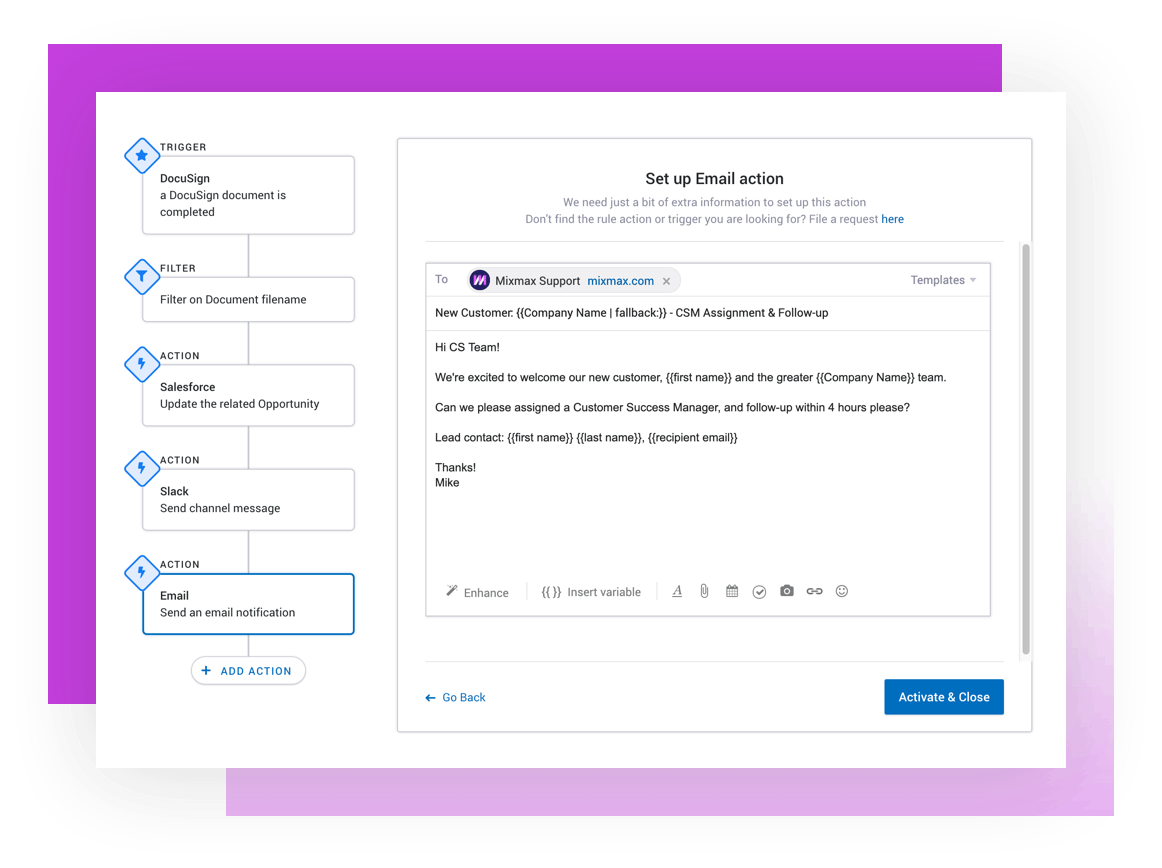 Mixmax's rules engine enables true workflow automation
---
Looking for an Outreach alternative your salespeople will actually use?
Mixmax enables true sales engagement at scale for all your revenue teams.
Request a demo
.
---
Frequently asked questions about Outreach alternatives
What type of tool is Outreach?
Outreach is a sales engagement platform that also provides sales intelligence, forecasting, and revenue management.
How much does Outreach cost per month?
Outreach pricing is customized and only supplied on request. However, most estimates put it at upwards of $120 per user/month on an annual plan, possibly even higher.
What is the purpose of Outreach?
Outreach is designed to facilitate cold outreach at scale for SDR teams.