June 30, 2022
6 Salesloft Alternatives & Competitors to Fill Your Pipeline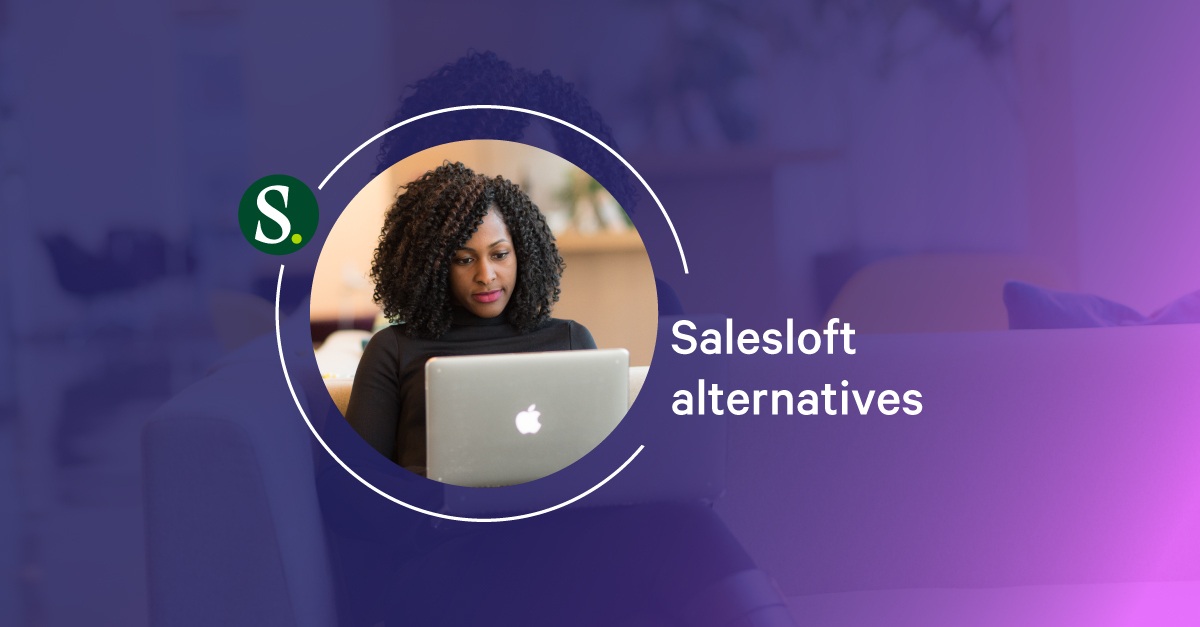 Criteria for finding a Salesloft alternative
6 Salesloft alternatives that rev up sales team
Time to bust a move
Frequently asked questions about Salesloft
There's nothing worse than investing in a new sales engagement solution only to find your reps don't use half the features it offers.
Sound familiar, Salesloft user?
Let's get one thing straight: Salesloft is an amazing product. Nothing but love over here.
But it's not for everyone.
And it don't come cheap, either.
If you're looking for something that's a better fit for your revenue teams–with the specific functionalities that enable them to achieve true engagement right across the sales cycle—you've come to the right place.
We've put together a few pointers to help you choose the right Salesloft alternative:
When you should look for an alternative solution to Salesloft
6 Salesloft alternatives and how they stack up
Let's take a look at them now.
Looking for a Salesloft alternative that meets all your sales engagement needs? Mixmax gives busy sales teams in fast-growing companies more customer-facing time. Request a demo here.
Criteria for finding a Salesloft alternative
If you're questioning your decision to sign up for Salesloft, the below may sound familiar:
Your AEs or CSMs are struggling to realize the full benefit of this SDR-first platform.
You don't need all the bells and whistles it offers, but are looking for a more cost-effective solution that delivers more bang for your buck.
You're looking for sales automation features that enable sales engagement at scale for better results.
You want an agile, intuitive platform that integrates with your existing tech stack and fits your sales processes, which shortens time-to-adoption.
You're looking to reduce the number of tools your reps have to use.
You want more customization options for your sequences.
You prioritize out-of-the-box triggers and actions.
You need an easier, one-click solution for meeting scheduling.
You're not looking to micromanage your SDRs, but easily coach them with their sales prospecting.
You're looking for an easier sales engagement solution to set up, use, and administer, and that's not a drain on your in-house tech support.
You want a smaller margin of implementation error.
If that sounds like you, let's take a look at the 6 Salesloft alternatives that could fit the bill.
6 Salesloft alternatives that rev up sales team
We've compiled a list of the top sales engagement platforms to help you find the one that best meets your' needs.
1. Mixmax
Mixmax was built with all your revenue teams in mind, not only SDRs. It sits on top of Gmail and integrates with Salesforce. This boost sales productivity, eliminates busywork and lets reps perform all sales tasks right from their inbox—no more juggling tools, tabs, and interfaces.
By automating manual or repetitive tasks, Mixmax gives reps back more customer-facing and selling time, so they can focus on achieving true sales engagement at scale. It also provides them with all the features they need to do that.
Best of all, there's no learning curve, and reps won't require ongoing in-house tech support.
Typical users are busy sales teams in fast-growing companies, any of whom can install it and get up and running in minutes.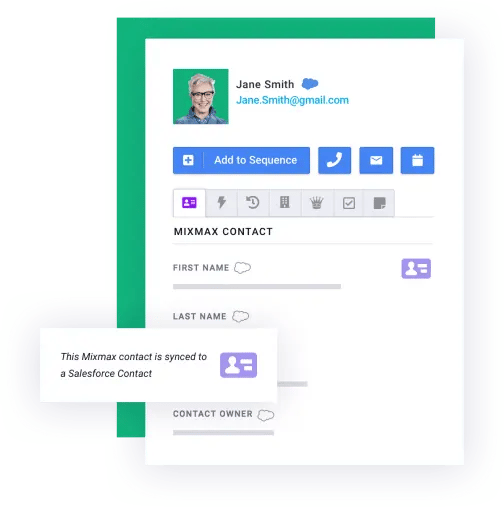 Mixmax-Salesforce integration to easily source information for powerful prospecting, Source: Mixmax
Key features:
Integrations with popular sales tools like: Salesforce, sales prospecting tools like LinkedIn Sales Navigator, Google Calendar, Slack, Dialpad, Zoom, Vidyard, DocuSign, etc.
The powerful rules engine lets you to create customized, repeatable, scalable workflows to keep your teams on track and ensure nothing slips through the cracks
Multi-channel customizable sales email sequence software allows you to create highly personalized prospect experiences
Real-time Salesforce sync
Personalized email templates so you never have to write the same message twice
Engagement alerts when a prospect interacts with your content let reps follow up when top of mind
Smart send features like best-time-of-day and auto-delay scheduling make sure messages reach prospects at the best time and never look automated
One-click meeting scheduling reduces friction
A ton of enhancements that help achieve engagement, like in-email video messages, polls, and surveys
In-email dialer and Salesforce sync save time looking up numbers and save call recordings to your CRM
Gmail Sidebar with prospect data makes it easy to personalize outreach
Sidechat lets you easily coach and align your team
Interactive reports and data-driven insights for best-performing reps, content, and messages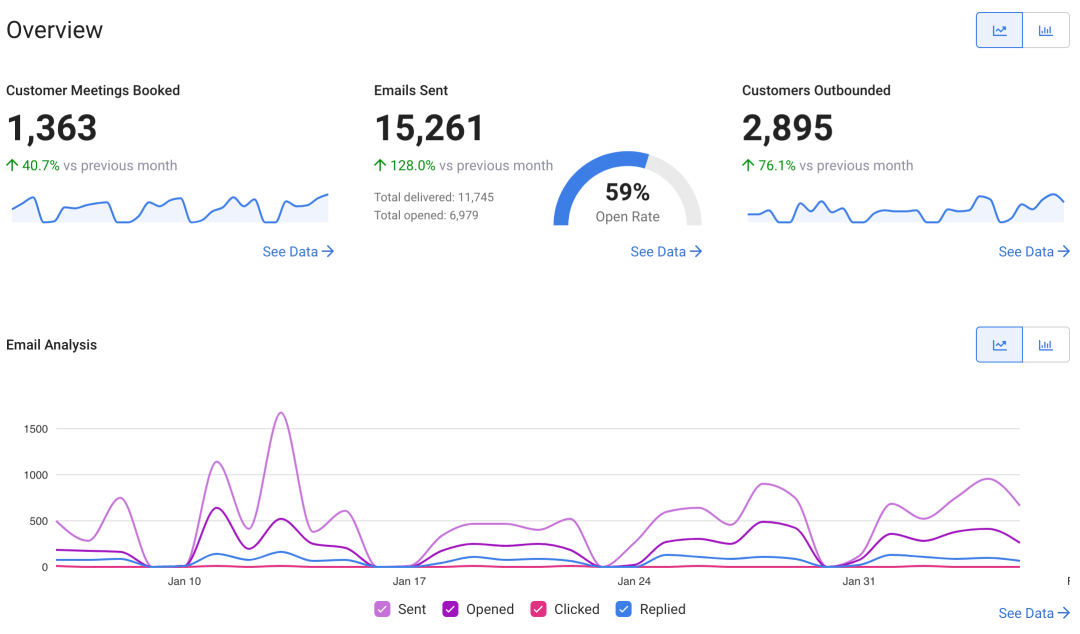 Mixmax's reports dashboard delivers all essential insights in one easy view
Pricing:
SMB - $24 per user/month, billed annually
Growth - $49 per user/month, billed annually
Growth + Salesforce - $69 per user/month, billed annually
Enterprise - custom price on request
14-day free trial
How does Mixmax compare to Salesloft?
Mixmax is better suited to all your revenue teams as it's designed to work in Gmail, where AEs live, and easily integrates into current workflows. It's a more agile solution to easily personalize outreach at scale, and lets reps automate workflows their way based on the apps they already use and the specific actions that deliver value for potential customers.
It also comes with a bunch of enhancements, collaboration, and engagement features that reduce friction and increase the chances of getting a response. Like the Sidebar, highly customizable sequences, easy scheduling, and polls, etc.
The task manager automatically incorporates Salesforce tasks for added efficiency and effectiveness, without the data silos found in web app/Salesforce integrations—keeping data hygiene intact.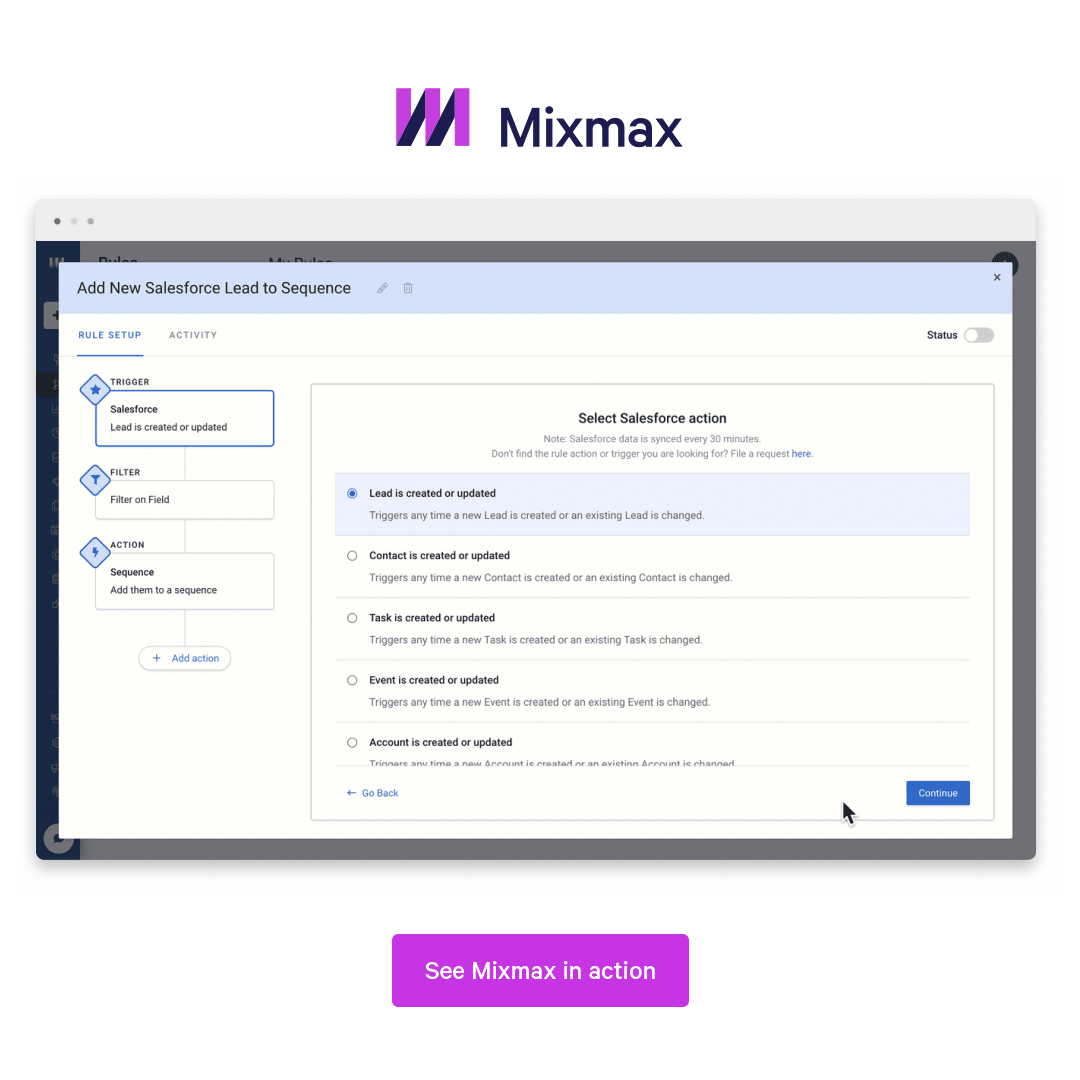 With Mixmax you can quickly trigger rule-based correspondence
Last but not least, the price point is more attractive for fast-growing companies that don't need all the bells and whistles Salesloft offers.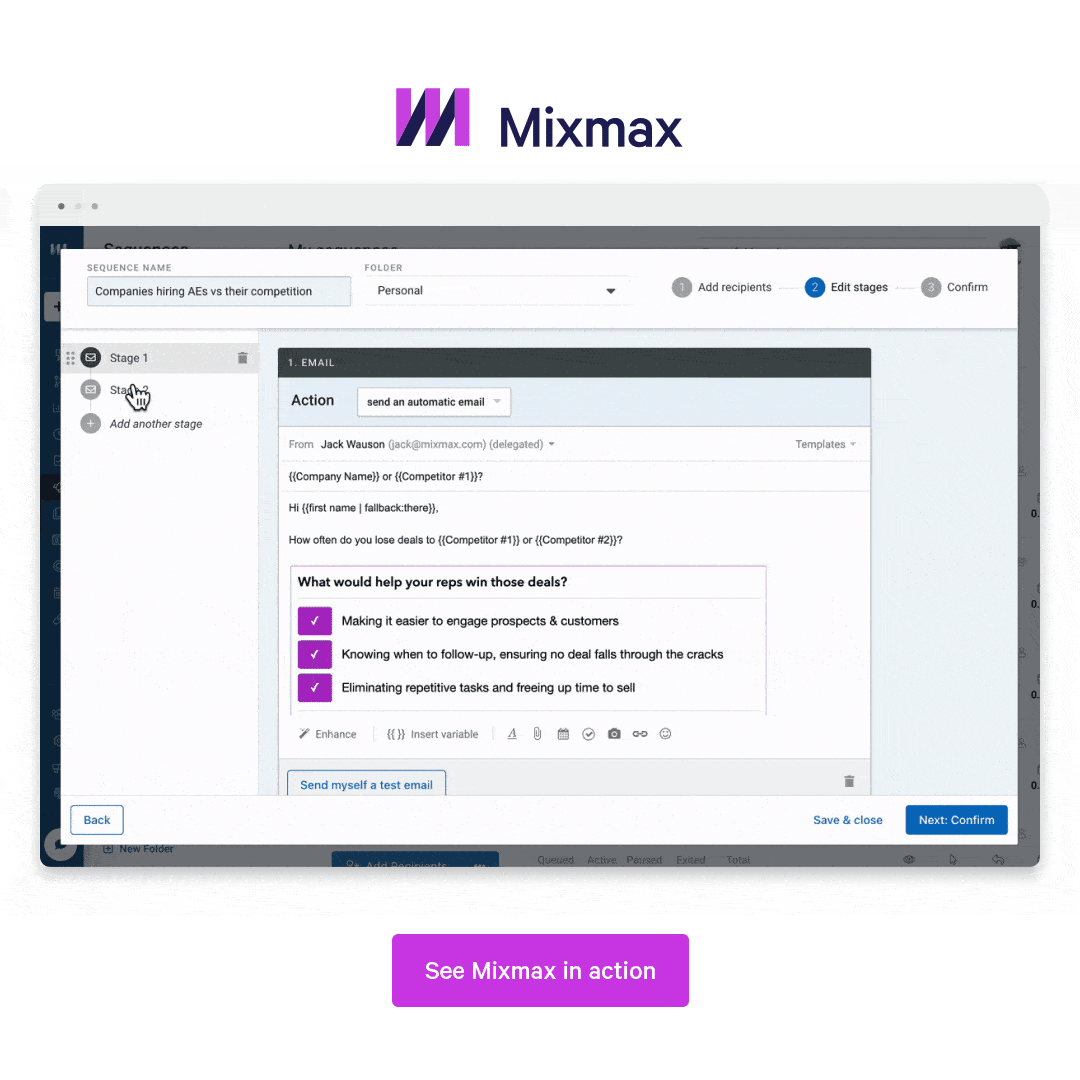 Use Mixmax to create personalize outreach at scale
2. Outreach.io
Outreach is designed for optimizing account-based prospecting and helps reps build and automate email sequences, align with marketing, and track activity.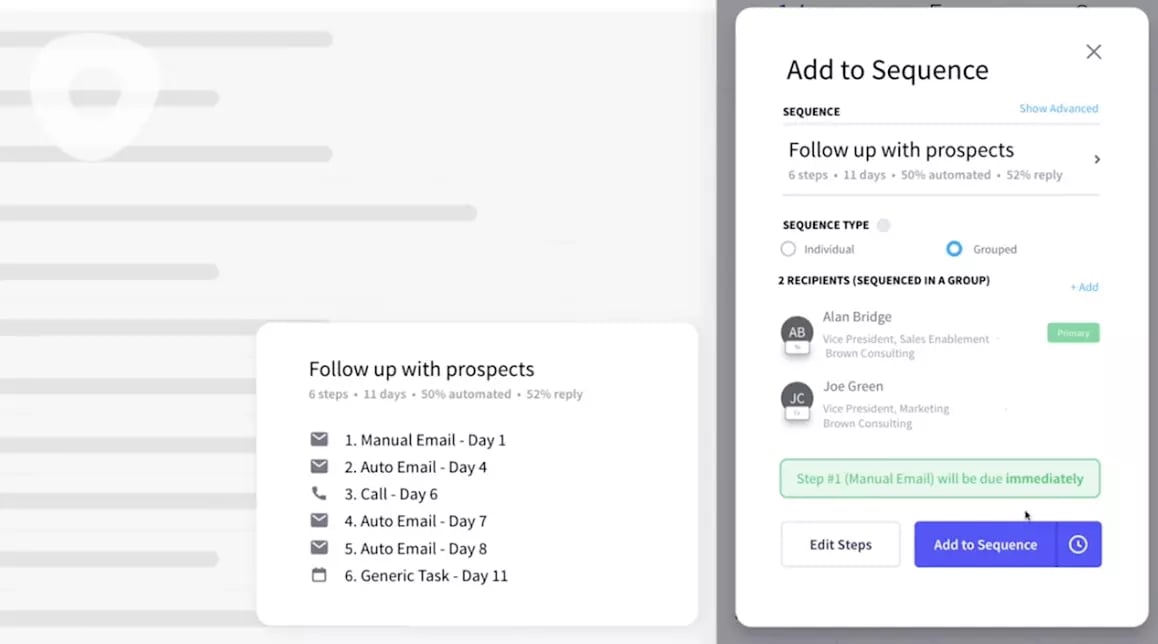 Building a sequence in Outreach
It's mostly used by mid-market to enterprise sales prospecting teams, managers, and executives who focus on outbound sales.
Outreach also integrates sales engagement, conversation intelligence, and revenue intelligence into one platform.
It's especially useful for SDRs performing high-volume calls and emails as it automates and simplifies workflows and lets them creatively sort and tag contacts.
However, it requires administrative support and in-the-box automation—and, although it has a more bulky plug-in and a less intuitive workflow than other platforms, it's a versatile platform with several other features including:
Key features:
Social activity and email tracking
Deal acceleration tools
Account-based playbooks and engagement statuses
Conversation and revenue intelligence
Email, calendar, SMS, and in-mail scheduling
Customizable sequences, workflows, and templates
AI-driven performance and buyer sentiment reports
Integrates with Outlook, Gmail, Salesforce, LinkedIn, etc.
Price: Custom priced
3. Groove
Groove is commonly used by mid-market to enterprise businesses and customer-facing teams working exclusively from Salesforce.
It lets you categorize client accounts and create targeted multi-channel campaigns based on various outreach strategies.
You can automate and track emails, integrate with Salesforce, and prioritize which leads to pursue with workspaces that let you collaborate with your team.
Although it has untransparent pricing—and task management and reporting can be cumbersome—it's a well-built platform that lets reps improve performance.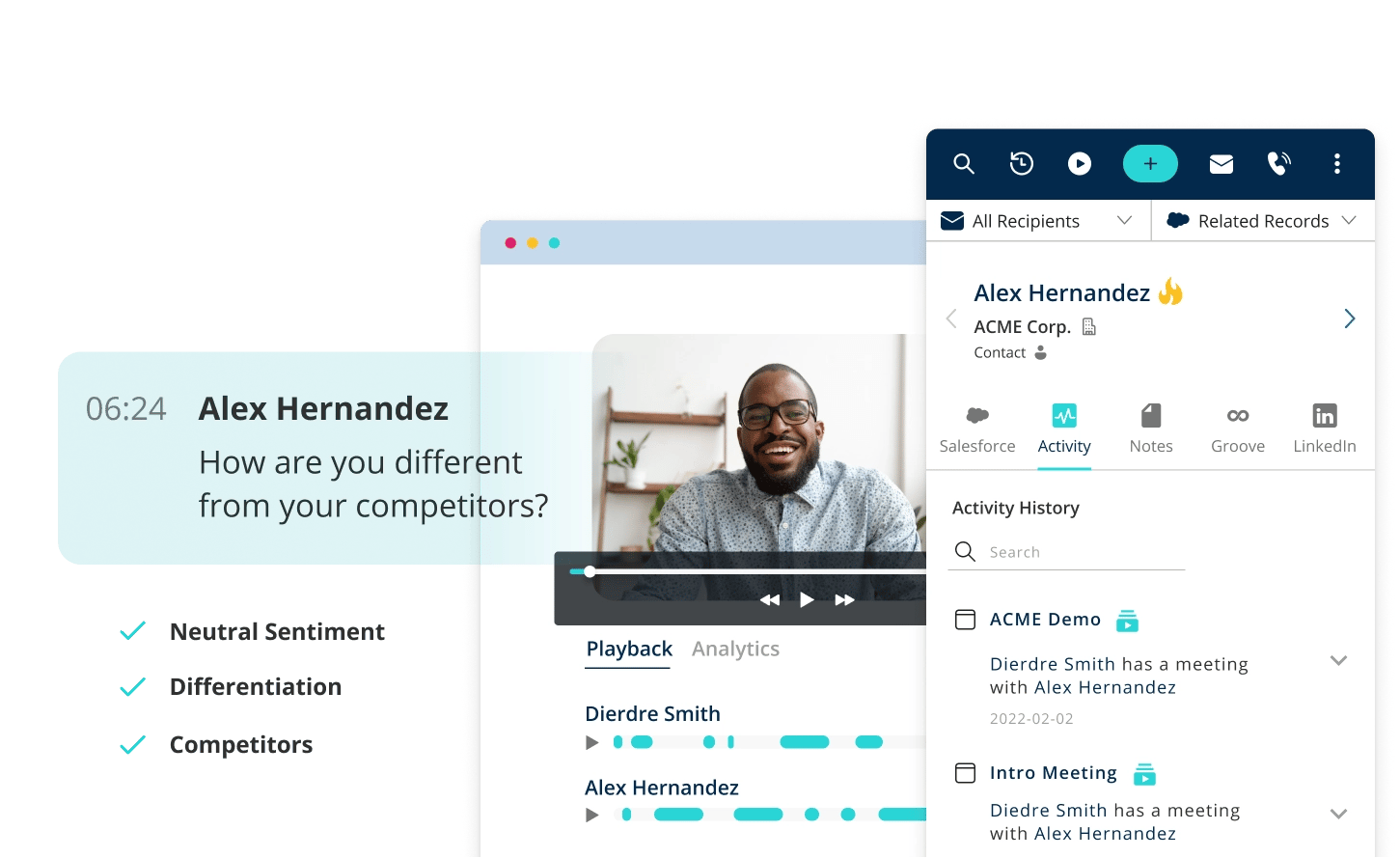 Groove's conversation intelligence features allow you to coach reps to improve
Key features:
Built on Salesforce
Integrates with Slack, Stripe, Gmail, LinkedIn, etc.
Salesforce CRM integration
Syncs calendar, email, meeting, and LinkedIn activity with Salesforce
Email scheduling, categorization, and tracking
Real-time Salesforce data to prioritize tasks and workflows
Set up templates and flows
Task, content, and workflow management
Open rate, attachment activity, and link activity analytics
Calendar scheduling
Auto-dialer with Salesforce prospect notes and history
Price: Custom priced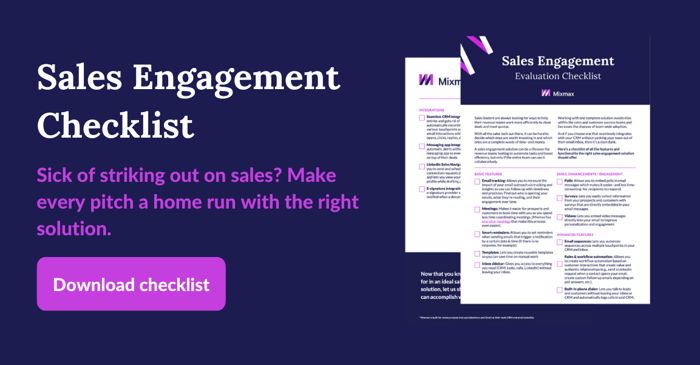 4. Yesware
Yesware was designed to help AEs enhance email productivity and works with Gmail, Outlook, and Office 365. However, it's been a long time since it could be called a viable alternative to Salesloft.
While Yesware sells itself on email tracking and performance tracking, its capabilities fall way short of other sales engagement platforms, and it lacks the fully developed features that enable true engagement. It also has fewer integrations than other tools, insights are less granular. This, plus the lower per-user price point make it more suitable for small to mid-market companies are looking for little more than email outreach.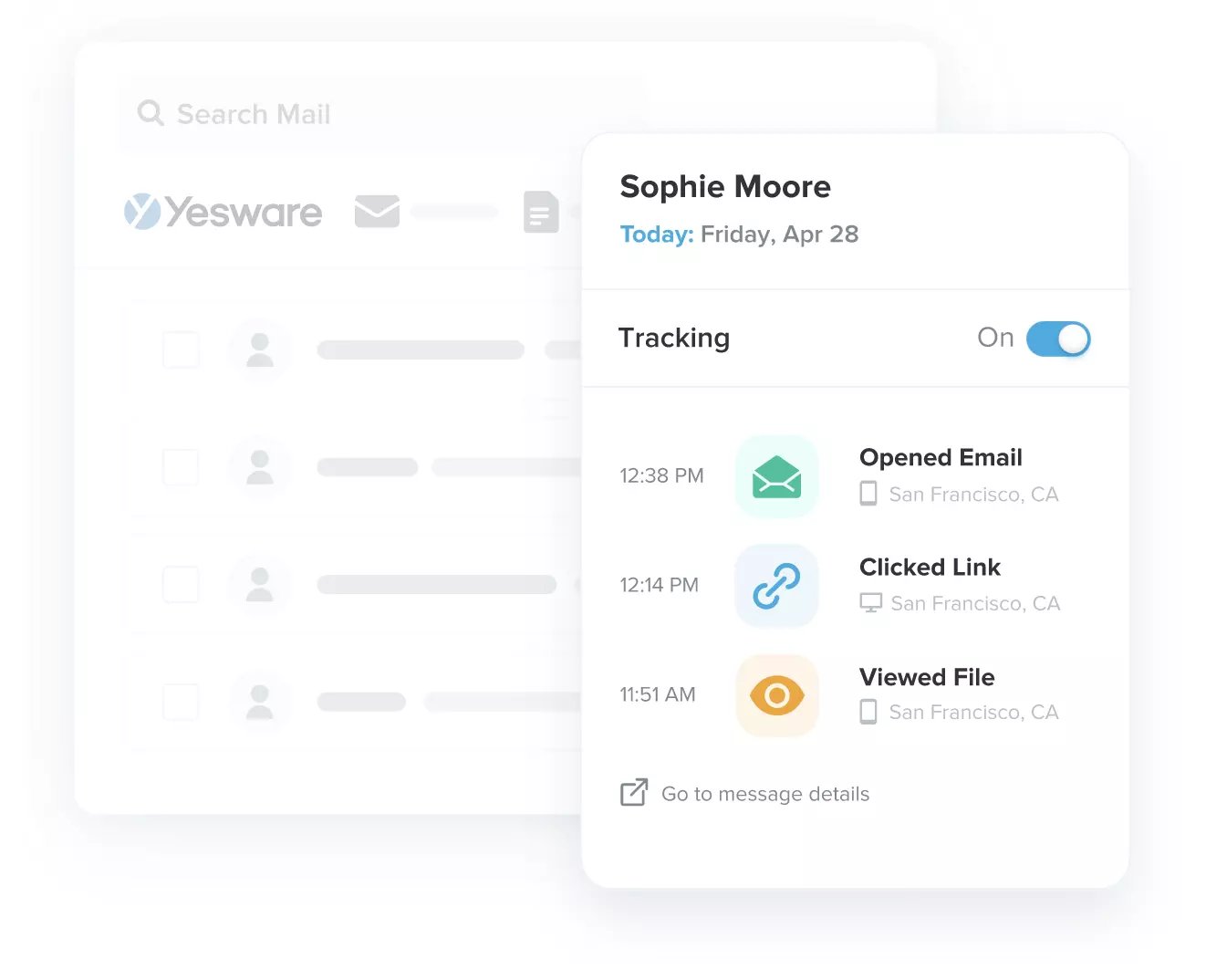 Email tracking in Yesware
You can also set up email campaigns and follow-up responses for the week in advance, to speed up outreach and save time.
Although it has fewer integrations than other platforms—and is prone to data silos with its Salesforce integration—it does integrate with CRM data for outreach at scale.
Key features:
Activity Feed and email instant notifications
Meetings & Opportunities and engagement history dashboards
Campaign, template, and recipient reporting
Integrates with MS Teams, Zoom, Outlook, Salesforce, LinkedIn, and Gmail
Multi-channel campaigns
Shareable, customizable email templates
In-email shareable calendar links
Task, reminders, and follow-up automation
Engagement and performance analytics
Price:
Enterprise at $65/user/month
Custom priced plan
5. Reply.io
Reply is a multi-channel sales engagement and automation platform.
It lets reps combine Whatsapp, emails, calls, LinkedIn, and SMS messages into a multichannel sequence to reach prospects no matter where they are.
The platform also lets you automate multichannel touchpoints throughout the sales process and is geared toward helping SDRs improve sales messaging and reach leads faster.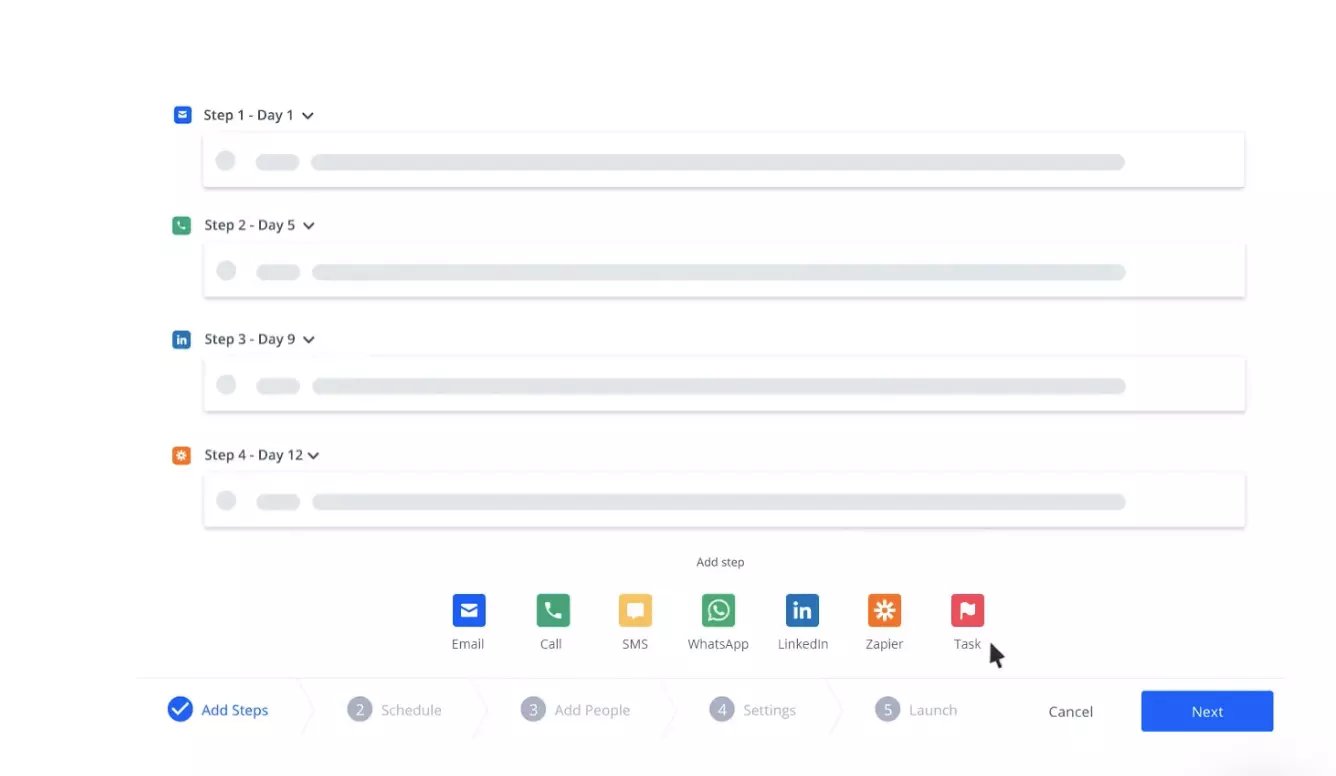 Creating multi-channel touchpoint sequences in Reply
Although it's prone to bugs and offers less intuitive navigation than other platforms—it offers out-of-the-box email and sequence templates to communicate creatively with prospects.
Features:
Automates multi-channel touchpoints
Click-to-call capability
Integrates with Salesforce, Copper, Vidyard, etc.
CRM sync and reporting
Team collaboration within sequences
Lead prioritization
Email tracking and automation
Workflow performance and management
Price:
Business plan starts at $50/month/user
6. Apollo.io
Apollo is a sales intelligence and engagement platform that helps reps engage prospects with automated workflows.
It's mostly used by sellers and marketers in small businesses and the Computer Software industry to help with prospecting and their go-to-market strategy.
It lets reps grant access to select data based on users, user roles, and groups—while automating repetitive tasks and setting reminders for non-automated tasks.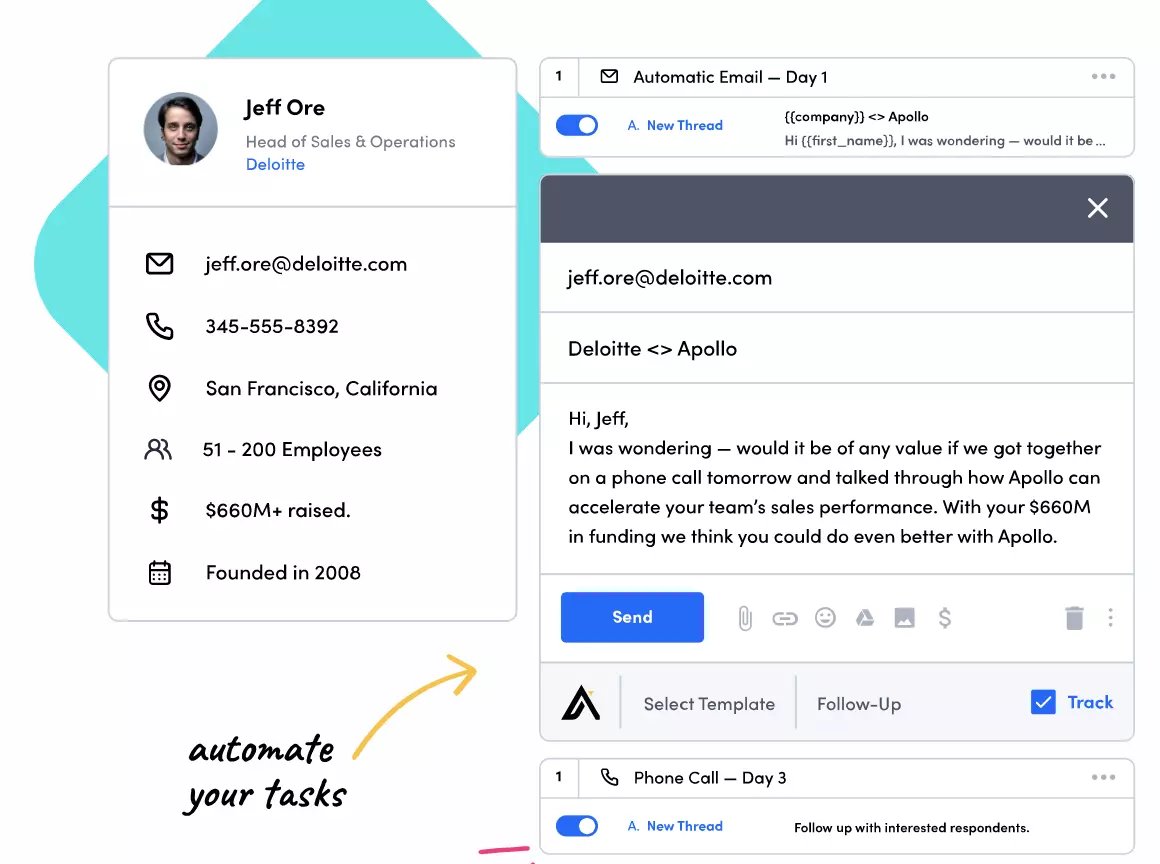 Automating tasks in Apollo
It also helps you schedule and track email correspondence and outreach at scale.
It's user-friendly software with accurate email sourcing capability.
Key features:
Automate and test email outreach
Email tracking and customized email templates
Pre-defined email personalization tokens or custom fields
Click rate, open rate, reply rate, and interest rate analytics
Call recording intelligence
Built-in dialer and Click-to-call
CRM integration
Rules engine for cross-object rules and triggers
Price:
Professional at $99/user/month
Custom priced plan
Time to bust a move
If you're looking to switch from Salesloft, think about which features your reps need, and what they'll actually use. Don't be distracted by an all-singing-all-dancing solution but, instead, focus on finding a product whose features fit into your reps' existing workflow, not the other way around.

Look to invest in an intuitive platform that wont' be a drain on your resources and doesn't decay with implementation.
If you're looking for something that's agile, easy to use, and gives your reps back more customer facing time, why not give Mixmax a try?
Looking for a Salesloft alternative that meets all your sales engagement needs? Mixmax gives busy sales teams in fast-growing companies more customer-facing time. Request a demo here.
Frequently asked questions about Salesloft
What is Salesloft?
Salesloft is a sales engagement platform that's commonly used by enterprise-size companies and large sales teams and requires more support from administrators than other sales engagement platforms like Mixmax.
What is the best Salesloft alternative?
Mixmax is the best Salesloft alternative provided that you're running a sales team in a fast-growing company and are looking for an agile, effective, and intuitive solution.
Who is Salesloft's top competitor?
The top Salesloft competitors are:
Is Outreach the same as Salesloft?
Outreach is a different sales engagement platform than Salesloft, with similar features such as: email tracking and automation, task and workflow management, and CRM sync. Salesloft outperforms Outreach (based on G2 customer reviews) in its ease of use and administration, and support quality.
What does Salesloft cost?
Salesloft offers custom pricing depending on business needs. If you're looking for a sales engagement platform with transparent pricing plans, try Mixmax.
What are the benefits of Salesloft?
Salesloft helps enterprise-size companies and large sales teams perform digital selling tasks, communicate with prospects, and access relevant insights.