If you want more efficiency and better results from your sales teams, see below for our breakdown of the best email sequence tools for sales engagement and automation.
1. Mixmax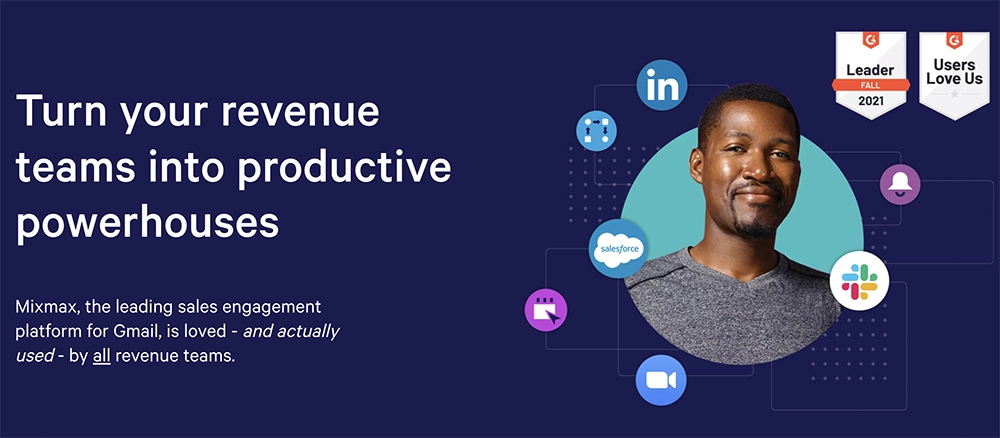 Mixmax's email sequence and sales engagement software is lightning-quick to use—Mixmax customers go live in less than 1 day and see a positive ROI in less than 6 months.
Its easy-to-build email templates and multi-channel sequences, enable your reps to start more conversations with prospects and customers across email, phone, and social media. Mixmax was built to help sales and success teams scale personalized, customer-centric communication.
It comes with a powerful automation engine and offers a real-time sync integration with Salesforce, thus eliminating all repetitive tasks and organizing reps' workflows.
Engagement features like in-email polls & surveys, beautiful link or PDF previews, and one-click calendar scheduling make emails sent via Mixmax truly stand out.
Consider this if: you are looking to scale personalized outreach and make serial winners out of your sales team with a sales engagement platform that goes beyond email sequencing and email tracking, and offers data-driven insights, smart sending, syncs with Salesforce, LinkedIn Sales Navigator, Zoom, Slack and DocuSign—all instantly integrated into Gmail
Pricing: Growth is the most popular plan at $49/month per user (you can use our quantification tool to calculate just how much time your sales team can save)
Looking for a sales email sequence tool to help scale your sales process? Close deals, hit targets, and drive revenue with Mixmax email sequences and engagement software 👉 Request a demo
2. Outreach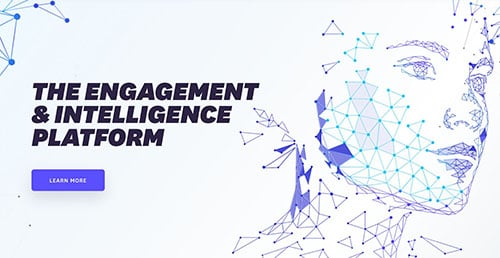 Aimed at corporates, Outreach is one of the best-known operators in the email sequence software business, offering real-time guidance and workflows for big organizations and their sales teams. It usually requires a dedicated admin and a sales enablement program to onboard new users.
Outreach's AI assistance tool helps SDRs make data-driven decisions and guides the prospecting process.

3. Salesloft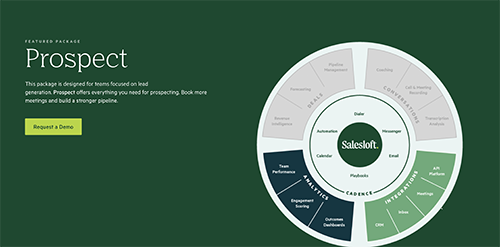 Similar to Outreach, Salesloft started as a prospecting solution only to grow into what they call a Modern Revenue Workspace platform, which is built on the principles of driving action and engagement, data and AI being incorporated into the workflow, and revenue team alignment.
Recent updates include additional workflows, dashboard customizations, mobile access, and cadence enhancements.
Consider this if: you're a large enterprise looking to manage complex prospecting processes and leverage AI insights
Pricing: Starts at $75/month per user

4. Groove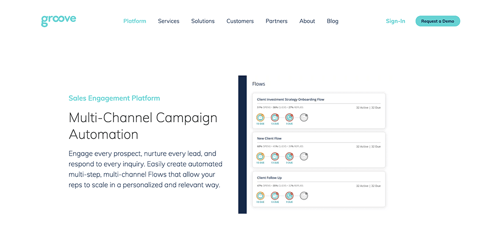 Groove is catered for enterprises using Salesforce.
As well as email sequence tools, Groove offers lead scoring and content writing. With tools for forecasting and reporting, Groove streamlines administration and helps improve team collaboration.

5. InsideSales Playbooks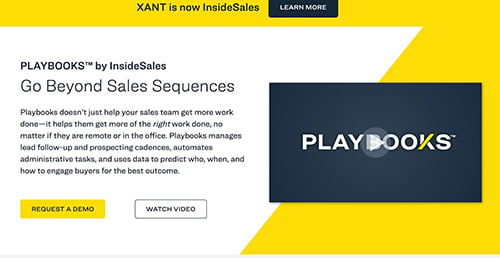 Formerly known as Xant Playbooks ​​(we'll just stick with Playbooks for now), Playbooks manages prospecting and cadence, automates admin tasks, and uses AI to predict the ideal time to contact buyers.
The Playbooks app has a user-friendly interface and includes the Gamification feature. This encourages competition within the sales team by giving you the chance to create KPIs so reps can earn points and rank on a leaderboard.
Consider this if: you're a sales team in a large enterprise wanting broad and intuitive functionality, and a buyer intelligence solution
Pricing:

By quote only

6. Yesware
Yesware was one of the sequencing solutions and it became famous for its email tracking. It is quick and easy to get started and offers a simple, handy option for small businesses that don't need the latest tools innovative tech companies are after.
Yesware's ideal for teams who just want reliable email tracking to see who's responsive to communications. Also, its templates and template reports are straightforward to use and customize.
Consider this if: you're a small sales team using Outlook looking for a light, cost-effective solution for email tracking
Pricing: Premium is the most popular plan at $35/month per user, but the Pro plan is available for just $15/month per user

7. Klenty
Klenty is an email sequencing solution that integrates with Freshsales, Hubspot, Pipedrive, and Zoho, allowing for importing contacts, syncing emails, and task creation with triggers.
One cool feature with Klenty is its Klenty Academy knowledge base, which provides learning materials for new users.

8. Overloop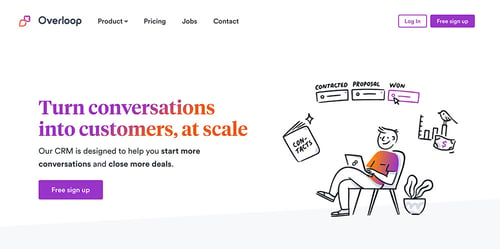 Overloop, formerly known as Prospect.io, offers a range of prospecting and lead management solutions with workflow integrations.
Overloop includes an Email Finder feature for which you buy credits on top of your monthly subscription to build your pipeline and create cold emailing campaigns.
Consider this if: you want to kick off large-volume cold emailing campaigns
Pricing: The advanced plan is $79/month per user, with additional costs depending on the number of credits you wish to use for the Email Finder feature ($99/month per user for 1000 credits)

9. HubSpot Sales Hub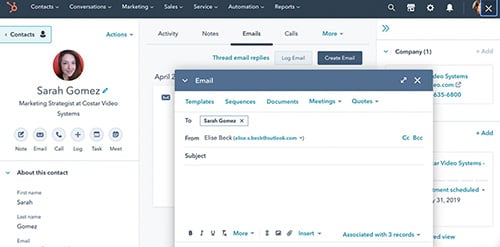 Hubspot is a big CRM platform with a number of key products, or hubs, of which sales software is one.
Like its other products, you can use the Sales Hub in isolation, although Hubspot is really designed for all its tools to be utilized as an all-encompassing sales and marketing platform for your organization's needs.
Consider this if: you're a big enterprise looking for an all-in-one solution for your sales, marketing, customer service, and content management teams
Pricing: The Professional plan starts at $375/month for a minimum of 5 paid users, with $75/month more for each additional paid user