As experts in sales technology (we hope), we've seen first-hand how Artificial Intelligence (AI) has revolutionized the sales industry.
AI has taken over boring tasks, improved customer targeting, and dramatically increased efficiency.
But there are a TON of AI tools for sales out there that do a TON of different things.
Where do you start?
What do they offer?
Will AI take over the world? (Spoiler alert: maybe).

In this blog, we will discuss:
If you're a salesperson or a leader looking to improve your sales process with the help of AI, this list is for you.


Top 10 AI tools for sales (free and paid)
Without further ado, let's dive into the top 10 AI tools for sales:
Mailook AI's email deliverability checker
Overview
Mailook is an email deliverability checker that helps identify and resolve email deliverability issues.
Main features
Blacklist check: Mailook verifies your IP & domain against more than 100 blacklists and assists in getting whitelisted.
Emailing setup check: Validates SPF, DKIM, and DMARC records to verify if your emails are correctly authenticated and protected from malicious activities.
Email deliverability check-up: Performs a comprehensive audit of your email deliverability based on over 120 checkpoints.
Pricing
Free
Mixmax's generative AI for sales emails
Overview
Mixmax is a sales engagement platform for the entire revenue team. Its built-in generative AI feature allows salespeople to compose personalized sales emails directly in their sequences with AI, or improve ones they've already written.
Main features
Personalized & relevant messaging: Mixmax's generative AI feature allows you to craft engaging sales outreach tailored to your prospects' interests directly within your sequence.
Simplified content curation: The writing assistant can generate high-quality emails and subject lines in seconds, enabling you to create content faster and save time.
Data-backed suggested send times: Mixmax can suggest optimal times for you to send your emails based on your prospect's inbox activity such as clicks, downloads, and replies—using AI & machine learning.
Pricing
Growth + Salesforce: $69 per user/month (billed annually)
Growth: $49 per user/month (billed annually)
SMB: $24 per user/month (billed annually)
Enterprise: Custom pricing
Vidyard's AI Sales Script Generator
Overview
Vidyard Video Messages is a video creation platform that uses AI to guide the sales process, making it easier to record personalized videos and connect with leads.
Main features
Video creation: Easily record and share personalized videos and screen recordings.
Pre-made scripts: Use pre-made video scripts to create high-impact videos at each stage of the sales cycle.
AI-powered video scripting: The AI script generator helps in crafting personalized video scripts tailored to each prospect.
Video analytics: Gain insights about who is watching your videos to prioritize leads and refine your video selling strategy.
Pricing
Free
Pro: $19 per month, billed annually at $228 or monthly at $29.
Business: Contact sales for pricing.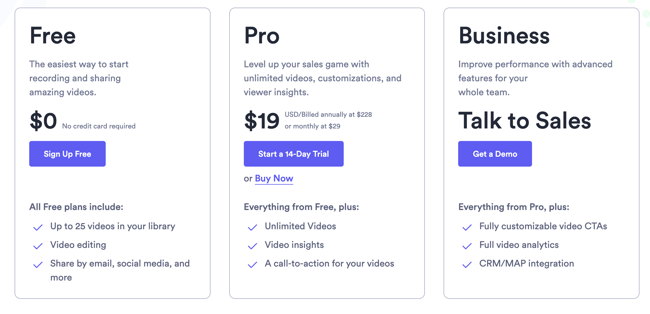 Otter AI's transcription service
Overview
Otter.ai uses machine learning algorithms to transcribe spoken language into written text. It mostly transcribes meetings in real time and can be accessed online, on mobile devices, and via a Chrome extension.
Main features
Real-time transcription: Otter.ai can transcribe meetings as they happen and identify different speakers in a recording.
Meeting recording: Meetings are recorded and stored, allowing users to revisit discussions.
Otter Assistant: Can attend meetings on your behalf and provide transcriptions, acting as your personal note-taker.
Custom vocabulary: Otter.ai can recognize and learn custom vocabulary, including industry jargon, acronyms, and difficult name pronunciations.
Pricing
Basic: Free
Pro: $8.33 per user/month
Business: $20 per user/month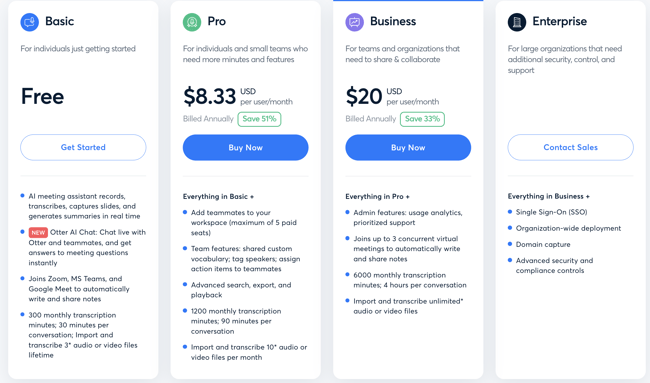 Lavender's AI email assistant
Overview
Lavender is an AI email assistant that integrates with multiple platforms such as Gmail, Outlook, and LinkedIn. It provides real-time coaching as you write emails, enhancing your email quality and effectiveness.
Main features
AI-driven coaching: Get real-time feedback on your emails as Lavender's sales AI identifies and corrects any issues that could harm your chances of receiving a reply.
Email personalization and validation: Lavender validates your email, checks it for spam, and gives a mobile-friendly view. It also helps you research your prospect without leaving your inbox.
Email intelligence for teams: Lavender provides insights to managers, helping them understand their team's strengths and weaknesses.
Pricing
Basic: Free
Pro: $29 per month or $319 per year
Teams: $49 per month per user or $539 per year per user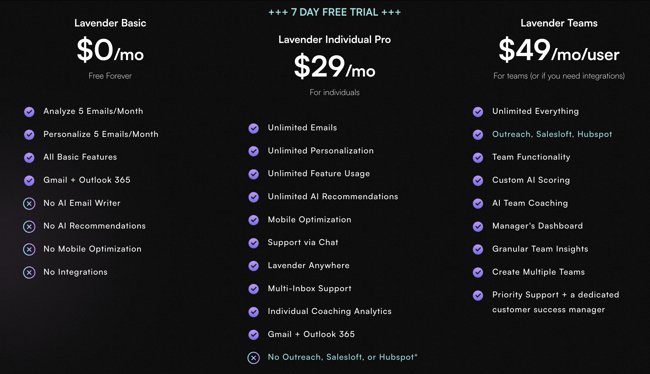 Quantified AI's sales simulator
Overview
Quantified provides a role-play partner and coach for sales reps, a coaching portal for managers, and an admin portal for sales, enablement, and RevOps leaders.
Main features
Video-based, AI-simulated role playing: Offers video-based role-playing scenarios with an AI replica of your customer for effective, repeatable practice.
Intelligent customer conversations: The AI uses existing product, customer, and conversation data to create a realistic conversation scenario.
Performance feedback: After each role-play, the AI simulator provides immediate feedback, scoring, and coaching.
Pricing
Contact for pricing
Clari's revenue intelligence
Overview
Clari's platform is all about simplifying your revenue processes. It replaces guesswork and spreadsheets with a clear, organized forecasting system.
Main features
Streamlined forecasting: Clari helps you build easy-to-understand forecasts, improving predictability and accuracy for both current and future quarters.
Pipeline insights: This platform shows your team the status of all deals, whether they're progressing, stalling, or at risk. Its analytics feature helps you plan effectively to hit your revenue targets.
Consistent sales process: Clari allows you to standardize successful sales practices across your team. It provides tools like sales methodologies, conversation intelligence, real-time coaching, and mutual action plans.
Pricing
Contact for pricing
Drift's intelligence chat
Overview
Drift is an AI-powered conversational platform that accelerates conversations, pipeline, and sales rep onboarding with features like suggested replies and language translations.
Main features
AI-powered chat: Drift chatbots engage, qualify, and convert buyers proactively on any webpage, whether you're online or not.
Intelligent conversations: Drift chatbots are designed to hold open-text conversations, as well as understand and respond appropriately to inquiries.
Customizable playbooks: You can design specific conversational pathways for the chatbots to follow based on the customer's interaction.
Integration: Drift seamlessly integrates with your existing tech stack, including CRM and email marketing software.
Pricing
Premium: Starts at $2,500 per month
Advanced & Enterprise: Contact sales for pricing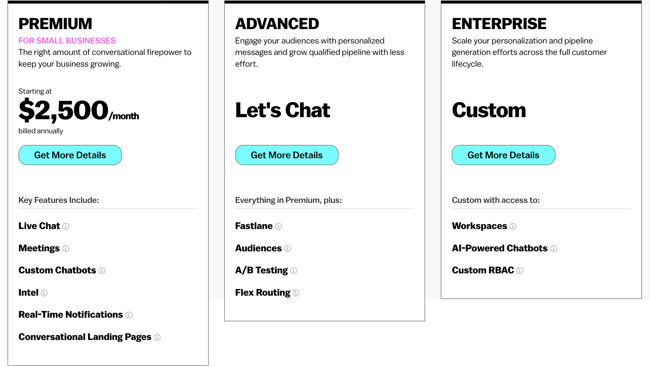 Salesforce Einstein
Overview
Sales Cloud Einstein is an intelligence solution that uses customer data to drive decision-making and productivity in every stage of the sales cycle.
Main features
Predictive scoring: Each lead and opportunity is automatically scored based on likelihood to convert and close.
Automated contacts: Automatically logs emails and calendar events, providing a prebuilt activity timeline.
AI-powered insights: Einstein Discovery allows you to explore data, uncover insights, predict outcomes, and automate actions to make every business decision smarter.
Forecasting: Salesforce Einstein uses machine learning to analyze, process and understand key trends in your past CRM data, helping it to make detailed sales forecasts.
Pricing
Add Einstein AI & Analytics to Service Cloud: $50 per user/month, billed annually.
Gong.io's conversational intelligence
Overview
Gong.io is a conversation analytics and salesforce training tool that uses sales AI to analyze sales calls and meetings, providing insights and coaching to sales teams.
Main features
Sales conversation analytics: Gong.io transcribes and analyzes every sales call, picking out the most important parts.
Deal and people intelligence: Access real-time insights into your deals and people. See what's working, what's not, and identify coaching opportunities.
Market intelligence: Gong.io also provides insights on market trends and competitor landscapes based on the aggregated and anonymized data from your sales calls.
Pricing
Contact for pricing
Fun fact: Gong integrates with Mixmax's sales engagement platform so you can send your call recordings to Gong for analysis directly through Mixmax.


Importance of artificial intelligence in sales
AI tools for sales leverage machine learning and other AI technologies to automate, optimize, and enhance different aspects of the sales process.
These tools can predict customer behavior, suggest next steps, do research, summarize articles, and even automate communication.
So why are AI tools so important?
Here are a few reasons:
They save time by automating boring tasks.
They increase productivity and efficiency.
They provide insights that help with decision-making.
They lend a helping hand (think of AI as an assistant on steroids, if you will).
Here's a snippet from our interview with sales expert Belal Batrawy, founder of Death to Fluff, where he talks about the power of artificial intelligence in sales:
Belal Batrawy on AI in sales
Factors to consider when choosing AI tools for sales
Choosing the right AI tool for your sales team can be tricky.
You need to consider:
Integration: Consider how seamlessly the AI tool integrates with your existing sales tech stack, especially your CRM system. You wouldn't want to spend valuable time manually transferring data between systems when you could be making sales. Plus, good integration ensures that the AI tool can access the data it needs to provide you with meaningful insights.
Ease of use: Even the most powerful tool can be useless if your team can't figure out how to use it. Look for AI tools that offer intuitive user interfaces and clear user guides. Some tools offer demos or trial periods, which can be very useful for gauging ease of use.
Customer support: Even with the best AI tools, you're bound to encounter a few hitches here and there. That's why you have to choose a tool backed by reliable customer support that can quickly answer your questions or concerns.
Security: Data security is super important. Ensure that the AI tool follows best practices in data security and is compliant with relevant data protection regulations. This protects your company and your customers' sensitive information.
Cost: Last but not least, consider the cost of the AI tool. While it's true that some of these tools can be a significant investment, many offer flexible pricing models based on features, users, or data volume. Remember, it's not just about choosing the cheapest tool, but the one that offers the best bang for your buck.


Training sales teams on the use of AI
Now, onto the juicy bit: how do we help our sales teams feel at ease with AI?
AI isn't about creating a troop of robotic salespeople who rely solely on AI to do their jobs. It's about equipping your team with superpowers to close deals faster, understand customers better, and respond quicker.
Then, focus on the benefits. Show your team how AI can take care of the routine tasks — the follow-ups, the research, the summaries, the data crunching — and free up their time to do what they do best: connecting with people and building relationships.
Don't forget the training. Yes, it's new technology, and yes, it might seem intimidating at first. But with the right training, your team will soon see that AI isn't the complex beast it's often made out to be.
Here's a LinkedIn post from Collin Stewart, CEO of Predictable Revenue, that summarizes AI training and tips well: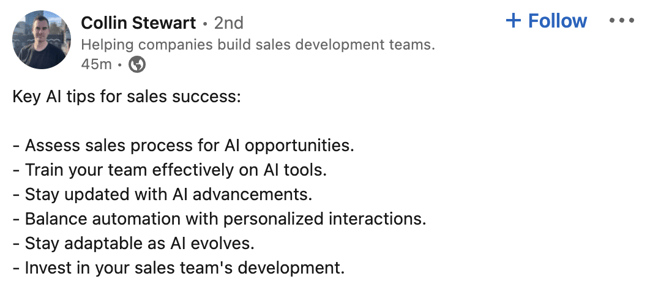 One last thing: patience is key. Everyone learns at their own pace, so give your team the time they need to get comfortable with AI. Rome wasn't built in a day, and neither is a highly-skilled, AI-powered sales team.


Let's wrap this up
We've shown you the benefits of AI, listed the top 10 AI tools for sales, and offered tips on how to ease your team into using AI so they're comfortable working with it.
With tools like Mixmax's generative AI feature at your fingertips, the question isn't whether you should embrace AI, but rather, "Why on earth haven't you done it already?"
Remember, AI is not about replacing you, the superstar salesperson. It's about enhancing your existing abilities so you can focus on the good stuff.


Frequently Asked Questions (FAQ)
Are AI tools difficult to use?
Most AI tools are designed to be user-friendly. However, proper training and support are necessary to fully leverage the tool's capabilities.
Do AI tools replace salespeople?
No, AI tools don't replace salespeople. Instead, they assist salespeople, taking over mundane tasks and allowing them to focus on more strategic activities.
Is AI in sales expensive?
The cost of AI tools varies. However, the value they bring in terms of time savings, productivity increase, and sales growth can justify the investment.
Can I use multiple AI tools at once?
Yes, many sales teams use a suite of AI tools. However, it's important to ensure these tools integrate well to avoid information silos and inefficiency.