While 80% of prospects prefer to interact with sales reps via email, you can't just throw together a few paragraphs, hit "send," and hope for the best in today's competitive market—especially if you're sending outbound emails to prospects that may not know much about your company or products.
Consider that most people receive over 140 emails every day. Your cold emails (especially!) need to cut through the clutter and engage the recipients right away. After all, if you can't get prospects to open, read, and respond to your emails, you can't progress them down the sales funnel! Here are some proven strategies to increase your cold email response rates:
1: Attention-Grabbing Subject Lines
Did you know that over 40% of recipients decide whether to open an email based on the subject line alone?
The most effective email subject lines are creative, compelling, and informative. They're relevant and pique the recipients' interest without giving away too much. Also, mentioning the recipients' names or specific information can increase open and response rates.
Here are some proven cold email subject line formulas:
Question About [ Goal/Challenges]
[ Mutual Connection] Recommended To Connect
Hi [ Name], [ a Relevant Question]?
Can I Help With [ Problem Your Products Solve]
# Tips For [ Pain Point]
[ Benefits] for [ Prospect's Company]
2: Personalized, Curated Content
If you want to cut through the inbox clutter, your email can't be generic. At the very least, make sure you're addressing recipients by their names, i.e., "Hi [ Name]," instead of "Hi."
You can also integrate LinkedIn Sales Navigator or your CRM system with your email interface so you can reference each prospect's information and personalize your content to speak to their unique challenges and priorities.
In addition, you could use LinkedIn scraping solutions to export valid email addresses directly from LinkedIn for your cold email outreach.
The good news is that personalization doesn't mean you have to spend hours crafting each individual email. You can use email templates to leverage content that works so you can personalize outbound emails at scale. What if you don't know whom to contact in an organization? Instead of sending a generic email, inquire about the right person to contact so you can look up his/her information before reaching out.
Make sure your emails look interesting. At a high level, email hasn't changed for at least 20 years – it's still black text on a white background with a link or two. Look at the two emails below – which is more interesting and which is more likely to get a response?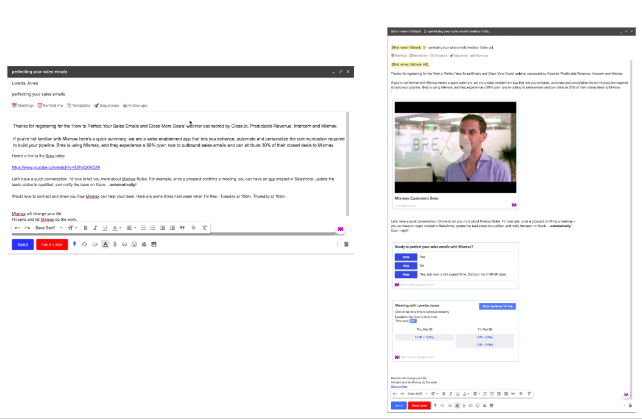 3: Structure your Email Logically
Your emails should be succinct, to-the-point, and follow a logical sequence that makes prospects want to keep on reading:
An opening sequence personalized to address the recipient's circumstances and show that you're not just throwing spaghetti on the wall. It should also be fact-packed, concise, and specific to pique the reader's interest.
Buyer-specific content that speaks to the unique challenges of the recipient's role or company. It should be consistent with the subject line and show how your products and services can provide value.
A close that includes a clear call-to-action, such as scheduling a brief phone call with you. You can use one-click scheduling and make it easy for prospects to take action.
Related Post: 9 Sales Email Sequence Software Tools for Sales Engagement and Automation
4: Introduce Yourself
Many salespeople make the mistake of talking about their products right away in their cold emails without first building rapport with the recipients. However, people like to buy from those they can relate so make sure to introduce yourself in the opening sequence and establish trust.
Keep the introduction succinct, conversational, friendly, and relevant. Tell the recipients who you are, what you do, and why you're contacting them. Don't forget to customize the introduction to highlight mutual connections or common interests (which you can research using LinkedIn Sales Navigator.) You can also include a photo in your email signature so the recipients can associate a face with the name to accelerate the trust factor.
5: Sell the Benefits, Provide Proof
The "meat" of your email content should focus on how the recipients can benefit from your products or services. If you talk about specific features, position them so they're relevant to the recipients.
For example, communicate how your products can save money, help increase profits, save time, make them look good, or make their lives easier. In addition, people are highly influenced by social proof when making purchasing decisions. You can include a short paragraph on how your products have helped customers (e.g., a well-recognized company in the recipient's industry) achieve specific results.
6: Use Copyrighting Techniques and Aways Have a Call to Action
Having to highlight different aspects of your products or services for different audiences doesn't mean you have to start from scratch and reinvent the wheel every time you write an email.
>You can create emails based on proven copyrighting formulas to apply effective persuasion tactics at scale:
Pain > Problem Solved > Bridge (i.e. how to get there) > Call to Action
Pain > Agitate (i.e. highlight the cost or implementation time) > Solution (i.e. how your product is relevant) > Call to Action
Star (i.e. the big idea) > Chain (i.e. facts, sources, reasons, and benefits) > Hook (i.e. call-to-action)> Call to Action
Attention (i.e. pique curiosity) > Interest (i.e. make it personal) > Desire (i.e. use social proof) > Call to Action (i.e. ask for a response)
Personal Star (i.e. the prospect) > Tell the Story (i.e. the star's transformation) > Solution (i.e. relate the star's victory to your product) > Call to Action
Awareness (i.e. recognize the pain) > Understanding (i.e. how the pain affects the recipient) > Solution (i.e. how your product delivers the solution) > Call to Action
7: Follow up Sequence
Your prospects have a lot in their inbox and they may not see or have the time to respond to your first email. Think about your own behavior. When you receive a cold email how often do you respond on the first touch?
Setting up a follow-up email sequence (also called a drip campaign) can help you nurture relationships, build trust, and increase response rates by as much as 300%. You can use an email productivity tool to personalize these emails at scale and improve cost-efficiency. You can also set behavioral triggers to send out the right message at the right time and embed videos, calendar invites or surveys to increase response rates.
You may be wondering how many emails you should include in your sequence. There's no one size fits all answer because it depends on many different factors – your prospect, what you are selling, how compelling your email is, and many more. A 10 touch sequence works well for us, but it may not work well for your sales team. We do find that sequences that include touches from a variety of mediums – emails, tasks, LinkedIn touches and even texts – work better than sequences that just have email touches.
8: Refine and Iterate
Remember it's unlikely that you're going to get it right the first time. So track your email open and response rates to see what works what doesn't for your specific audience so you can fine-tune your outbound email strategies.
Using Gmail?
Do yourself a favor and give Mixmax a try – you can literally be up and running in a day with our all-in-one productivity suite. Try us for 14 days – free.