December 2, 2021
How to Use Social Proof to Increase Sales Email Engagement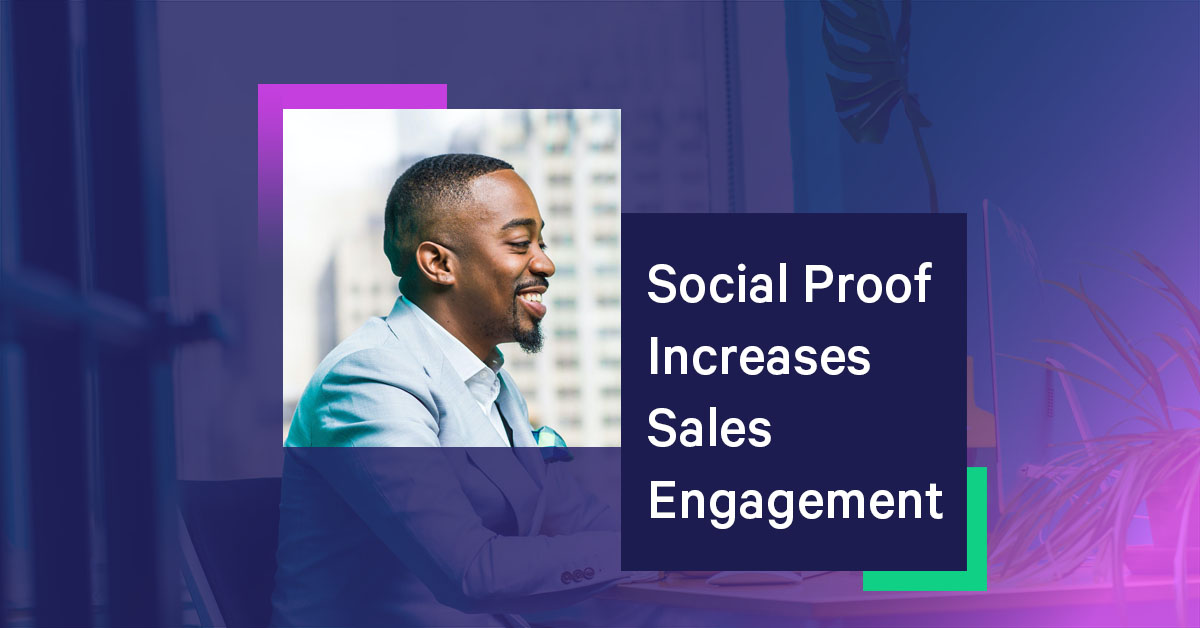 What is social proof?
How does social proof benefit sales?
Types of social proof
How to use social proof in sales emails
Think about it – would you rather go to a restaurant that all of your friends highly recommended and you read its positive reviews online or the one that's always empty when you pass by?

Even if you haven't thought of it that way, social proof impacts our decisions, from picking a restaurant to deciding which software you're going to choose for your team.

The principle is clear enough, but what does it mean, and how does social proof increase sales?
After reading this, you'll learn:
What social proof is
How social proof benefits sales
Types of social proof
How to use social proof in sales emails
Want to scale your 1:1 sales conversations while keeping them 100% personal? Use Mixmax to skyrocket your sales with a personalized touch.
What is social proof?
Social proof in a sales context confirms that other businesses have purchased your product or service and have benefited from it.
Frequently, a testimonial from just any customer won't suffice. Your potential customers see the most value in case studies about businesses similar to theirs. Having celebrity endorsements and market leaders vouch for you won't hurt either.
Jokes aside, LinkedIn influencers are the celebrities in today's B2B sales.
How does social proof benefit sales?
Firstly, it's one of the best ways to add credibility to your new product. When you manage to showcase the positive experiences that others had with your product, it gets much easier to convince your potential customers to give you a chance.

While social proof is a valuable asset on its own, you need to use it to your advantage and make the most out of it. Simply placing it on your product pages isn't enough.

In many ways, sales development representatives face the same challenges as marketers.
Marketers incorporate social proof in both offline and online marketing campaigns to build trust with their target audience. The best ones make their customers the heroes of their content and email marketing strategy.
Similarly, including customer stories your prospects can relate to in your prospecting emails could make all the difference in whether the SDR gets another meeting on the books.
Types of social proof
You can go different ways about implementing feedback into your communication depending on the source and the kind of content that you need. Here are 7 forms of social proof that can be used to engage your prospects.
Testimonials
No matter how many paid PR articles you put out, happy customers talking about their positive experience with your product and how it solved their problem will always come out on top. A large number of customers say that videos had a significant impact on their decision to buy a piece of software, so having a landing page dedicated to your customers' video testimonials that you can link to in your sales emails is beneficial.
If making this type of content isn't your strength or you just want to save time, simply use a video testimonial service such as Testimonial Hero.
In addition, having short testimonials on your homepage is a must because it is the first thing your prospects will check.
Case studies
These can work as a perfect 1-2 punch with testimonials. They show proof of your product being a good choice, but this time with quantifiable results, supporting your claims. Ideally, you'll have specific data that provides a real-life example of how you made something happen for your clients.
Customer reviews
You could call review an abridged version of testimonials (even though they can be quite a handful sometimes). They are one of the most common ways people get informed about products, but just remember that it's never a good idea to give yourself fake five-star ratings and online reviews. You should make reviews clearly visible and provide the best ways for your audience to leave them with customer feedback software to make sure you get the best insights.
Trust badges
We're seeing an increase in funny face filter apps trying to get access to our text messages to work properly, so it's no wonder that users are overwhelmingly worried about their data security. That's where trust badges come in handy – they show users that they can trust you which is especially important for ecommerce sites.
User-generated content
If the customers are enjoying what you have to offer, they probably aren't going to keep it to themselves. Every Instagram story shared by a satisfied buyer and every YouTube video mentioning your brand is a potential piece of content that generates more buzz for the business. Get involved with social listening and find your brand ambassadors.
Social media
Speaking about social, these channels combine different categories of social influence and social proof is one of its most powerful forms. Whether you're building a fanbase on Instagram or using LinkedIn for sales, there'll be plenty of opportunities to interact with your real customers and gather positive feedback.
Referrals
This is probably the most sales-oriented social proof and can prove to be one of the most useful ones. People are likely to recommend something they are satisfied with, especially if you add incentives such as vouchers for each friend they refer.
How to use social proof in sales emails
Depending on the context, you can apply one or more types that will give weight to everything you write about. The best way to go about is to combine different types of content to form a story.
Here are some ways to complement your perfectly worded sales emails with social proof.
Showcase the numbers
We know that it never gets boring to say nice things about your brand, but when it comes to sales emails you still need to frame the story with some stone-cold results.
Of course, this doesn't mean you should bore the prospects with countless reports and stats but specific, meaningful numbers can make a difference between a closed deal and getting left on read. No matter how you approach it, you should showcase your clients' results and how you fit into that success.
Testimonials and case studies are the main tools in this case. A good way to combine them is opening with a shorter video testimonial that gives a brief overview of how you solve the problems for your users with some relatable examples of a satisfied customer, which is followed by a link to a case study that goes more in-depth of how you actually achieved the feat.
The video testimonials can even be made remotely, so you can create a relatable video fairly quickly and embed it in your email marketing newsletter.
This way you combine a personal perspective with a specific methodology backup that can show both perspectives of a successful project.
Other numbers that can also be useful to place in your emails are related to your users and not their results. By simply stating the number of your returning users or newsletter subscribers can give some weight to your claims.
Related post: How to Improve Your Cold Calling Scripts
Share other customers' experience
Doubling down on the idea of directly showing your user base and the audience's satisfaction, you can make a selection of various ways that users show their experience and make it work for you.
While testimonials are also a valid way to do this, you can also take the less formal route and curate a selection of user-generated content that shows genuine appreciation of your brand.
Some interactions or quotes from social media that stand out, as well as product reviews of your best-selling items can do the trick. The idea is to show how your target audience (that's hopefully the same demographic as your prospect) engages with your brand on a daily level.
Showcase endorsements
Another way to leverage social proof is by boasting your more formal praises.
As an addition to positive experiences shared by real people using your product, recognition from other sources shows that not only your everyday audience has a positive opinion, but that the public trusts you as well.
Influencer marketing can be a bridge between those two, as they have a wider appeal while also being consumers themselves, especially for startups that lack customer reviews. Depending on your relationship with popular bloggers and niche influencers, they can fit in a couple of types of social proof, but most notably their social media presence can make a difference for you, especially with a niche audience.
Even though PR presence is not exactly social proof, being mentioned in media independent from your promotional activities or industry experts can help you solidify your presence and complement other forms of proof you already provided.
Recognition from institutions and organizations also falls under this category, as badges and certificates are a clear indicator that what you're doing is sound. People can be skeptical of providing their credit card data regardless of the store, so having a formal confirmation from the leading payment processors can prove to be very useful in your sales efforts, especially when you're targeting a broader consumer range.
These can be included as an addition to other forms used in your email, or even as a part of your signature.
Want to scale your 1:1 sales conversations while keeping them 100% personal? Use Mixmax to skyrocket your sales with a personalized touch.
Wrapping up
The power of social proof is undeniable. Even if your product is proven to be the best in the market, the sales won't follow if you don't have the audience to back it up.
Consider your everyday interactions with your target audience and think about the ways you can leverage their positive feedback to boost your marketers' efforts and as the result a conversion rate.
Start with reviews and insights you get from various channels, gather and sort the feedback to use the best examples. Work your way up to creating customer testimonials and case studies, as they'll be beneficial in showcasing more specific aspects of your work.
Finally, tie in all the social attention with formal recognition and make sure that any prospect can look over your channels and see the great job you're doing. Implementing social proof takes some time, but it always works to your advantage in the long run.