Sales engagement is more than customer touchpoints. Sales engagement, today, is the process of allowing sales reps to improve relationships and removing tedious tasks that take them away from those relationships.
It aims to make sales professionals more efficient (schedule more meetings and opportunities) and effective (accelerate sales cycles, close more deals) by improving personalized outreach and interactions at scale.
Successful adoption of any sales software relies on reps being able to continue using their tools of choice, so a key requirement is:
Integrations with your current tech stack
Sales engagement isn't meant to take sales reps out of their current workflow. A good platform will integrate with common tools like your CRM, email, and social, etc. so users don't have to keep switching between multiple tabs and tools.
Workflow automation
Sales engagement saves time.
That means using message templates, creating sequences and rules, and setting up alerts streamlines workflows, and even using keyboard shortcuts to quickly drop your availability calendar or pull up a list of templates without ever having to click away. It also means automation of data entry tasks, like logging activity in the CRM.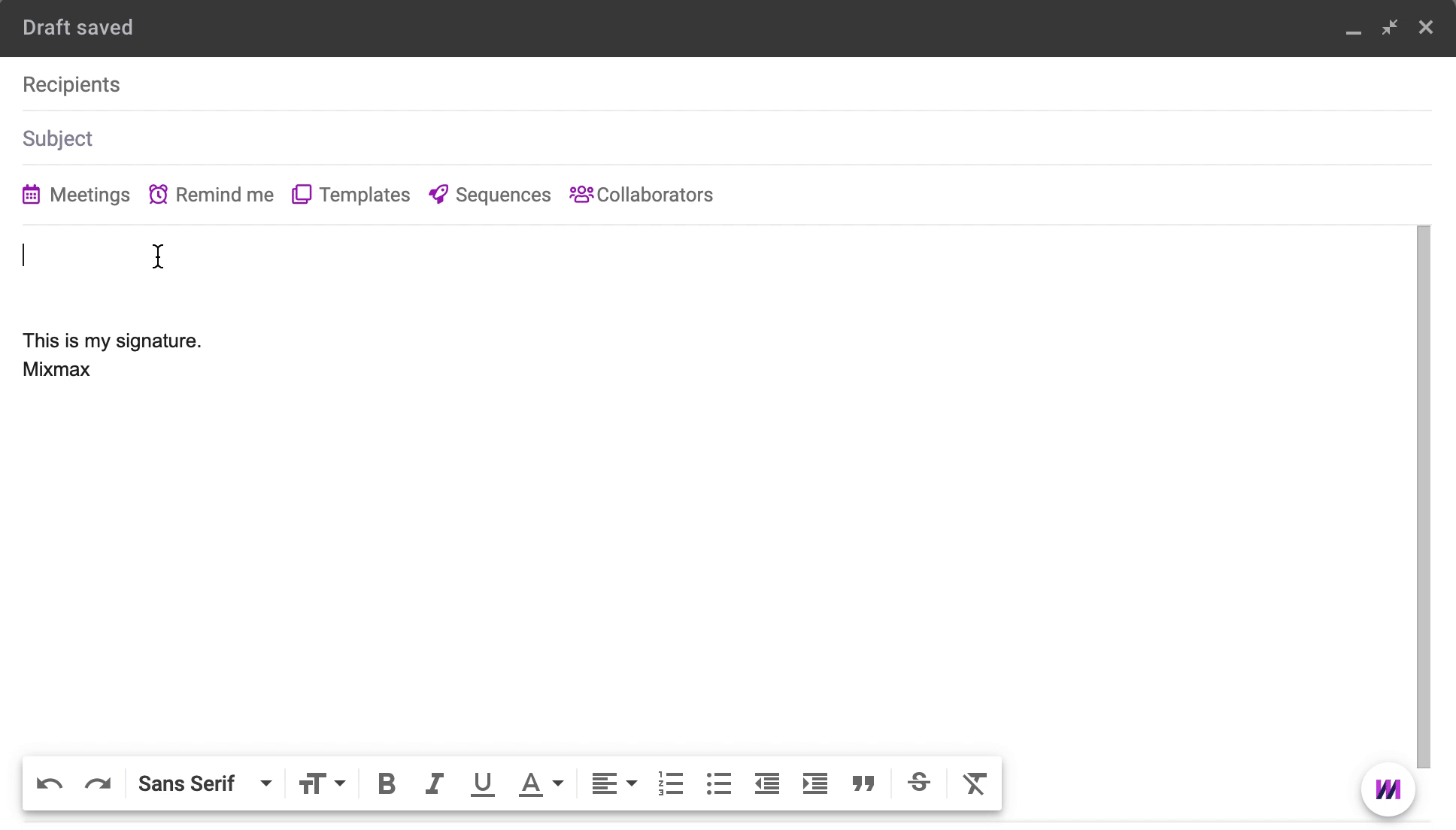 Integration with your CRM system means reps get a heads-up to send a welcome message when a new contact is created.
Slack or email notifications tell them when a prospect has opened their email, answered a survey, downloaded content, or signed a contract. So they can follow up with a Linkedin connection request, next steps, or call while they've got the buyer's attention.
Tracking and data insights
Sales engagement tools allow you to test what works: from subject lines to sequences, and even which personas are more responsive.
How else can you optimize outbound if you don't know which sequences truly engage your prospects?
Having a clear overview of which sequences get the most replies, RSVPs and clicks means you'll get that much closer to having real conversations.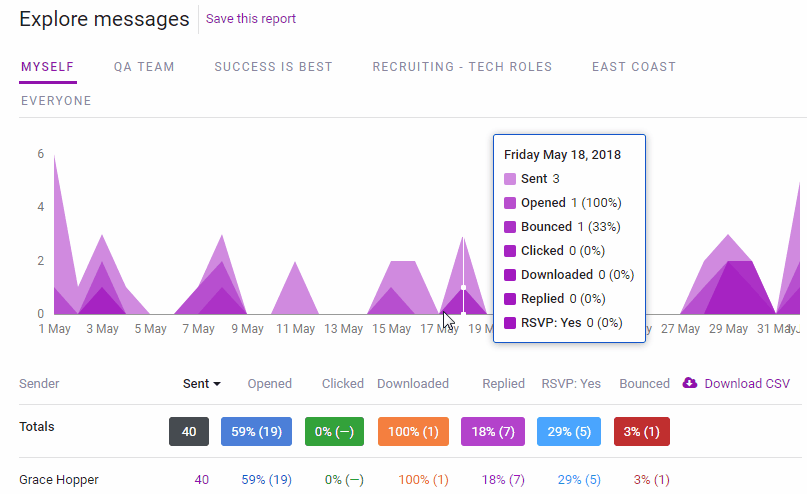 A Mixmax sales engagement insights report
Personalized engagement throughout the buying process
Personalization goes way beyond inserting a prospect's name into an email template.
Even if you're reaching out to 100 prospects of the same persona, they might all be at different stages of the sales cycle. You might know different things about each of them. They might be in different time zones.
Tools like Mixmax allow you to customize each prepopulated sequence and individual template.
It's scalable, yet personalizable.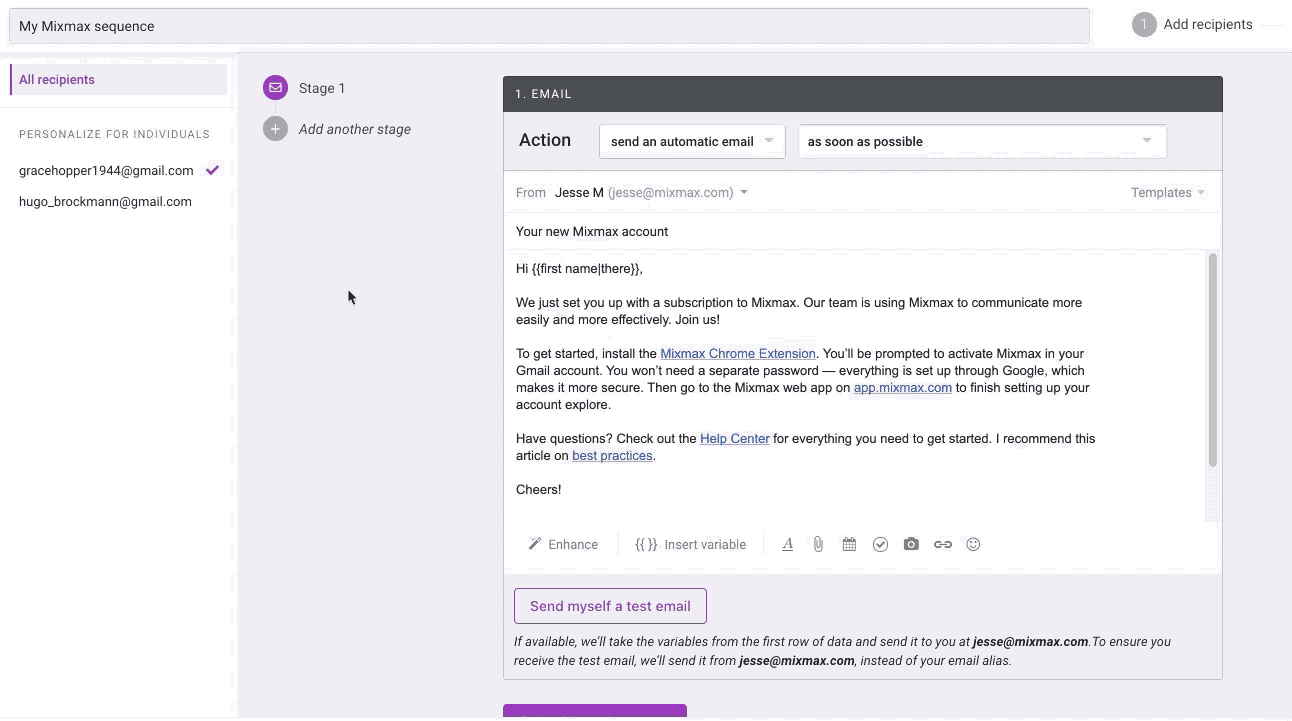 Scheduling tools
Pattern disruption is the biggest challenge for sellers, so anything that can help book more meetings is gold. Features, like in-email polls, embedded calendar sharing, and CTAs, won't guarantee reps will close that deal, but they will improve their chances of getting a response.
Prospects are 20-25% more likely to reply if there's an in-email survey, rather than a written-out question. It looks different, makes the next step more obvious, and takes less effort on their part.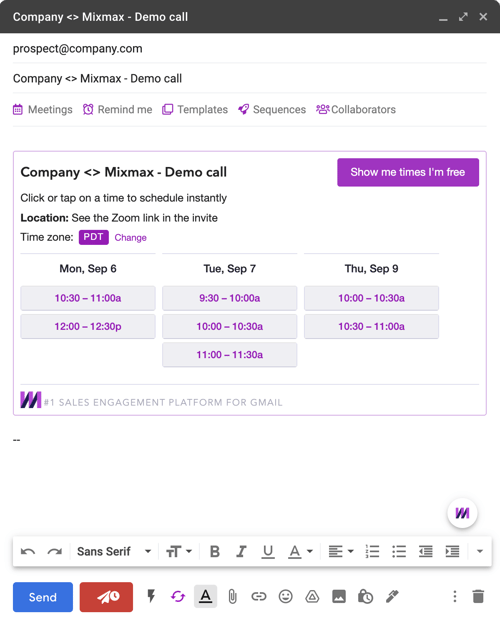 Related Post: 18 Open-Ended Sales Engagement Questions That Help Close Deals Faster