September 30, 2021
Sales Engagement vs. Sales Enablement: What Are They?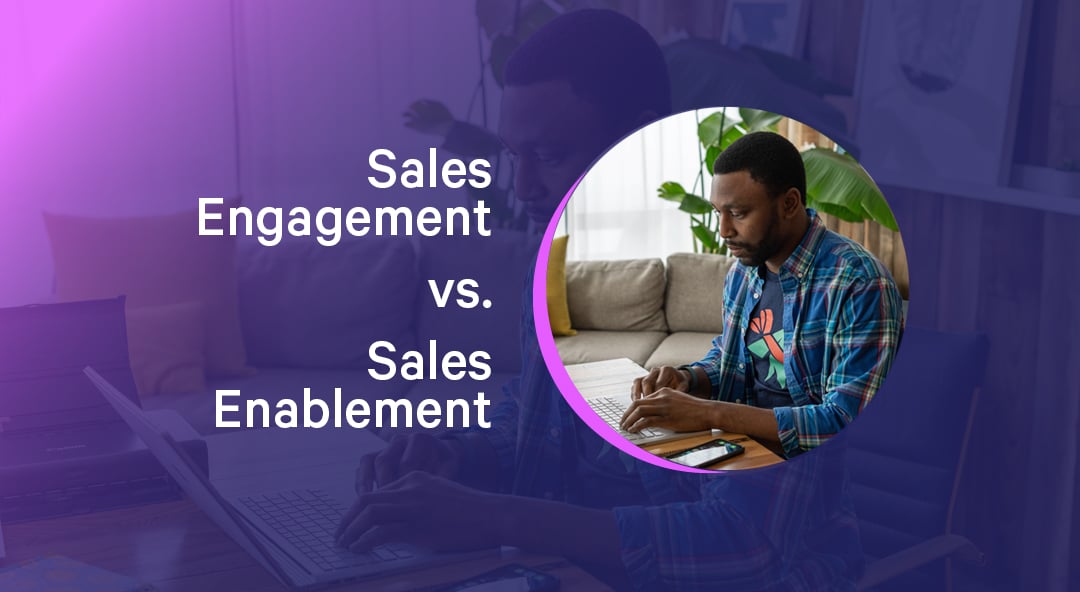 What is sales enablement?
What is sales engagement?
Sales engagement vs. sales enablement: what's the difference?
Examples of sales enablement
Examples of sales engagement
Is a CRM enough?
Sales Engagement vs. Sales Enablement—what's the difference, and when do you need them?
Sales Engagement vs Sales Enablement: Final Thoughts
Your sales reps seem very busy. You know for a fact they're working on a lot.

And they say they have too much on their plate.

Yet, the results you need aren't there.

You thought you had good leads, good prospects, but they're not progressing fast enough down the pipeline because reps can't handle everything on their plate.

Since you're on this page, you've probably identified that it's an internal problem, and not just a need for more sales reps doing the wrong thing.

How can you help your reps be more productive?

You've heard that sales engagement—or is it sales enablement?—is the solution to spending too much time trying to diagnose, optimize and scale sales. But which is it that you need?
In this article, we'll walk you through what sales engagement is, how it differs from sales enablement and how to decide which is right for your teams.

After reading this, you'll:
Understand how to make your existing sales reps more productive and remove the manual interventions that take them away from selling
Know what you need to get a full picture of your pipeline health without needing your team to remember every single interaction
Identify what your sales reps need to succeed
Have a clear understanding of the difference between sales engagement and sales enablement
Want to increase reps' productivity and empower them with the tools they need to close more deals? Mixmax eliminates busywork and enables real engagement, directly from Gmail.
What is sales enablement?
Sales enablement is the internal process of equipping sales professionals with everything they need to do their job. So, providing the tools, skills, knowledge, guidance, and resources they need for prospecting and engagement with buyers at every stage of the cycle and beyond. Many companies will have a department wholly dedicated to sales enablement, and other times sales enablement comes from RevOps, L&D, or other departments.
But if you ask someone who works in sales enablement, they'll each give you a different definition.
This might include:
Identifying skill gaps and providing the necessary training.
Sourcing and training reps on using communication and collaboration tools to connect with prospects and other team members.
Working with the marketing department to ensure the sales team can use the content created.
Training in methodologies, techniques, and best practices to become better salespeople.
Dedicated sales enablement platforms and tools, like customer relationship management, content management, etc.
Crucially, enablement is about empowering sales teams, but it requires them to collaborate with other departments like marketing and product, so everyone is working towards the sales team's success. Establishing a feedback loop between departments also allows for continuous improvements of processes and resources.
What is sales engagement?
While sales enablement is internal, sales engagement works at the deal level. Some people might do what they think is called sales engagement—emailing and calling customers—but they're not actually engaging customers, they're just prospecting to them.
Sales engagement means removing unnecessary manual intervention. It means automating the box-checked tasks needed to communicate with customers ("I have to remember to send a calendar invite to the prospect") so that they can focus on actually selling.
Sales engagement means empowering sales reps to more easily interact and communicate with prospects through things like sequences, templates, and communication so that it becomes a two-way, engaging conversation. Meanwhile, you can build processes to allow your deals to follow a specific workflow.
It's a way to get feedback in the sales cycle and become data-driven in understanding how your sales process is working. It's a way to help sellers become more productive.
More time selling, less time doing manual tasks. You can be more productive with the existing people that you have, without needing to hire a whole army of salespeople.
Basically, it frees up sales teams to do what they do best: sell.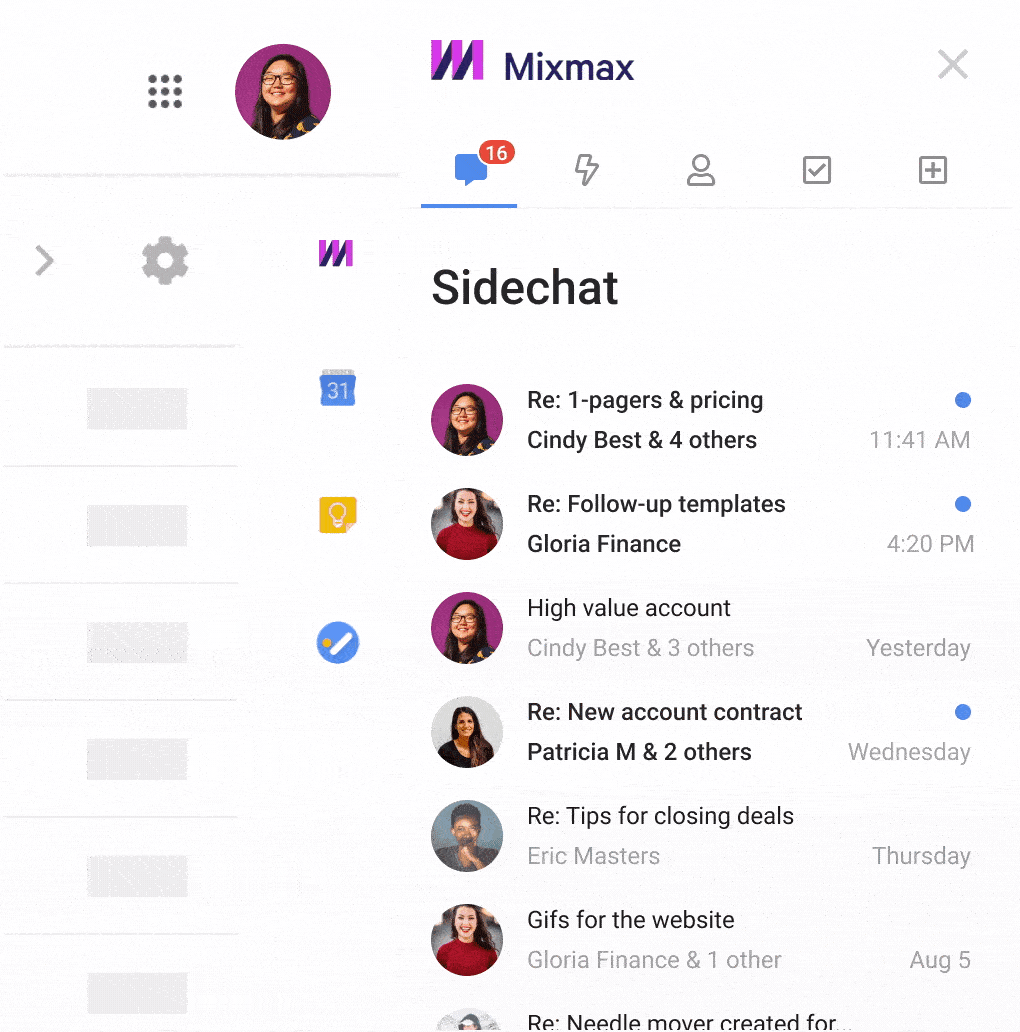 Sales engagement solutions also provide data-driven insights about interactions so reps, sales managers, and VPs can track each stage of the sales cycle and understand how content, messages, and timing shape the buyer experience and the chances of success.
Sales engagement vs. sales enablement: what's the difference?
The main difference between sales engagement vs. sales enablement is that sales enablement is an internal process that supports the sales team. By contrast, sales engagement relates to the quality and quantity of buyer-seller interactions.
Let's break it down some more:
Sales enablement is about:
Multiple departments working together towards the sales team's success.
Providing content, training, and coaching to the sales team.Improving sellers' performance with training, resources, and tools.
Identifying and understanding buyer personas, their challenges, pain points, and journeys and mapping sales plays, campaigns, and content onto them.
By contrast, sales engagement is about:
A process at the deal level, and beyond.
Having the right workflows, data, tools, templates, and sequences for sellers to allow them to spend more time building relationships and less time doing repetitive tasks and guesswork.
Starting meaningful, two-way conversations with prospects.
Removing bottlenecks, like bad data and clunky processes, from having meaningful sales relationships.
Improving buyer-seller communication at scale for better results.
Empowering sellers to be more efficient and productive by leveraging automation and data.
Integrating multiple tools in one place.
Used together, they enable a customer-centric approach that has a positive impact on profitability.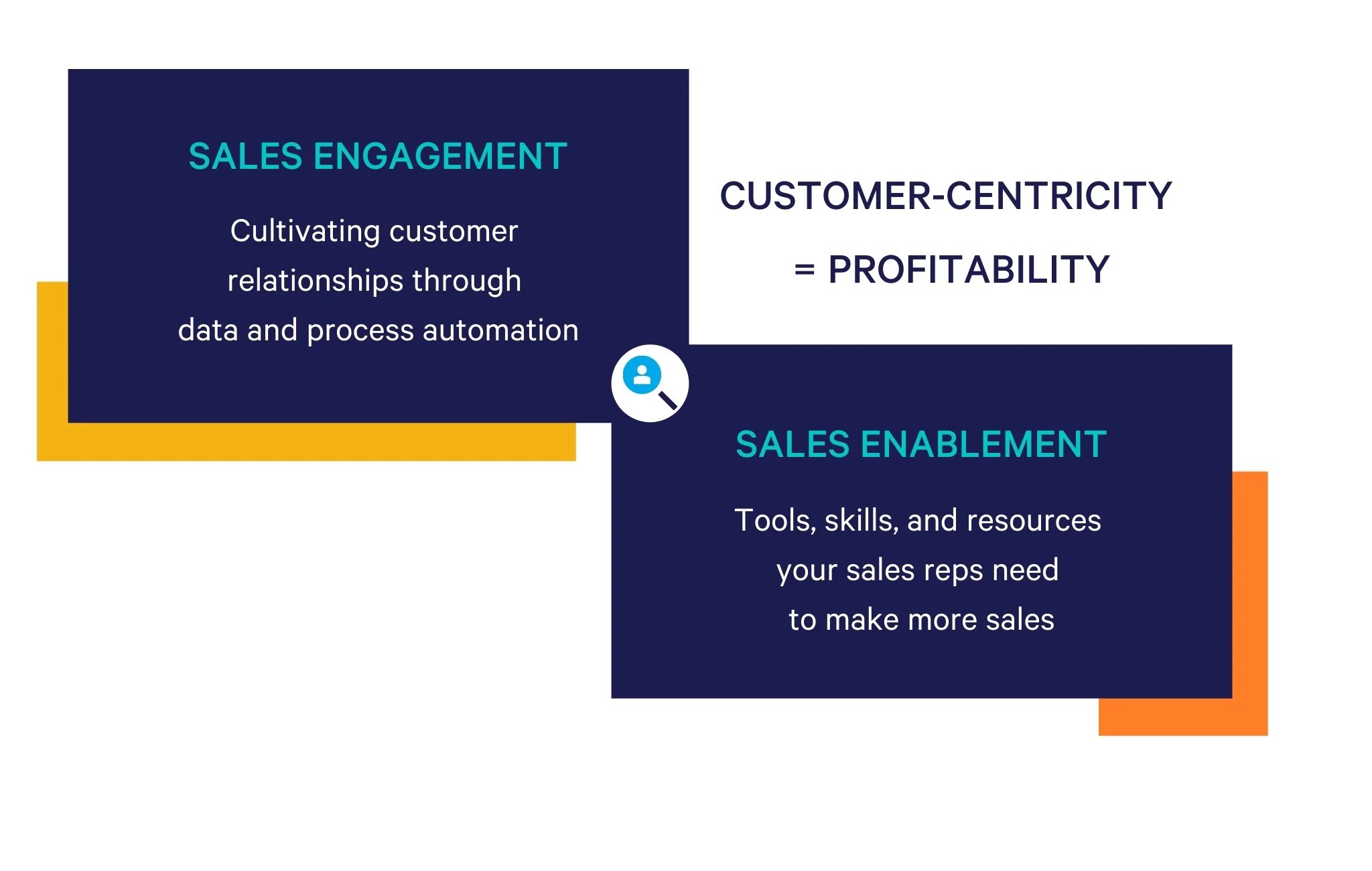 Related Post: 7 Best Sales Engagement Platforms: Reviews, Features & Pricing
Examples of sales enablement
Some companies have a full-fledged sales enablement department that handles all of the below. Sometimes, the responsibilities are shared across different departments. There's no universally agreed roadmap for sales enablement and every company is different, so their needs will vary. However, a few typical responsibilities include:
Defining what sellers need to hit targets
Do they need product information, content, skills training, or best practices? Once you know this, you can set about providing it.
Eliminating departmental silos
You need sales, customer success, marketing, and product aligned to create and deploy coherent, on-brand messages and content. Sales enablement will work across departments to ensure all departments support sales reps.
Aligning the sales process with the buyer journey
Knowing how prospects make decisions, where they get their information, and what objections they raise allows you to configure a customer-centric approach so sellers can guide buyers through the funnel.
Sourcing content and facilitating access
Blogs, infographics, case studies, white papers, industry reports, etc., whatever it is, your sales teams need to be able to lay their hands on the right content at the right time. Sales enablement works with marketing to ensure that there is alignment and the content created can actually help move the sales process forward.
Providing tools
Sales enablement might even be the department that sources your team's sales engagement tools. With an ever-expanding tech stack, teams need to find tools that don't disrupt their current workflow, have all the functionalities they need, while allowing them to improve and scale. Part of sales enablement can be to find these tools and help train your sales reps.
Talent management
Recruiting, training, and retaining the right salespeople is a no-brainer. New recruits need onboarding and training in methodologies, systems, and tools, and everyone needs ongoing coaching and training to stay up to date. Schedule regular assessments and performance reviews and use collaboration platforms to keep everyone in the loop.
Examples of sales engagement
Sales engagement is more than customer touchpoints. Sales engagement, today, is the process of allowing sales reps to improve relationships and removing tedious tasks that take them away from those relationships.
It aims to make sales professionals more efficient (schedule more meetings and opportunities) and effective (accelerate sales cycles, close more deals) by improving personalized outreach and interactions at scale.
Successful adoption of any sales software relies on reps being able to continue using their tools of choice, so a key requirement is:
Integrations with your current tech stack
Sales engagement isn't meant to take sales reps out of their current workflow. A good platform will integrate with common tools like your CRM, email, and social, etc. so users don't have to keep switching between multiple tabs and tools.
Workflow automation
Sales engagement saves time.
That means using message templates, creating sequences and rules, and setting up alerts streamlines workflows, and even using keyboard shortcuts to quickly drop your availability calendar or pull up a list of templates without ever having to click away. It also means automation of data entry tasks, like logging activity in the CRM.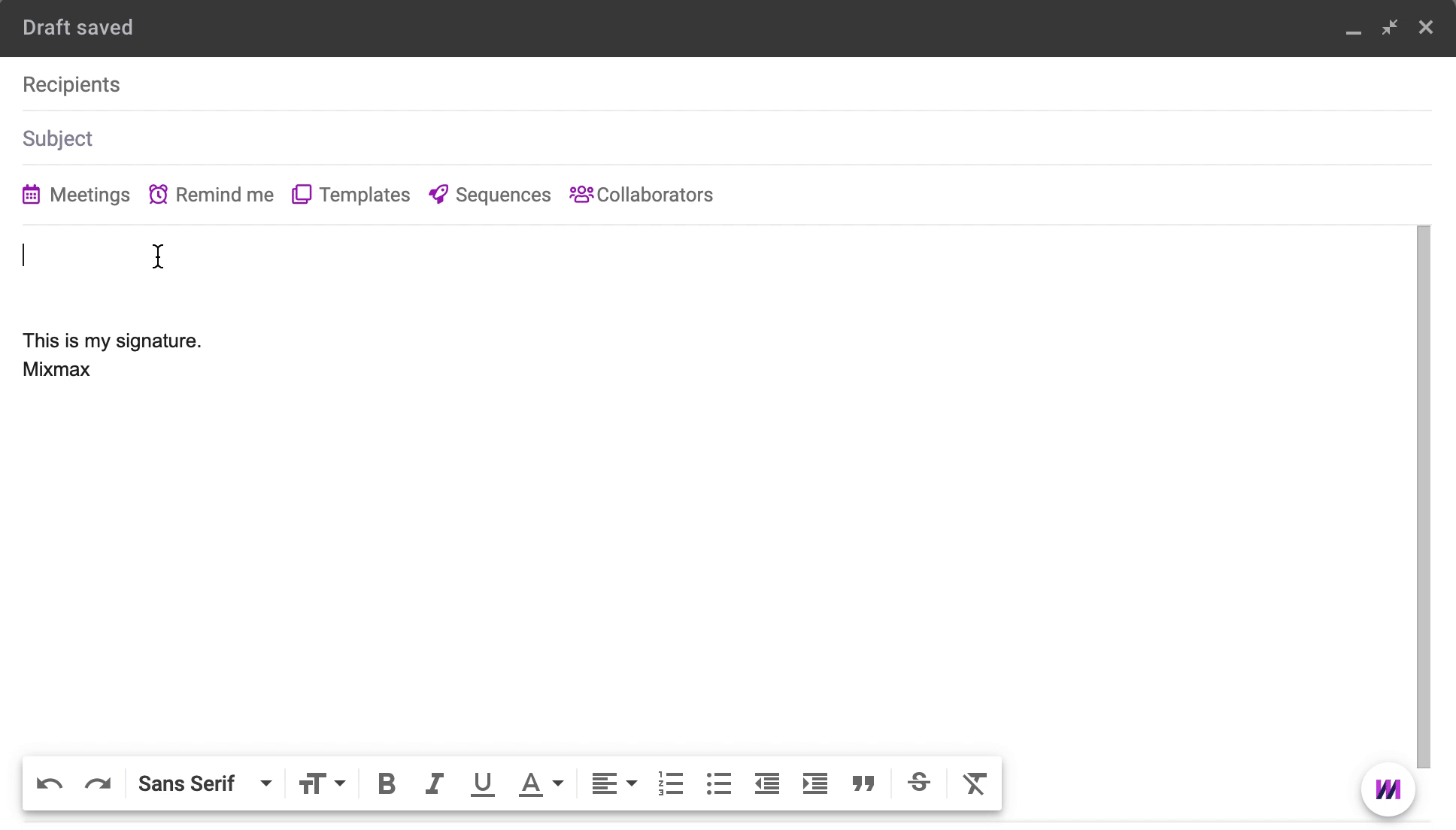 Integration with your CRM system means reps get a heads-up to send a welcome message when a new contact is created.
Slack or email notifications tell them when a prospect has opened their email, answered a survey, downloaded content, or signed a contract. So they can follow up with a Linkedin connection request, next steps, or call while they've got the buyer's attention.
Tracking and data insights
Sales engagement tools allow you to test what works: from subject lines to sequences, and even which personas are more responsive.
How else can you optimize outbound if you don't know which sequences truly engage your prospects?
Having a clear overview of which sequences get the most replies, RSVPs and clicks means you'll get that much closer to having real conversations.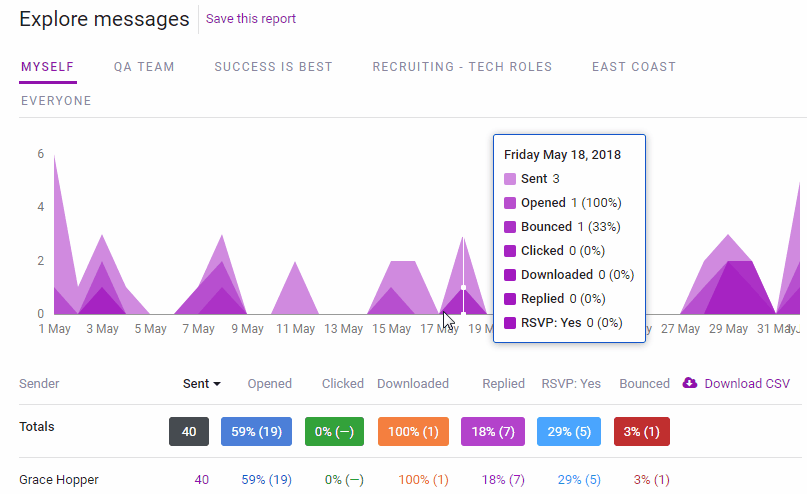 A Mixmax sales engagement insights report
Personalized engagement throughout the buying process
Personalization goes way beyond inserting a prospect's name into an email template.
Even if you're reaching out to 100 prospects of the same persona, they might all be at different stages of the sales cycle. You might know different things about each of them. They might be in different time zones.
Tools like Mixmax allow you to customize each prepopulated sequence and individual template.
It's scalable, yet personalizable.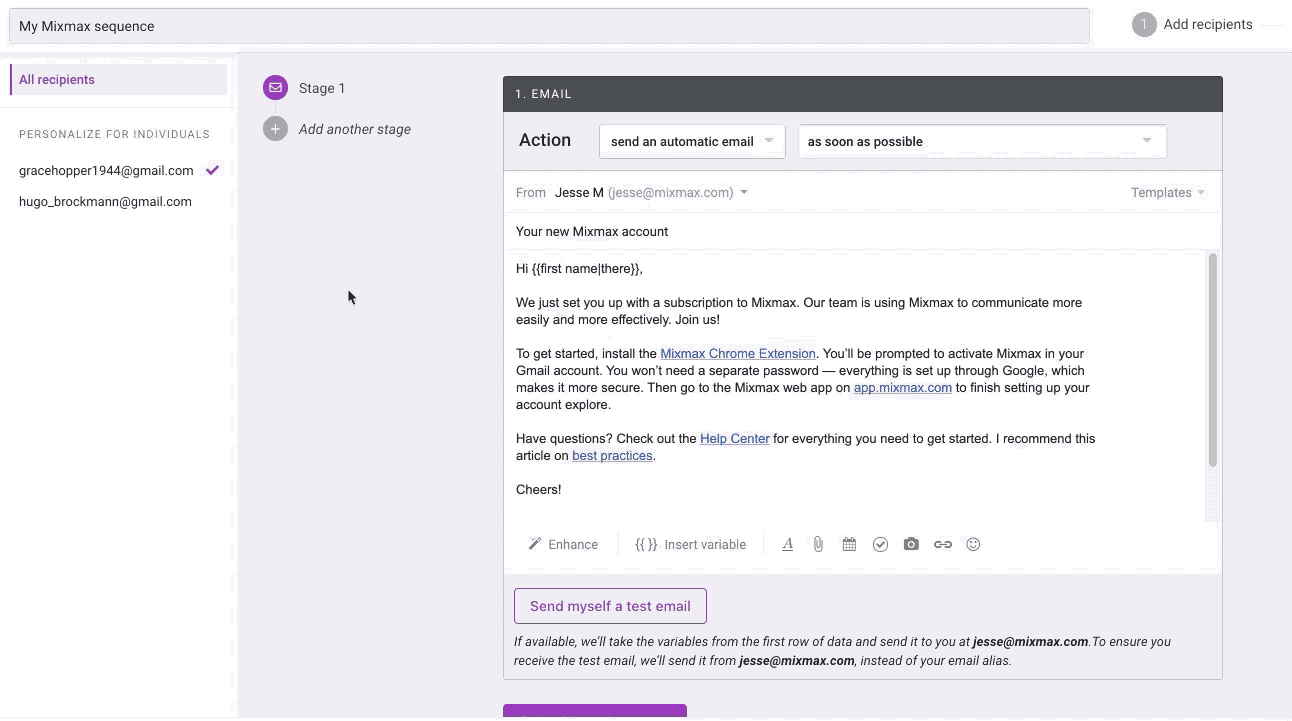 Scheduling tools
Pattern disruption is the biggest challenge for sellers, so anything that can help book more meetings is gold. Features, like in-email polls, embedded calendar sharing, and CTAs, won't guarantee reps will close that deal, but they will improve their chances of getting a response.
Prospects are 20-25% more likely to reply if there's an in-email survey, rather than a written-out question. It looks different, makes the next step more obvious, and takes less effort on their part.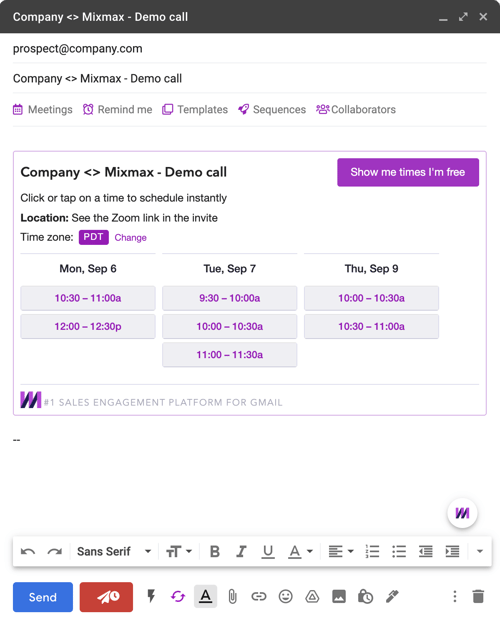 Related Post: 18 Open-Ended Sales Engagement Questions That Help Close Deals Faster
Is a CRM enough?
The short answer is, no. At the end of the day, you don't get insights on what truly improves relationships in Salesforce or other CRMs. And you can't get around manually inputting each touchpoint into a CRM.
Sales reps simply have too much on their plates—and sometimes that means forgetting to put data that could've been crucial. Sales engagement automates this for you, plus shows you what gets real conversations going.
While conversations are the most important part of what sales engagement does—it also saves an incredible amount of time looking for templates, sequences, data, and even finding your calendar link.
The ideal solution is an integrated combo of communications tools, CRM, and sales engagement. This optimizes communication and collaboration across multiple channels, streamlines workflows, accelerates sales cycles, and boosts productivity and response rates.
Sales Engagement vs. Sales Enablement—what's the difference, and when do you need them?
By now, you should have a better understanding of the difference between sales engagement and sales enablement. Working out which you need and when will depend on your teams' goals and challenges.
Ask yourself what problem you're trying to solve.
Is there a disconnect between sales and marketing teams? Do sales reps lack a detailed understanding of the buyer or product? Are they struggling to locate the right sales content at the right time? Do they need access to new channels to connect with prospects? Would sales coaching improve their performance?
If the answer to any of these is yes, you need sales enablement.
By contrast, do you want to spend less time inputting data? Do you want to find out why outbound isn't working and how you could improve it? Do you want to have more meaningful conversations faster and never miss a follow-up?
Then sales engagement is what you need.
Want more high-quality, personalized sales conversations? Mixmax is like a bunch of mini-me's building relationships for you in the background.
Sales Engagement Tools vs Sales Enablement Platforms
Sales engagement tools automate manual or repetitive tasks, which eliminates busywork, streamlines operations, and allows salespeople to have more high quality interactions with buyers.
Some popular sales engagement tools include:
Mixmax

- An all-round sales engagement solution that allows busy sales teams in fast-growing companies to perform personalized outreach at scale thanks to features like customizable sequences, templates, and rules, in-email calendar links, dialer, GIFs, poll, surveys and more.

Dialpad

- AI-assisted video meeting software, sales dialer, and messaging tool that integrates with Mixmax.

Vidyard

- Video software that allows you to easily record, share, and track videos right from your browser, desktop, or phone, and send them via Gmail or Outlook thanks to the Mixmax integration.
Examples of sales enablement platforms include:
DealHub

- Revenue platform that enables connected workflows and streamlined management of price quotes, contracts, and subscriptions.

Mindtickle

- Integrated sales readiness platform that provides sales training, coaching, performance management, and conversation intelligence insights.

Bloomfire

- Searchable knowledge management platform that makes it easy to find, share, and collaborate on your organization's internal knowledge, insights, and content.
Sales Engagement vs Sales Enablement: Final Thoughts
Sales engagement and sales enablement are different concepts, but they're not mutually exclusive. Together, they complement each other and can boost efficiency, productivity, and profitability. But that doesn't mean you have to use both.
The goal of sales enablement is to provide sellers with everything they need to do their job. Sales engagement lets them get on with that job and perform to the best of their ability.
Whether you're looking to invest in sales enablement tools or a sales engagement platform, bear in mind that software for sales teams live and die by the ease of use.
They've got to be easy for all teams to install, onboard, and use without taking up valuable time and resources. You shouldn't have to assign a dedicated person to manage them, or put an enablement program in place so teams can get the most out of them. You're looking to take a load off, not create more work or end up with an expensive solution that nobody uses.
That's why we designed Mixmax as a Chrome download with no learning curve and an intuitive, user-friendly UX, so all your teams can get up and running in minutes and we can start delivering real impact.
Want more high-quality, personalized sales conversations? Mixmax is the #1 Sales Engagement Platform for Gmail.