January 5, 2022
Sales Engagement: What Is It? A Guide For Sales Leaders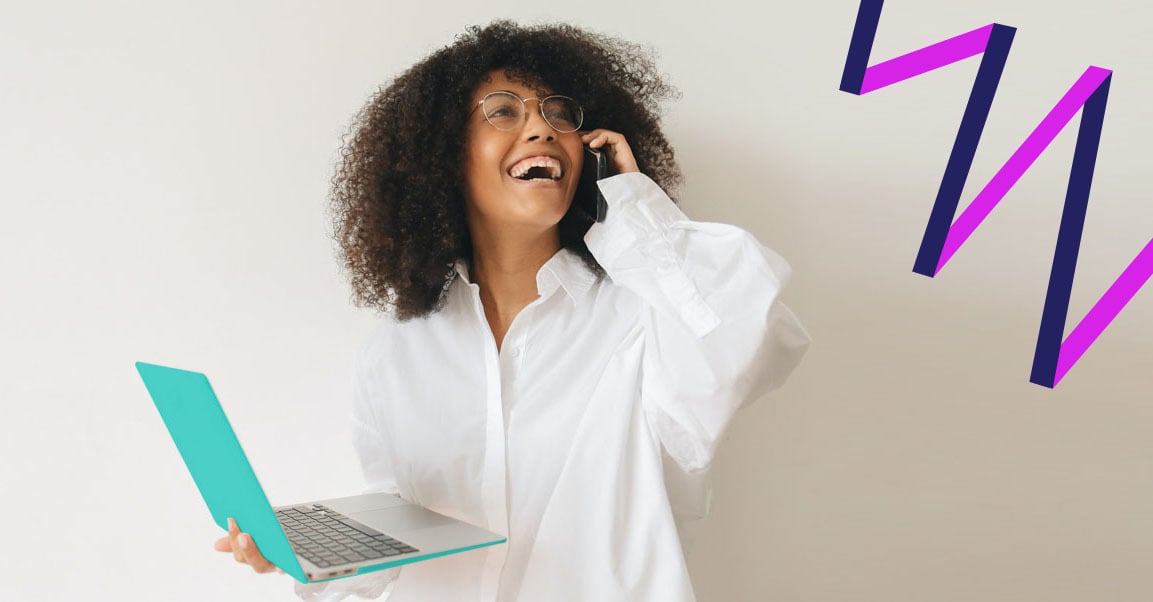 What is sales engagement?
Why is sales engagement important?
How does sales engagement work?
Sales engagement vs. sales enablement
How sales engagement can help account executives
Sales engagement techniques to explore in 2022
Best practices for building an effective sales engagement strategy
Frequently asked questions about sales engagement
The pipeline reviews are in, and for some reason—despite what you thought were qualified leads—you can't seem to eliminate bottlenecks and truly optimize the sales process.
You look at spreadsheets after a bad month, which tell you "if only we hired X more reps or did 10% more activity—we'd hit quota!"
But the solution to missing quota isn't increasing activity that doesn't work.
What you should be looking at after a missed target is the why—why isn't your outbound engaging? Where do the relationships fall off? Which sequences aren't engaging prospects? How could your reps be spending their time better?
That's what sales engagement is.
This work is time-consuming, and a lot of it can be repetitive, whether that's the hours you spend typing the perfect, bespoke email to every prospect on your list, or keeping on top of simple admin tasks in the various tools you use—many of which seem to create additional work instead of reducing your load.
After reading this article, you'll know how sales engagement can help your team book more valuable meetings, get more engaged, two-way conversations, and spend less time on things that can be automated.
We'll cover:
Want to have high-quality, personalized sales conversations? Mixmax is like a bunch of mini-me's building relationships for you in the background.
What is sales engagement?
Sales engagement helps sellers become more productive, spending time on revenue-generating tasks.
It's about using the right tools, workflows, sequences, templates, reminders, tasks—to automate processes that you'd have to do manually, like write out emails or manually set reminders.
Sales engagement is not just prospecting. It's not just sequencing. It goes far beyond the initial reply or meeting—and it's certainly not about taking the sales reps out of their systems of choice, like Gmail or Salesforce.
Real engagement doesn't make your customers or prospects feel like you're talking at them. Rather, it streamlines the two-way communication of the sales cycles, providing you with the necessary feedback for prospects to progress on their journey.
Today, sales engagement workflows can largely be automated. It's a surprise that reps are still using spreadsheets, inputting data automatically, and making their managers pour through old emails and call recordings to diagnose bottlenecks.
Using sales engagement platforms, AEs can automate workflows with multistage sequences and templates while still sending out personal-feeling emails.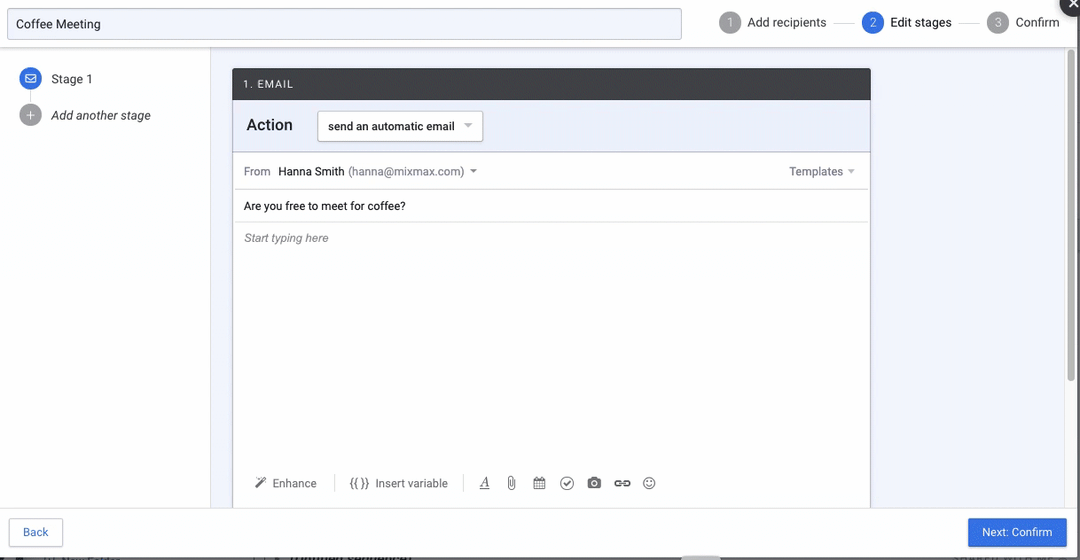 Quick and easy templates allow you to save time on repetitive emails.
Using sales engagement means you have the tools and data to know what sequences, content, and subject lines get replies, downloads, and RSVPs. It means your sales workflow is data-driven, most of your rudimentary (yet crucial) data entry tasks are automated, and reps spend time talking with customers, who talk back.
Why is sales engagement important?
Reps are being asked to do more than ever before. And, these days, even the thought of having to do everything manually needs to be gone from people's minds.
Reps doing everything manually is simply inefficient. Context-switching between tools and doing admin they don't need to be doing is keeping them out of where they do their selling (Gmail), is what overworks them and stops them from hitting quota.
While SDRs might not mind having different tools open, working out of prospecting software like Outreach and Salesloft, AEs live where they communicate with their customers. In Gmail. You don't need to take them out of Gmail to get all the data you need.
They need things like templates and sequences and reminders to stay on top of sales cycles. As soon as you ask somebody to do everything from inside their head or on a piece of paper, or even in Evernote, you're going to lose things.
Modern sellers expect to have a sales engagement solution to be able to do their job at the fullest capacity, rather than spending the day doing repetitive tasks that could have been automated.
Sales engagement tools give you data insights on the whole sales cycle:
Which personas are most engaged
What sequences get prospects to reply and book a time to speak
Where engagement falls off and how to pick it back up
Additionally, sales engagement platforms allow reps to automate tasks that take time away from sales reps being in conversations, like:
Manually grabbing their calendar link (why not use a keyboard shortcut to automatically drop your availability in?)
Inputting touchpoint data into the CRM (we know they're not going to do this anyway)
Except, many sales teams still rely on performing those tasks manually. You could call it old-fashioned sales or you could call it a lack of good sales engagement tools. Whatever you call it: relying on old, manual processes leads to missed meetings or inconsistent notes.
They need things like templates, sequences, and reminders to stay on top of sales cycles because, as soon as you ask somebody to do everything from inside their head or on a piece of paper (or even in Evernote), you're going to lose things.
Sales engagement today doesn't have to be manual. It shouldn't be—most sales professionals expect that area of their day-to-day to be the least of their worries. They know better sales engagement tools exist; tools that enable them to do their job at the fullest capacity and close more deals.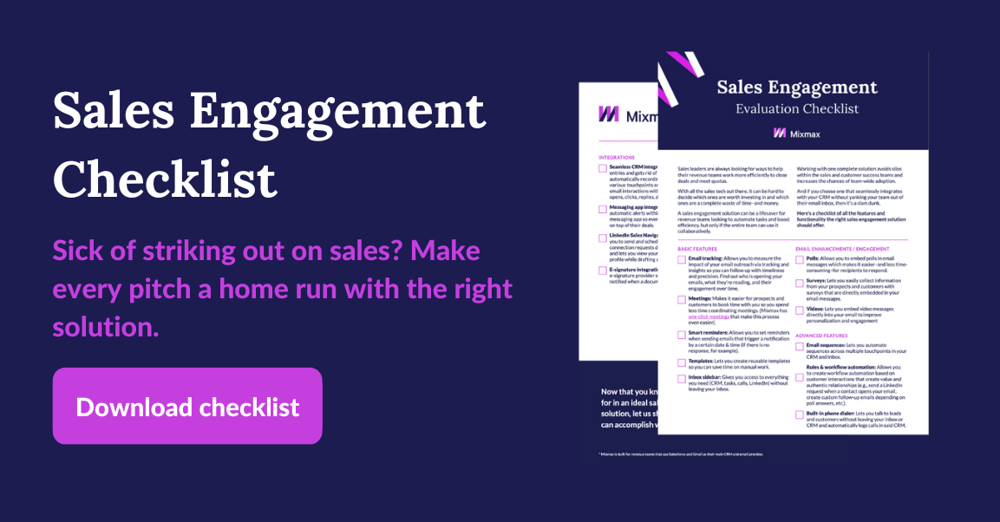 How does sales engagement work?
Sales engagement will work differently for every sales rep—whether you're doing all the prospecting or getting qualified leads handed over to you, or whether you have inbound leads coming in rather than a pure outbound approach.
Additionally, you might be dealing with one contact in a short sales cycle, or have to navigate a 13-month enterprise sales cycle where you engage with (and keep track of) 15 people over the whole process.
That said, there are still some overlapping ways you can improve your sales engagement process. Here's an example:
Sales engagement process example
Some companies still let their reps use Google Calendar, basic email, and spreadsheets. Here's how a sales workflow could look with sales engagement:
Let's say, for purposes of this example, you're qualifying your own inbound leads: one comes in, and you have an automatic sequence going out with a survey asking them qualifying questions: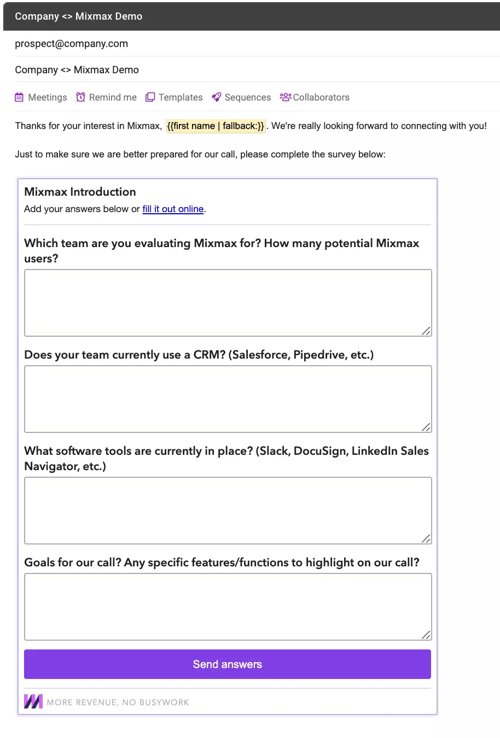 Pattern disrupt. You've caught their eye and they respond! You drop your availability in the email (with a slash command shortcut, of course), so you have full control of when the demo is booked.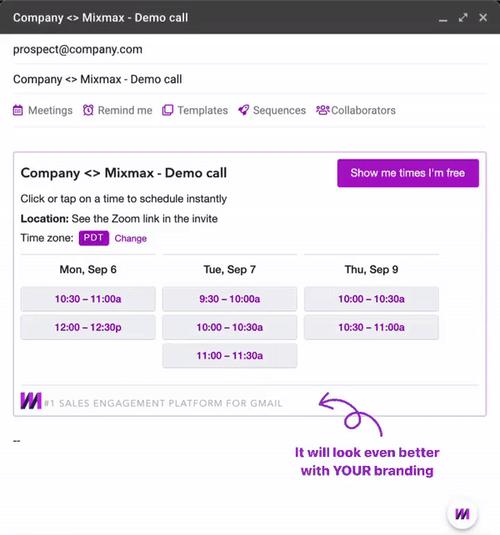 🚀

Did you know? With Mixmax, you can use slash commands to automatically add your availability into an email.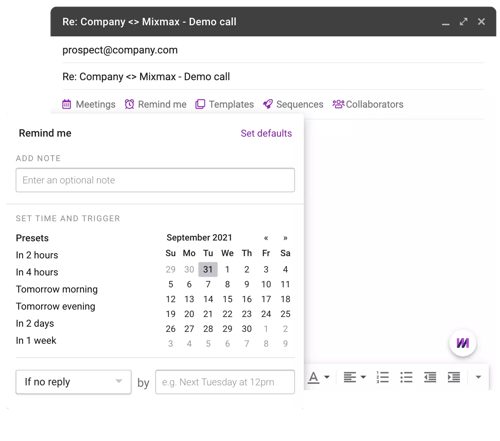 If they book the demo, no need to scramble and find the right assets. You already have a rule set to send your sales collateral to the prospect 15 minutes after they've booked a demo.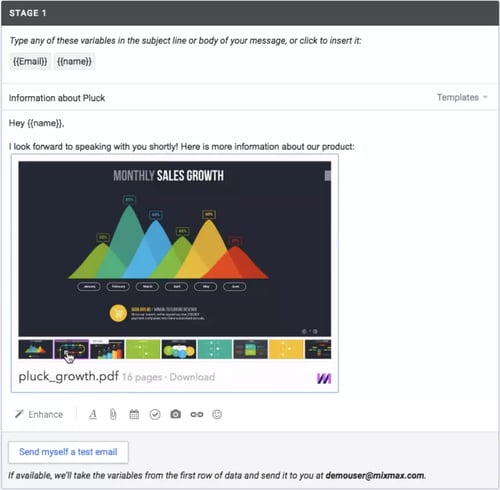 If they download it, you get notified on Slack so you can come to the meeting prepared.
Meanwhile, every single one of these interactions—including how the prospect responded to it—is automatically logged into Salesforce.
Get the picture? With all this already being done in the background, the AE can focus on researching the prospect and preparing for the call.
Sales engagement vs. sales enablement
These two concepts can sometimes get confused, so now you know how the sales engagement process works, we want to touch upon the concept of sales enablement and how the two are connected. Sales enablement is the internal, operations side of helping sales, while sales engagement works at the deal level.
Both help sales organizations keep the pipeline full. Both help sales reps become more productive. Sales engagement and enablement work best when combined, even if they work slightly differently.
When we talk about sales enablement, we mean:
Content management
Training and coaching
Document automation
Sales enablement is about providing sales teams with the right information, content, and tools to engage the prospects meaningfully. Sometimes, sales enablement departments use sales engagement tools to diagnose where reps are lacking skills.
So the endgame is the same: empower salespeople to achieve more for less.
Sales engagement examples
Some examples of sales engagement include making reps more efficient and effective by:
Automating workflows and using rules to determine the next action to take.
Using message templates and multi-channel sequences to personalize outreach at scale and stay on top of follow up.
Sharing your availability with in-email calendar links.

Using polls, surveys, and CTAs to make it easier for prospects to respond.
Automating manual or repetitive tasks like looking up numbers and dialing, logging sales activity, and creating customer records in your CRM.
Setting up Slack or email notifications so you know when a prospect has opened your email, answered a survey, downloaded content, or signed a contract.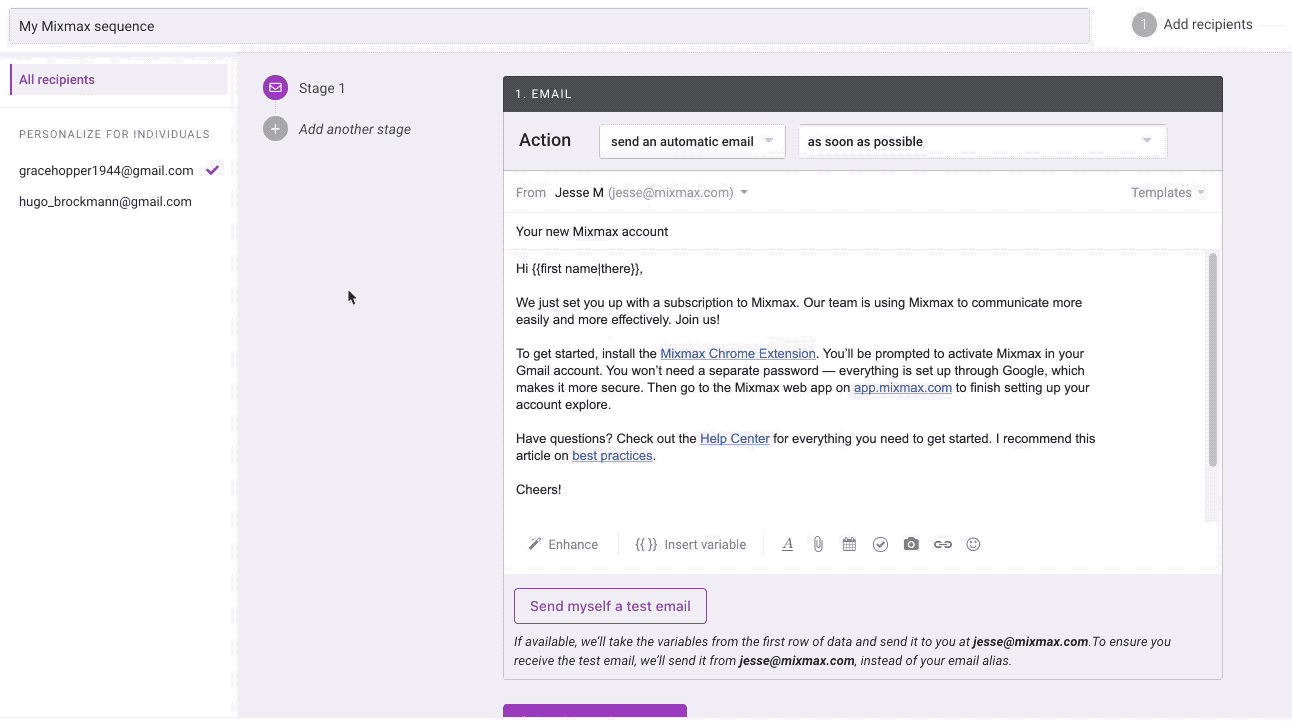 How sales engagement can help account executives
A concern that sales managers may have, with employing sales engagement, is that people are just going to automate everything.
When you do that, prospects aren't going to reply.
It's important to have customizations or and to be able to personalize your emails efficiently. Tools like Mixmax allow this type of workflow automation to help sales reps stay focused, save time, and personalize what's important.


Workflow automation rules ensure nothing gets overlooked
Here are ways sales engagement can help sales reps:
Become more data-driven
Sales engagement tools provide data on what works.
Specifically, on what gets prospects more engaged.
There's no reason you shouldn't be analyzing your conversations, know which are your top-performing sequences, templates, subject lines, personas, and everything you do in your outbound and inbound sales flow.
Marrying your engagement data with revenue is how you accelerate revenue. Plus, reps should be optimizing to eliminate bottlenecks weekly, or monthly—not quarterly. Sales engagement platforms make this easy.
Engage with interactive content
Sales engagement doesn't mean sending emails and making phone calls. That's just prospecting at people.
Using interactive and well-timed emails, prospects can be a part of the conversation. Not only does it disrupt the pattern of the same sales emails they see daily—you're sending them right when they're thinking about you. Additionally, having embedded content that invites prospects to click and interact with means they're a part of the conversation.
With data at hand, you'll be able to test what kind of content gets more engagement.
Integrate sales activities with your tech stack
From a workflow perspective, the first question you're always going to ask is "does it integrate with my current tech stack?" The whole point of sales engagement is to improve your workflow and work with what you already have.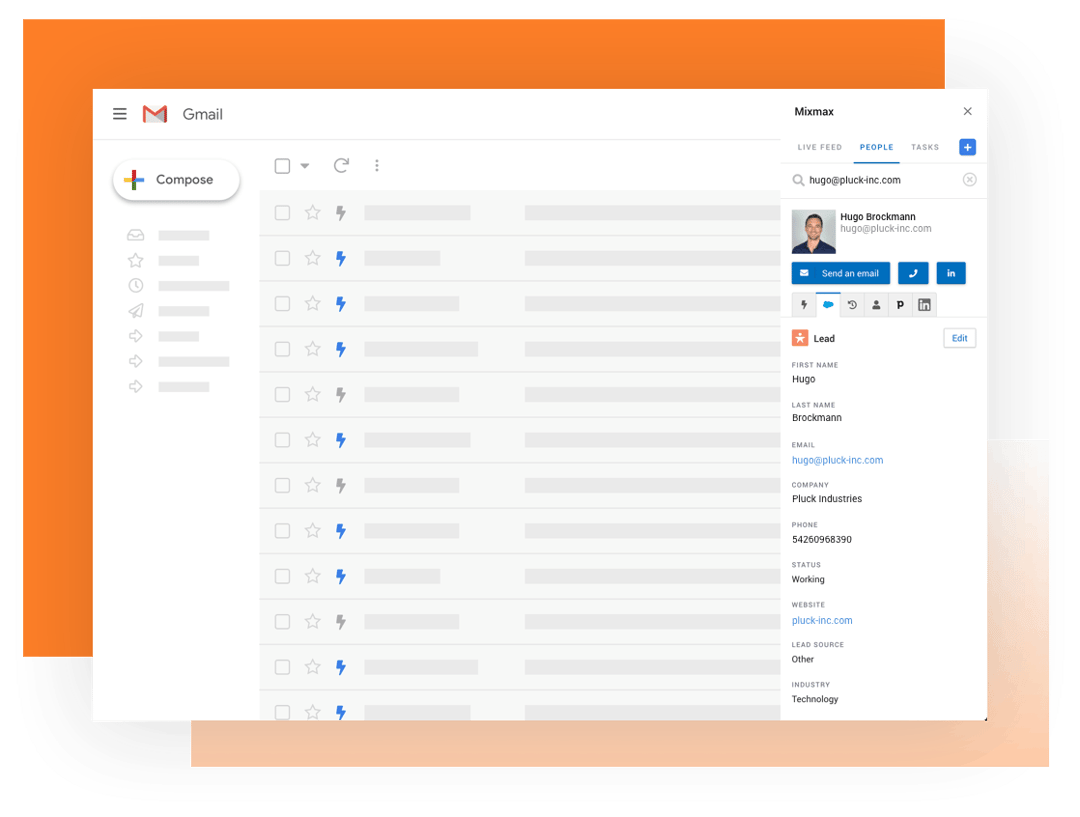 Mixmax Sidebar enables reps to craft the perfect message using social & CRM insights about the prospect without leaving Gmail (+ complete their daily tasks and update Salesforce)
Mixmax, for example, integrates seamlessly with many industry-leading tools, such as:
Salesforce - native integration to ensure consistent, accurate data
Gmail - do everything directly from Gmail, and head of sales still gets all touchpoints their Salesforce reports without any extra data entry work from the AE
Pipedrive - reduce manual data entry and tedious admin work
Dropbox - seamlessly convert files into attachments
Giphy - because a good GIF is a great way to get the most non-responsive prospects to respond
Vidyard - send personalized videos in a single click, right from Gmail

Book more meetings
There are lots of theories about how to get more meetings. Some say you should just send a calendar meeting and ask the prospect to adjust as they see fit. That still takes the control out of the rep's hands, and we think reps can do better than that.
Having control over availability with one-click scheduling provides the prospect with the choice, without taking them out of their email, and keeping you in control of the relationships.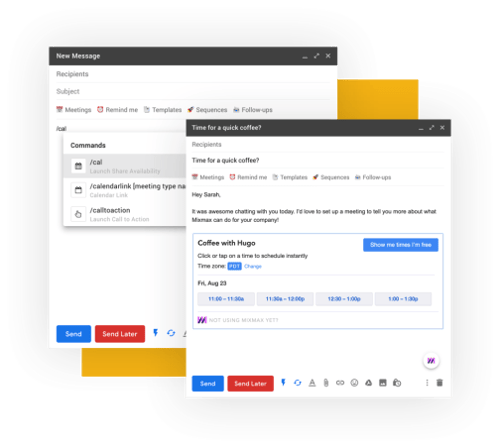 One-click scheduling makes pinning down your prospect as painless as possible
Sales engagement techniques to explore in 2023
Here's what you can do to get more engaged sales conversations and have more productive sellers:
Save time with keyboard shortcuts
Use slash commands for everything from adding your calendar availability to a preferred (and tested!) sequence, or even just a GIF: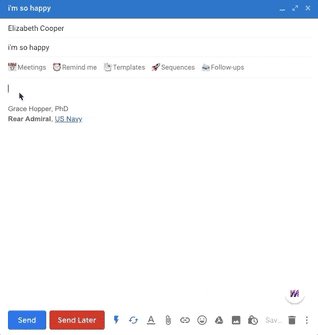 Personalized video
Not only does video stand out against noise, but it also just works. Personalized video in sales has been known to 3x response rate. You can use personalized video to follow up (after you've closely listened to your prospect) and show them how your solution solves their specific challenges.

You can use them to follow up for meetings and remind the prospect why they were following up. And finally, it adds a personal touch—it's hard to ignore someone who's recorded a video especially for you.
Did you know? Mixmax lets you embed personalized videos right in Gmail, with only a single click.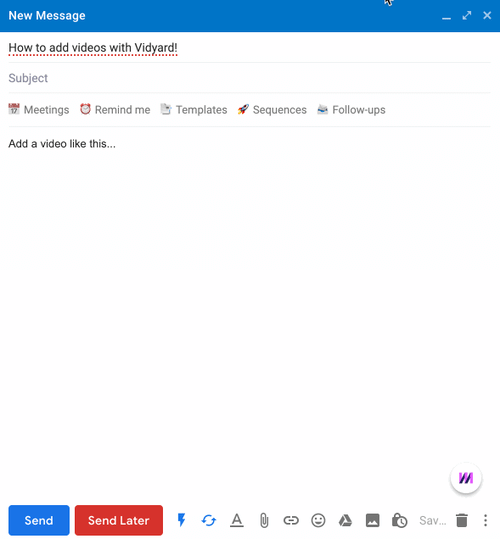 Set rules for when key stakeholders download or open
Set rules to get notified on Slack when key stakeholders have watched your (personalized) video or downloaded a sales enablement asset. Follow up with them right when they're thinking of you.

Polls & surveys
We've already talked about embedding polls and surveys into your email body, but we'll talk about it again because they're a fantastic way to encourage customer interactions and gather critical feedback. We found that embedded polls increase the response rate by 20-25%.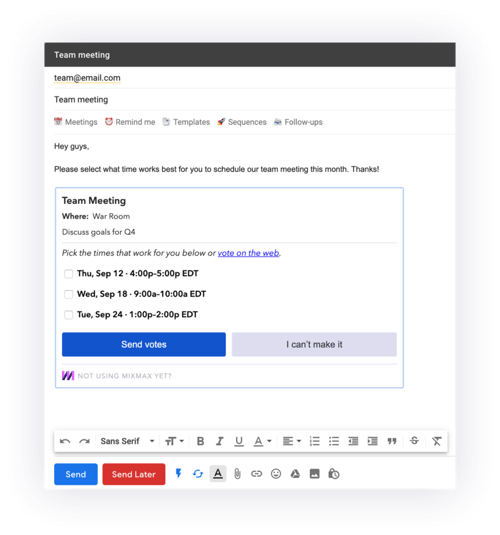 Email surveys simplify the planning of team events

Time your follow-ups for when you're top of mind, not an arbitrary date
Right now, you might be setting reminders in your calendar. You'll follow up when that time comes, without any idea of where your prospects' head is at.
It's guesswork at best.
Instead, you could get notified right when they've opened your email a certain number of times, and follow up at the right moment.
Sales engagement platforms
Some popular sales engagement platforms include:
Mixmax – Competitively priced plug-and-play solution designed for AEs, SDRs, and CSMs in fast-growing companies to collaborate and personalize at scale over multiple channels right from their Gmail inbox. Features include customizable sequences and templates, and in-email polls, surveys, CTAs, and calendar links. Integrates with Salesforce, Google Calendar, Slack, Zoom, Dialpad, Vidyard, DocuSign, Pipedrive, and more.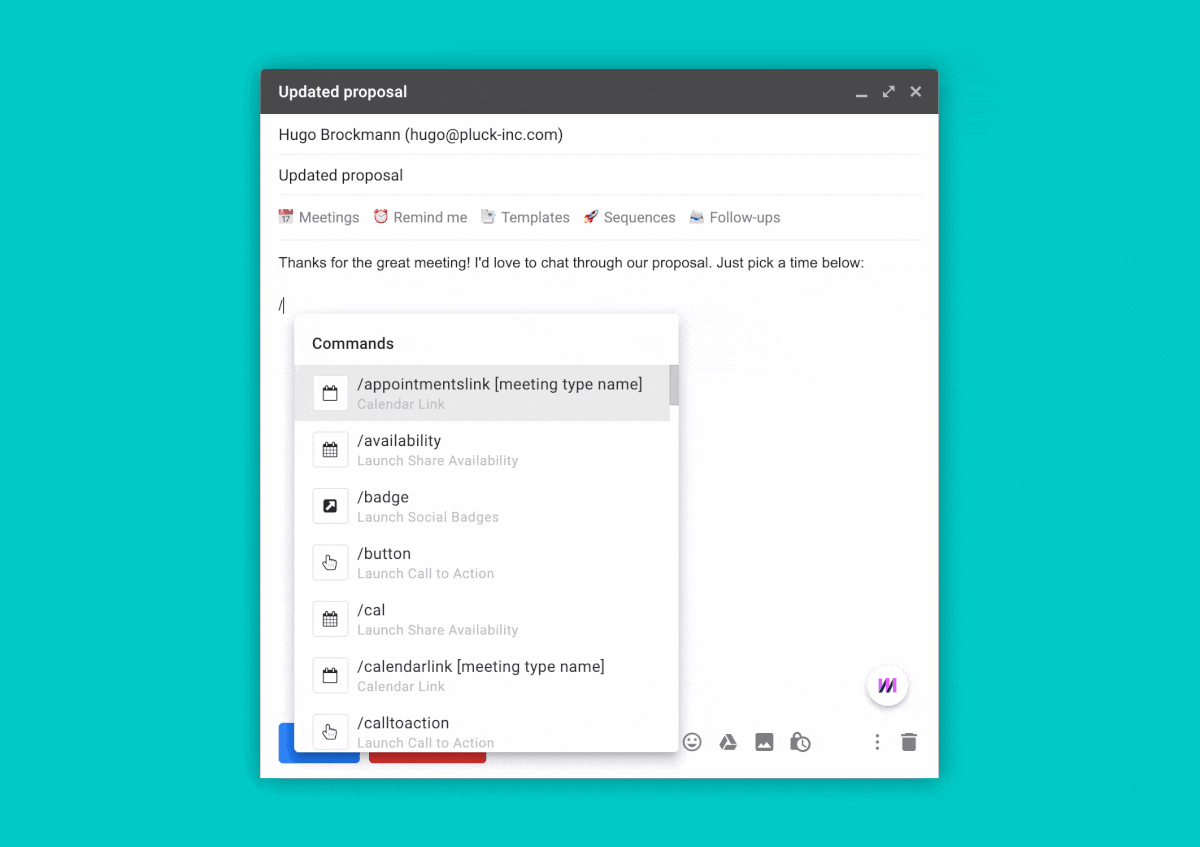 HubSpot Sales Hub – Primarily a CRM, but includes useful features to enable engagement, automation, customization, and insights. It integrates with HubSpot for Marketing to get Sales and Marketing on the same page for more effective inbound prospecting.
SalesLoft – Designed for SDR teams with insights and intelligence to facilitate prospecting with features to streamline and personalize outreach, book meetings, share content, and track performance.
Best practices for building an effective sales engagement strategy
At the end of the day, sales engagement means having data-driven, two-way conversations.
If this is something you want your team to improve, there are a few best practices that can put you on the right path:
Assign a sales engagement champion—someone who will hold the team accountable to hit engagement metrics.
Meet with your team and map out all your current touchpoints and review email templates and sequences, if any, to include in your new process.
Prepare for analyzing and optimizing results—set engagement goals and prepare to test one variable at a time.
Create a scalable structure and taxonomy for sequences—agree on this with the whole team.
Check with marketing or sales enablement for a content repository to help in the sales engagement process.
Test the content! If only 2 out of the 100 white papers marketing has created truly help close a deal, there's no need to keep sending the other 98.
Frequently asked questions about sales engagement

What is the best sales engagement platform?
It depends on your needs and your current tech stack. If you need something that integrates seamlessly with Gmail and Salesforce, Mixmax is for you.

Does sales engagement make it easier to close a deal?
Sales engagement allows you to be more consistent in your sales process and will allow you to spend time on things that can't be automated, like building relationships. So, if you think you'd close more deals if you didn't have to spend so much time doing repetitive tasks, and having more data about your prospects and what's working in your sales process, then yes.

What is there beyond sequencing?
It's important to note that sales engagement doesn't stop at prospecting and email sequences. A real SEP will organize reps' daily workflows, so they don't need to switch between multiple tabs to complete a task. It will also give them the tools they need to enhance customer experience at each stage of the buyer's journey while still being super personal.
Want to have high-quality, personalized sales conversations? Mixmax is like a bunch of mini-me's building relationships for you in the background.