February 1, 2022
What is Sales Automation? The Definitive Guide
What is sales automation?
Benefits of sales automation
What part of the sales automation workflow can be automated?
How does sales automation work?
Sales automation vs marketing automation
B2B sales automation vs. B2C sales automation
Best sales automation tools: building your tech stack
Building your sales automation machine
You've decided to automate parts of your sales process, go you!
How you build and scale your sales automation workflow will massively dictate the success (and adherence) of your sales reps.
But where do you start with automation? And more importantly—where do you stop?
There are many things that robots are better at than humans are, and that includes:
Pulling data together
Keeping track of conversations and files
Enriching data
Checking in with customers that have gone quiet
Reminding you that you haven't followed up on an important email
Dancing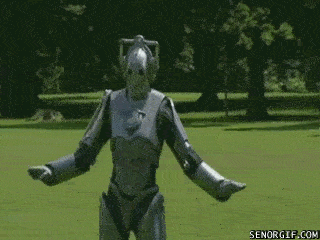 Okay...maybe humans still have the upper hand over dancing—but for some reason, human sales reps are still handling a lot of these tasks regularly when robots can do them better. Those should be automated.
Just like dancing, humans are better at creativity, empathy, and developing relationships with other humans.
So if you're trying to build a workflow that combines the unique capabilities of humans and robots, this article is for you.
After you read this, you'll have a clear understanding of:
Want to have high-quality, personalized sales conversations? Mixmax is like a bunch of mini-me's building relationships for you in the background.
What is sales automation?
Sales automation means automating manual tasks that a robot can do (routing and nurturing based on actions taken) and not automating the things that should be done by a human (customization, relationships, messaging, empathy).
Data from Salesforce shows that top performers automate repetitive tasks, including logging customer notes, managing admin tasks, and generating proposals (see below).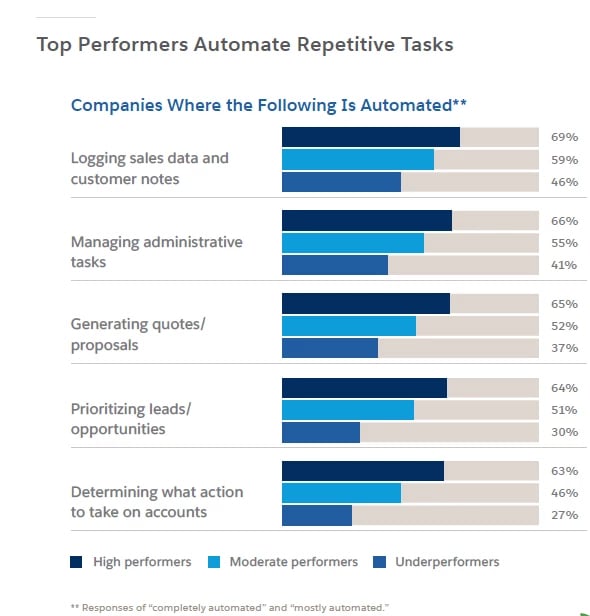 Sales automation leverages software, AI, and other digital tools to automate and streamline time-consuming tasks and steps in the sales process.
There is no one perfect sales automation tool—it's about leveraging a suite of tools the right way and being smart, curious, and caring about the people you want to sell to, using technology to help you have more time to talk to those people at the right time.
Or, to put it another way, sales automation enables true sales engagement.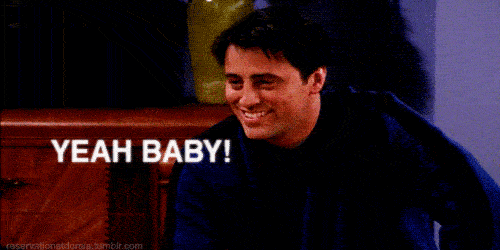 Benefits of sales automation
On top of having sales reps that love their jobs and more zeros in the bank account, other benefits of sales automation are that it:
Improves sales productivity and efficiency by automating administrative tasks, eliminating busywork, and optimizing time and use of resources. All of which reduces the cost of sales. So, double whammy.
Frees sales representatives up to perform the high-value tasks only humans can do—like asking

open-ended sales engagement questions

—that boost their chances of closing the deal.
Enables personalization of interactions at scale and increases customer-facing time.
Helps achieve pattern disruption and reduces friction, making it more likely prospects will respond to messages. Which, at the end of the day, is the holy sales grail.
Makes it easier for reps to organize their daily workflows for greater productivity, prioritize and nurture prospects, and stay on top of follow-up so there's less risk of dropping the ball.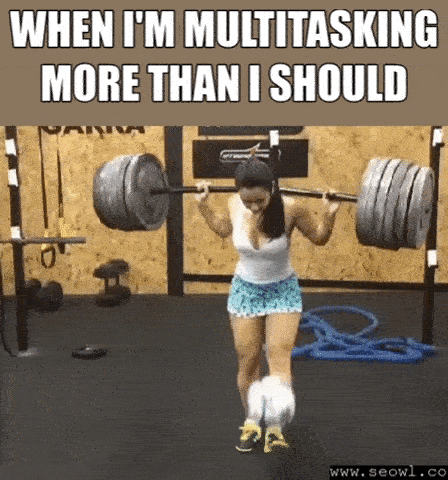 Streamlines and unifies the sales process and accelerates response times, which translates into more satisfied and engaged customers. And who doesn't want more of them?
Simplifies onboarding of new team members with repeatable, scalable processes and better data hygiene and record-keeping.
Provides a 24/7, 360o overview of sales activities, performance, and pipeline health for more accurate forecasting and decision-making.
Unlocks additional revenue by automating outreach to existing customers and prospects.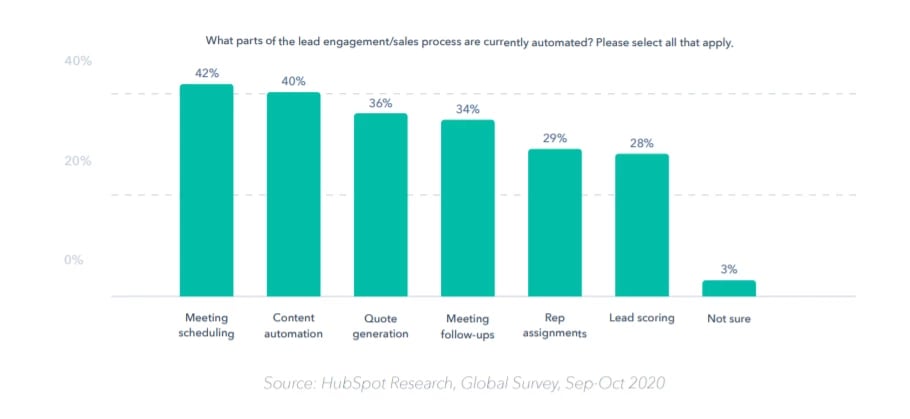 Image source
What part of the sales automation workflow can be automated?
At the end of the day, tools are just tools, and you need to build out a workflow (that people actually follow—and that actually works) to get the automation to actually work.
Let's talk about building out your sales workflow and your tech stack.
Here's what an automated flow can look like for a full sales cycle:
Lead generation
Most of the lead generation and prospecting can be automated. You can use a combo of tools like GetProspect, Zapier, LinkedIn, and Mixmax (as gracefully demonstrated in the video below) to literally not have to spend time doing this.
Lead and contact capture
Leads come in all shapes and sizes: via your website, a connection at an event, a response to outbound activities, etc. When they do, sales automation tools sync with your customer relationship management software (CRM) so reps don't have to manually perform data entry or upload contact information. (Trust us, they're going to love you for this.)

Mixmax Autocreate, for example, identifies the emails of any outbound campaign recipients not in Salesforce and automatically syncs lead and contact data so everyone has access to up-to-date information.
Lead enrichment
Tools like Clearbit leverage artificial intelligence to gather information from thousands of data sources and provide up-to-date profiles of prospects, analytics, and next-step recommendations.
Lead scoring
AI-driven insights from tools like MadKudu create detailed profiles based on buyer behavior, interaction preferences, etc. so reps can prioritize tasks and accounts based on how likely prospects are to convert. No more head-scratching.
Scheduling
Getting your meeting on their calendar is the name of the game. Features like Mixmax's in-email calendar links reduce friction by eliminating the tedious back-and-forth involved in setting up meetings, which your prospects will thank you for.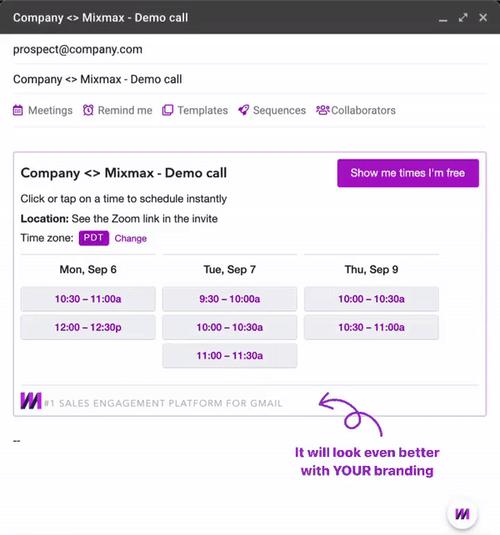 Activity tracking & record keeping
Two-way sync of all sales activities to your CRM eliminates busywork and makes it a source of truth. Forever and always.
Personalized interactions at scale
This is where it really gets interesting, and where the human element plays in with the robot one.
Customizable, multi-channel sequences allow you to set up and schedule email campaigns targeted to specific personas and automatically add new leads to a sequence. That means you can click open any sequence and add customized segments to each, so it looks like you, the kind human, wrote every email.
Customizable email templates that autofill with CRM data means reps never have to write the same email twice and can focus on personalizing communications instead. With features like Mixmax's sidebar, they also have prospect data to hand in Gmail, so no more switching between tools and tabs.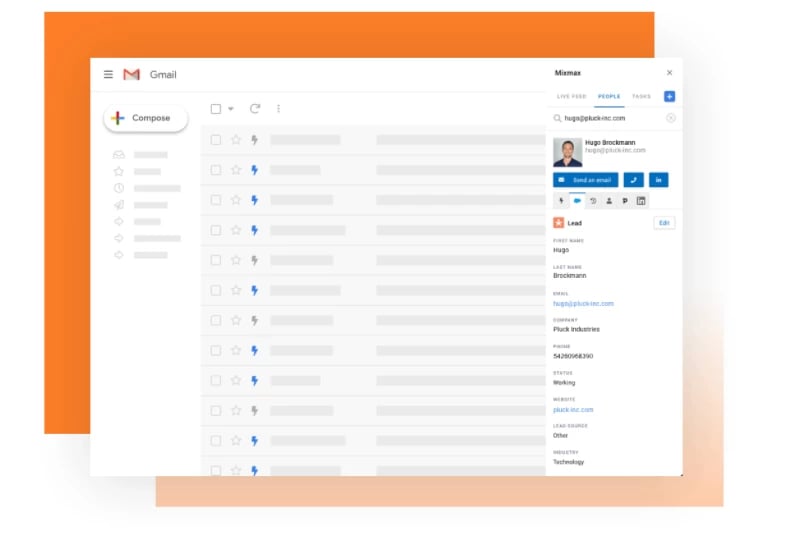 Tracking and performance insights (open, bounce, download rates, etc.) allow reps to see what's working and share top-performing messages with other team members.
Real-time alerts tip sellers off when a prospect opens their email, downloads content, etc. so they can follow up with precision.
Smart sending features, like best-time-of-day scheduling and auto-delay sending, get your messages in front of prospects when they're most likely to respond, and ensure communications never feel automated.
"Give me more emails to read," said nobody ever. Pre-recorded voicemail drops can be added to email using Mixmax, helping you save time, put a personal spin on messaging, and give everyone a break from all that text.
In-email polls and surveys simplify lead qualification and information gathering and help achieve pattern disruption.
At Mixmax, we love funny GIFs that help messages stand out from the inbox crowd, put a smile on prospects' faces, and gently nudge them to respond.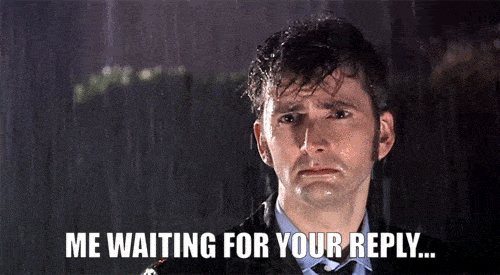 Quoting & proposals
For complex, highly configurable products, configure-price-per-quote tools like Qwilr save time and ensure error-free pricing by taking into account multiple variables, and feature templates that automatically populate with prospect data.
Workflow automation
Create individual or organization-level rules across multiple sales tools to standardize and streamline the sales process so reps never let a warm lead get chilly.
With Mixmax rules, sellers can set up alerts to follow up with a call or send a LinkedIn connection request, sales collateral, or a thank you when a prospect takes a particular action. They can also automatically reassign accounts and alert individual team members as prospects move through the cycle.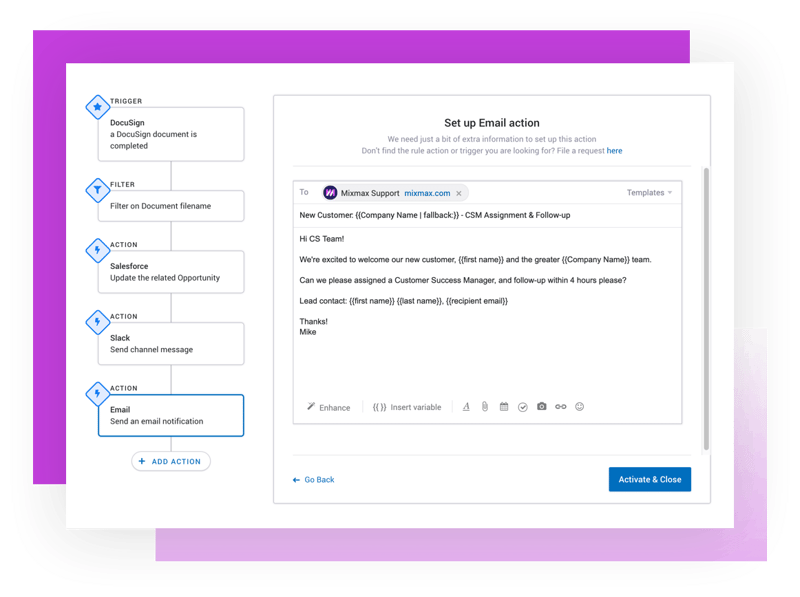 Sales forecasting & reporting
AI-powered insights and performance tracking of emails, calls, campaigns, teams, reps, etc. provide a full overview of sales pipeline health so you can identify at-risk deals, forecast accurately, and tweak strategies.
How does sales automation work?

Step 1 - map out your sales workflow.
Step 2 - ask yourself which of the steps need a human.
Step 3 - have robots do robot things.
Step 3 - ask yourself "am I a robot?"
Step 4 - stop doing robot things.
It's nearly that simple—but it's really about looking at your workflow and then picking the right tools to support your team.
There are 5 sales automation stages:
Prospecting
SDRs are focused on generating demand and performing outreach, so they need automation around sourcing and qualifying leads, and outreach.
Start by using prospecting tools like LeadIQ and Lusha, which make it easy to source and verify lead contact details and data.
Then, for outbound prospecting, set up automated email sequences in Mixmax targeting a segment of prospects in the CRM. If someone responds, they can be taken off the sequence.
A sales engagement platform like Mixmax also allows reps to customize email templates with autofill CRM data, access prospect data right in their inbox, and perform personalized outreach at scale. Scheduling tools reduce the friction involved in nailing that first meeting with the AE.
To optimize your sales emails, there are writing assistants like Lavender, which compares your sales emails to millions of others and gives suggestions. Dialers like Dialpad and Aircall also automate finding and dialing numbers, and provide helpful in-call recommendations and post-call insights, among many other functions.
And if you need to include a sweetener to get noticed, what better than smmart gift-giving platforms like Alyce?
Selling
AEs are tasked with moving individual prospects through the sales cycle so they require automation that helps create highly personalized, attention-grabbing buyer experiences based on real-time engagement.
Once a prospect has been handed up the chain, AEs can use customizable email templates to schedule nurture sequences and share content to educate the prospect about your offering. Polls, surveys, and CTAs help gather information about pain points and needs that can be used to tailor the offer.
There's a lot to keep on top of, so workflow automation ensures nothing slips through the cracks. Real-time email tracking also tips them off when a prospect opens their messages or downloads content, etc. so they can follow up while top of mind.
If they're using Mixmax, they don't have to even open up Slack to pretend to internally negotiate a deal ("let me just check with my manager on that 10% discount")—they can do it right in Mixmax's Sidechat on Gmail, where everyone in your workspace can easily get access to the conversation you're having.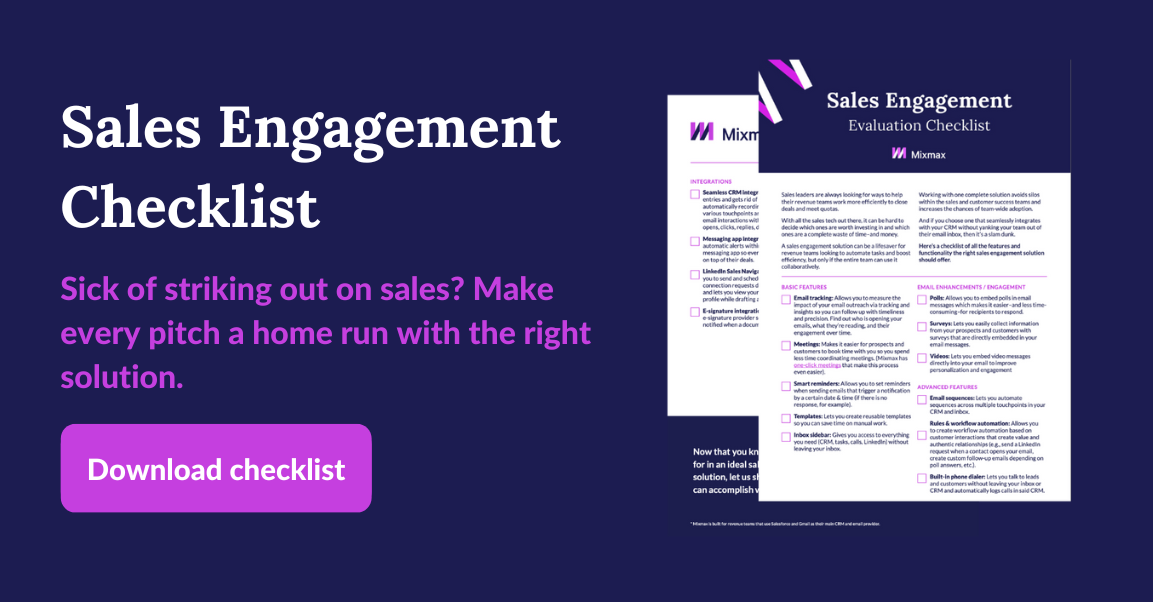 And to know how that conversation went, you'll want a conversation intelligence tool like Gong (more on this below). Sales enablement tools like WorkRamp (a learning platform for sales people) also help ensure your sales techniques are on point.
Finally, all that activity needs to be logged, which is nobody's fave task. Fortunately, Salesforce updates can also be automated thanks to tools like Dooly.
Closing
Once the prospect is ready to buy, AEs can just click a button to configure price per quote or start the contract review and approval process, saving them just enough time to hit happy hour to celebrate the new close.
Mixmax also allows AEs to queue up personalized thank-you emails to send when a new customer signs the contract in DocuSign, and set up custom email sequences for a smooth onboarding.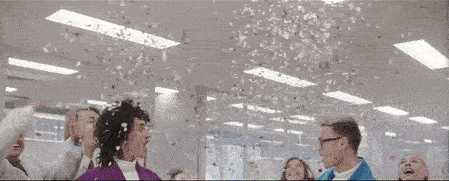 Renewal
Automated alerts and up-to-date CRM data ensure a smooth handover to customer success. They can now automate renewals, use email templates to engage at various points in customer's relationship with the product, and set up alerts to check in regularly and boost retention.
Expansion
Existing customers are a valuable source of additional revenue so sellers need to be able to leverage accurate data and insights to identify customers to target with customized upselling or cross-selling offers. They can also automate reminders to ask for a referral after an appropriate interval.
Sales automation vs marketing automation
Marketing and sales automation can both drive revenue, but they're not the same thing. Which is right for you will depend on your business model, stage of growth, and needs, among other factors.
Here's how they differ:
Marketing automation is unidirectional and designed to target large numbers of potential or existing customers with messaging that creates demand for a product or service. Or, in layman's terms, marketing automation is getting people onto an email list and sending them email marketing. Sales automation is moving people down the pipeline with technology.
Sales automation is not the same as sending Mailchimp emails.
Marketing automation tools enable streamlined, repeatable one-to-many outreach, like newsletters, event invites, etc. Also, creation of lead magnets, landing pages, lead capture forms, and more.
But here's the rub: Marketing automation is great for capturing leads and nurturing them to the point when it's time to speak with a person. But it lacks the flexibility required for the personalized, one-to-one conversations that help convert prospects into customers.
By contrast, sales automation is all about enabling personalized, one-to-one multi-channel communication at scale. It's what happens when people are raising their hands for demos.
Sales automation tools ensure the leads that are generated by marketing are handled quickly, effectively, and consistently by sales teams. They also allow for tailoring sales collateral and messaging to individual prospects.
If you're after a tool your marketing team can use to send out mass emails or let customers know about a new feature or offer you've released, marketing automation tools like Mailchimp are ideal.
If, however, your reps are failing to close more deals because tedious manual tasks are getting in the way of personalizing interactions, you need a sales engagement platform like Mixmax that enables sales automation.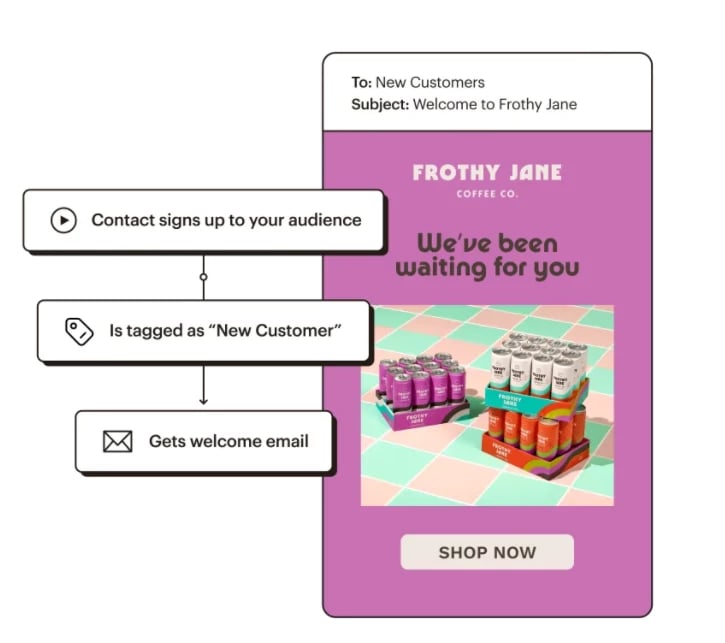 B2B sales automation vs. B2C sales automation
B2C sales automation differs from B2B by the length of the sales cycle and the amount of human involvement.
The B2C sales cycle is very short and relies almost exclusively on marketing automation. Transactions typically happen quickly without human involvement. For example, a landing page with a CTA that converts. Job done.
B2C sales are also based on a one-size-fits-all assumption: Customer likes the product, customer buys the product.
By contrast, the B2B sales cycle is longer and more personalized, and prospects require more nurturing. This is down to B2B typically involving bigger or more complex deals, tailored proposals, more decision-makers (on both ends), and several conversations around budgets, etc.
The B2B cycle is likely to involve a discovery call, ongoing meetings, sharing content to educate the prospect and overcome objections, and customized quotes and demos.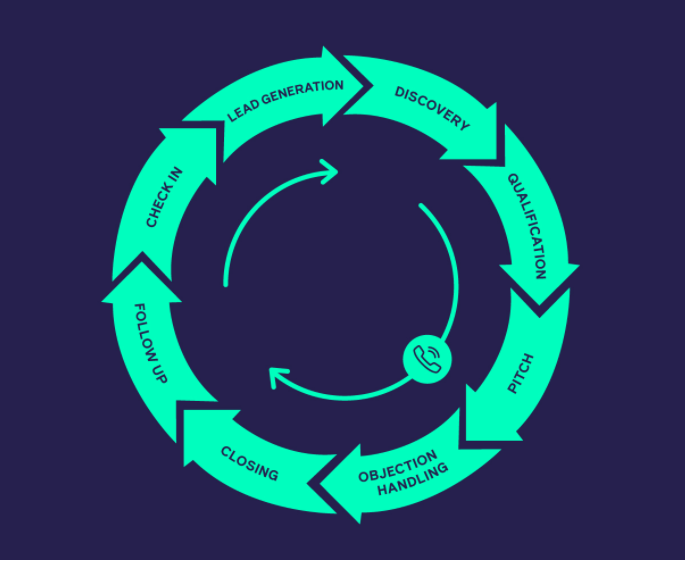 Image source
Best sales automation tools: building your tech stack
If you're ready to automate your sales process, here's a quick overview of the tech you may need.
1. Mixmax
Best for: Sales engagement. This involves reaching out with engaging messaging and content; cutting through the noise; making it easier to book meetings; and enabling meaningful interactions at scale throughout the sales cycle.
Our pick: Shameless plug alert (!), Mixmax is the #1 sales engagement platform for teams using Gmail and Salesforce. It comes as an easy-to-install Chrome extension that makes reps more efficient and productive by allowing them to automate daily workflows and repetitive tasks, and tailor sequences and messaging to each prospect. It also has a suite of sales automation features that let everyone from SDRs to AEs to CSM and sales leaders perform all essential tasks without leaving their inbox.
No more switching between tools and tabs. And no more time wasted on busywork. Just selling.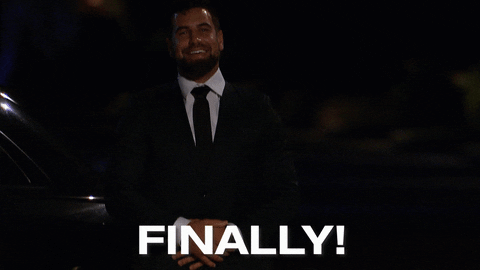 Want to save an insane amount of sales rep time?
Mixmax gives productivity back to your reps and helps them easily move deals down the pipeline. Request a demo
Okay, now that you've seen our pitch, here's our curated recommendation for your sales tech stack:
Best for: Conversation intelligence. These AI-driven tools analyze sales calls to derive actionable data-driven insights. So you can understand what's working and what's not, train new recruits based on best practices, and step in to help struggling team members.
Our pick: Gong, which analyzes factors like rep talking time and monologues, and compares individual sellers' performance with the rest of the team. As well as call recording, transcription, tagging, and analytics, Gong has stacks of feedback and motivation features, like coaching, scorecards, and leaderboards.
3. Boostup.ai
Best for: Sales forecasting. Being able to accurately forecast is vital for sales leaders. If you're pulling data together manually from multiple sources, though, it's extremely time-consuming. So you need a little help from your robot friends.
Our pick: BoostUp.ai is a powerful and intuitive RevOps/sales intelligence/forecasting platform. It cleans, enriches, filters, and analyzes all your sales data and tracks activity and performance of your reps, teams, and messaging. Its actionable predictive and account-based analytics provide an all-round view of pipeline health, and help you progress deals faster and build scalable revenue-creation processes.
Building your sales automation machine
High-powered sales teams have a secret weapon: They use sales automation to eliminate busywork, streamline sales processes, and help land happier customers.
It's not about blasting prospects with impersonal spam or letting robots take over, though. Oh no. Sales automation brings out the best in your people by making them more productive and efficient. And frees them up to focus on personalizing interactions at scale for better results.
Sounds good, right?
Before you reach for your wallet, though, talk to your teams to understand their needs, challenges, and processes. You want a tool that streamlines your existing sales processes and integrates with your existing tech stack or it's not going to get used.
Don't fall for a shiny-looking solution with lots of features that don't fit their roles either. Think about it, what's your CSM going to do with a tool that's designed for prospecting?
Be clear about why you need it, too. If you're a B2C e-commerce, you'll probably lean toward one-to-many marketing automation, while B2B SaaS companies need to nurture individual prospects at scale over a longer sales cycle.
Remember, too, that some automation tools do just that: automate. End of. You can sign up for the snazziest workflow automation software going but if it doesn't empower your reps to achieve true sales engagement you'll end up needing more tech to paper over the cracks in your processes.
That's why we designed Mixmax as an all-in-one, plug-and-play sales engagement platform that unlocks the potential of true sales process automation. From prospecting to nurturing to signing the deal and keeping them coming back for more, we've got you covered.
Want to have high-quality, personalized sales conversations? Mixmax is like a bunch of mini-me's building relationships for you in the background.