Sales is the only professional career where half of your salary is paid based on your wits. You're compensated on intelligence, not hours worked—for outcomes, not effort. It naturally follows that many sales reps gravitate toward the idea of "sales automation."
Sounds nice, right? What if some deals sold themselves?
The challenge is there is no automating the most important parts of selling, like intellect or empathy. The more automatic things are, the more robotic they sometimes feel. If you've been robo-called by companies pitching insurance, or worse, selling something in another language, you know the feeling.
The art of sales automation is the art of knowing what can be safely automated and using that freed-up time where it matters most: Talking to people.
Related Post: Your Essential Sales Glossary—The 99 Terms You Need to Know
What is sales automation?
Here's a simple sales automation definition: Sales automation is the process of carefully handing over routine tasks to software to free yourself for more important things. Automation can be customer-facing, as with an automated email, or not, as with back-office automation that updates the CRM in the background. The trick is using automation to improve the buyer experience, not worsen it.
For example, when a buyer fills out a form, they want instant help. But often, it's hours or days before someone gets back to them. If you replace your form with a link to book time on your calendar, you've automated part of your sales process and at the same time, delighted your prospect. That's automation done well.
This is very different from, say, most chatbots. Chatbots serve the same purpose as IVRs, which are those automated voice recordings that say, "Hi, how can I help you?" They're designed to offload something a person should do onto a machine, and they're rarely helpful. They create a barrier between someone and getting help. Chatbots may be sales automation tools, but they offer the bad kind of automation that tends to worsen the customer experience.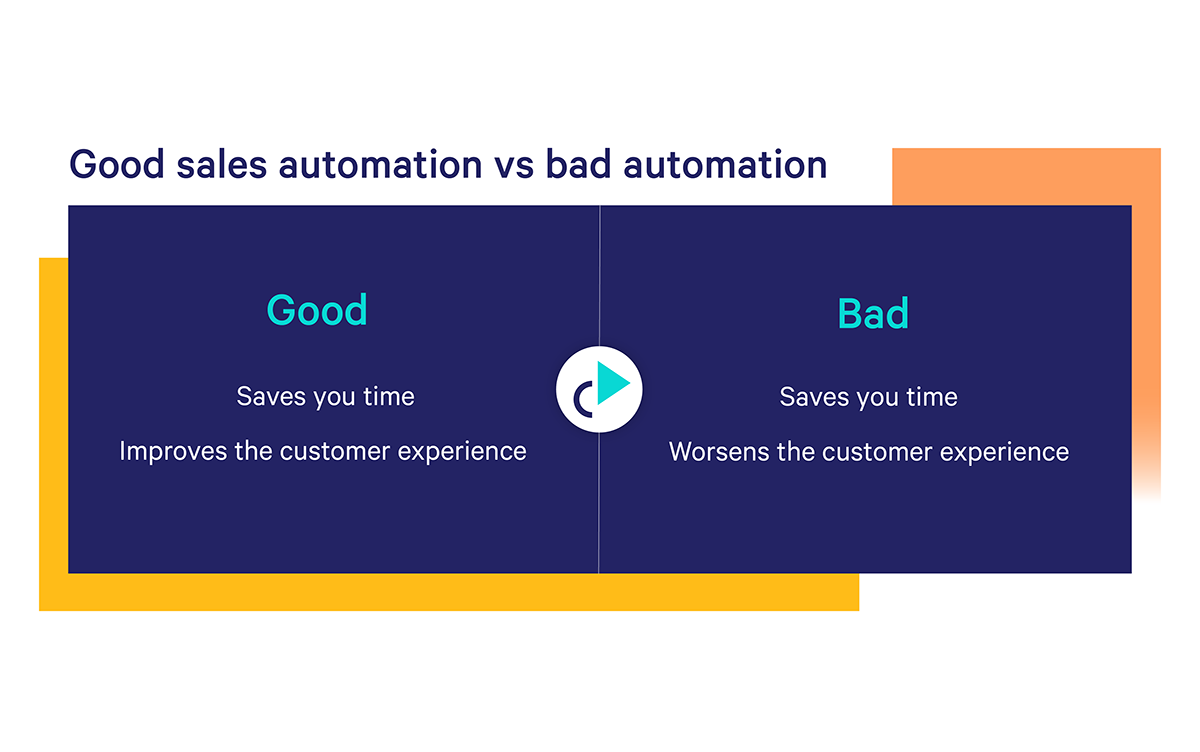 Automation can be about a lot more than just sending lots of emails, too. It can help with everything from research to alerts to project management.
Types of sales automation:
Scheduling
Data entry
Follow-up
Alerts
List building
Automated searches
Research
Administrative tasks
Approvals
Project management
Learning
Lead generation
Outreach (email, phone, social, direct mail)
I'll also tell you what sales automation is not. It is not spamming people. The entire point of it is to create a more human experience. Prospects should get more personal interactions, not less. Automation should happen in the background so you can spend more quality time with prospects. Done well, sales automation shouldn't feel anything like automation.
Done well, sales automation shouldn't feel anything like automation.
Take, for example, the use of automated email follow-up sequences and email templates. Most first-touch emails take a lot of thought and care. But parts of those emails are repeatable, like the value proposition and call-to-action (CTA). If you use templates that you can quickly insert with a few taps, you spend less time typing the repeatable stuff and more time being thoughtful in your introduction and closing. And if you follow up your thoughtful first touch with a sequence of "checking-in" emails, you don't have to worry about following up. Instead, you can write more thoughtful first touches.
In this way, with sales automation, what's good for the salesperson is good for the prospect—it's more personal, not less.
"The vast majority of my responses come from the third touch," says Alec McGuffey, Director of Restaurant Success at Seated, a reservation booking and food delivery app. "When you know those are going out automatically you can focus on more important things."
Let's recap. Sales automation is not:
Batching and blasting a generic email to a large list
Forcing prospects to jump through hoops to reach you
Canned demos based on a recording
Using an app to automatically connect with people on LinkedIn
Related Post: The Definitive Guide to B2B Sales Automation
Pro tip: Only automate things that work
It's a common error among salespeople to, if their outreach is not working, send more. But as Bill Gates once said, "Automation applied to an inefficient operation will magnify the inefficiency." A poorly worded sales email sent thousands of times will not get better. Only automate things that work—like your highest-response emails.
How do you automate sales emails?
You can automate your sales emails with what's known as a sales engagement tool. This is a software that connects to your email provider like Gmail and allows you to reuse email templates, send email sequences, and trigger actions based on events within emails. For instance, if someone books a meeting, it can create an opportunity in the CRM for you. Good sales automation companies are focused on the user's experience, not on simply helping to send more outreach.
Related Post: Sales Engagement vs. Sales Enablement: What's the Difference, and When Do You Need Them?
Benefits of sales automation
It's estimated that most salespeople spend 900 hours per year, or 36% of their time, on administrative activities. "Anywhere you find yourself repeating an action, it's worth asking whether it can be automated," says Scott Edmonds, CRO at the data automation startup Syncari. "Often, the answer is no—a human is needed—but when it's yes, you just cut out administrative waste that you can now repurpose for more selling."
The benefit of sales automation is simple: More time. Rather than enter information into the CRM, search the news daily for mentions of your prospects, send follow-up emails, go back- and-forth to book meetings, and work your deals. You read information pertinent to your top accounts and share it. You come across more informed on demos and earn their trust. You sell like a more experienced sales rep because more of your time is yours, and you can spend it reading up.
13 ways to apply sales automation
To automate parts of your sales process, you'll need tools to automate those tasks. There's no one provider that does it all, but that's actually a good thing. Picking many tools that are each the best at what they do allows you to build a sales stack that fits your situation.
My recommendation:
Start with a sales automation software. It covers the most common use cases.
Add sales tools, testing to see if they reduce your workload.
Periodically audit your sales tools to be sure they're really saving you time.
I will repeat our admonition once more, in case it wasn't already clear: Sales automation is about being more human. Whether that's through smarter email personalization or freeing yourself up to spend more time prepping for each call, sales automation should not feel like automation. To the prospect, it should feel like a trusted advisor is spending extra time helping them solve their problem.
1. Eliminate scheduling
Of all the sales automation moves, this is perhaps the simplest and most obvious. There is no benefit to going back-and-forth figuring out what time to meet. Use a calendaring tool with one-click booking.
2. Stay out of Salesforce (or Pipedrive)
Switching between browser tabs or software system is another big time waste. Eliminate as much switching as possible by finding a sales engagement tool that makes changes in your CRM automatically so you don't have to. For instance, if a meeting is booked, set a rule to automatically create the opportunity for you. If you're in the CRM and mark a deal Closed-Won, set it to automatically email the appropriate account manager.
Similarly, some sales engagement tools (like Mixmax) let you make changes to contacts, accounts, or opportunities without leaving Gmail.
Other ways to stay out of Salesforce:
Use shortcuts to automatically insert fields from Salesforce, like a name or phone number.
Update lead scores based on whether they responded or booked a meeting.
3. Get more responses
Use a sales automation tool with send-time optimization that tells you when is the best time to email someone to get a response. Then, set it to go out at that time without having to wait around to send it yourself.
Use in-email enhancements like polls or surveys to collect information from prospects who are too busy to respond.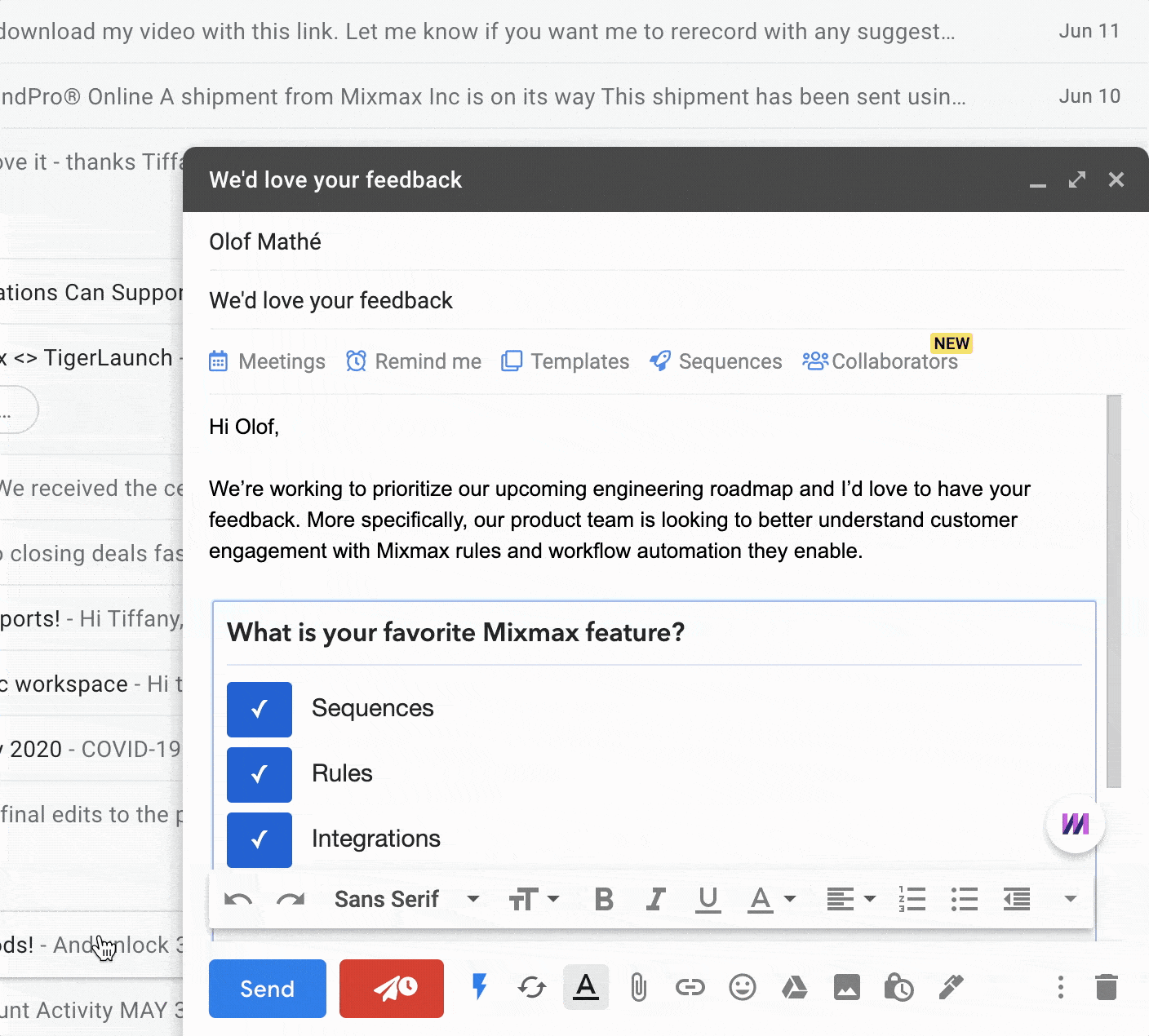 And the ultimate sales automation move, set personalized sequences so the prospect continues to receive follow-up emails addressed to them, but if they respond, the sequences stop.
4. Type emails 13x faster
That's about how much faster you type when you use shortcuts to insert templates, calendar links, or fields from the CRM. With a few taps, you can populate an unlimited number of saved templates.
5. Eliminate internal back-and-forth
Some sales automation software features a messaging tool for your manager or your VP of finance to see what you're working on and to provide input. For instance, if a prospect asks for unusual payment terms, tag them within the email interface to create a sidechat or "side conversation" the prospect can't see, without having to forward the email or copy-paste it into Slack.
6. Mass-personalize invites
Send one invite to something like a webinar to many prospects, but easily personalize each one just a little. This way, you save time typing but can ensure the email doesn't ignore the conversion you currently have going.
7. Prospect monitoring
Set alerts for everything from your prospect being mentioned in the news to them opening your email. This allows you to send a lot of outreach without having to remember to return to those things. For example, Owler for news or LinkedIn Sales Navigator for job changes.
8. Follow-up
Set sequences that email the prospect automatically or reminders to write them the email yourself. If you're using a calendaring tool, set it so it automatically sends a meeting reminder a day or two before, with a link so people can reschedule if needed. If you're using an e-signature tool like DocuSign, set it so it automatically reminds them to sign if they haven't.
9. Measurement
Create reports or dashboards that periodically remind you how you're doing, what emails are being opened, and what's working (or not). These are great for personal learning, but also for team learning. If some templates perform better than others, share the knowledge.
You can also automate post-call analysis with tools like Gong or Chorus.ai. Call recorders can tell you how often you're using filler words like "umm," what the prospect's mood was, and what the next best action is.
10. Lead routing
Use advanced rules to route leads based on territory or a round robin, which knows to skip people who are out of the office.
11. List building
Set tracking tools like LinkedIn Sales Navigator to automatically add companies to your outreach list if they suddenly fit the criteria—like employee count or location.
12. Learning
Learning is a form of automation, especially with news aggregators like Google News or industry newsletters. Newsletters, in particular, are great because you can rely on a smart person in that industry to summarize all the most important news for you. Also, classes, communities, and sales Slack channels like Modern Sales Pros (MSP), Revenue Collective, and RevGenius help you learn from others and avoid their mistakes.
Sales automation examples and case studies
👋🏻 The booking and ordering app Seated gets more responses
The Seated team sells to restaurant operators who are rarely at their computer. If they stop to check email, they don't have a lot of time to compose a response. The team used Mixmax for sales automation, and rather than ask for replies, it sends buttons via email. "Honestly, the greatest thing that ever existed was the ability to integrate the one-click opt-in feature into a campaign, especially for small businesses," says Alec. "Understandably, it's so hard to get small business owners to engage with digital outreach. If you send them to a form, you get a huge dropoff. The one-click has been a total game changer."
What are sales automation tools?
Sales automation tools are software systems that help you respectfully automate pieces of your sales process in order to spend more time with prospects. Examples include:
Related Post: An SMB Seller's Guide to Crushing Quota with Video