Last year's sales environment was tough and prospects got slammed with a wave of experimental outreach—some of it good, and some of it very, very bad. (Like, referencing California's wildfires as an analogy for how "hot" your product is bad.)
There were 124% more sales emails sent and, tellingly, responses plummeted by nearly one-third.
What's now clear though is out of all these new tactics, personalized videos shone through like a beacon of hope. When inboxes transformed into veritable steel bunkers, videos busted through with a polite, personal knock.
Video is the next best thing to visiting onsite. It broadcasts your winning personality and helps you be memorable and forge lasting connections in ways that text alone cannot. Below, I share some creative ways to crush your quota using video that came out of the rubble of this past year.
Explain what you do and post it to social
Your peers want to send you referrals—many just don't know exactly what you do or who you want to talk to. Tell them in a video. In particular, explain how your service can help businesses that are reeling from the economy and lockdowns, and ask them to pass it along to people who could use it.
Send one-off videos in emails
Salespeople sent 93% more videos in 2020. The reason? It works. Using video can increase response rates 3x.
There is one catch, however—you have to personalize those videos. That is, you must record it just for that prospect and demonstrate that it's personal by A) including their name in the thumbnail (possibly by holding up a whiteboard) and B) show you've done your homework. This is because the power of video isn't just that it's a video—it's the fact that recipients can see they're dealing with another person, and it's not just an email marketing robot.
End your personal video with a cliffhanger like Matt Hall at Woodway UK does and you've got a surefire response:
Add videos to your sequences
Now, you will find that some of your videos are so good, you'll want to repeat them. Save and add them to your sequences. These tend to be videos like feature-explainers, walkthroughs for specific verticals, or a joke or gag that tends to grab attention.
With a sales automation platform like Mixmax, you can easily insert videos from your library, and string several emails together into a sequence.
Quickly qualify inbound leads
Do you have a repeatable set of questions you use to qualify inbound prospects? Record a video where you talk through them, and help prospects understand if what you offer is a right fit, or if it doesn't work for particular types of companies. Add that video to your "Thanks for booking a meeting!" email and help some leads that aren't the right fit qualify themselves out.
Allow people to click to book a meeting right from within your video
With the Mixmax and Vidyard integration, you can insert your Mixmax calendar link as a button within your video. Prospects can book a meeting without leaving the video. (This requires the paid version of both platforms.)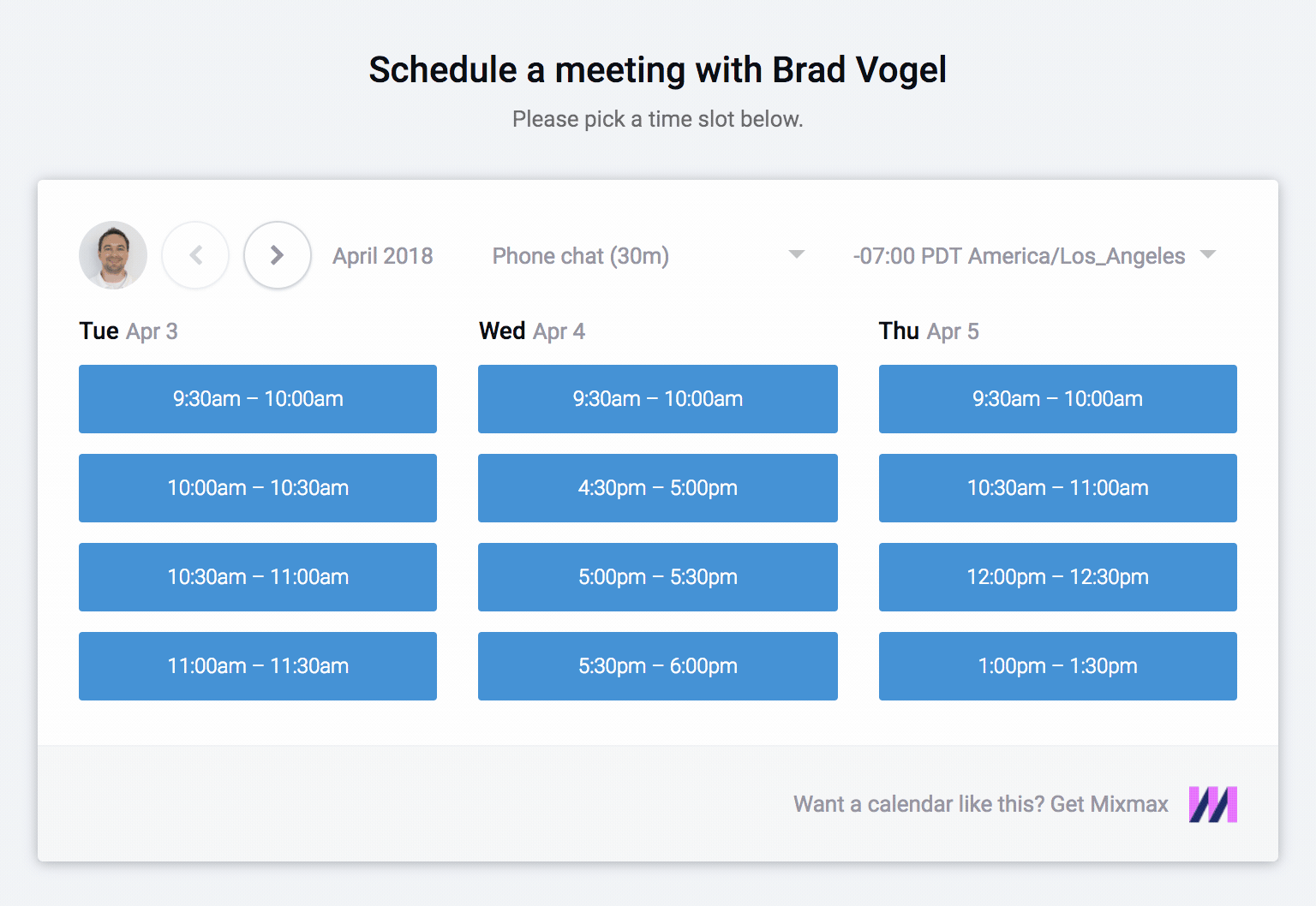 Follow up after virtual events or meetings
The first thing many prospects do after an event is brace for the tsunami of "just following up" emails from the event's sponsors. You should send one too, but stand out by including a personalized video with the word "Video" in your subject line, which alone, can increase opens 6%.
Send meeting recaps
Recap your most important points and next steps with a video they can watch over and over, or share with their team.
Shorten deal cycles with mini demos
For prospects who are in a hurry, send a pre-recorded mini demo where you walk through some (but not all) features.
Chase down deals that went dark
Throw out your "just checking in" email template and replace it with a personal video. Video lets you pull on your prospects' heartstrings. It shows you're just a helpful person trying to do their job who's waiting on them for an answer—an answer they promised they would give. As many sellers from 2020 can attest, it works.
"Vidyard is by far our highest converting channel to get prospects into the funnel and a very strong re-engagement tool for stalled opportunities," says Nikita Ovtchinikov, CRO of Spectrum Labs. "In the era of Covid, I don't know how we'd do without Vidyard videos."
Give better post-deal handoffs
Speed up your post-sale handoffs with the same videos that helped close the deal. In a remote world, videos help you introduce their new account manager in a much more personal way to start the relationship off right.
Ready to crush quota?
Word to the wise: Start practicing your video skills now. Just as businesses everywhere realized they didn't need as much office space and will let people work from home with greater flexibility, sales organizations have found that video is an essential tool. The sooner you start building your comfort on camera (take a look at Vidyard's Video Selling Master Class), the further ahead of the curve you get—and the more quota-crushing time you get in before everyone figures this strate