You know how important it is to get email subject lines just right because it is the very first thing your recipients see in their inbox.
If the subject line doesn't entice them to open the email, all the effort you put into writing it is wasted.
You also know how important the opening line of the sales email is because it is the second thing your recipients see after opening it. Sometimes parts of it even appear in the preview text.
But what about the end of the sales email? Is it worth perfecting?
The answer is HECK YES.
And here's why.
Make a strong last impression
We've all heard people say "first impressions count." Sure they do. Of course they do.
But what about the underdog? The last impression?
That counts too, especially in a sales email.
If anything, it might count even more than the start of the email, because some people immediately scroll to the bottom to see what the sender is expecting from them and who they are.
So the end of your sales email might be just the thing to convince them to take action, leading to an increase in response rate.
Engage (or re-engage) your prospects
The goal of your sales email is to engage your prospect. You want to pique their interest. You want them to want to reply.
And how you can achieve that is by ending your email with a relevant piece of information and/or a call to action (CTA) that will get them to, well, take action.
If you're using a sales engagement platform that is directly integrated with Gmail, you can easily include email enhancements such as one-click polls and surveys (handy for prospects who don't feel like writing out a response), GIFs, and link previews that help with visualization and that make it easier for prospects to engage with your email.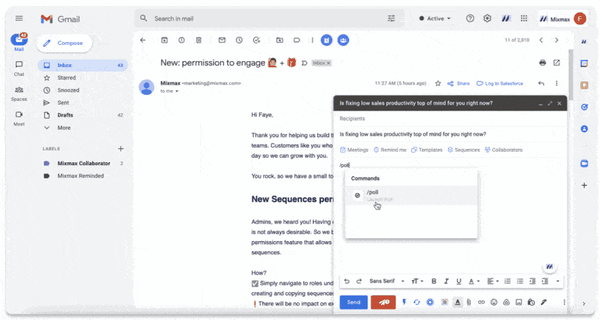 Mixmax polls enable prospects and customers to reply with 1 click.
Show a clear path to action
The less ambiguous you are with your email closing lines, the more likely it is that your prospect will want to reply.
Show a clear path to action. Whether it's with email enhancements (as mentioned before), or by including a one-liner that will get them to confirm that they are, in fact, interested.
Make it obvious and easy to respond to.
Asking for a meeting right off the bat just doesn't cut it anymore (did it ever?). According to Gong, the Interest CTA is the highest performing call to action for cold emails.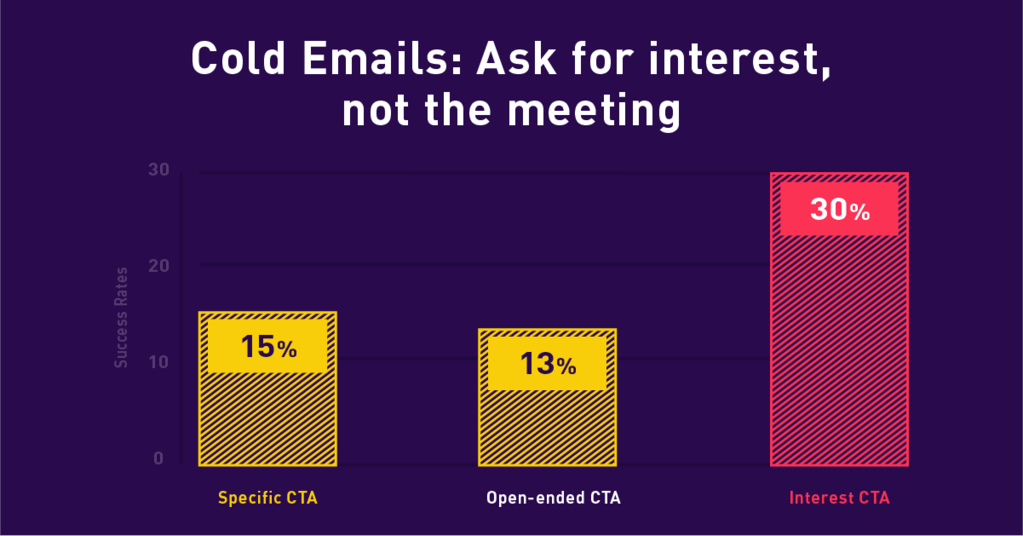 Interest CTAs perform 30% better than specific or open-ended CTAs. Stats & image by Gong.
In other words, it's better to try to sell the conversation, not the meeting.
Identify the sender (you)
If your sales email sign off doesn't include a clear picture of who you are, you better believe your prospect is going to hit that delete button faster than you can say pipeline.
It's important for the recipient to know who is contacting them so they don't classify you as spam. And the more credible you look, the more open they will be to talking to you.
Think of it this way–would you consider replying to a cold email signed J. McPeanuts, VP of Peanuts Inc.? Actually, that sounds like it could lead to a fun conversation. But you get the point.
Provide contact information
Providing contact information is crucial when you're thinking about how to end a sales email to increase response rate.
Sure, everyone knows they can click Reply to answer an email, but showcasing contact info such as your phone number, business website, link to a customer success story, link to your calendar, and/or a link to your LinkedIn profile will make it even easier for your prospects to reach you and learn more about you.
Plus it boosts your credibility factor exponentially, which gets you one step closer to the edge and I'm about to break getting a reply.