November 18, 2021
How to Improve Your Cold Calling Scripts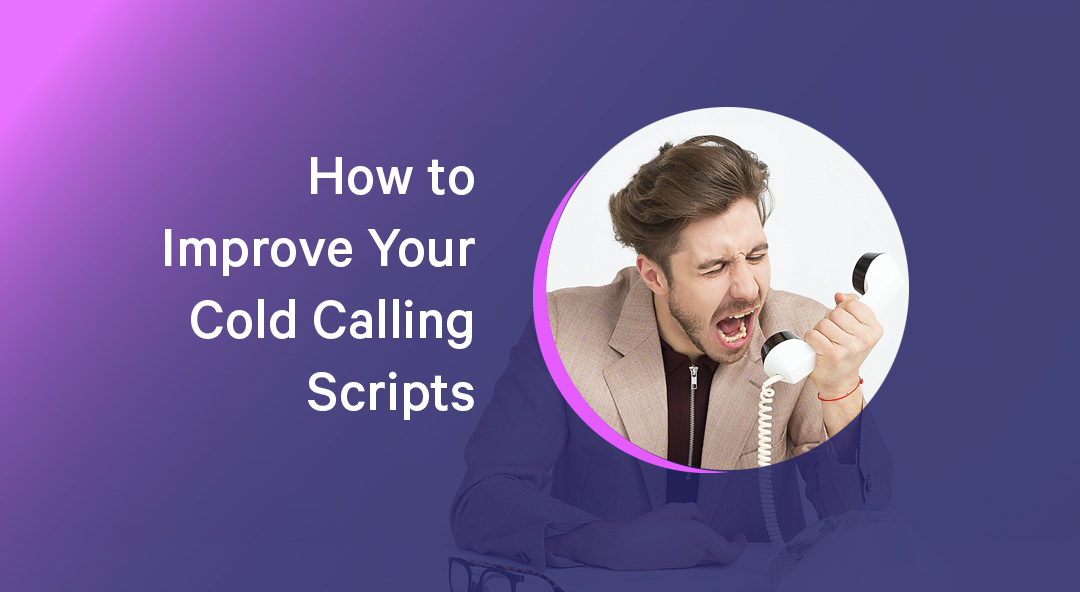 What exactly is cold calling
B2B vs B2C cold calling - what's the difference
How to improve your cold calling scripts
How to ensure your cold calling script gets heard
Final Thoughts
Believe it not, cold calling is still effective in 2021.
Don't worry, we get why you probably shudder at the mere mention of cold calling. We've all been there: the phone rings, you answer, someone starts frantically talking about who they are and what they have to offer:
"…Would you like to find out more? We have…"
You hang up, roll your eyes, and carry on with your day. Receiving the call was bad enough but could you possibly even think of being the sales rep actually making the cold call?
Rest assured, cold calling doesn't need to be a waste of your or your prospect's time.
After reading this, you'll understand:
Want to scale your 1:1 sales conversations while keeping them 100% personal? Use Mixmax to skyrocket your sales with a personalized touch.
What exactly is cold calling?
Cold calling is making prospecting calls to potential customers who may not have had previous interactions with your business. The aim is to build a relationship with them and sell your goods or services.
Despite the reputation, cold calling is still a valuable tool when used correctly. And in a digital age dominated by cold email and social media, a traditional call can be rather refreshing. In fact, 69% of buyers said they accepted one or more cold calls during 2019.
Using the Mixmax integration with Dialpad, you can easily make cold calls directly from your Mixmax dashboard or within Gmail using the Mixmax sidebar.
Carlos, Mixmax AE, demonstrating how easy you can make calls with Dialpad directly from Gmail
B2B vs B2C cold calling - what's the difference?
Your cold calling strategy will depend on whether you're selling to other businesses (B2B), or directly to consumers (B2C).
B2B sales tend to be a long process and require:
Several key decision-makers' input
Higher price points
Negotiations that often go back and forth
It can be hard to know where to start with cold calling. In B2B sales, find a key stakeholder, spark their interest, and target your pitch towards their business needs.
B2C cold calling techniques have been on the decline recently thanks to other approaches like cold email and advancements in communication technology. Data laws on contacting strangers by phone have also made it illegal in some countries.
With this in mind, you may be wondering "How can I succeed with outbound calls in 2021?"
Well, read on for how to improve your cold calling scripts with the right strategy.
How to improve your cold calling scripts
Avoiding common cold calling mistakes is easier when you know how. Much of it comes down to planning your cold calling scripts before you even begin making phone calls. As the saying goes, fail to prepare, prepare to fail.
In today's competitive markets, you can't afford to waste time toying around with strategies. But by breaking it down into steps, we can get you on the right path to cold calling success.
1. Research your prospects
Step one is to build a list of ideal prospects.
You don't want to waste time here, and prospects don't want their time wasted either.
Only target businesses and individuals who should have a genuine use for your products or services. This way you avoid instant rejection. It also reduces the feeling of typical sales calls from sales reps. (Remember, it's about the customer, not you!)
LinkedIn is a great tool for targeted lead generation. Specifically, you can explore:
What exactly does the business do?
What's [Person X's] role and length of employment?
Have they recently posted any content or opinion polls?
Are they active in industry events?
Do you have any mutual connections?
Do they have a nickname or preferred name?
Where did they graduate?
Researching these questions offers insights that allow you to personalize your cold call and build rapport with the prospect. This is perfect for appearing less salesy and more relaxed.
(Remember: it's about catering for the prospect's needs rather than appearing too eager to make a sale!)
2. Set out an objective for your cold call
For most cold calls, the objective is to make an instant sale or arrange a callback. Perhaps you have a more specific objective in mind but whatever it is, remember it both before and during the call. This will keep you focused and ensure you're getting the most value out of your own time and that of your prospect's.
3. Create your cold calling script
Making your first call can be daunting, but having a solid sales script is vital for avoiding common cold calling mistakes.
Your script should keep things simple and focused. Here's a step-by-step breakdown.
Introduction
The most important aspect. From the off, you need to convince your prospect not to hang up.
Start with a friendly greeting, explaining who you are and who you work for. Using your full name is a subtle way to gain respect.
After this, there are three options:
Pause for a second or two. Allow the prospect to act on their curiosity and ask more.


Continue with a trigger event. In other words, mention something from your research that shows you aren't just calling at random. For example, "I'm calling because I noticed your business has a new product ready for launch. We'd love to help you drive traffic to your website and increase sales."
Use politeness strategies to ease into a conversation and show you respect their time. For example, "I appreciate you weren't expecting this call. But perhaps you have a quick moment for us to chat. I think you'll really like what we offer."
Build rapport
Now it's time to build rapport with the prospect and show you understand their needs.
Try to get the prospect talking about their business. This gives you time to observe and think about how you can help them before you respond. You'll also get to further gauge their personality.
A great trick to get your prospect talking is to ask open-ended questions that require more than a yes or no response. For example, "Hey, I noticed from LinkedIn you've just made it to five years employment. How are things going?"
Deliver your positioning statement
Your positioning statement is a short description of your service or product, who it's aimed at, and what it's for. Deliver this once you've built rapport and it should get your prospect to deliver their pain points.
For example, "We specialize in [X] and noticed that most businesses like yours need help with their [X]. Does this sound like you?"
Schedule a callback
After hearing your prospect's needs, summarize the main points out loud to reinforce that you've listened. For example, "Okay, [name], brilliant. So your main troubles are [summarize what they've just said]."
Now all that's left is to schedule a call back for a deeper discussion. This also allows the prospect some initial breathing room and to consider some of the finer points of your pitch.
4. Use the right tools
Selecting the right tools makes life for sales teams much easier.
From a sales engagement platform, customer relationship management systems (CRM), or cold calling software like Dialpad with built-in features like automatic dialing, there are many sales tools to help. Most of them are cloud-based and paid via subscription too.
Using the right tools takes away the stress of the sales process, allowing you to focus more on improving your script game.

Now we've looked at an overview for creating cold call scripts, here are some bonus tips for using them.
Related Post: Discovery Call Checklist: 12 Steps for a Strong Sales Discovery
How to ensure your cold calling script gets heard
While the above pointers are perfect for setting you off in the right direction, here are some added extras to ensure your cold calling script gets heard.
Call at the right time
Calling at the right time can increase your success rates tenfold.
Phoning your prospect around lunchtime or the end of the day when they're winding down is a good idea. Base this on a typical 9 am to 5 pm working day. If you have an automatic call distributor, set it up to operate at your chosen times.
Stored data on your systems could also give you insight into the best times to call. Around what time were the most calls answered? Does this differ per state or country?
Sidestep the gatekeepers
Many prospects will have assistants receiving your outbound call to screen it or schedule a follow-up. These people are known as gatekeepers.
Gatekeepers can be a challenge, but here's how to get around them:
Be polite, patient, and build rapport. Use familiar tactics like learning their name and respecting their time.
Do your homework. Research the business and demonstrate understanding.
Avoid them. You could always try this if you're not getting anywhere. Phone out-of-hours or try to target someone else directly in the business.
Master voicemails
60% of cold calls go to voicemail. It makes sense to master the arcane art of voicemails.
Keep your voicemail under 30 seconds and be short, sweet, and to the point. Explain who you are and what you offer before mentioning a follow-up call if they're interested. Keep your tone friendly and repeat your contact details at the end to make it easy for them to call back.
Review your calls
Review your past calls to see where you can improve.
Most salespeople will tell you that while some calls end well, other calls end badly. So it's important to analyze your results and find out what went right or wrong. One option is a cheap VoIP service that allows integration with CRM systems to record calls and measure results next to other sales figures.
If you work within a team, incorporate call reviews into your sales training to up everyone's game.
Want to scale your 1:1 sales conversations while keeping them 100% personal? Use Mixmax to skyrocket your sales with a personalized touch.
Final Thoughts
Too many businesses get cold calling wrong. Success is largely down to making good cold calling scripts before you've even picked up the phone. You get out precisely what you put in. Cold calling success comes down to research, call planning for your scripts, and exercising patience.
Although we live in an age where salespeople prefer to send a cold email, and social media takes center stage, there's no reason the traditional cold call cannot work for you.
Follow this guide, improve your scripts, and achieve your goals through cold calling today.