Welcome to a lean list of nothing but the best sales tools. Our team has tried every software on this list and can vouch for them all. Our approach has been simple: We know you're busy, so we did all the pre-work to reduce a sprawling list of 150+ sales tools to just the essentials.
Rather than trawl through a bunch of duplicates, you can read this list in order to actually find sales tools that can help you find and close business. And if you were to launch all 13 sales tools together? You'd have yourself a complete lean sales tech stack.
Without further adieu, our top 13 sales tools, starting with our criteria for what makes a sales tool great. Spoiler alert: It's not about the number of features. It's about real-world utility.
Disclaimer: We haven't given any preference to any particular sales tool vendor. Mixmax is on the list of course, but we've stuck to sharing facts, not opinions. The tools are listed in the order in which they're helpful in your sales cycle.
Related Post: The Driving Forces Behind Successful Sales
What Makes a Good Sales Tool?
Like good UX design, sales engagement tools should be invisible. The best ones are barely noticeable. We realize that's a bit of a silly statement coming from a company that sells sales software, but that's how ours is designed and that's what people say they love about it.
If you ask our opinion, the "sales automation" movement has gone too far. Time and time again we see firms downgrading from hulking platforms that were too much software for them, where their salespeople fell into managing a bunch of workflows that weren't necessarily correlated with them selling. This can create a high-administration, low output environment and leave prospects feeling spammed.
Today, despite having more sales tools than ever before, the average salesperson:
Spends one-third of their time, or 800 hours per year, managing sales tools like the CRM (Forbes)
40% of salespeople say list building is still the hardest part of selling (HubSpot)
Most salespeople still log 94 manual activities per day (SalesforLife)
Those reps are often using dozens of sales technologies, from presentation animators to call recorders, and it isn't always making them more productive. Measured by sales output, sales teams are spending more on sales tools than ever before but aren't closing more deals.
In my mind, there are six criteria that make a sales tool useful to growing teams: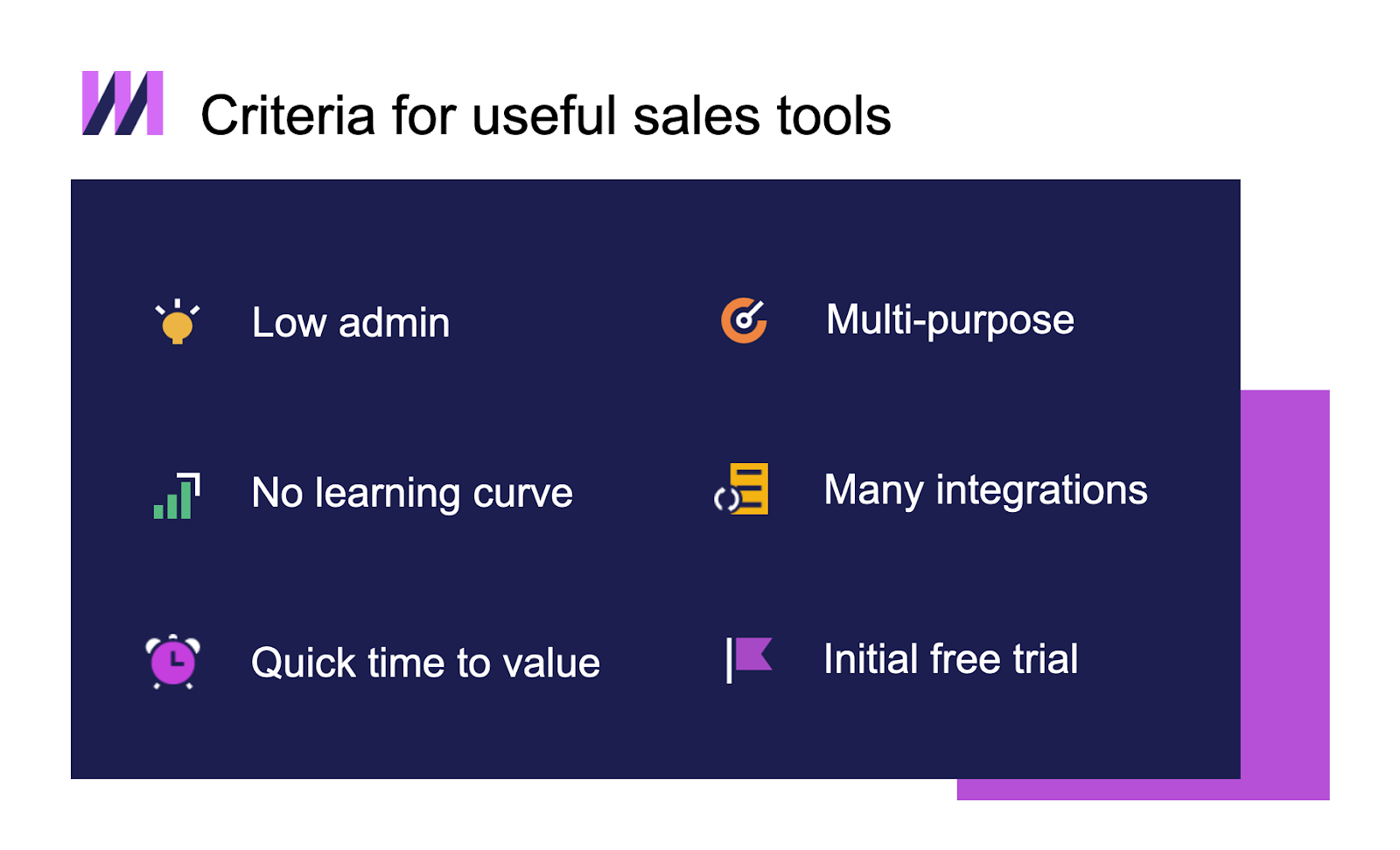 Related Post: 20 Best Sales Automation Tools to Give Your Reps Superpowers
We also believe you should select those sales tools not based on what others recommend, but based on the problems you have that you need to solve. Review your pipeline and ask, where could I use the most help?
I need people to reach out to —> List building
I need better outreach –> Prospecting
I need help convincing them –> Demos
I need to close the deal –> Deal management
I need to do more with less –> Email outreach
That's your roadmap, and you can use it to evaluate your sales tools accordingly.
Related Post: Sales Engagement: A Guide to Real Engagement with Prospects and Customers
The 13 Best Sales Tools for Growing Teams
We've organized the list so tools appear in the order that they're useful in your sales cycle, from beginning to end.
Use it to: Build a list, reach out
Cost: Paid, starts at $60 per month
LinkedIn Sales Navigator gives you the ability to search all of LinkedIn and build lists of either people or companies based on title, industry, location, seniority, and more—24 factors in total. You can then save that list and get updates when they're mentioned in the news, or when they post something you can perhaps respond to. If you do reach out to that list, you can send a limited number of LinkedIn messages or, "InMails," which can complement your email sequences.
The big caveat: This sales tool only works if the people you're selling to are on LinkedIn. For some industries, like food service, manufacturing, or oil and gas, you may have to find your industry's equivalent professional network.
Key features
Run searches
Build lists
Get alerts

Send direct messages
2. Hunter (formerly Email Hunter)
Use it to: Find and verify people's emails
Cost: Free, with a paid option
Hunter lets you look up the emails associated with a website—just type in the domain and hit search. It works by constantly crawling the internet and scraping emails from things like blog posts, job postings, and help pages. Cross-reference these emails with the names on LinkedIn and you can figure out who has what title.
Use it to: Find reasons to reach out
Cost: Free, with a paid option
Owler offers LinkedIn Sales Navigator-style news and insights on prospects, only better. Unlike LinkedIn, it searches the entire web for news about your target accounts, like funding, acquisitions, annual revenue, and competitors. Use this news as your reason for reaching out.
Owler works best for either funded companies or those that are medium or larger. It's not so good at tracking small companies that don't have as much online press, such as local businesses, neighborhood shops, and restaurants.
Features:
Get news about your top prospects
Find compelling events
Get alerts
Pro tip: Use Owler to look up your current customers. It'll tell you who their competitors are, and if those competitors face the same problems, they're likely a good fit.
4. Datanyze (or BuiltWith or SimilarWeb)
Use it to: See what technologies your prospects already use
Cost: Free, with a paid option
Datanyze is a free Chrome plug-in that tells you what technologies a company is using. It does this by looking at the technology trackers on the website (for instance, it can see if they have a Google Ads pixel or Marketo tracking code), and by scraping data from the web. This helps you qualify or disqualify prospects before you reach out. It also helps you send more targeted messages and ask smarter questions on the discovery call. E.g. "You're using HubSpot, right?"
Features:
See what technologies companies use
(With paid version) Push technology data into your CRM

(With paid version) Look up contacts for accounts
Use it to: Find lists of accounts or contacts
Cost: Paid, starts at $99 per month
ZoomInfo is the B2B world's most consistent and pervasive contact data provider. Use the account to look up people by company, by role, by title, or by NCIS/SIC code, and either export it or push it directly into your CRM. If you're using an email outreach tool like Mixmax (covered later), you can use these lists to run automated sequences.
Features
Buy lists of accounts or contacts
Push the data into your CRM

(With paid version) Enrich the data in your CRM to add titles, phone numbers, etc.
Use it to: Send emails, book meetings, share documents
Cost: Free, paid options
Google Workspace includes Gmail, Google Calendar, Google Docs, and more. It's the foundation of simple, effective sales outreach—its email feature is used by 28% of all businesses, second only to Apple Mail, which has none of the productivity features. Gmail also beats Outlook for delivering messages in a way they don't go to spam.
With Google Docs, its cloud-based file sharing and word-processor feature, you can easily share and edit contracts, presentations, and agreements in a way that doesn't force recipients to create an account. It's also the number one calendar provider, so when you send calendar invites, they actually show up on other people's calendars, which cuts down no-shows.
Because it integrates with most of your other sales technologies like Mixmax, you don't have to switch between as many screens.
Features:
Email
Calendar
Send large files
Co-edit documents
Better email deliverability
Foundation for other sales tools

Easy to manage multiple accounts
Use it to: Send more email outreach and keep it feeling personal
Cost: Free, with paid options
Mixmax is your all-in-one email outreach tool. It allows you to send beautiful emails that are easy to respond to, to schedule follow-up notes in case the recipient doesn't reply, and do it all without leaving Gmail.
The most attractive feature according to those who use Mixmax is it requires no setup and no training. Just download and start sending.

Features:
Get instant alerts when someone opens your email
Automatic meeting reminders for prospects
Let people book meetings on your calendar with a link
Insert buttons into emails that say things like "I'm interested / I'm not interested"
Set rules like, "If contract is signed, Slack the success team"
Mail merge
No training needed
There are also a few technical reasons Mixmax is the preferred tool for high-performing account executives and customer success managers:
It works from within Gmail. Meaning, you don't need to keep switching to a different screen to use it.
It saves you time. Smart personalization, like inserting their name (and always getting it right), means you spend less time worrying and more time writing thoughtful outreach.
It features lots of ways to stand out and be different. This includes polls, sharing your calendar and availability, asking yes or no questions, slide shows, GIFs, videos, and more.
It saves your prospects time. One-click meetings and yes or no questions eliminate back and forth.
More accurate tracking. With Mixmax, you have email tracking so you can see who on an email thread opened your email. With other sales tools, that's not possible.

Real-time alerts. When Mixmax tells you someone reads your email, it's in real-time. Other sales outreach tools batch alerts, so you get minutes or hours after the fact.
Related Post: Sales Engagement vs. Sales Enablement: What's the Difference, and When Do You Need Them?
Use it to: Call, leave messages, conduct demos
Cost: Free trial, starts at $15 per month
Dialpad is a cloud or "VoIP" phone, meaning it's an app that acts like a desk phone. Only, because it's software, this sales tool is loaded with extra features like call routing and web conferencing. Dialpad also has productivity features that allow you to automatically log calls in the CRM, and it can automatically produce call notes and to-do lists for next steps.
Features
Computer-based phone
Works on your smartphone
One-click calling from CRM or browser

Web conferencing
Use it to: Send videos
Cost: Free, paid options
Vidyard is a super simple tool for recording and sending videos—either of yourself, of your computer screen, or both. Simply install the free Chrome plugin to record, and then either drop and link a thumbnail in an email or, if you have the paid version, integrate it with Mixmax to send and track. On the backend, it'll alert you when someone watches your video.
Videos are having a moment: When everyone's working remotely, videos offer a simple way to send outreach that feels high-touch and creates a connection, but don't take much work. All that's needed to record great videos is a laptop and headphones.
"Nowadays your team should be using a mix of social, phone, text, video emails, etc. to engage with their prospects," says Dan Wardle, VP of Revenue at Vidyard. "Everyone has a preferential communication platform and it's the salesperson's job to figure out what that is, and the sales tools to be there."
Features
Alerts if people watch your video
(Paid version) Share and edit videos
(Paid version) See who watches and how much
Check out their free Video Selling Masterclass.
Related Post: 7 Best Sales Engagement Platforms: Reviews, Features & Pricing
Use it to: Record all calls and get automatic selling insights
Cost: Paid, not cheap, you'll have to inquire
Gong records all your communication with the outside world. It joins your Dialpad calls and reads your emails and then tells you what to say on future calls. For example, if you keep mentioning a value proposition that's falling flat, Gong can tell you. Or, if you're doing too much of the talking, it lets you know.
Where it gets really interesting is when there are multiple sales reps on the team. Then, it can start to coach based on what's working, so all the reps can borrow what the best of them are doing.
Features
Call and email recording
Automatic recommendations

Insights and trends
Use it to: Spread knowledge faster
Cost: Free, paid option
Now that most sales teams are remote, Slack allows them all to learn from each other in real-time. Whereas more senior reps or sales managers used to be able to listen in on calls, lean in, and write something on a whiteboard, now it happens via messaging.
Create Slack channels for prospect types, feedback, ideas, and even each individual sales cycle, and share relentlessly. Sometimes, if you're on a call and stumped, others can throw in ideas. Or if everyone is hearing the same thing from prospects (and perhaps reinforced by data from Gong), you can adjust your messaging to the market.
Features
Team chat
Create deal or vertical-specific channels
Pin important documents
Share pocket stories
(If you have Mixmax) Get Slack alerts when people view your email

(If you have Mixmax) Set rules like, "If contact is signed, Slack the success team"
12. Salesforce (or Pipedrive, or Copper)
Use it to: Store information, manage deals, run reports
Cost: Paid, most start at $25 per user
There's really no getting around using a CRM as your source of customer data truth. Your fallback option is a spreadsheet, and that falls to pieces quickly. The key requirement for any CRM is that it requires as little administration as possible while still integrating with all your other sales tools. If you go with something not on this list, you run the risk of creating a data island—all your contacts and customer data are in the CRM, but all your sales tools, where you need to send emails, make calls, or record contracts, can't access it.
Pro tip: If you've selected Gmail, Pipedrive can store your email templates and auto-log conversations.
Features:
Store contacts and accounts
Manage and report on pipeline
Look at your funnel
Create dashboards

Integrate with all other sales tools
Use it to: Collect quick signatures
Cost: Free, paid options
Use DocuSign to send agreements for signature, and reduce the barrier to signing. Even today, lots of prospects reach for a printer and pen, and that means the agreement sits on their desk until they get around to it. Esignature software like DocuSign sends them an email where they can click to sign.
There are many tools, but DocuSign is our favorite. It's the simplest, most widely used, and relatively cheap, all things considered. You'll have to get a paid license to receive client signatures, but the advantage is that if they have DocuSign as well (as most businesses do), they won't get confused or have to create an account.
Our favorite feature: Recalling documents that have already been sent so you can adjust them. If the prospect asks you to strike something, it's easy to update. And if they need their boss to sign, they can simply forward it.
Features
Send agreements for signature
Save templates
Recall and adjust documents

Immutable record of all agreements
Related Post: 13 Tips for Using Sales Automation to Hit Quota
Honorable mentions
Below are all the sales technologies that nearly made the list, and would be a great fit, were it not for the fact that all the sales tools above integrate so well together.
Loopio: Win more RFPs, and respond to them faster.
Sendoso: Send physical items like mail and care packages
Clearbit: High-quality account data
Zoom: The standard in web conferencing
Dropbox: Store and share files
Box: Store and share files
AngelList: Look up startups that are too new to be on most lists
Quora: Build your brand, find prospects
Clutch: Find agencies
Guru: Share team knowledge
Showpad: Send documents
PandaDoc: Really simple Esignature
Related post: The Ultimate Guide to Sales Automation, and Why Your Team Needs It
What sales tools are we missing?
Tweet us @Mixmax. We'd love to know.