Mixmax is a communications platform that brings professional calendar invites & email into the 21st century.
Today, we're pleased to announce a new Mixmax feature which will save you and your business partners a ton of time: Calendar invites embedded in your email. They are great for all occasions when you've agreed on a meeting time and want to tally RSVPs. (If you want to share your availability we have a solution for that too!)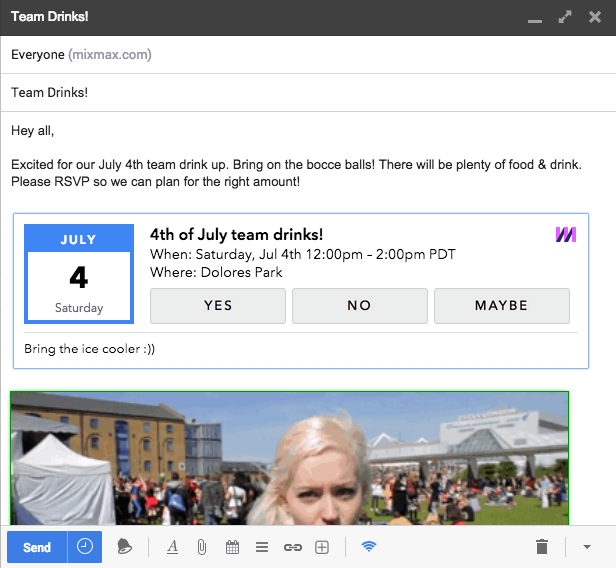 Rather than sending a calendar invite and an email referencing the invite, you can combine the two in a single message. It saves time for both you (no more switching between your calendar and your inbox) and your recipient (who doesn't need to find and accept a separate invite). For example, the next time you send that 'next steps' email, you don't have to reference a separate invite for the follow up call or meeting. Fewer emails means better productivity.
Embedding calendar invites inside your emails is also great for events because you add more effective context. For example, if you're planning a company happy hour, you can share more about the event with pictures, video and map previews of the location, as well as the actual invite.

How it works
Hover over the Mixmax calendar icon and go to Send Calendar Invite. It'll bring up your calendar so you can enter the meeting info. Once you click Insert Invite the invite will be inserted into your email with all other context all around it.
Recipients RSVP directly in the received email, and their response is dynamically reflected in the email as per the screenshot below.

We have lot of ideas on how to evolve this feature and are keen to have your thoughts too.
Adding Mixmax to Gmail to try it out right now. Calendar invites are an essential tool for anyone who is serious about productivity. We've been recognized as a top calendar app as well as a top email tracking app.
If you'd like to be part of the team bringing email to the 21st century write to us at at careers@mixmax.com and follow us @Mixmax.