What does the future hold for your mission-critical functions like sales and customer success? How will 2020 be different from 2019 and prior years?
Mixmax Account Executive, Roxy Ameri, sat down with an all-star panel to discuss these topics and much more. Get the inside scoop from industry pros Kyle Smith, John Barrows, and Don Erwin.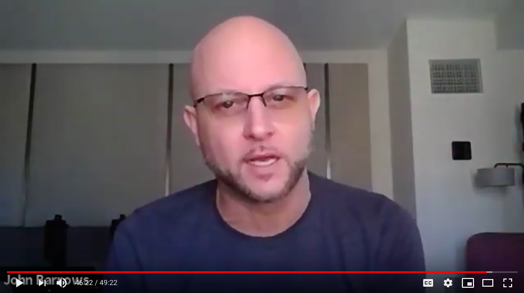 Focusing on Profitability & Sustainable Growth
These days, it seems like every startup is obsessed with maximizing revenue at almost any cost. And, although revenue growth is no doubt vital to a company's success, failing to equally consider profitability is a big mistake.
"The path to profitability is going to become increasingly important," said Kyle Smith, Director of Sales and Customer Success at The Bridge Group. "Everyone has been so focused on massively over-hiring instead of focusing on productivity per rep."
Developing a responsible growth plan and providing adequate sales training are two ways to strike a better balance between revenue and profitability. Strategically targeting certain accounts is also key.
"I'd rather be profitable with engaged customers who actually want to work with me rather than huge organizations that don't really care," said John Barrows, Founder and CEO of JBarrows Sales Training. "Companies get too enamored with big logos just to say that they work with large customers, but singles and doubles are what pay the bills."
So, how can you prevent sales staff from becoming overly enamored with the wrong accounts? Maintaining a tiered account structure can help.
"Tier your accounts and figure out which ones are going to make you succeed as an organization in the long-term," Barrows said. "Tier one are the big logos, tier two are the singles and doubles that pay your bills, and tier three are suboptimal customers, which can be great opportunities for new team members to practice on."
Related Post: Are You A Sales Monkey Or Alpha Wolf?
Maximizing Renewals by Focusing on Adoption
Speaking of account management, churn continues to be a major problem for many organizations. Obtaining renewals is often a sales-driven initiative, but, according to our panel, customer success teams are starting to play a greater role.
"Renewals take care of themselves if adoption is there," Barrows said. "Your renewal rate is in direct proportion to your adoption rate, which is why customer success is so key for keeping customers engaged and identifying new ways to serve their needs."
If success teams will be more involved with renewals, does it also mean that they should actively pursue upsell and cross-sell opportunities? According to Kyle Smith, the answer depends on a variety of factors.
"Sometimes it makes sense to have a different resource who is managing cross-sell and upsell," Smith said. "Prospecting into a new functional group within the organization isn't necessarily the same skill set as someone who drives the client to initial adoption."
Even if cross-sell and upsell remain a part of the sales function, one trend is certainly true: success teams are performing more sales-like activities. And, for many customer success reps, that can be a difficult pill to swallow.
"I'm seeing a lot more organizations bringing their customer success teams into my training, and success reps do not like the idea of selling," Barrows said. "If you take the word 'sales' out of the equation, however, customer success and sales teams are focused on the exact same thing: helping the customer achieve a goal or solve a problem."
To ensure customers achieve their goals, sales and success teams play equal roles in managing the customer's ongoing expectations. That's why clear and transparent communication is absolutely necessary during every step of the customer journey—and even before the initial sale.
"Sales should set the right expectation that the client is going to be properly onboarded and gain value as quickly as possible," said Don Erwin. "There must be a process that starts during the sales cycle so the customer knows exactly what to expect."
Related Post: Customer Success and Sales: Your Next Dream Team
Evolving Sales and Success Functions
With success reps performing sales functions and assisting with renewals, will customer success teams ultimately be absorbed by sales? Not necessarily. In fact, according to John Barrows, the reverse may be true in certain situations.
"There's a strong chance that inbound SDRs will be replaced by customer success representatives," Barrows said. "Customers are highly educated, many of whom are 60% to 70% of the way through the buying process before entering the sales cycle. They're ready to talk to an expert, not some 22-year old kid who puts them through a canned demo."
Increased standardization of roles, responsibilities, and terminology will make it easier for customer success teams to adapt and fill new roles in a rapidly changing business environment.
"Currently, if you recruit a CSM from another company, it's difficult to know if he or she has the right level of expertise or specific skills," Barrows said. "Looking ahead, we'll see a more standardized approach to customer success along with increased role specialization in the post-sale function."
As an example, this type of specialization has already begun to take shape at Mixmax.
"We're building a hunter-farmer account management team," Erwin said. "CSMs are now responsible for the upsell and have an upsell quota."
Related Post: Tips for building the most coveted thing every sales person wants
Leveraging AI to Accelerate Sales Growth
Artificial intelligence and machine learning get a lot of buzz. Is this just a bunch of noise, or could AI finally make a measurable impact for today's sales professional?
For John Barrows, the most promising solutions leverage big data to help sales organizations understand buyer needs before the buyer recognizes those needs.
"Algorithms will help us understand where companies actually plan to spend their money instead of relying on guesses," Barrows said. "Marrying that type of technology up with the right insights and messaging could deliver meaningful results."
Will AI-driven robots eliminate sales teams altogether in 2020? No, quite the opposite. Even the most advanced technology still needs sales reps, just as much as sales reps need the technology.
"Sales reps of the future will be like Iron Man," Barrows said. "Technology is the sales rep's metal suit that provides superhuman strength. Without the sales rep, however, the metal suit is just a pile of metal. The two work together in tandem."
Tech solutions that enable mass personalization at scale will continue to be essential for sales reps looking to achieve "superhuman strength."
"Automated tools will allow sales reps to augment certain parts of the sales process while maintaining high levels of personalization," Erwin said. "You can't just automate things without the personal element. People buy from people they like and trust, and automation can never replace that."
Empower Sales & Success Teams in 2020
Whether you're looking to maximize profitability, achieve a better mix of sales and success during renewals, or build a better tech stack in 2020, Mixmax can help. With affordable monthly plans, tools for sales and success teams, and robust data integrations, Mixmax helps you engage more customers for a fraction of the cost and effort.
Try Mixmax for free.
Related Post: Mixmax Aligns Outbound Communication Across Sales and Customer Success at Gong.io