We recently interviewed our company's very own SDR Manager, Jack Wauson, to find out what a typical day in his life is like.
Some of our readers might already be familiar with Jack since our marketing department constantly bugs him for content.
Like this webinar he did on cold email tactics with Jason Bay.
Or our Good, Bad, Spammy series where he has critiqued and revised many a poorly written sales email.
But anyway.
This time around, we interviewed him to dive deeper into his SDR manager responsibilities and understand what he prioritizes in his day-to-day... plus to squeeze some tips for SDR managers out of him.
We even included a screenshot of his actual calendar below 👀.
So without further ado, here's the video interview in all its glory (+ a summary of it written out below):
Meeting with the SDR team
Jack's typical day starts with a team call, aiming to get his team prepped for the week. He uses this time to motivate his team, go through action items, and discuss market trends.
"Priority number one is meeting with my team… get them motivated, go through action items of what I am expecting for the week," explains Jack.
This time together helps ensure the team is on the same page about their goals and expectations.
One-on-ones with SDRs
After the team meeting, the stage shifts to one-on-one meetings with his SDRs. These sessions give each rep the opportunity to discuss their progress, challenges, and plans for the week.
Instead of steering the conversation, Jack encourages his team members to take charge of these meetings: "It's their time to meet with me to discuss what's going well for them so far, what needs to be worked on, what's a priority of theirs," says Jack.
This approach promotes autonomy and ensures that the meetings are centered around the SDR's specific needs.
SDR training
One of Jack's key responsibilities as an SDR manager is conducting individual and team training. The topics vary, ranging from cold calling to Salesforce hygiene. These training sessions are not just reactive to his team's needs, but also proactive.
"Trainings are really key… not only be reactive from when your team requests training but also think as a manager, what are some additional trainings that are going to help my team be more successful this month?"
He thinks about what the team is trying to achieve and how the right training (for example how best to leverage ZoomInfo, G2, or UserGems) could give them a boost in reaching those goals.
Fun fact: Mixmax's sales engagement solution integrates seamlessly with Salesforce to automate updates and avoid duplicate data. Plus it makes Salesforce accessible through your Gmail inbox ⬇️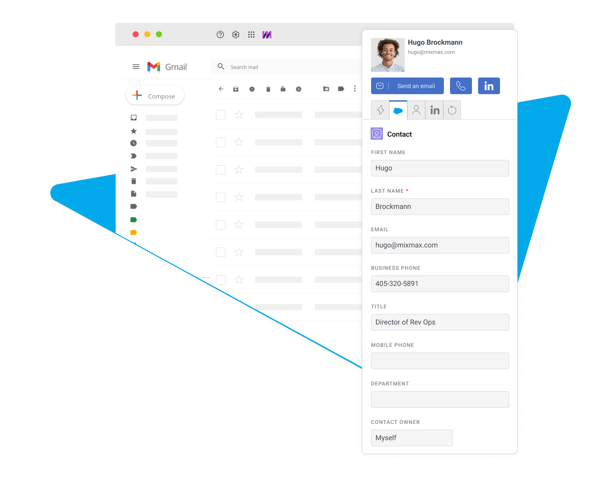 Mixmax Salesforce integration
RevOps meetings
Jack spends a significant part of his day meeting with the RevOps team. Together, they review data, discuss the efficacy of tools being used, and plan ways to optimize processes.
Although Jack never envisioned himself on the operations side, he has found this element of his role critical. "I never thought that as an SDR manager, I would be so on the operational side," Jack admits, "...you become an operations expert!"
Regular meetings with the RevOps team ensure that the SDR team engine is well-oiled and running smoothly.
When Jack wants to look at reports and data without having to go through RevOps, he uses Mixmax Insights which pulls pre-configured Salesforce dashboards into Mixmax (as seen below).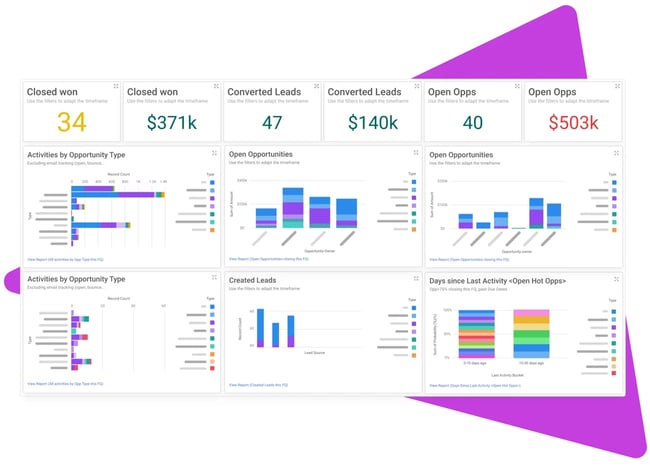 Mixmax Insights Salesforce dashboards
Regular virtual check-ins
In this new world where the office is as close as your laptop, staying connected and maintaining team morale becomes a whole different ball game.
Jack's approach to this is regular check-ins: "I think we're in a very remote world right now. I gotta rely on Slack. I gotta rely on huddles… to make sure that my team's headspace is really clear and good."
His priority is to keep his team in a good headspace, making sure they feel confident, supported, and able to accomplish their tasks.
Here's a snapshot of what Jack's day looks like:
---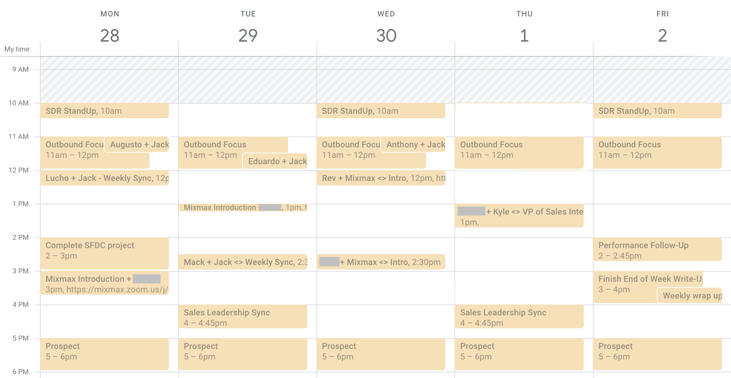 ---
More than just hitting targets
Our interview with Jack gives us a clear picture of how to manage a sales development team. It's not just about being a team leader, but also a mentor, a trainer, an operations specialist, and, above all, a pillar of support for his team.
As Jack puts it, "The more you do that, the more success you'll have not only as a manager but as a team as well..." His day isn't just about hitting targets, but ensuring every piece of the puzzle fits together to ensure company-wide success.
Thanks to Jack for providing a glimpse into his day-to-day life 💜