"Mixmax is easy to use and helps us increase revenue. I would attribute an increase of up to 30% in customer engagement to Mixmax and its subsequent revenue growth.." - Jemaine Jarvis, Customer Success (VIP Team) Manager at GIMO
---
Who is GIMO?
Global Interactive Marketing Online (GIMO) is a leading independent marketing agency and software developer within the iGaming industry. They combine industry knowledge and experience to deliver performance across a wide range of services for some of the world's most established gambling brands.
Challenges & objectives
GIMO's VIP (customer success) team was struggling with daily tasks and with effectively communicating with customers.
Some of their challenges included:
Using multiple different Gmail plugins and apps to complete tasks.
Having to send up to four introductory emails before getting a reply.
Manually setting up follow-up reminders.
Not having access to email insights (opens, clicks, replies, etc.).
Not having an overview of the team's activities.
Working odd hours to manually follow up with customers.
GIMO's main goals were to automate follow-up emails, increase (and accelerate) response rates, and gain insights into email interactions in order to convert customers to VIP members.
"We're in the business of gambling, and it's not something our customers want to discuss on the phone, so email communication is the most effective way to engage with them," said Jemaine, VIP manager at GIMO. "Previously we had to use ten different Gmail plugins with different functionalities to communicate with our customers, and that was hard to keep up with."
Their VIP manager started researching all-in-one sales engagement solutions that could automate their email communication and help them achieve their goals.
---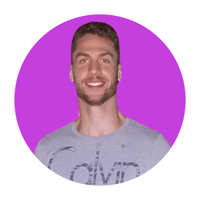 "The worst was when we were in the dark. And now with Mixmax, we don't feel like we're in the dark anymore. We know exactly what's going on." - Jemaine Jarvis
---
Solution
GIMO's VIP team chose Mixmax to automate follow-ups and increase customer response rates.
Key features and functionality they used:
Workflow rules/triggers & automated tasks.
Email enhancements such as one-click polls and surveys.
"We saw the power of not just the email enhancements, but also the sequence functionality, which is probably the most important option for us," said Jemaine. "I no longer have to send myself a reminder to call somebody; it's in my task list," continued Jemaine. "If I want to send a follow-up because somebody hasn't opened my email within 24hrs, it's done automatically. It takes this follow-up element away and makes our work much more successful."
GIMO was able to implement Mixmax within one day, and it was because of its virtually non-existent learning curve.
"There was no pushback or delays when implementing Mixmax," said Jemaine. "People instantly recognize the benefits of it and know how easy it is. One of our new hires learned how to create and send their own sequence within half an hour. And that's really the reason we still use Mixmax–it's so easy to just get something done, and most importantly, it eradicates human errors."
---
"Since we've started using Mixmax, our communication rates have gone up massively." - Jemaine Jarvis
---
Results
With Mixmax, GIMO was able to:
🟣 Achieve an email open rate of 76% .
🟣 Get up to a 30% increase in response rates on specific markets.
🟣 Decrease stress & workload thanks to sequences and automated follow-ups.
With Mixmax's one-click polls and surveys, GIMO was able to boost email reply rates by making it fast and easy for customers to respond.
"Time is money, and the people that we handle and deal with are very time conscious," said Jemaine. "Instead of having to send me a long request list of what they want in the future, they just answer a survey within an email or give us a thumbs up on a poll–and that's done."
GIMO's VIP team was also able to boost revenue as a result of the increase in reply rates.
"Mixmax helps us make money. If I had to measure it, I would give a large percentage of the revenue that we've generated to the tool that we've now got in Mixmax."
With email sequences and workflow rules, GIMO's VIP team now automates follow-up emails based on certain actions/criteria. This saves the team a lot of time as they no longer have to manually send out emails during non-working hours.
"Mixmax has decreased a lot of our stress and workload. Being able to schedule emails to be sent at the right times is super helpful. We used to have to wake up on weekends just to manually send out an email, and that was a pain."
Managers are now also able to have a complete overview of the team's email communications without having to ask for individual reports from each team member.
"Another thing that's great for managers is having an overview of what is happening in terms of email communication without having to ask every individual within your team to compile a report and send it over, said Jemaine. " It's very simple to see what has been done and what hasn't been done."
---
"Mixmax is super easy. And the more you use it, the easier it gets." - Jemaine Jarvis
---
Your CS team deserves the best
If your customer success team is struggling with manual tasks instead of focusing on building strong relationships with customers, it's time to invest in a sales engagement solution.
This nifty sales engagement evaluation checklist can help you decide whether Mixmax is the right fit for your team.