"I definitely recommend Mixmax to any organization that's looking for a productivity tool. It saves time, and you always know when people open your emails."
- Cecile Lee, Head of Account Management at Trendalytics
Trendalytics is a New York-based technology company that helps clients incorporate big data into their merchandising strategies. The company's product intelligence engine ingests and analyzes billions of consumer demand signals from social media, online product searches, and other sources to deliver actionable insights. Trendalytics serves many of the world's largest retailers, brands, manufacturers, and eCommerce companies and was even recognized as a top ten finalist in the Machine Learning Startup Competition hosted by Google Cloud.
Seeking to accelerate growth and streamline operational efficiency, Trendalytics needed an outbound communications management tool that would maintain and increase engagement with their customers.
In this case study, you'll learn why Trendalytics chose Mixmax.
Related Post: Sales Engagement: A Guide to Real Engagement with Prospects and Customers
Elevating Productivity
Trendalytics' account management team uses email to interact with their customers. Over the course of a year, even the slightest process improvement can make a major impact on customer engagement and retention.
Realizing the need for a productivity app that's built for Gmail, the team turned to Mixmax.
"One team member was already using Mixmax for her personal email," said Cecile Lee, Head of Account Management at Trendalytics. "We knew that if it worked well for her personal email, it had to be good."
The Trendalytics team began testing Mixmax and quickly determined that it was a perfect fit for their needs. After completing a 14-day trial, the decision to move forward was an easy one.
"Transitioning to Mixmax was a seamless process for our team," Lee said.
Automating with Templates
Copying and pasting into emails is a non-value activity that plagues many customer facing teams. With Mixmax templates, Trendalytics overcomes copy-and-paste bottlenecks, freeing up more time for higher value interactions with their clients.
"Mixmax saves time by allowing us to set up different templates and customize them as needed," Lee said. "Sales reps just point and click on a template instead of rewriting the same email 45 different times."
Template analytics help the team to understand each client persona by providing in-depth insights, such as open rates, click-throughs, downloads, and reply rates.
"With Mixmax templates, we've automated many of the emails that we're sending to the same types of people at different organizations," Lee said. "Whether it's an executive or a main point person, Mixmax helps us efficiently manage the communication."
Engaging at Exactly the Right Moment
Sending the right message is only part of the equation. Timing is an equally important consideration.
"We want our emails to get in front of CEOs, CFOs, and VPs at the right time," Lee said. "Mixmax lets us identify the optimal send time for each recipient, which is invaluable for my team."
When a user clicks "Send Later," Mixmax recommends a delivery time based on the recipient's historical activity. Recipient activity is also presented as an interactive graph, providing an additional layer of insight to the user.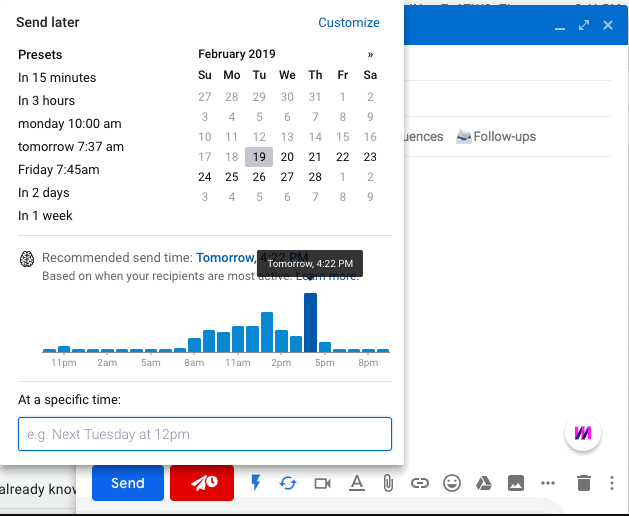 Recommended send times are especially powerful when paired with an automated follow-up sequence. Mixmax automatically customizes the send time for each recipient, dramatically increasing the number of opens, clicks, and RSVPs at each stage of the sequence.
Related Post: A Stark Warning for Anyone Looking for Sales Engagement Software
Scheduling, Simplified
One-click meetings have transformed how Trendalytics schedules appointments with clients.
"One of our favorite features is the Mixmax calendar," Lee said. "Overall, we estimate that it saves us over 65 hours each year."
Unlike other scheduling tools that merely provide a public calendar of availability, Mixmax allows users to create and embed calendar appointments in outgoing emails. Recipients choose a time by clicking a button in the email. Once clicked, Mixmax automatically creates and sends the necessary appointment confirmation emails.
The Mixmax calendar is also easily customizable to accommodate corporate branding elements, such as logos, tag lines, website links, and color palettes.
"Our calendar looks really sleek, and it's actually helped us build credibility with our clients," Lee said.
Optimizing for Performance
Simply put, Mixmax has revolutionized how Trendalytics uses email to engage and inform clients, as evidenced by their unbelievable open rate.
"We've achieved an 85% open rate with Mixmax," Lee said. "In fact, our most-used sequence has an open rate of almost 100%."
Ready to Save Time and Engage your Customers at the Exact Right Moment?
Ready to get close to 100% customer retention, build high-impact email sequences, and boost engagement your customers. Get started with a 14-day trial of Mixmax.