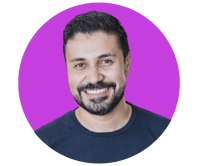 "When you're a high-growth business like Canva, you have to move fast. Mixmax gets the admin out of the way, so recruiters can focus on growth and recruitment—instead of email." –Francisco Morales, Engineering Recruitment Lead at Canva


---
Who is Canva?
Canva is a global online visual communications platform with a mission to empower everyone in the world to design. Its drag-and-drop design tool combined with an expansive stock graphic library is trusted by more than 125 million monthly active users. Since its founding in 2012, Canva has experienced rapid growth and now employs more than 3,500 people across the globe.
To keep pace with the company's growth trajectory, recruiters at Canva needed a more scalable approach to applicant outreach and engagement. In this case study, you'll learn why Canva chose Mixmax.
Challenges & objectives
Top-tier technical talent is hard to come by these days. In an era when demand for qualified software engineers far exceeds supply, recruiters must take proactive steps to elevate candidate outreach and engagement.
Canva's recruitment team was looking for a solution that could:
Help schedule interviews with candidates without any back-and-forth.

Re-engage past applicants and leverage insights to determine their interests.

Send internal surveys to colleagues to accelerate decision-making.
Schedule meetings with multiple people without overlap.
"We were using the scheduling functionality within our applicant tracking system (ATS), but it was very rigid," said Morales. "It didn't have the flexibility to book around your calendar and it didn't have buffers in between meetings, which is really important."
"We were looking for a solution to help with all that," continued Morales, "and we needed something that worked on desktop and mobile, was easy to use, and would not require applicant registration."
Solution
Realizing the need for an all-in-one applicant scheduling and outreach solution, the team turned to Mixmax.
"What drew us to Mixmax was the scheduling functionality and the email sequencing functionality," said Morales, "because those are two things that we realized we would leverage quite heavily in a recruitment team."
"It was kind of an organic growth thing," Morales went on. "It was basically myself and two other recruiters at the time, and we were like 'yeah, we like this, so let's keep using it'. And then as more people joined the team, everyone started using it."
---
"Mixmax is a SaaS product, and most of the recruitment tools we use have Chrome plugins, so it fits right in. Implementation was super quick and easy."
---
Results
Mixmax's one-click scheduling and email sequencing features transformed Canva's process for coordinating meetings with applicants and re-engaging those who had previously applied for different roles.
With Mixmax's slew of sales engagement features, Canva was able to:
Reach 80% email reply rate due to one-click scheduling (vs. 40% on LinkedIn).
Save one day per employee each month by streamlining scheduling.
Increase engagement and hire more people due to time savings.
Increase overall productivity by templatizing emails.
Easily schedule internal meetings with multiple stakeholders.
Gather actionable feedback from colleagues with polls & surveys.
"When it comes to the 20% who haven't responded to an outreach, Mixmax is clever enough to send a follow-up if the first email wasn't replied to. We'll often get a response the second time around and can engage with the job prospect in line with their response and wishes."
Standardized outreach and communication have also made a noticeable impact on the team's productivity.
"As a recruiting team," said Morales, "the most important thing is speaking to applicants and working with internal stakeholders to ensure a smooth process. You can't do that if you're spending half of your day writing the same email over and over. So Mixmax's templating feature was a game-changer for us."
Another use case is Mixmax's ability to offer insights to the Canva team when it comes to job offers.
"Job offers are a very sensitive part of the hiring process and a big deal if you're the applicant who's received one," said Morales. "We treat them with the same care and due diligence as we would sending any sensitive letter that would be going through the mail, like a Registered Post, ensuring the offer has gone to the right place and has been properly received."
If an offer has been sent and the recruitment team hasn't heard back in a day or two, it's an indication that they should reach out in case there are any further questions or information they are missing, or that they may be reconsidering or have other job offers and are too anxious to tell them about it.
"We welcome those difficult conversations and any reconsiderations about a job offer," said Morales. "It's a big decision, and ultimately our job is to give applicants all the information they need to make a decision they're 100% comfortable with. Without those insights from Mixmax, our offer letters would be aimlessly floating around in the ether, our applicants could be anxious about having to make a decision, and we'd be none the wiser - sitting around twiddling our thumbs, waiting for the universe to send us a sign."
Move faster with Mixmax
Ready to overcome bottlenecks and accelerate recruitment at your company? Consider this last bit of advice from Francisco Morales at Canva:
"If your recruitment process is dragging, Mixmax is worth looking into." Get started with a free trial of Mixmax for recruiters.