During the first half of 2020, many tech companies worldwide were forced to transition to a remote work model in just a few days. Many of us welcomed this opportunity. We'd been using tools like Zoom for a while already, so we thought it would be easy. Now, a couple of years later, many companies have decided to go back to the office or adopt a hybrid model. The reason? Building a company culture while working remotely takes effort and commitment.
Here at Mixmax, we committed in 2022 to become a top 10 distributed team and even included it as part of our goals for the year:

Why Do We Want to be a Distributed Company?
The main reason for us to be distributed is to be able to hire the best engineers. Companies can attract talent with money, and many are doing so. But you don't want to retain people just because you pay well, or you end up with an unmotivated team and the wrong company culture. In our Engineering team alone, we have people from more than ten nationalities working across different time zones, from the US to Belarus.
What is Working at Mixmax Like?
Because we have people working with almost no time zone overlap, we can't always rely on meetings to transfer knowledge and make decisions. At Mixmax, we have small teams that work autonomously; they decide how and what to work on. Tooling is important, because asynchronous communication is the preferred way of working. We use Notion for documentation and knowledge transfer, and Slack for messaging. However, it's up to the individual teams to organize their documentation, choose the tools they use for estimations and prioritization, and set up processes that work best for them, depending on their mission and resources.
We also try to keep our meetings to a minimum, both in frequency and duration, to allow people to have big blocks of focus time throughout the day. But working remotely is not only about processes and tools. There are also certain traits that we expect from our engineers:
Proactivity. In an asynchronous environment, things can go slowly if we need to agree on everything. So, even if you don't feel comfortable making a decision on your own, think about what information will be relevant for other people to help them decide, and then try to collect it yourself.
Ownership. When you identify a problem, don't look the other way. Report it to the team that owns the domain, file a ticket, or just fix it, if you know how to do it.
Trust. As one of the most important features of high-performing teams, trust goes both ways. Your team (and manager) will feel much more comfortable working with you if they know they can trust you. This involves working out loud, being reliable and transparent with your work, owning your mistakes, and sharing your knowledge.
Engineering Coworking
Not everything is focus time and working hard. At Mixmax, we also have time to share and learn from each other. The Engineering Coworking meeting occurs every other week, where the whole Engineering team gets together to present new ideas and share knowledge. The topic shared could be about a new framework or tool that we're thinking of using to solve a particular problem, about a new feature that we implemented in the product, or it could just be an update on something relevant for the team. The goal here is to share and learn, so the presenter is usually expecting comments and feedback.
Of course, the meeting has an agenda and a moderator, and it's recorded so everyone can watch it if they can't attend live.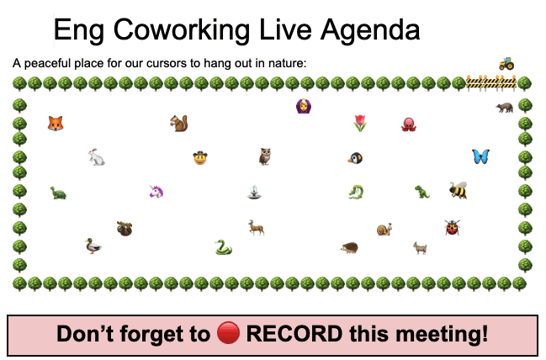 Engineering Demo Time
If Engineering Coworking is about sharing knowledge and learning, Engineering Demo Time is about celebration with a touch of fun. Engineering Demo Time runs every Friday, usually for half an hour. It's a place to decompress and have a good time with the Engineering team while we share a demo about a new feature or a nasty bug we fixed. Attendance is optional, but wearing a funny hat is not ;).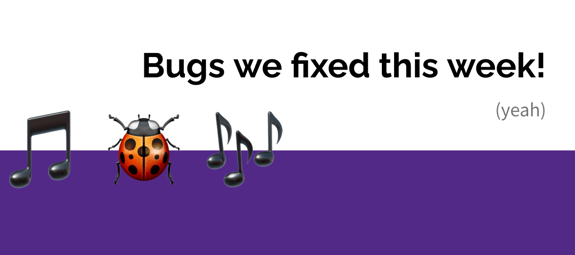 Having a good atmosphere at work is not enough to be a high performing team, but I haven't seen any high performing team with a bad atmosphere. It's important to take our jobs seriously… but not too seriously.
Time to Celebrate
Most teams are familiar with retrospectives, where the team reflects on what happened during the last few weeks and identifies actions to improve how they work. The goal is to set short feedback loops that help the team get better over time. But we also have a part of our retrospectives that is about celebrating the successes that we usually don't pay too much attention to.
Some teams at Mixmax even have specific Celebration meetings to share the things that work well and the achievements of the past weeks. Achievements could include a new customer being successfully onboarded on the platform, a complex bug we closed after a painful investigation, or a new feature that helped many customers to be more productive. Celebration meetings are a great time to focus on anything that helps us understand the value we provide as a team and build trust in each other.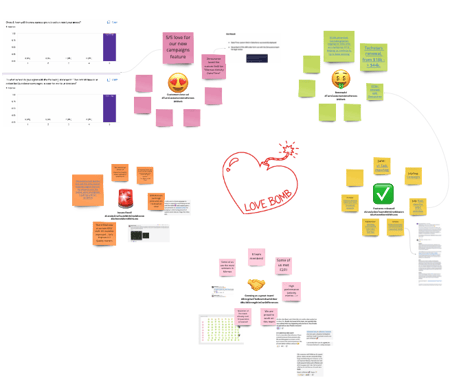 And while having dedicated time for social interaction and getting together is important, sometimes we can have the biggest impact with small details that happen every day. We have a dedicated tool and Slack channel so that we can share our successes and call out individuals that reflect our company values.

Company Meetups
Of course, we also set aside time for virtual and/or in-person meetups throughout the year. Our Reply-All meeting happens every other week and it's an opportunity for the whole company to get together and share information. We also have other social events throughout the year and a bunch of social channels in Slack that are open to everyone.
Join Us!
Hopefully, this post gives an idea of how we work together and how we've managed to build a great culture, even while working remotely and from very different locations. If you think Mixmax could be a good fit for you, check out our opening roles and read about our hiring process. We're looking forward to meeting you!