Mixmax is a communications platform that brings professional communication & email into the 21st century.
I'm pleased to announce the new Mixmax Share button, which lets you share any message in your inbox to your favorite chat, CRM, presentation, task or project management tool.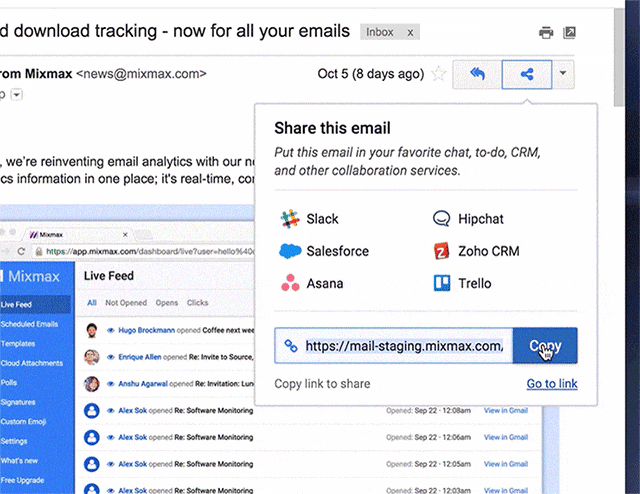 This is a game-changer and brings visibility to email communications within a team. With the new Share button, you can keep teammates up-to-date in their tool of choice.
To share an email, click the share button in the top right of any message in Gmail. It's right next to the Reply button. Rather than screenshotting or trying to copy and paste an email, you get a link you can paste and share into services such as Trello, Slack, and Salesforce. Your email is presented beautifully, without any distractions. Click here to see an example.
This is incredibly useful for sharing:
a customer support inquiry in chat
a feature request or a bug report in a task manager
the latest stage of a negotiation in your CRM
a progress report with your team in video conferencing
Excited? We are too! Install Mixmax for free and start sharing. We're also hiring, so if you want to bring email to the 21st century — reach out to us at hello@mixmax.com and follow us @Mixmax.
Related Post: 9 Sales Email Sequence Software Tools for Sales Engagement and Automation