We're not going to beat around the bush.
These are some of the top challenges a lot of revenue teams face today that result in low (or no) meetings booked:
Inefficient meeting scheduling practices
Improperly set up sequences
Manual task management
Lack of multi-channel outreach
Inconsistent follow-ups
Forgotten to-dos
And when reps don't have the right tools to solve these problems, they can't do their best work.
They're not given the chance to excel. And that's not on them.
What can you do about that?
Give 'em the tools they need to streamline and automate their efforts while simplifying their scheduling process.
This infographic we put together using in-house Mixmax data points shows you exactly how specific tools and functionality can help increase meetings booked.
PS The breakdown of all the functionality we mention in the infographic can be found at the bottom of this post.
Here we go!
The science of booking more sales meetings

Share this image on your site

Where's the proof?
Here's a breakdown of how we got these stats: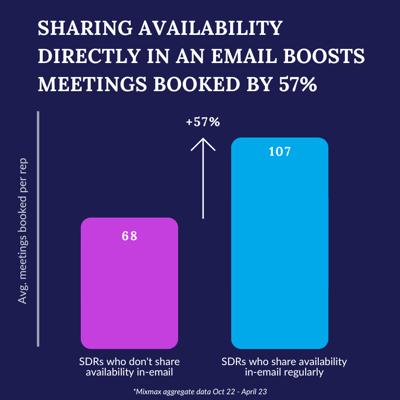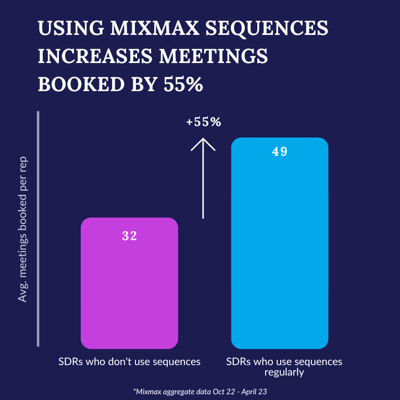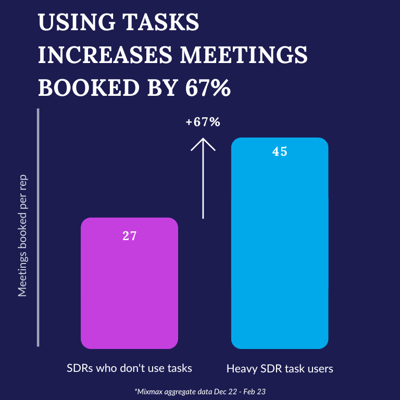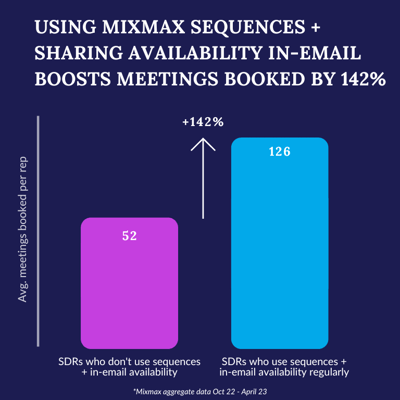 Breakdown of the functionality mentioned in the infographic
In-email availability sharing
This feature allows you to include your specific availability directly in the email. Once the recipient receives it, they can click on "Show me times I'm free" in the email message and a pop-up will show them when they're free (cross-referenced with your own availability).
They can just select the time they prefer and that's it—meeting booked in just two clicks, without context switching.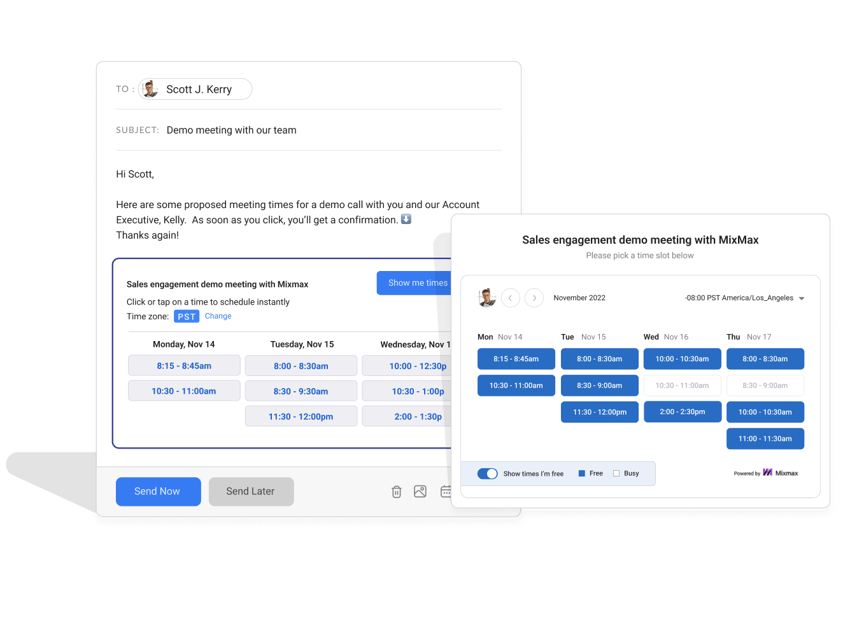 Mixmax Sequences & Tasks
With Mixmax, you can create personalized sequences that include automatic Task reminders based on certain actions (or inactions).
Below is an example of a cold prospecting sequence that includes tasks: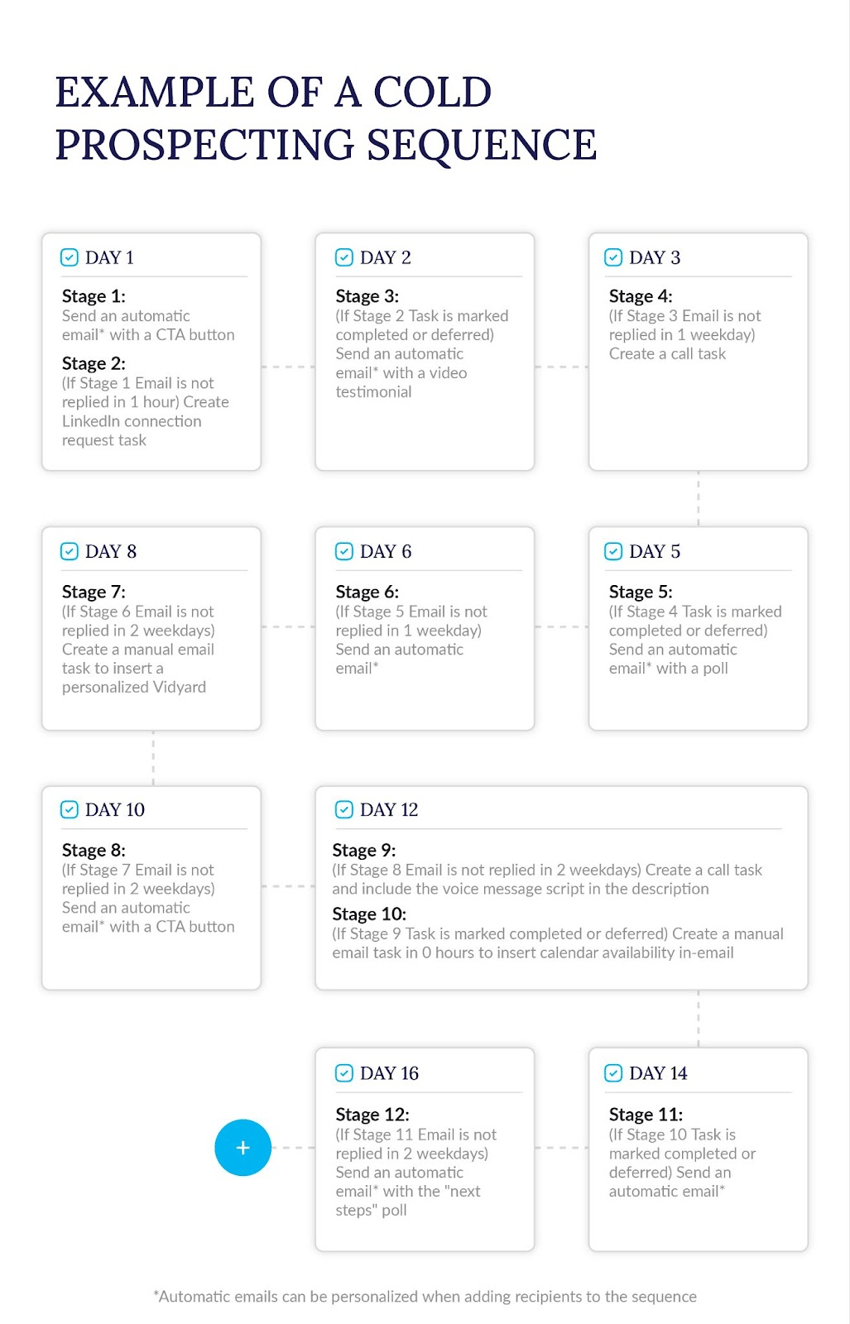 Mixmax Tasks
As mentioned above, you can create specific tasks in your sequences. Tasks can be anything from call tasks to LinkedIn connection tasks to manual email tasks. Below is an example of a call task in Mixmax: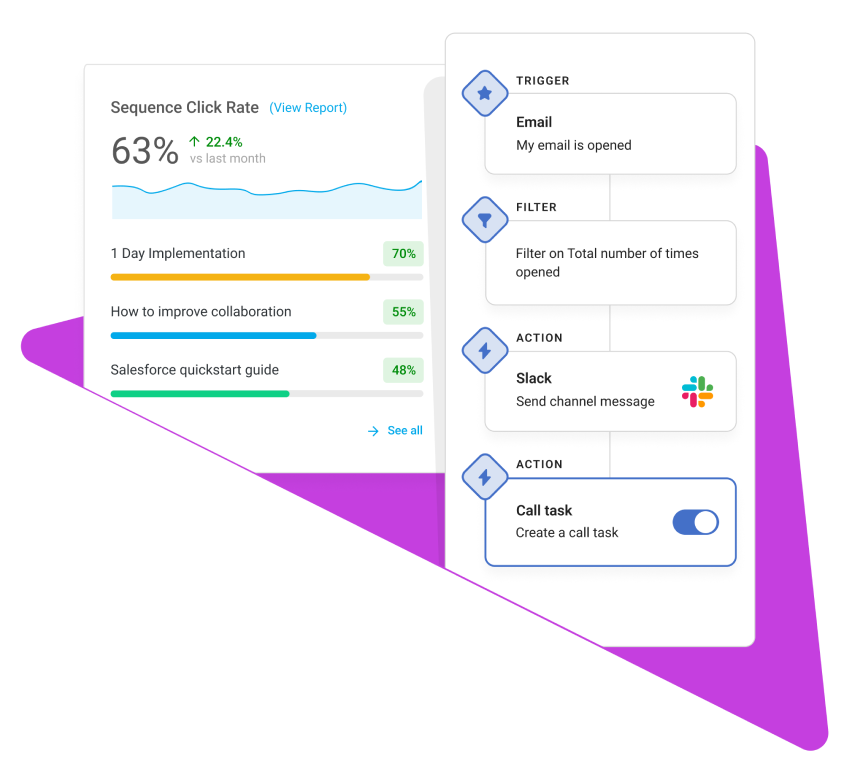 Conclusion
You've seen firsthand through our infographic how Mixmax can kick those meeting booking issues to the curb. We didn't sugarcoat the problems your teams might be facing. Instead, we gave it to you straight - not having the right tools can be a real roadblock to your reps doing their best work.
But here's the good news: Mixmax can be that game-changer your team needs. It'll turn inefficient scheduling, basic sequences, and a bunch of forgotten to-dos into a thing of the past, helping reps book more meetings.
Wanna see how it works? Book a demo with one of our own reps who use Mixmax day in and day out to book meetings and drive revenue.