When we asked Kendrah Wick, Honorlock's SDR Manager, if she would be open to sharing her team's experience with Mixmax - she immediately said yes.
"We've had a great experience thus far and I know how important testimonials are," Kendrah said.
This is the era of empathetic leaders - and we're grateful to get to have them as customers. Continue reading to find out how Kendrah 10Xed her team's productivity, learn about Honorlock and the role Mixmax plays in their growth.
1. Hi Kendrah, thanks a lot for agreeing to do this! Could you start by telling me a bit about you, your role, and what is Honorlock?

I am the manager for the sales development team at Honorlock, and we started using Mixmax back in November of 2020.

I came to the company in February of 2020, so right as the pandemic hit. We didn't really have any tools or processes in place for sales development so we've been slowly building this department, and Mixmax is playing an important role in that.

I've been working in higher education for about eight years. I love higher ed technology and making it easier for higher ed institutions to provide services to their students.

Honorlock provides on-demand online exam proctoring services for schools and universities. There's a lot of controversy around online proctoring, but our student-centric approach is what sets up apart.

There are three SDRs aside from myself on our team, and we have three sales reps currently. We're a small team still learning to grow.


2. Since the beginning of the Covid19 pandemic, the need for a solution like Honorlock has grown exponentially. What role did Mixmax play in your growth?

It's been an outstanding, but crazy year. We have about 150 employees now as opposed to 60 when I started.

One of the things we knew that we really wanted was a way to track our outreach.

We're a hybrid team so we do outbound and service inbound leads. We definitely needed something to help us track who we're reaching, analyze if the messaging is hitting the right people, and if people are actually engaging with us.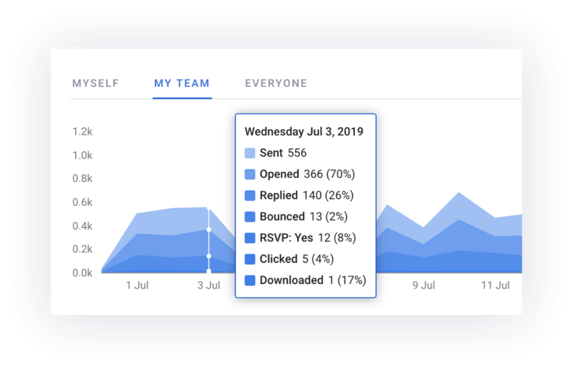 Discover what content is getting results with Mixmax Insights
I used Mixmax at a previous company, and when I brought on another SDR who happened to come from the same company, we immediately said we've got to push to get Mixmax because it was so simple and easy to use.
Mixmax has been instrumental in helping us make sure that we're engaging our prospects, at the best possible time.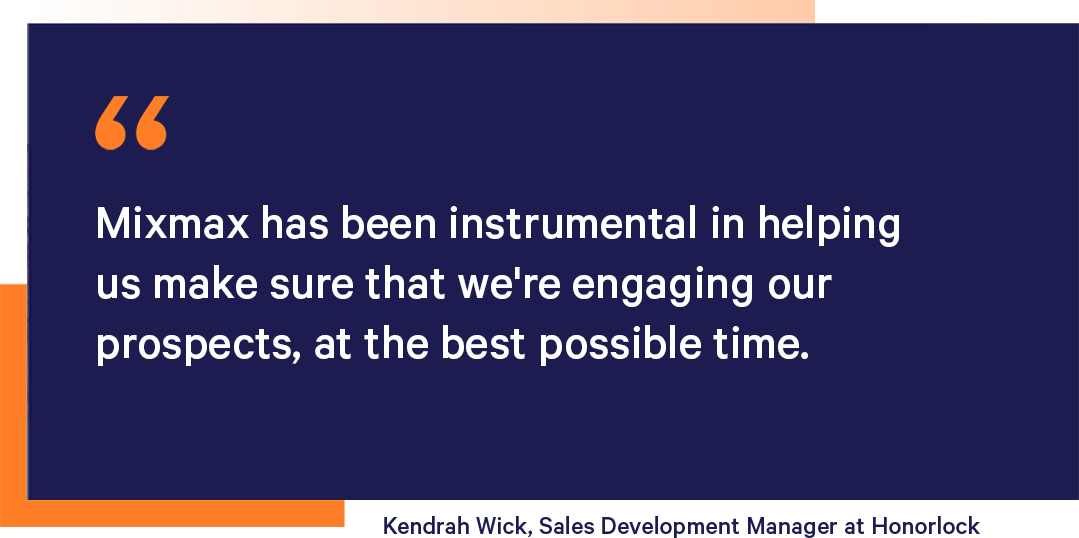 When we send out a sequence and see that it was opened about 50 times, we know that campus is engaged with our message. That is a prompt for us to reach out to them with further information or give them a call on the phone.

Mixmax has given a direction to the SDRs in terms of which accounts to be going after.

We didn't really have a plan for how we were going to target different institutions and Mixmax definitely gave us kind of a direction to go after highly engaged prospects that we know are opening our emails, and it continues to be that way.

I don't know how we would have built our department without having the insight that comes from Mixmax, which makes it so easy to send sequences, create templates and achieve our goals faster. There's no way we would have been able to do it without Mixmax.


3. What would you say is our superpower?

For us, it's the tracking and the reports. Being able to see how our messages are being engaged with it over time has been a game-changer. Mixmax reports give me all the data I need to report to our exec team and to see where our messaging is. If we need to tweak a message to make it better.
4. Your SDR team and AE teams are currently using Mixmax. What impact did Mixmax have on their performance?

We weren't really planning for the sales team to join our Mixmax workspace. They have their own way of doing things, tracking performance, and deciding who to talk to, and it's usually separate from what we're doing. But we brought them in recently, and immediately a couple of AEs went all in and became power users like us.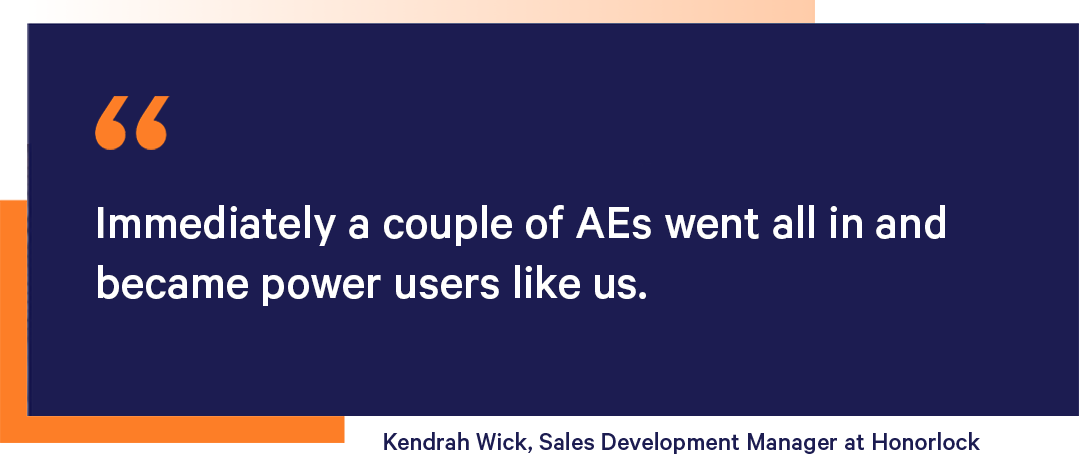 The great thing about both SDRs and AEs using the same sales engagement platform is that we were able to work with our marketing team to create top-to-bottom, branded messaging and ensure we're in sync with our prospects.
We can share and edit best-performing templates, sequences and work together in the same environment. This has been a big deal for us, and super helpful with a lot of our territories because we're so new and a lot of states don't know who we are.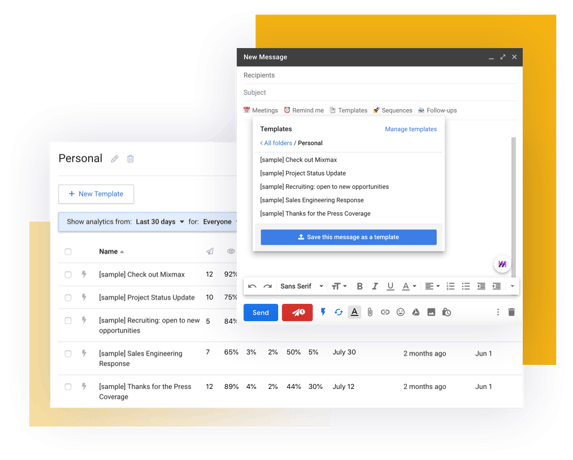 Save time with templates and share the best-performing ones with your team

Working together in Mixmax made it easy for each team member to tailor a message, it has increased our productivity and enabled us to reach our goals 10x faster.
5. What Mixmax features, in particular, helped you achieve these results?

Being able to build out a sequence and add different tasks between emails like scheduling a call, or prompting the sales development person to send additional resources. It helped us create a whole story and organize the daily workflow of our SDRs. By sending us reminders, and putting calls and tasks on our calendars, Mixmax makes it a lot easier for us to be more productive and do our job better.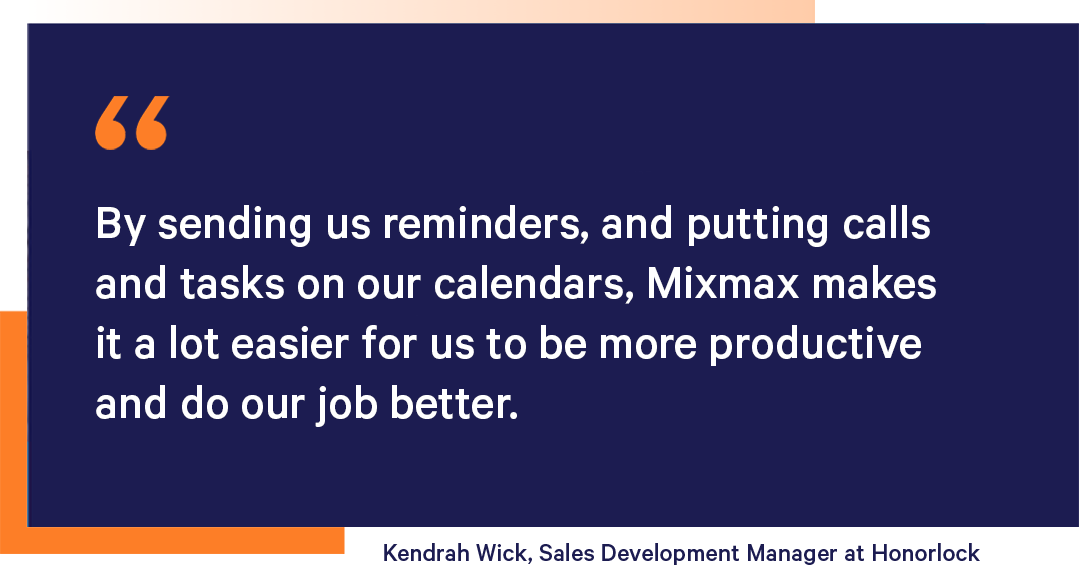 We haven't gone into the rules as much, but it's definitely something we've looked at. As we are starting to focus on statewide messaging, Mixmax rules will help us build out the whole process.

6. Do you have a Mixmax tip you could share with me?

Before when we would set up a sequence we were individually adding recipients or sending one-offs to individual recipients.

Creating lists in Salesforce, downloading them as a CSV and uploading that recipient list, and then having the ability to go back in and make changes to an individual's email before it gets sent has been a major change for our team. It is at least 10 times faster and it still gives you the ability to personalize the message before it's sent.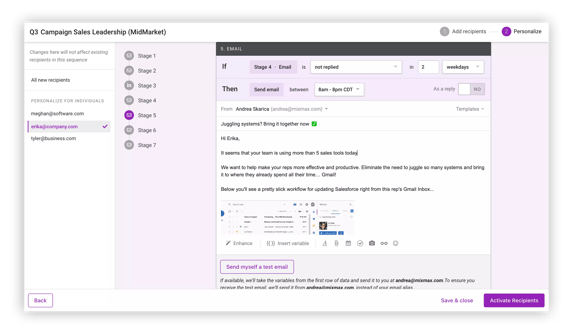 Easily personalize each stage of your sequence for individual recipients

I would definitely recommend that for anybody. One-off emails are kind of like a thing of the past.


7. What has exceeded your expectations since working with us?

Obviously, the service has been outstanding. You guys have a great team over there and you're super easy to get a hold of. It's been a constant partnership since the beginning.

But one of the things that I've come to be focused on is the reliability of the service.

We're working with other technologies or integrating other technologies in our tools, and there are times when we have blackouts. That causes pain for us and it causes pain for our customers and the fact that I don't think there's ever been any downtime with Mixmax, has been amazing.

The reliability of knowing that you can set a sequence and it's going to go out on time and it's going to hit on all the rules and you're not going to have a blackout period or something like that.

There are so many tools that we use all the time that are not as reliable. Sometimes we feel like we have to hurry up and get something done before it's broken. It's so nice to not have to worry about that at all and for a tech company that's such a big deal. We're working with technology all the time. We can't have downtime, it just doesn't work.
Thank you so much for sharing your experience with us, Kendrah!
Spray and pray isn't going to cut it in 2021. Learn why Mixmax is the best sales engagement platform for truly personalized cold outreach.