In sales, every minute counts.
Each moment spent on administrative tasks, such as manually scheduling product demos and consultations, detracts from your team's ability to pursue new opportunities. Yet, these tasks are a necessary part of the sales cycle – after all you'll never close a customer if you can't get them to a meeting. So, how can you free up more time for your sales team to focus on elevating customer engagement? Automating your appointment scheduling process is a great place to start.
Let's explore the root causes of inefficient appointment scheduling and best practices for fixing the problem.
Related Post: Mixmax Eliminates Six Days of Admin Work per Month for the Pixlee Sales Team
Causes of Inefficient Appointment Scheduling
Your reps work hard to maintain high levels of efficiency. Trouble is, their current sales tech stack may not exactly align with this goal. After all, they're constantly jumping between their inboxes, CRM records, meeting schedulers, and other systems. Booking appointments is no exception to the rule.
Here are just a few reasons why appointment scheduling consumes so much of your sales team's day:
1. Personalizing Appointment Request Emails
Sales reps send a lot of appointment request emails each day. In an effort to streamline this process, some teams use sales appointment request email templates from their CRMs. Although this approach may be more productive than manually copying and pasting, CRM templates rarely offer the the level of customization to truly engage prospective customers. As a result, reps often abandon their CRM templates altogether and resort to writing customized, one-off emails for each invitation.
Certainly, personalized messages are more likely to yield positive results – but, at what cost? A 20% response rate on 100 carefully crafted emails is the same as a 2% response rate on 1,000 templated emails. The obvious difference is that 100 "carefully crafted" emails require much more time and effort.
2. Using 10 Emails to Schedule a Call
Obtaining a prospect's agreement to meet can require several follow-up attempts. Without the right toolbox, scheduling a meeting becomes the next time-intensive endeavor to manage.
Does the following email exchange sound familiar?
Email #1 (Rep): "How does your calendar look for next week?"
Email #2 (Prospect): "Sorry, I can't meet next week. I'm out."
Email #3 (Rep): "How about the week after next? I'm open Monday or Tuesday…"
Email #4 (Prospect): "Monday and Tuesday already look pretty full. How about Wednesday?"
Email #5 (Rep): "Sorry, I'm in an all-day training on Wednesday. Thursday?"
Email #6 (Prospect): "Thursday at 10 am?"
Email #7 (Rep): "I'll be traveling then. 2 pm Thursday?"
Email #8 (Prospect): "2 pm Thursday it is!"
Email #9 (Rep): "OK, I'll send over a calendar invite and web conference link."
Simply agreeing on a time and date required nine total emails. This email thread required multiple interactions with the prospect, each of which consumed several minutes of the rep's busy day.
Related Post: The Effective Engineering Demo
3. Configuring Calendar Invites & Web Meeting Links
Once a meeting date has been agreed to, the rep must then go into his or her calendar, create an invitation, include the necessary details, and send the invitation to the prospective customer. If a web conferencing service will be used, the rep must also log into the application, generate a new meeting link, copy the details, and paste it into the calendar invitation.
All of this takes time and requires the rep to jump between several systems, increasing the chance for oversights and manual errors.
4. Monitoring for RSVPs
Despite previously agreeing to meet, prospects can be slow to RSVP. Some get cold feet. Others forget to click the "accept" button. Still others overlook the invitation entirely due to the massive amount of email that's already in their inboxes. No matter the reason, failing to receive an RSVP can be a frustrating experience for the sales rep.
Unfortunately, just determining who has RSVP'd (and who hasn't) can be a cumbersome process. Sure, each calendar invitation maintains a record of responses, but who has time to click through dozens of calendar items? Certainly not your sales reps.
Streamline Your Appointment Setting
An all-in-one sales productivity and workflow automation tool, like Mixmax, can streamline how your sales reps schedule their appointments. For starters, Mixmax integrates the tools that your team uses each day, such as Zoom, Salesforce, Pipedrive, Google Calendar, and Gmail. Instead of jumping between multiple systems, sales reps can easily coordinate appointments without leaving their email inboxes and can also create an email automation rule to automatically send appointment reminders prior to the meeting to minimize no shows.
Here's a quick overview of how it works:
Personalized, Scalable Outreach
With Mixmax sequences, reps can strike the perfect balance of personalization and scalability. Prior to enabling a sequence, sales appointment request emails can be quickly customized at the recipient level, thereby increasing the likelihood of an RSVP.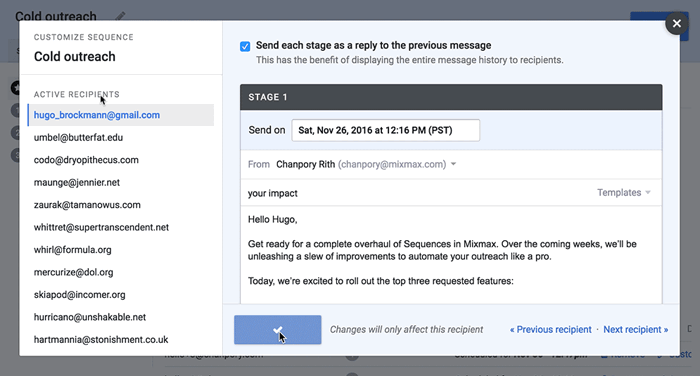 Mixmax can also send automated follow-up emails after receiving no response, further increasing the efficiency of your team's communication.
One-Click Scheduling for Sales Reps
Sales reps can quickly insert their availability into the body of any email. Rather than exchanging countless emails to determine when both parties are available, prospects can view and select a time that works best for their needs.
Automatic Booking & Confirmation
Once a recipient chooses a time and date, the sales rep receives a confirmation email and the time slot is automatically added to his or her calendar. The prospective customer also receives a calendar invitation, saving both parties time and eliminating unnecessary clicks.
Web Meeting Link Insertion
Reps can predefine their preferred meeting location, such as a permanent Zoom meeting link. As recipients book time, Mixmax eliminates another step in the process by automatically updating the calendar invitation to include the rep's preferred meeting link.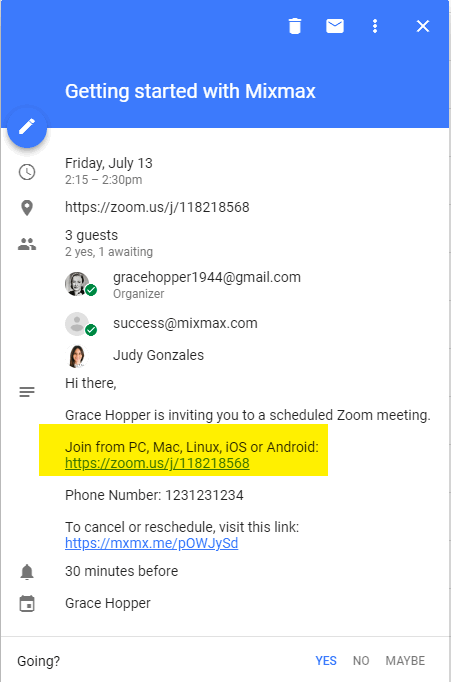 Automate Your Appointment Scheduling
If your sales reps are spending too much time on meeting coordination, perhaps it's time to give Mixmax a try. In addition to being a Google Calendar scheduling tool you can build customizable sequences at scale, suggest available time slots, book meetings without leaving your inbox, and gain total transparency into recipient engagement.
Start a free trial of Mixmax today.