SDRs are often on the frontline of sales organizations. They are selling meetings, vs account executives who are laser-focused on selling a solution to a prospect's problem.
We've created an outline for sales leaders to follow to ensure all their meeting-setting teams are set up for success. Read on to learn how you can book more meetings using Mixmax.
1. Organize & prioritize
To hit their unique goals, the frontline needs the right content for the right prospects at the right time. SDRs need their work outlined each day so they can prioritize and breeze through their work, connecting with as many prospects as possible.
Wherever the SDRs prefer to work–either from their inbox or in a web app–they should have everything they need to make meaningful connections.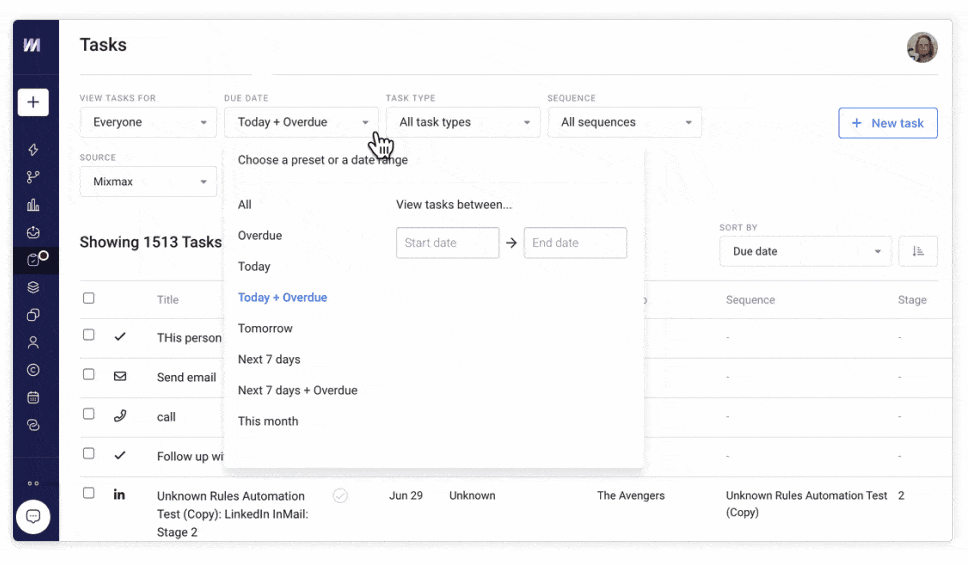 2. Send personalized messages at scale
SDRs have to thoroughly research their prospects before personalizing their communication. Good reps know what their prospects are interested in, or struggling with, at any given moment.
Give them an easy shortcut to their prospect's social media activities.
With all that knowledge in their back pocket, your SDRs' next email, LinkedIn message, or call will touch on exactly what's on their prospect's mind. After all, if the message doesn't speak to that individual and their situation, it's never going to generate a meeting.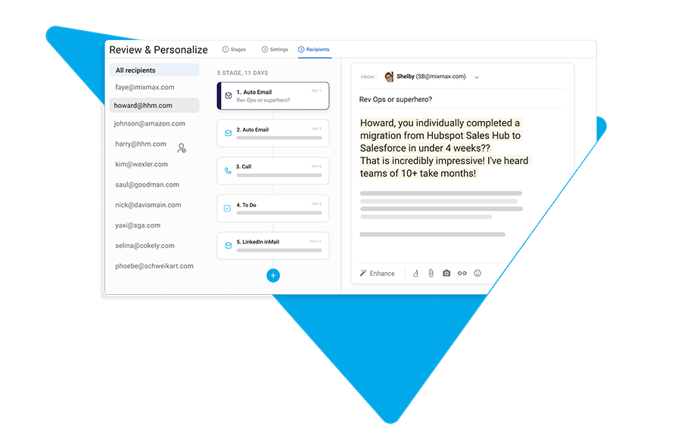 3. Stand out in the inbox
There are lots of creative ways to make reps stand out and enhance the point they're trying to get across.
For example, inserting a GIF they know their prospect will relate to, dropping in a poll, and beautifying all their links to ensure the content looks its best. All these moves will improve response rates and make it easier to book more meetings.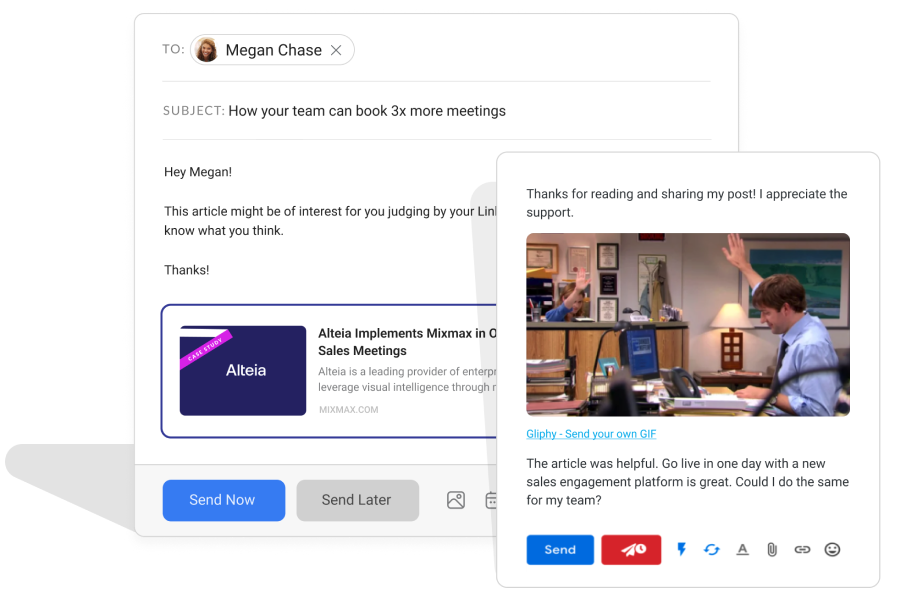 4. Keep the momentum going and crush the next call
It's important to use a local number when cold calling. A prospect is more than 2x more likely to answer a local number vs one from out of their state. And if a contact calls you back using a local number, Mixmax will route the call to the correct user without revealing your personal number.
SDRs have to be prepped once they get a prospect on the phone. Having the prospect's website and/or LinkedIn profile open and being ready to take notes on the outcome is key. A system that automatically logs the successful call into Salesforce will save them hours every week.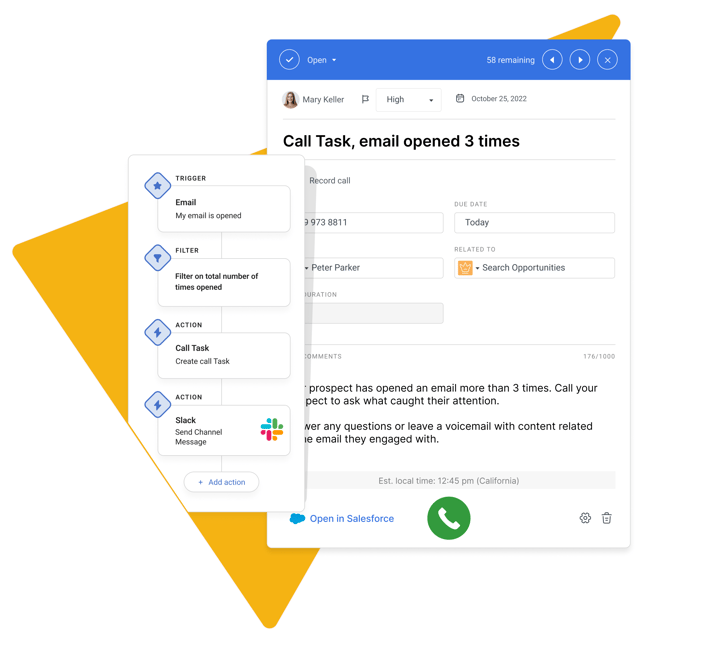 Being prepared is half the battle for SDRs. But if they have tedious admin work to get through every day, they won't have enough time to offer a personalized and valuable experience to prospects.
That means less meetings booked.
Mixmax can help SDRs:
Prioritize work with task management and save time with automatic Salesforce updates

Personalize at scale with an easy-to-use Sequence editor

Boost response rates with email enhancements such as polls and surveys

Call prospects with a local number to increase connect rates



For a team of five, Mixmax provides an improvement in productivity of 9.9 hours per day or $68k in estimated salary savings. Our customers typically go live in one day and see ROI in less than six months.
These features are available on our Enterprise plan. Learn more about how to supercharge your SDR team with Mixmax!