Mixmax is a communications platform that brings professional communication & email into the 21st century.
We're super excited to announce that Mixmax now works * automagically * in Google Inbox. It's seamless, powerful and blazing fast. With Mixmax, Google Inbox is finally an essential product to get your work done faster.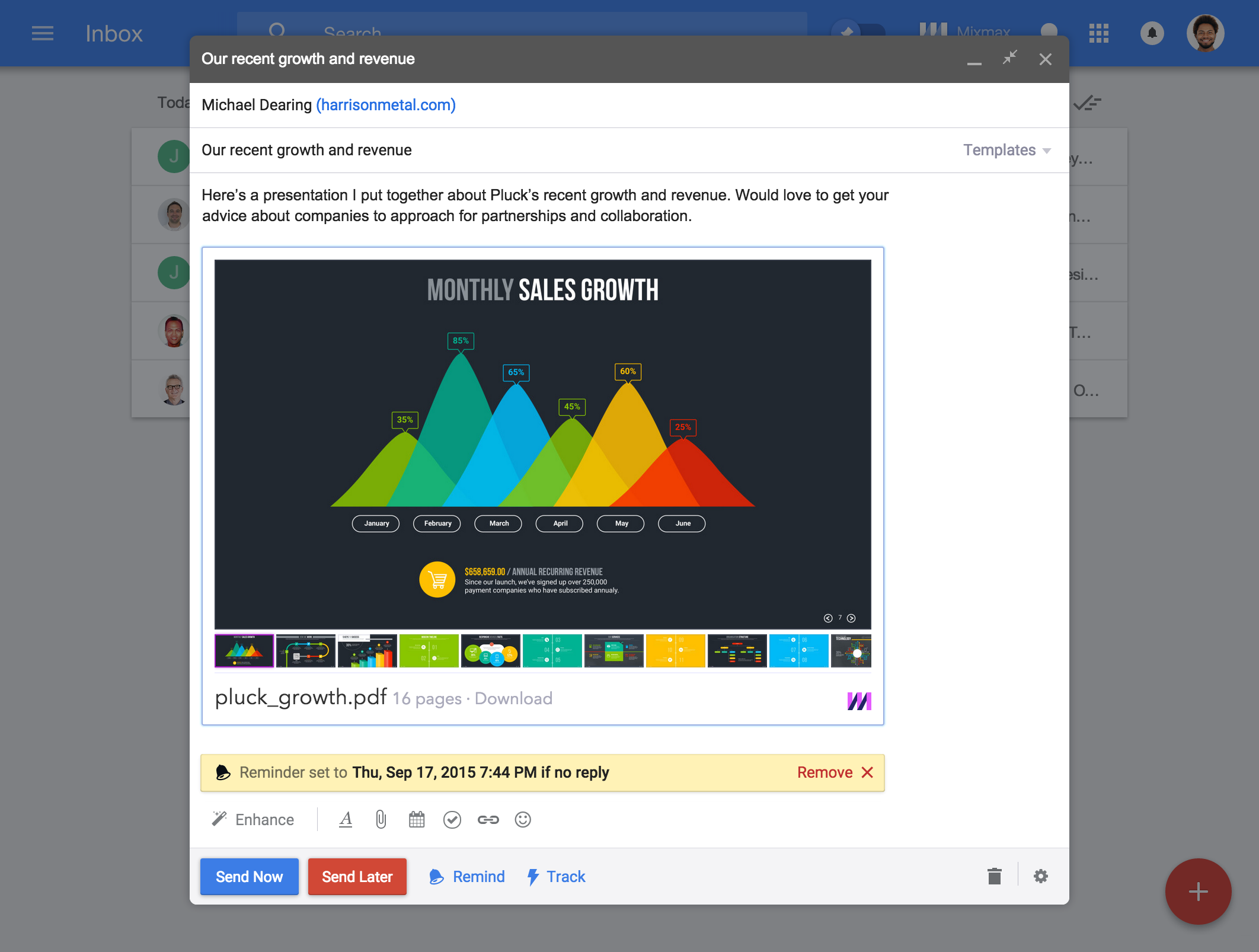 All the Mixmax pro-features you love are available in Inbox. You can share your availability instantly, schedule a group event without the back & forth, and embed polls & surveys for better replies.
After sending, you can track email opens, downloads, and (spoiler alert) clicks! Set automated reminders to ensure you never miss a follow up. If you frequently write the same message over and over (for prospecting, intros, recruiting or marketing), you can save any message as a template to use it again later without typing. You can even share your templates to collaborate with team members.
None of this was possible before in Inbox.

With Mixmax, any third party service can be integrated with Inbox to make work delightful. Current integrations include:
Google Calendar (e.g., for embedding event invites)
GitHub (for sending formatted and syntax highlighted code)
Google Maps (for sharing directions)
Giphy (for fun animated gifs)
LinkedIn
Twitter
Pinterest
Instagram
and more.
Similar to Slack, integrations are invoked with slash command shortcuts. For example, you can search for images by typing /image, and if you want to limit the search to animate gifs just type /g.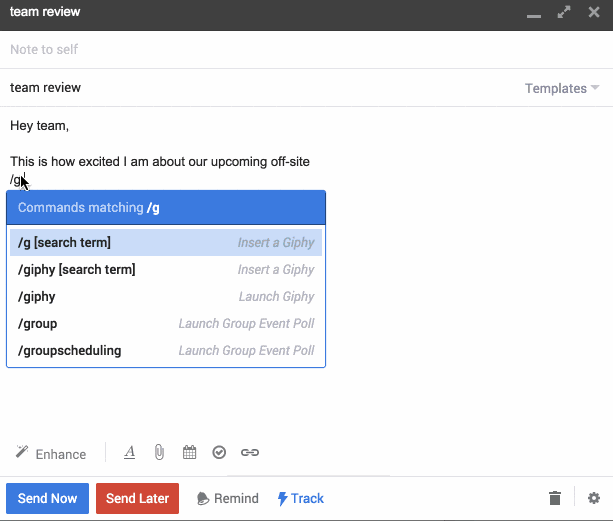 For die-hard Gmail fans, we resurrected literally hundreds of editor-related features from Gmail: resizing images, signatures, emoji support, keyboard shortcuts, attaching files from Google Drive, and font formatting.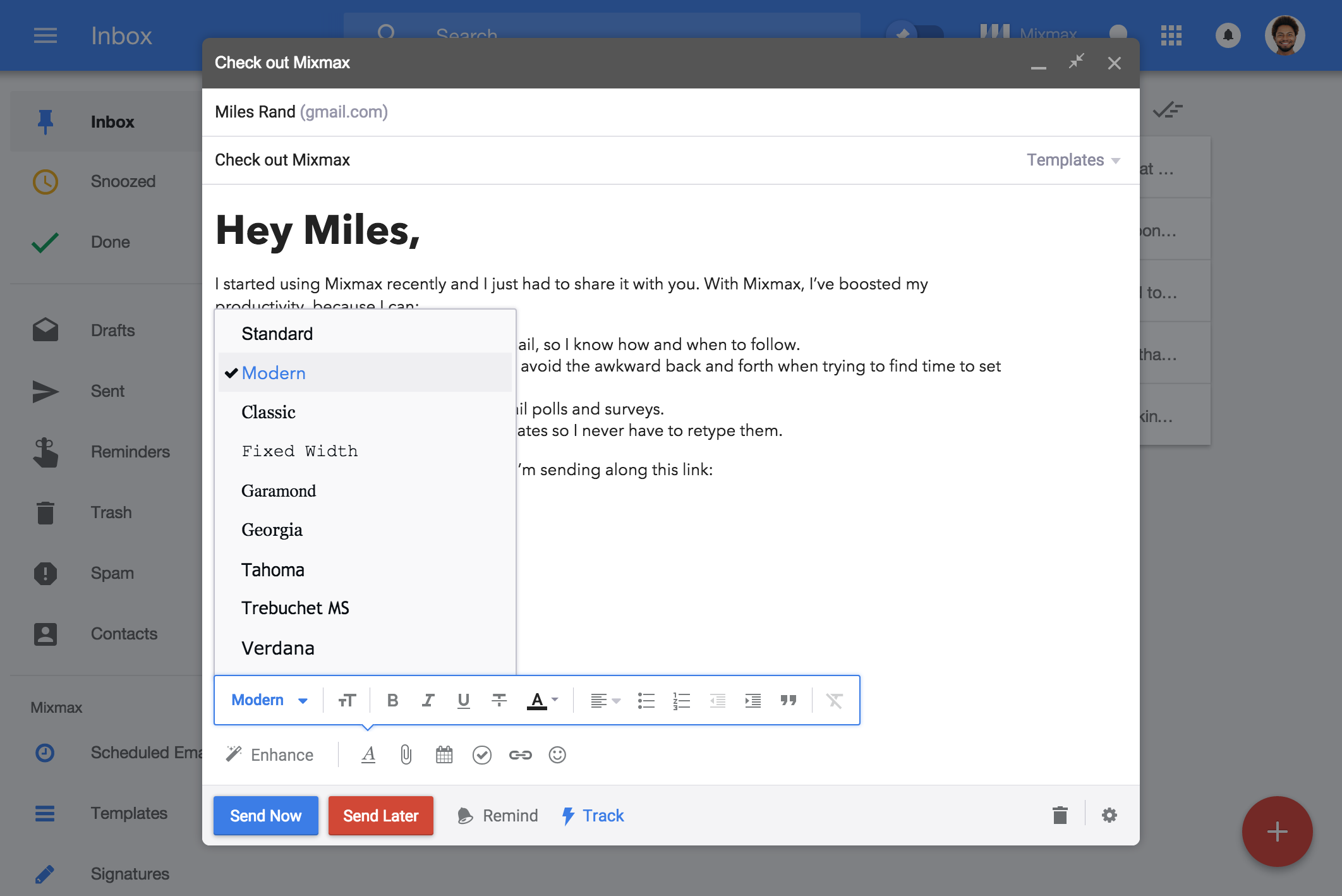 At Mixmax, we don't think email is dead, we just think no one has made it awesome yet.
Share your excitement on Product Hunt and follow us on Twitter!