In any team, consistency is key. That's why we built a way for you to control what your team can and can't do within Mixmax.
We now let you create and enforce particular roles for everyone in your organization. That way you can be confident your teammates are syncing exactly the right data to your CRM or ATS.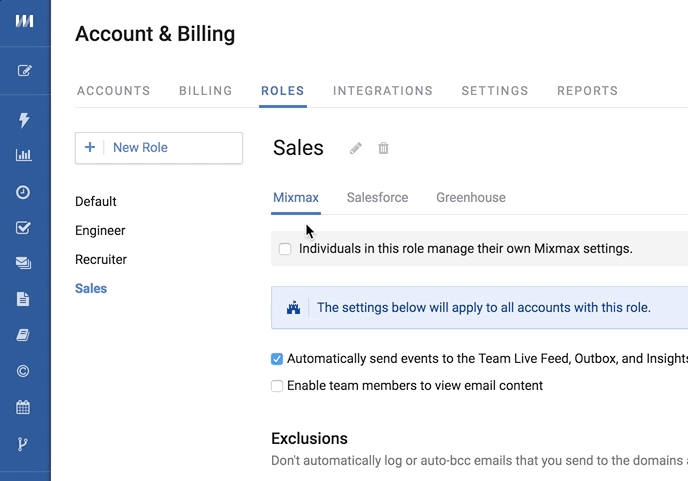 For example:
If you use Salesforce as your CRM, you can make sure Account Executives sync only to Opportunities they own, while the Success team syncs to any Opportunity.
If you use Greenhouse as your ATS, you can make sure your recruiters sync their nurture campaigns to the candidate record in Greenhouse.
For managers and team leads, make sure they can reassign Mixmax accounts and manage billing, and ensure that none of their conversations are shared with the team.
You can also see if someone in your organization is no longer connected to Salesforce or Greenhouse from your Integrations page.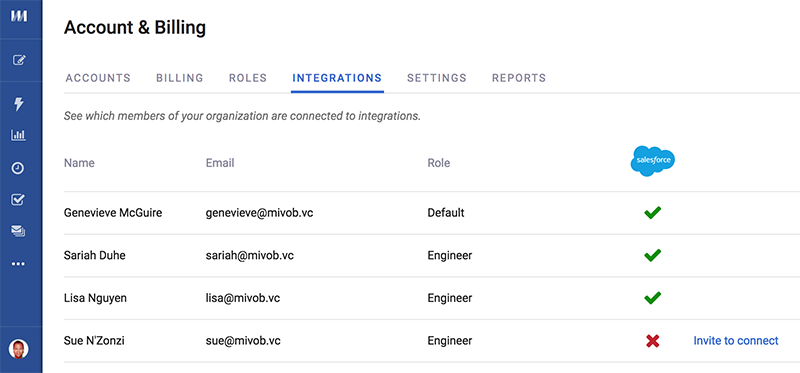 Last, you can make sure specific domains are always excluded from syncing to your system of record, so sensitive internal emails are never shared.
If you're looking for more granular permissions, let us know, we're happy to add it to the roadmap!
To learn more about setting up Roles for your organization, contact sales.