Mixmax is a communications platform that brings professional communication & email into the 21st century. We're proud to announce that Mixmax won the best Demo Pit company of 150+ companies in attendance at Launch Festival 2015!
Here's how it happened. A couple of months ago, we got an email telling us that we got a free table in the demo pit at @Jason's Launch festival, the biggest startup conference in the world. While we appreciated the attention we were also concerned it might distract from the business. We decided we wouldn't spend any time on it and forgot about it until we checked our calendars late one Sunday night, the day before the conference. Realizing we were expected to set up shop at the conference the next day we jumped on a call to prepare. We decided our preparation would consist of the following:
Two inflatable llamas
Black and white spray paint
Tank of Helium
Mixmax png logo
Foamcore
Old coat rack
Chanpory found an old coat rack, remade it into a sign post, and then overnighted the printing of our logo onto foam core. We picked it up at Fedex Office the following morning and assembled it in the space. Our contraption was literally duct taped together, but it looked professional, cost $50, and stood higher than the other companies' $500 pull-out banners.
Since demoing on the conference floor doesn't scale in terms of spreading awareness, we also ordered two inflatable llamas, black and white spray paint, and a tank of helium. It was a last minute attempt to replicate some #llamadrama at Fort Mason. Sadly, as we might have anticipated, helium won't lift heavy plastic, and the llamas never floated. But at least we got new mascots for the office!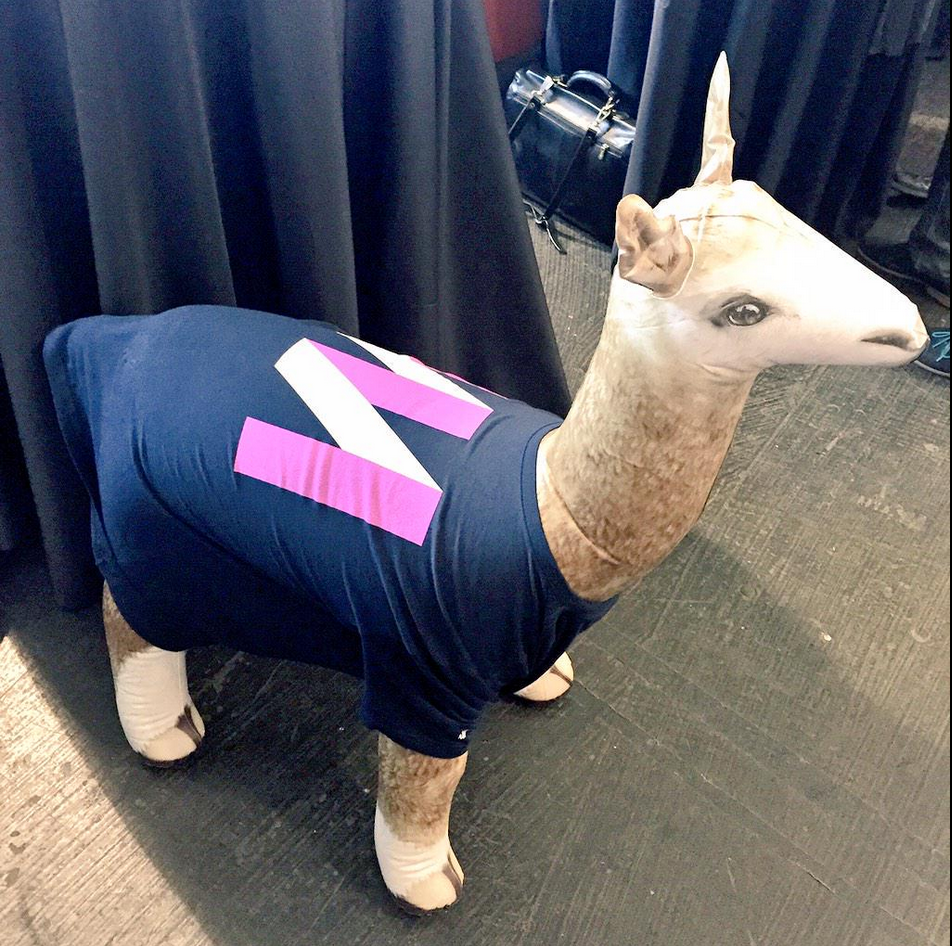 The conference was great for doing business development with companies to use our SDK, but we quickly exhausted the value of the floor and packed up and left. We thought Launch was over for us, and I had caught a bad cold.
On Wednesday, we were notified we had been selected among the demo companies to present on stage. At that point, I was at home running a fever. But, you can't say no to demoing live to a 2,000+ person audience. I popped a Sudafed, two Tylenols, and a triple espresso. Then, I called Brad and Chanpory, and we headed over to Fort Mason and demoed.
Here it is (although the first 15 seconds are missing): Mixmax launches at LAUNCH Festival 2015
Overall, it was really fun and encouraging to hear the audience applaud half-way through! Competition was stiff, which made it feel even better when it was announced we had won.
Thanks to everyone involved in Launch festival for making it so memorable. We look forward to bringing apps to email together with you!