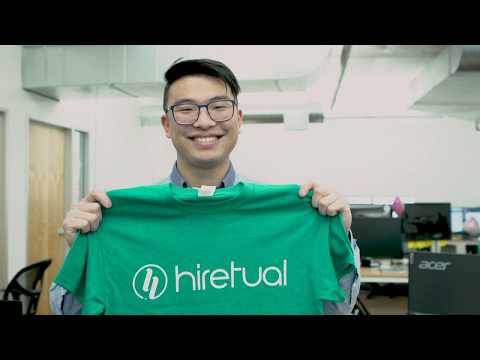 "My team saves 90 hours per week on average, thanks to the automation we've built in Mixmax."
-Edwin Lau, Revenue Operations Manager at Hiretual
Hiretual is a recruiter's best friend. More than 100,000 recruiters trust Hiretual's AI-powered sourcing assistant, which simplifies candidate sourcing and engagement across 30+ platforms and 700 million profiles. In 2018, Hiretual earned product of the year accolades from the Business Intelligence Group's BIG Awards for Business.
With demand for talent sourcing solutions at an all-time high, Hiretual needed a more scalable approach to lead follow-up.
In this case study, you'll learn why Hiretual chose Mixmax.
Automating Lead Follow-Up
Inbound web leads can have a very limited window of opportunity for engagement. Some web leads go completely cold mere moments after submitting a form, which is why time is of the essence.
Seeking an accelerated approach to follow-up, Hiretual implemented Mixmax across three teams: sales, account executives, and SDRs. Soon after configuring their email templates and onboarding users, Hiretual began to experience measurable results.
"Our open rate for inbound leads is 70%, which is really high," said Edwin Lau, Revenue Operations Manager at Hiretual. "That 70% open rate translates into more meetings and pipeline."
Mixmax sequences play an important role in maintaining such high open rates. Sequences automate many of the manual aspects of lead management, such as remembering to follow up when no response is received. With Mixmax for Gmail, Hiretual is able to build high-impact drip sequences that engage leads at precisely the right moment while alleviating inbox overload for the revenue teams.
"Now we're able to engage leads almost immediately after they submit a form on our website," Lau said. "The automation allows responses to go out instantaneously, which keeps our reps focused on demos."
Automating Everything Else
Email isn't the only thing that can be automated with Mixmax. For example, Mixmax's integration with Salesforce CRM eliminates manual data entry by automatically synchronizing sent emails, replies, and other relevant data. "There's no other tool that has this level of integration with Salesforce," Lau said.
Building multi-step workflows is also possible, thanks to Mixmax rules. "As an admin, I really like the rules engine because I can automate almost anything," Lau said.
Enhancing Engagement
Mixmax provides a suite of outreach enhancements designed to make email less boring and more interactive. "The buttons, polls, and calendar functionality all help to drive engagement," Lau said.
With a single click, sales reps can browse dozens of enhancement options, such as:
Calendar invites
Surveys
Images
PDF slideshows
Social badges
Animated GIFs
Call-to-action buttons
Videos
...and much more
Inserting Mixmax enhancements into the body of an email is also simple. Just point and click, and the enhancement magically appears without ever leaving Gmail.
Mixmax makes it Easier for Prospects to Choose You
Hiretual is using Mixmax's automation to achieve operational excellence so that it's sales team can focus on providing a great experience to their prospects. Does your company need a more scalable approach to sales response? Sign up for your trial of Mixmax, automate your follow-up sequences, build emails that convert, and free up more time for selling.