Level up with one-click Salesforce dashboards
Save time and visualize real-time sales metrics and activities with Mixmax Insights, an out-of-the-box reporting solution for Salesforce. Empower your entire revenue team to do more with less–within days, not months.


Track the outcomes your team creates, not just the activity.
Monitor reps' quota attainment by day, week and month.
Align your team and ensure everyone is contributing to the correct objectives.
Visualize sales engagement data in three pre-built dashboards.
Mixmax Insights was a huge step up in figuring out how our salespeople are spending their time, setting targets to be sure everyone stays on task, and has given us greater transparency. Having canned reports has really helped us speed up. We've saved bandwidth since there's no manual reporting we have to pull together on our own.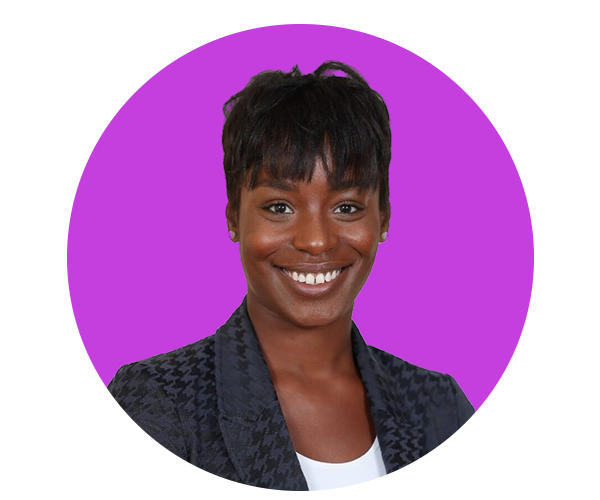 Imani Bentham
Director of Membership Strategy, National Journal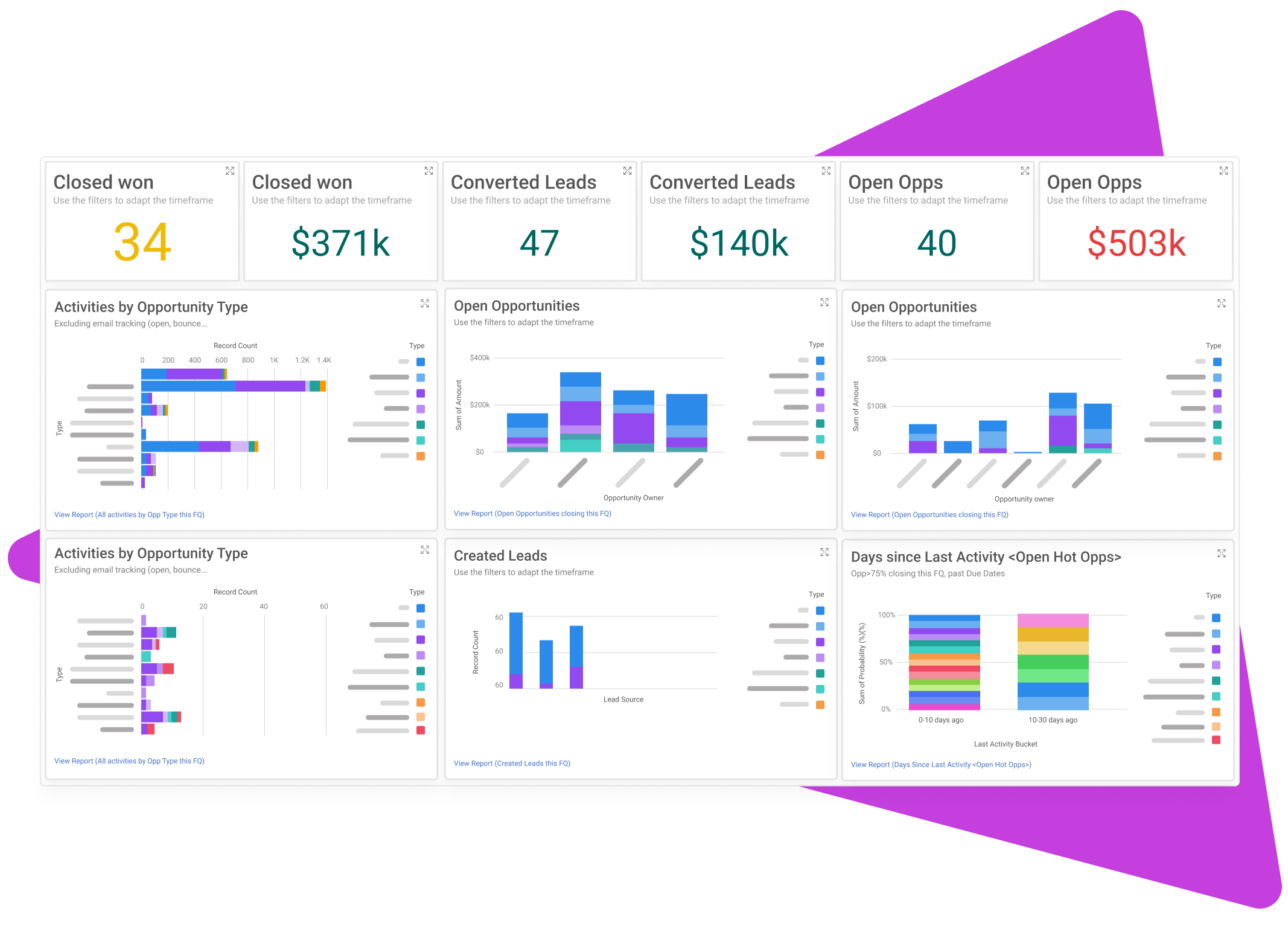 Crush your
revenue goals
Examine leads, open opportunities, and closed-won data. See your summary for opportunity counts and values compared to total created by, and owned by.


Identify top performers
View your interactive leaderboard comparing individual rep performance to coach your team consistently. Track the number of calls, emails, LinkedIn outreach, and meetings scheduled per day, week, and month.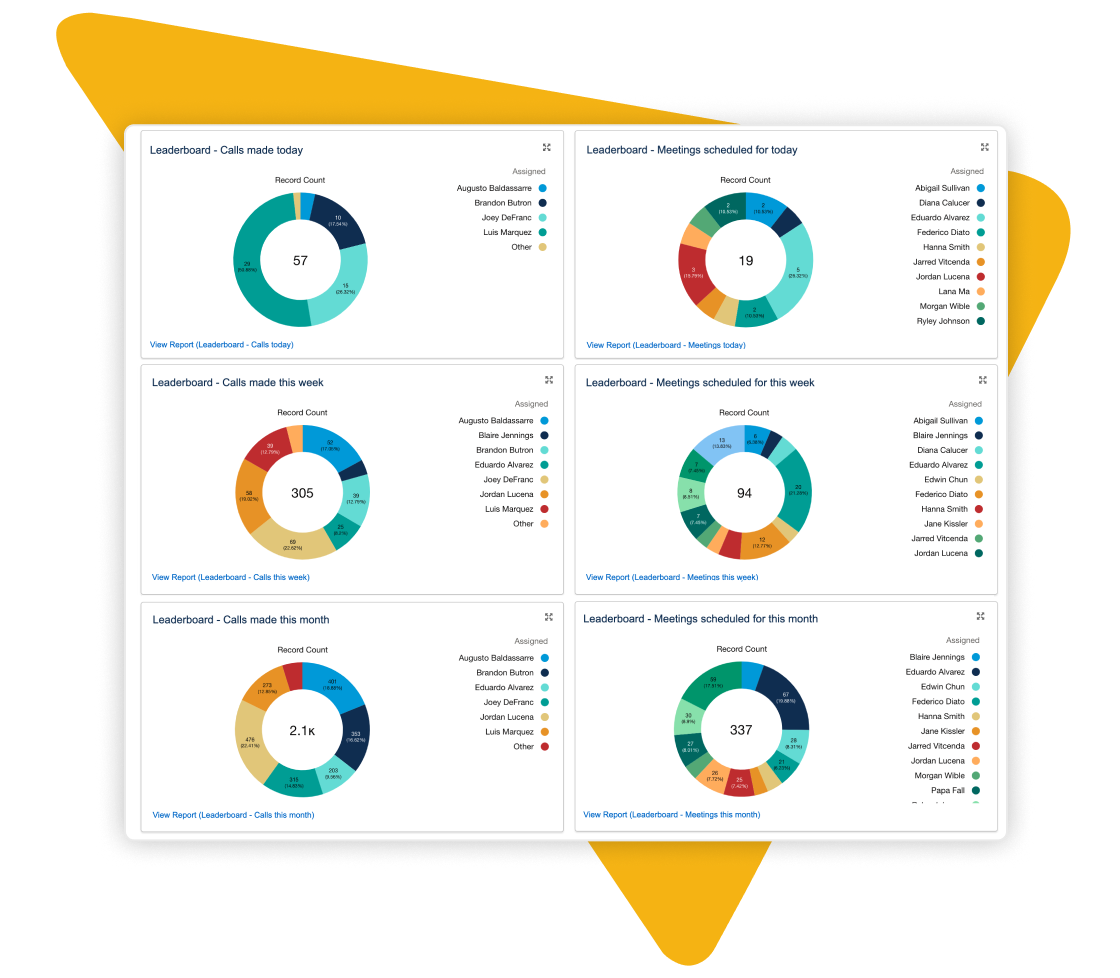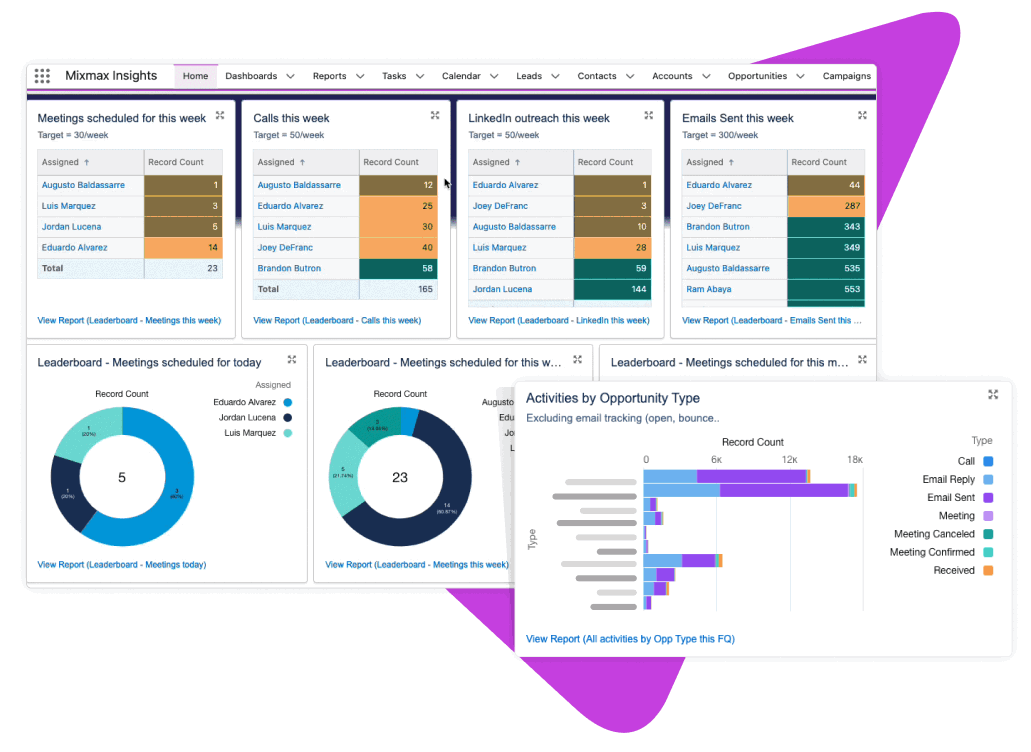 Gain powerful insights
Filter by role or department, providing detailed information on all open opportunities. Sort metrics such as the count and value of converted leads and open opportunity stages by rep.


Dashboard details
Skip the RevOps request queue and get sales engagement reporting with one click in Salesforce.
Mixmax Insights, our most powerful reporting solution, includes 30+ individual reports curating your sales engagement efforts into three unique Salesforce dashboards. You can monitor leaderboards, filter by team, and better understand activities' impact on sales. Insights is pre-configured to include data from your own Salesforce account as well as unique tracking data directly from Mixmax activities.
Completed activities this month
Completed activities by rep this quarter
Created leads this quarter
Converted leads this quarter
Meetings this month per rep
Open opportunities closing this quarter
Closed won by month and owner this quarter
Closed won by month and creator this quarter
Lost opps by month and owner this quarter
Contacted accounts this month
Contacted leads this month - not converted



Meetings today
Meetings this week
Meetings this month
Emails sent today
Emails sent this week
Emails sent this month
LinkedIn activity today
LinkedIn activity this week
LinkedIn activity this month
Calls today
Calls this week
Calls this month


Open Tasks - due date last 120 days
Days since last activity - open opps
All activities by rep this quarter
Activities by opportunity type
Calls per disposition this month
Pipeline generation - closed win this quarter
All activities by opp this quarter
Activities for open opps by account YTD