Mixmax is a sales engagement platform that brings professional communication & email into the 21st century.
We're excited to announce that Mixmax now has both Click and Download tracking for all your emails!
Click tracking helps you determine how recipients are engaging with your messages. Are they just opening your email or are they actually interested in what you have to share?
Download or file fracking tells you if recipients are viewing the files you've attached. Did they just happen to open your email on mobile and forget about the proposal you sent?
Now you know. Thanks to our new, advanced analytics functionality you can stop the guesswork. You can view all your analytics information in the Live Feed. Read more about it here.
Related Post: Email tracking 101: Why you need read receipts for your emails
Activating click tracking
To activate click-tracking make sure the checkbox in the tracking menu in each new message is checked as per screenshot below.
To activate tracking of files you'll need to make sure the checkbox in the tracking menu is checked and that you've elected to host your files in the Mixmax Cloud ('Keep in cloud' in the screenshot below).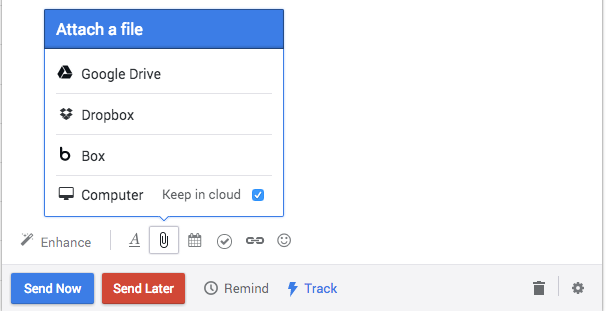 Hosting your files in the Mixmax cloud has a host of additional benefits. You can chose to revoke access to any file from the Cloud Attachments section of the dashboard and you'll soon be able to update file versions under the hood. Magic!
Why weren't attachments always this way?

Install Mixmax for free to try it out right now. Oh and we're hiring, so if you want to bring email to the 21st century - reach out to us at hello@mixmax.com and follow us @Mixmax.
Related Post: Perfect timing with scheduled emails